Kittens are arguably one of the cutest things you will ever come across. Few people can resist the urge to scoop them up, cuddle them and enjoy their gentle purrs.
Leonardo da Vinci must have been a cat lover as he rightly confessed, "The smallest feline is a masterpiece."
But don't let the cuteness overload fool ya, caring for a kitten is work. It demands time, effort, and careful planning. From the time a kitten arrives in your care, there is no doubt that it will need your undivided attention.
Besides loving your furry feline to bits, one of the most important things you will have to do as a pawrent is to feed them. Just like human babies have different dietary needs from adults, kittens have distinct nutritional and care needs that differ from their adult feline fur-mily.
So, if you are feeling a tad bit overwhelmed and wondering where to start with dry kitten food, don't fret; this article is for you.
We will take an in-depth look at how to feed your kitten dry food and how to find the best dry food for your new BFF. Also, we will share all the necessary information to get you and your kitten on the way to a successful journey of healthy nutritional habits.
Purr-fect, let's get into it.
When Can a Kitten Eat Dry Food?
Caring for a kitten involves many well-planned activities, including a feeding schedule.
But when can a kitten eat dry food?
A kitten's diet changes from one stage to the next in its developmental cycle. Each step in a kitten's life comes with unique dietary needs.
A kitten depends on its mother's milk for the first four weeks. So mommy cat will keep her litter close by and nurse them regularly every 3-4 hours. Keeping kittens close to their mom is essential in developing healthy kittens.
Besides the breast milk, kittens need to stay warm and cozy as they transition from little tiny newborns into the fur balls we all adore.
A kitten is weaned at the 8-week mark and slowly introduced to dry foods made for kittens.
However, this will often depend on the individual kitten's health. If your little furball has special dietary needs, then a vet's advice is vital to help you meet those needs.
A kitten's diet must be complete and balanced. That means their food has to be high in protein (to support growth spurts), vitamins, amino acids, and cat supplements suitable for kittens.
Get your kitten into a feeding routine once ready for dry food. Cats are creatures of habit that thrive on routines. A pattern is excellent for kittens because it helps them get into a regular meal timetable that is convenient for both of you.
Remember to feed your kitten at the same time and place every mealtime. It helps your kitten learn when to expect food and where to find it, reducing the anxiety associated with hunger pangs.
Also, maintain a clean environment around the feeding areas–a clean bowl or mat and a clean surface–to prevent disease and infection from contaminated food.
How many times should you feed your kitten?
Kittens are ready to eat dry kitten food once they stop nursing. Their journey to adulthood is supported by healthy, protein-rich food. Here is a potential kitten feeding schedule.
Age

Amount of food

Frequency of feeding

Birth to 2 weeks

2-8ml kitten formula
Mom cat nurses kittens

Every 2 hours

2-3 weeks

At least 10-14ml of formula, or continued nursing

2-3 hours

4 Weeks

14-18ml formula
¼ cup of slurry (dry food+formula)

3-4 hours

5-6 Weeks

18-22ml of formula
¼-⅓ cup of more firm slurry

5-6 hours

6-7 Weeks

⅓-1 cup wet+dry food combination
Fresh water

Every 6-8 hours

8 weeks and Over

⅔-1 ¼ dry food
Fresh water

Every 6-8 hours
How Much Dry Food Should a Kitten Eat
Kittens undergo substantial growth spurts and require to eat more food compared to adult cats. You will want to ensure that the food you give your kittens supports their growth as well as help them develop healthy eating habits.
Even though dry food is great for kittens and convenient for their owners, Dr. Gary Richer–a renowned veterinarian– recommends that a significant portion of your kittens' meals consist of wet food.
A kitten should feed at least four times a day. Use the feeding guidelines at the back of your kittens' food pack as a starting point.
An important indicator that your kitten is getting enough food is a steady increase in weight. If you notice that your kitten is underweight, you will want to increase their calorie intake. Conversely, if your kitten is getting a bit chubby, cut back on the amount of food you give him.
Do this in consultation with your veterinarian. They will assess your kitten using a Body Conditioning Score (BSC) to determine the dietary needs and nutritional status and advise you.
How to Get a Kitten to Eat Dry Food
Your kitten may be reluctant to try dry food, especially if you have started them off on a wet diet. However, all is not lost. You can encourage your kitten to eat dry food as long as you ensure the food is made specifically for kittens.
Depending on how old your kitten is, there are different techniques you can use to entice your little one to try dry food.
Place your kitty's dry food next to its wet food. Cats are curious in nature, and your kitten might be interested in exploring the dry food
Try different types of dry food and see if your kitten will like a specific flavor. Kitten dry food comes in different shapes, sizes, textures, and flavors
Mix her dry and wet food on a 50/50 ratio. Then gradually reduce the amount of wet food as your kitten gets accustomed to the dry food
Wet their kibble with some unsalted broth or using some of their wet food
Offer your kitten a bowl of fresh water. Water is great because it keeps your kitten hydrated, and it might encourage your kitten to eat dry food
Do Kittens Need Wet or Dry Kitten Food?
Kittens benefit from wet and dry food in different ways. It is crucial to ensure that whichever diet you start them on is well-balanced and fortified with the necessary nutrients to facilitate their growth and development.
Benefits of wet kitten food
Keeps your kitten hydrated. Cats are generally not great at drinking water, so a wet food diet is a great way to provide the extra nourishment they need.
It is rich in protein and meat content. Kittens require a high-protein diet to support their growth and satisfy their nutritional needs.
Disadvantages of wet kitten food
Wet food easily sticks to the teeth, leading to dental problems like cavities in kittens. Keep cavities at bay by establishing a teeth-brushing ritual for your kitten.
Wet food goes stale pretty quickly! You can invest in bowl covers to prevent your kittens' food from going bad. Unused portions can usually be safely stored in a sealed container in the fridge for a few days.
Benefits of dry kitten food
Easy to measure and keep track of how much your kitten eats.
Dry kitten food is long-lasting and can be left out all day for your kitten to nibble on while you are away. The flexibility works great for busy pet parents.
Prevents build-up of tartar by removing plaque from your kittens' teeth.
Disadvantages of dry kitten food
Potential for your kitty to overfeed since the food can be available all day long.
Dry kitten food is high in carbohydrates, and though they give your kitten energy to play around and explore, the protein value is much lower than wet food.
A kitten will develop individual taste preferences when it comes to food. So offer a variety of dry and wet food to reduce the possibility of future food aversions and help keep their diets versatile.
If you are unsure which option will best cater to your kittens' dietary needs, consult your veterinarian, who will guide you accordingly.
What is The Best Kitten Dry Food?
Many kitten food brands are in the market today, and it can be confusing to determine the best kitten dry food. Here is a list of five great brands you can try and see which dry food your kitten will love best
1. Hallo Holistic Kitten Food
This brand focuses on all-natural organic food ingredients to make their kitten food. Their range of products gives you a wide selection of food types designed to provide variety and great taste.
Great fish flavor–wild salmon and white fish– a chicken alternative that little kitty will love
DHA fortified for healthy brain development and packed with essential minerals and vitamins
Grain-free and made with non-GMO ingredients. Plus, no nasties, aka artificial colors, flavors, or preservatives
| | |
| --- | --- |
| Nutrients | Amount |
| Natural Protein | 33% |
| Omega-6 Fatty Acids | 3.5% |
| Omega-3 Fatty Acids | 1.1% |
| Fibre | 5% |
| DHA | .15% |
*Priced at $45.99 CAD as of November 2022
2. Purina Kitten Chow
This brand sports a broad spectrum of delicious high-protein kitten food. The kibble size is suitable for kittens with no added artificial flavors or colors.
The main protein source is farm-raised chicken
High protein content to support muscle growth and brain development
Fortified with selenium which supports strong immunity, supports joint health, healthy skin and has antioxidant as well as anticancer properties
Affordable price for pet owners.
| | |
| --- | --- |
| Nutrients | Amount |
| Natural Protein | 40% |
| Natural Fat | 13.5% |
| Fibre | 2.5% |
| DHA | .15% |
*Priced at $23.31 CAD as of November 2022
3. Blue Buffalo Wilderness Dry Food
This is a popular brand that many pet owners love for its wide variety of cat and kitten food.
Grain-free and loaded with high-protein chicken ingredients
Incorporates LifeSource Bits which have minerals, vitamins and antioxidants for a healthy immune system
Fortified with choline–critical for a healthy blood system, nervous system, and liver.
| | |
| --- | --- |
| Nutrients | Amount |
| Natural Protein | 40% |
| Omega-6 Fatty Acids | 3.5% |
| Omega-3 Fatty Acids | 1.0% |
| Fibre | 3.5% |
| DHA | .2% |
*Priced at $32.99 CAD as of November 2022
4. Hills Science Diet Kitten
Hills Science is another pet food brand that is well-known and loved by pet owners. The brand uses scientific formulas to create a range of healthy cat food to support healthy eye and brain development.
Ingredients are all-natural, and high quality
Kibbles are highly palatable and easy to digest
Fortified with vitamins E and C–supports the immune system and kittens' vitality
| | |
| --- | --- |
| Nutrients | Amount |
| Natural Protein | 33% |
| Natural Fat | 19% |
| Fibre | 3.5% |
| DHA | .1% |
*Priced at $31.99 CAD as of November 2022
5. Iams ProActive Health

This unique kitten food brand mimics the ingredients found in a mother cat's milk. It is made with all-natural ingredients and no added preservatives or artificial colors.
The first ingredient is real chicken to satisfy kittys' natural desire for meat
Nutrition is balanced and complete
It is packed with probiotics and antioxidants to support healthy growth and strong immune system
| | |
| --- | --- |
| Nutrients | Amount |
| Natural Protein | 33% |
| Omega-6 Fatty Acids | .3% |
| Omega-3 Fatty Acids | 3.0% |
| Fibre | 3% |
| DHA | .05% |
*Priced at $14.99 CAD as of November 2022
Q&A
Can I offer my kitten treats?
Offering your kitten a treat to reward good behavior may not be entirely harmful. However, most cat treats are not kitten-friendly. Treats are often high in calories and are not nutritionally balanced to support your kittens' growth needs.
It is recommended to wait until your kitten is at least a year old before introducing them to treats. If you are convinced that the little munchkin deserves something extra nice for being a good kitty, then consider homemade treats, which are much healthier.
Remember not to share the contents of your meal with your kitten, no matter how tempting it is. Human food can cause your kitten to get sick, while some human treats like chocolate are toxic to cats.
Can my kitten drink milk?
Cats are intolerant to lactose, a sugar naturally occurring in milk and dairy products. The only milk you should give your kitten–only when necessary–is milk specially formulated for kittens.
Avoid giving your kitten any other type of cow, goat, or plant-based milk. It may cause gastrointestinal problems like diarrhea and lead to dehydration and malnutrition because they lack the essential nutrients to support the growing needs of your kitten.
When can I start feeding my kitten adult food?
Your kitten will need their nourishing food until they are 12 months old. Once you celebrate their first birthday, you can start progressively introducing them to adult cat food.
Can I give my kitten raw meat?
Giving your kitten raw meat or bones is not recommended. Raw meat/bones carry disease-causing bacteria that can cause toxoplasmosis. Once your kitten is over 20 weeks old, you can consider occasionally offering them fresh raw food.
Can I put my kitten on a vegan diet?
While vegan diets are okay for humans, they may not suit your kitten. Cats are obligate carnivores and require meat in their meals. Kittens, in particular, need higher levels of proteins which cannot be satisfied by a vegan diet.
Summary
For your kitten to grow strong and healthy, they will need great care, love, affection, nutritious meals, and wholesome routines that promote their psychological health. Keep your kittens' diet exciting and fun to avoid them becoming finicky adults and to help them enjoy meal times as much as they do playtime.
Seek out food options with high-quality ingredients tailored to promote the well-being of your youngling. This will support a balanced adult life and avoid common pitfalls of poor diets, such as obesity and diabetes. Be keen on pet food labels to ensure that it follows guidelines by the Association of American Feed Control Officials (AAFCO) for quality nutritional standards.
Give your cat a healthy boost by getting them TRI-ACTA for Pets and TRI-ACTA H.A. for Pets to help promote their joint health. To learn more, check out our comprehensive guide on supplements to keep your feline buddy feeling their best.
TRI-ACTA for Pets
A proactive approach for developing and younger adult pets to maintain optimal joint health mobility, minimize inflammation and fend off age-related ailments.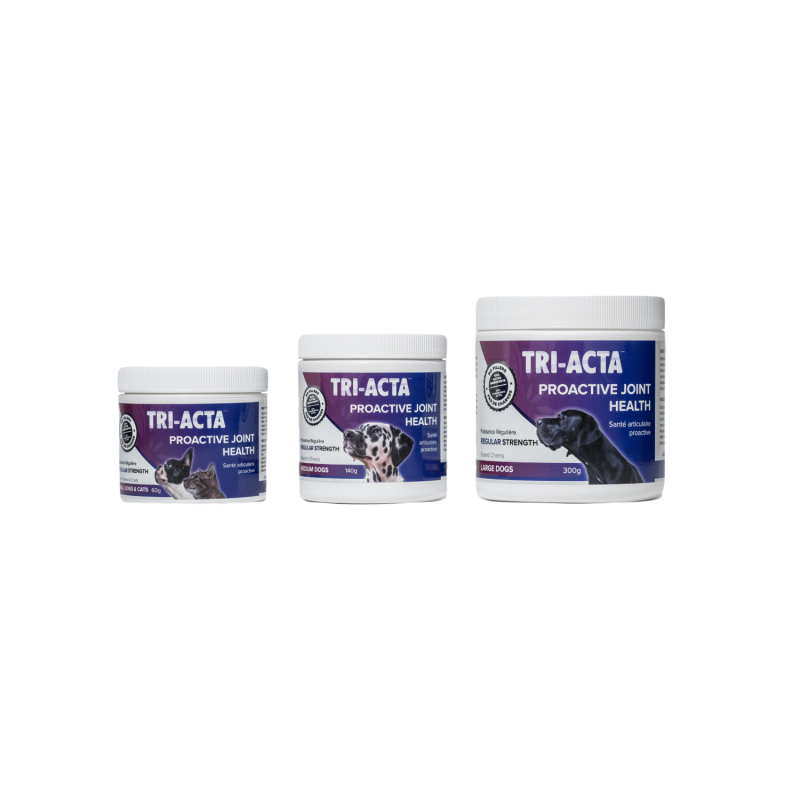 Newsletter Signup
Subscribe to our newsletter to receive the latest news and exclusive offers.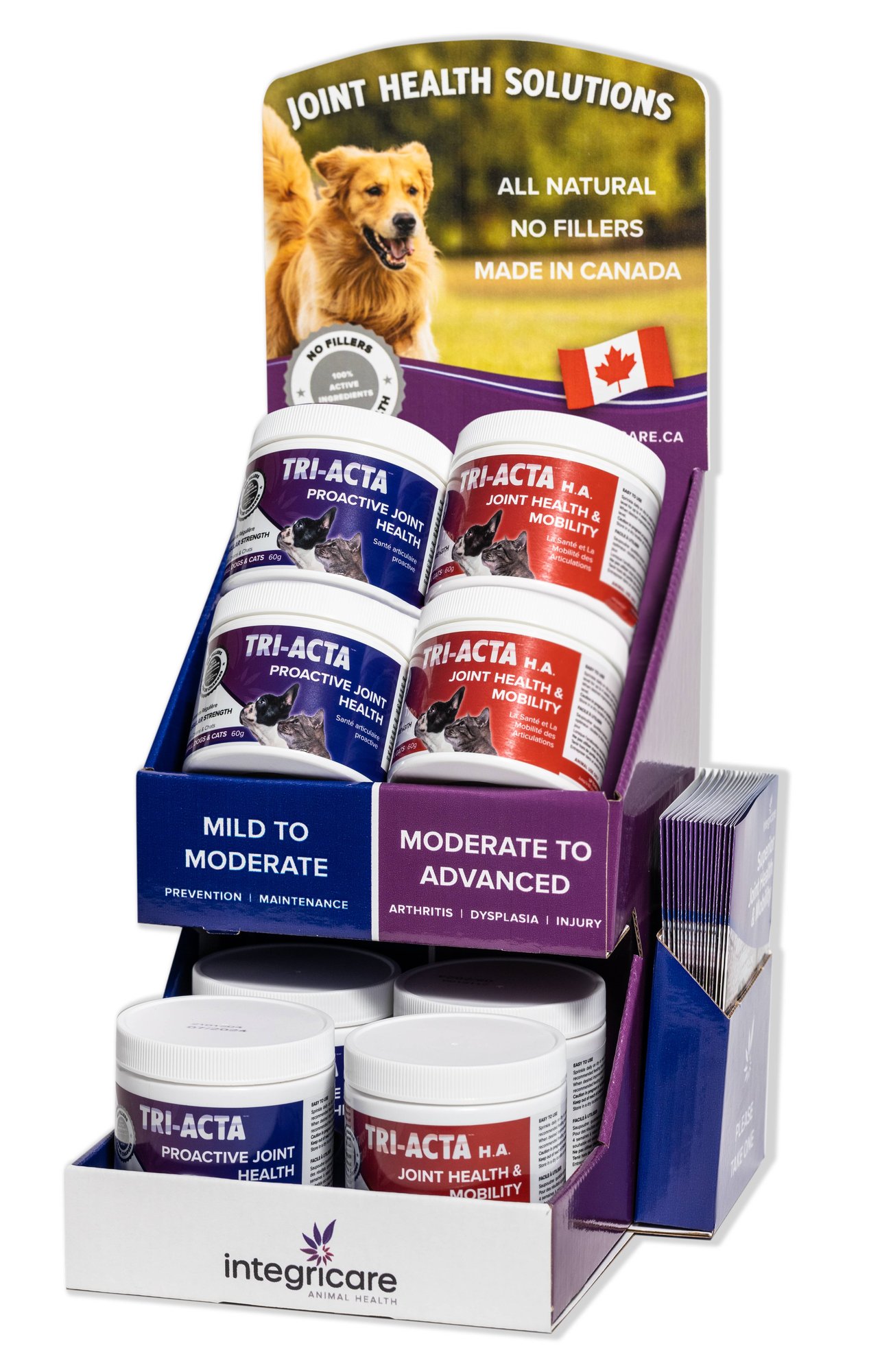 Proactive & Therapeutic Joint Supplements
When given daily, Integricare joint supplements recover bone and joint injuries faster and help prevent mobility injuries from happening in the first place.