If you're looking for the best kitten food, it can be hard to know where to start. There are many different types of kitten food, and they all have different pros and cons. Throw in your own kitten's preferences, and you can end up feeling like there's an overwhelming amount of choices out there and none of them seem right!
You also need to consider your own needs as a cat owner when deciding what type is best for your pet, like budget, preferences, and convenience factors.
In this article, we'll look at the best kitten food on the market today and how they compare with each other based on price, quality, and nutrition content.
Kitten Food vs Cat Food - Differences & Similarities
There are important differences between kitten food and cat food. Kitten food is designed to be more digestible, contain higher protein levels, and often taste more palatable to kittens than cat food. Kittens should get about 30% of their energy from protein. Protein is essential for proper growth and development in your kitten.
The best kitten foods have the right amount of:
Amino acids (the building blocks that makeup proteins)
Minerals such as calcium and phosphorus
Vitamins such as D3 (a nutrient necessary for healthy teeth)
Fatty acids (helps support brain function & development)
Fats
At around 10 months old, kittens will begin to transition to adult cat food, which has a lower percentage of protein and fat than kitten food does. Many experts recommend feeding kittens specially formulated kitten food until they are one year old.
The table below shows some key benefits of adult cat food compared with good kitten food.
Type of Cat Food

Key Benefits

Kitten Food

More fats, proteins, and calories
Formulated specifically for kittens' nutritional needs
Often softer and easier to eat than dry adult food for kitten teeth

Cat Food

A wide variety of flavours and textures for all cat tastes and needs
Less calorie-rich as adult cats are done growing
Formulated with vitamins and minerals for ageing kitties.
At the end of the day, your kitty deserves to be fed the best kitten food, but if you and your vet decide to switch them to adult cat food, or your kitty accidentally consumes some adult cat food, they will likely be fine. Many cat foods today are formulated for "all ages and stages," which can be ideal for multi-cat households.
Types of Wellness Kitten Food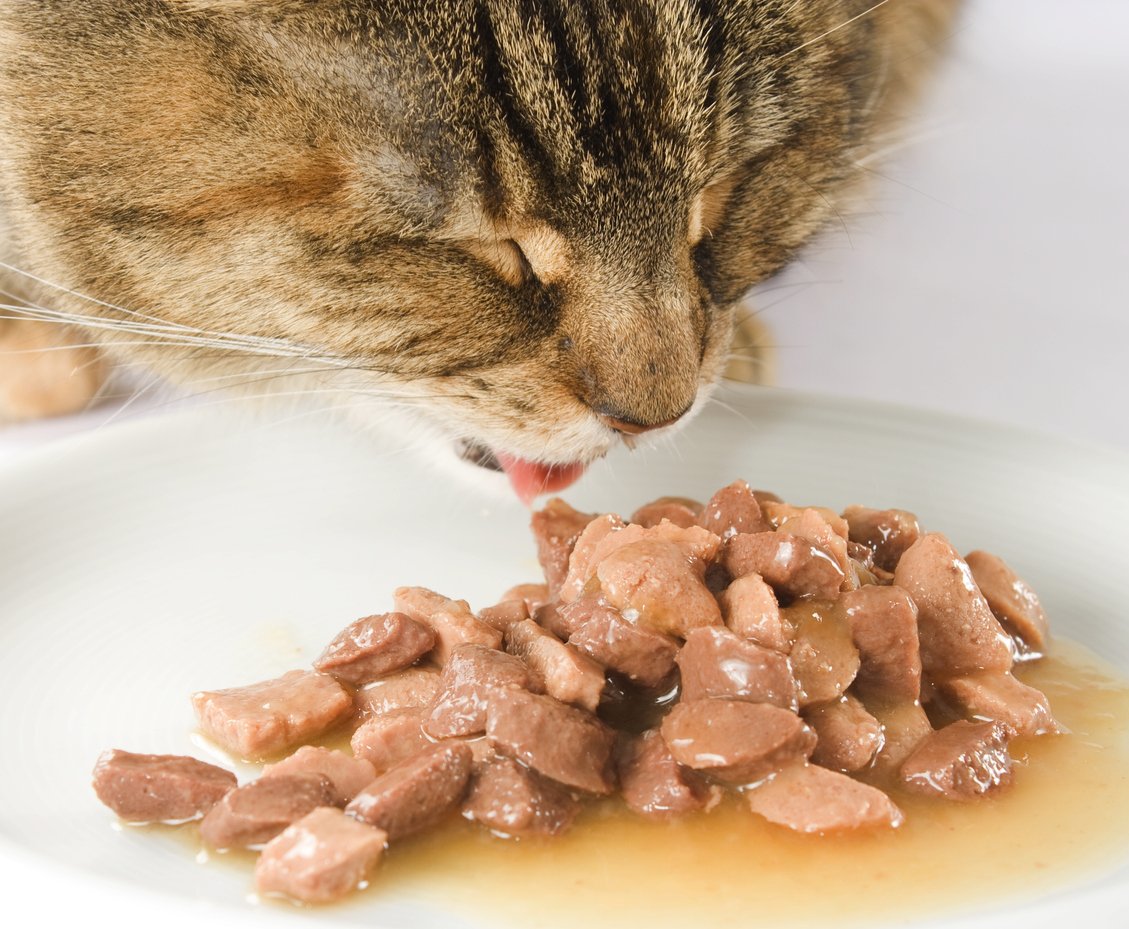 Since there are so many kinds of kitten food, it's important to know which one is best for your little furball.
There are three main types of the best kitten food:
Wet
Semi-moist
Dry
Most of the decision about which is right for your kitten is simply about preference. No matter what food you choose, if you're introducing a new type of kitten food, give it to your kitten in small amounts over several days before increasing the amount or switching to another brand.
Let's break down the types of kitten food in detail.
Type #1: Canned Kitten Food (Wet)
Many people think that canned kitten food is only for kittens who are not yet ready to eat dry food.
However, this is far from the truth! Canned food can be used as a supplement in any kitten's diet and has many benefits:
It provides more moisture content than dry kibble
It is easier for the stomachs of young cats than dry kibble
It helps with digestion problems that are common among young kitties
To grow properly, very young kittens need at least some canned food in their diet as it is easier to eat and allows them to get the nutrition they need when it is too hard to chew kibble still. Thanks to its scent and texture, it can also provide an appetizing treat for newly-weaned kittens who are unsure of eating solid foods.
Type #2: Soft Kitten Food (Semi-Moist)
So, your kitty is not interested in wet food but isn't ready for dry food? Then a semi-soft option may be the best thing for them!
You have two options in the in-between state of dry and wet cat food:
Semi-moist "pouch" foods
Soft-dry kibble mixes
It is common for moist and semi-moist cat foods to be packaged individually, which is why they are also called pouch foods. With a moisture content of around 50-60%, this is closer to wet canned food than dry kibble.
It is common to use pouch food as a transition between dry and wet food, which is perfect for kittens still getting used to chewing firm foods. As a bonus, pouch foods usually come in an aromatic sauce that will entice curious kittens.
Another option is soft-dry kibble mixes, which include both crunchy and softer pieces. They can be used for both adult cats and kittens. As a matter of fact, kittens may benefit from their softer pieces that are gentler on their gums and teeth, making this format especially suitable for transitioning from milk or formula to big-kitty food.
Type #3: Dry Kitten Food
Dry kitten food is another great option for your pet's health. To help your kitten grow up healthy and strong, dry kitten food contains essential nutrients and minerals. A cat is an obligate carnivore, which means it needs meat to survive. There is an even greater need for protein in kittens than in adults because they're growing so fast.
The early stages of development require amino acids such as:
Lysine
Methionine
Arginine
A lack of these can lead to developmental problems or cause a shortened lifespan. There is no need to think too much about these nutritional needs when using dry kitten food that is specially formulated.
Dry kibble also stores easily and doesn't require refrigeration, so you can buy it in bulk and store it for a long time, making it more convenient than other prepared options.
Best Kitten Canned Food: Wellness Complete Health
If you're looking for a tasty, wholesome option for your kitty, then this canned option from Wellness Complete Health could be the perfect fit. With tasty chicken flavouring, high-quality proteins, and essential fatty acids, this natural kitten food contains taurine for healthy eye and heart development.
Best Kitten Dry Food: ACANA First Feast for Kittens
When you're selecting dry kitten food, you want to make sure it's made with plenty of quality ingredients that provide nutritional value and not just a slew of fillers. This option from Acana has a delicious flavour that will appeal to your kitten. With a satisfying blend of free-range chicken, whole herring, and organs, this cat food gives your kitten everything they need to grow strong, healthy, and happy.
Best Kitten Soft Food: Hill's Science Diet Kitten
When you want wholesome pouch food, look no further than this option from Hill's Science Diet. With a delectable gravy sauce that your kitten will be enticed by, it caters to the developmental needs of kittens under one year old. It contains vitamins, minerals, amino acids, and great-tasting natural ingredients. Your kitten can have this gourmet daily nutrition by itself or on top of dry food.
Best Organic Kitten Food for Growth: Halo DreamCoat Kitten Food
You want only the best for your kitty, so it only makes sense that you want to find the best organic kitten food for growth. And in our books, the award definitely goes to Halo's grain-free kitten kibble. With a tasty salmon and whitefish recipe, this formula supports muscle growth and has DHA for brain development and vitamins, minerals, and antioxidants for a developing immune system. We love that it contains no growth hormones or antibiotics, artificial flavors, colors, or preservatives, and no factory farming involved in making this food.
Best Kitten Food for Healthy Joints: Orijen Guardian 8
Even for kittens, joint protection should be top of mind. And this option from Orijen is a great all-around health booster with 8 overall health benefits, including joint health. The first five ingredients are fresh or raw poultry and fish, and the blend of prebiotics and fibre from whole pumpkin, collard greens, apples & pears support your cat's digestion.
Vet Recommended Kitten Food: Hill's Science Diet Kitten
When it comes to vet-recommended kitten food, this option from Hill's Science Diet is a safe, carefully formulated option that meets your kitten's developmental needs. As well as providing high-quality protein to support muscle growth and development, this cat food made with natural ingredients contains DHA from fish oil for healthy eye and brain development for kittens. It is important to keep your kitten healthy and strong throughout the first year of their life by providing meals with a balanced set of minerals.
Best Kitten Food for Sensitive Stomach: Blue Buffalo Wilderness Grain Free
When your little one demands a gentle formula for their sensitive stomach, check out this option from Blue Wilderness. With a tasty grain-free formula featuring the finest natural ingredients enhanced with vitamins and minerals, this high-protein kitten food contains real salmon, fruits, and vegetables to ease digestion. The recipe also contains DHA to help provide cognitive development support!
Best Raw Kitten Food: Iron Will Raw Feline Complete
A raw cat food diet is often a great choice for kitties who need a specialized diet and for owners who want to avoid highly processed filler-heavy formulas. Iron Will Raw's option caters to our obligate carnivore cats with high protein, moderate fat, and low carbohydrate content. This formula is acceptable for all life stages, including kittens, and is a safe option for feeding a raw food diet, as it meets AAFCO standards for all life stages. That isn't always the case with raw food, so if this kind of specialty diet piques your interest, a pre-made product like Iron Will Raw's offering is ideal.
Q&A
Kitten nutrition can often leave you with more questions than answers. That's why we're here to break down some Q&A we often hear about kitten nutrition, so you can be pawpreared to tailor your kitten's diet to their tastes and their needs.
When to Switch From Kitten to Cat Food?
The best time to switch your kitten from kitten food to adult food is when they are done growing and have reached their adult size. However, this can be tricky as kittens tend to grow at different rates.
Some cats will continue growing slower than others, so it's important to pay attention to how quickly the kitten matures.
That said, it's usually recommended that you switch your cat off of kitten food somewhere between nine months and one year old since this is typically when they stop becoming kittens. Kittens need plenty of nutrients in order for them to develop as healthy adults, but too much protein can lead them down an unhealthy path (such as obesity).
The best way to find out when it's time to switch your kitten from kitten food is by paying attention to how quickly they are growing. If you notice that your kitten is still growing rapidly and appearing thin, it may be too early for them to start eating adult cat food. However, if they have stopped growing and their body size has reached its maximum potential, then it's time for them to start eating adult cat food.
How Much Food Should a Kitten Eat?
One of the most common questions people have about feeding kittens is, "how much food should I give them?" The answer to this is that it largely depends on your individual kitten, but generally speaking you need to measure out their food, follow feeding guidelines from the best kitten foods, and keep an eye on their consumption.
What we mean by that is that your kitten may be more or less hungry, and grow at a slower or faster rate even when compared to their siblings!
Most kitten foods come with instructions, but if yours doesn't, here are some general guidelines:
Kittens need

3 or 4 meals

per day until they reach 8 weeks old, then 3 meals per day until they reach 6 months old. After 6 months, they can enjoy 2 meals per day.
The amount of food you should give your kitten depends on several factors, including their age, activity level, and size. For example, very active kittens may need more than the average amount of food than those less active. It's also important to note that kittens grow quickly and need plenty of nutrients in their diet to support this growth.
The table below also provides some additional feeding guidelines for your kitty.
| | | |
| --- | --- | --- |
| Kitten Weight (lbs) | Kitten Age (Weeks) | Average Food Serving |
| 1 to 3 | 4 to 19 | ¼ to ¾ cups |
| 3 to 6 | 20 to 29 | ½ to ¾ cups |
| 6 to 9 | 30 to 39 | ⅔ to 1 cups |
| 9 to 12 | 40 to 49 | ¾ to 1 cups |
Final Thoughts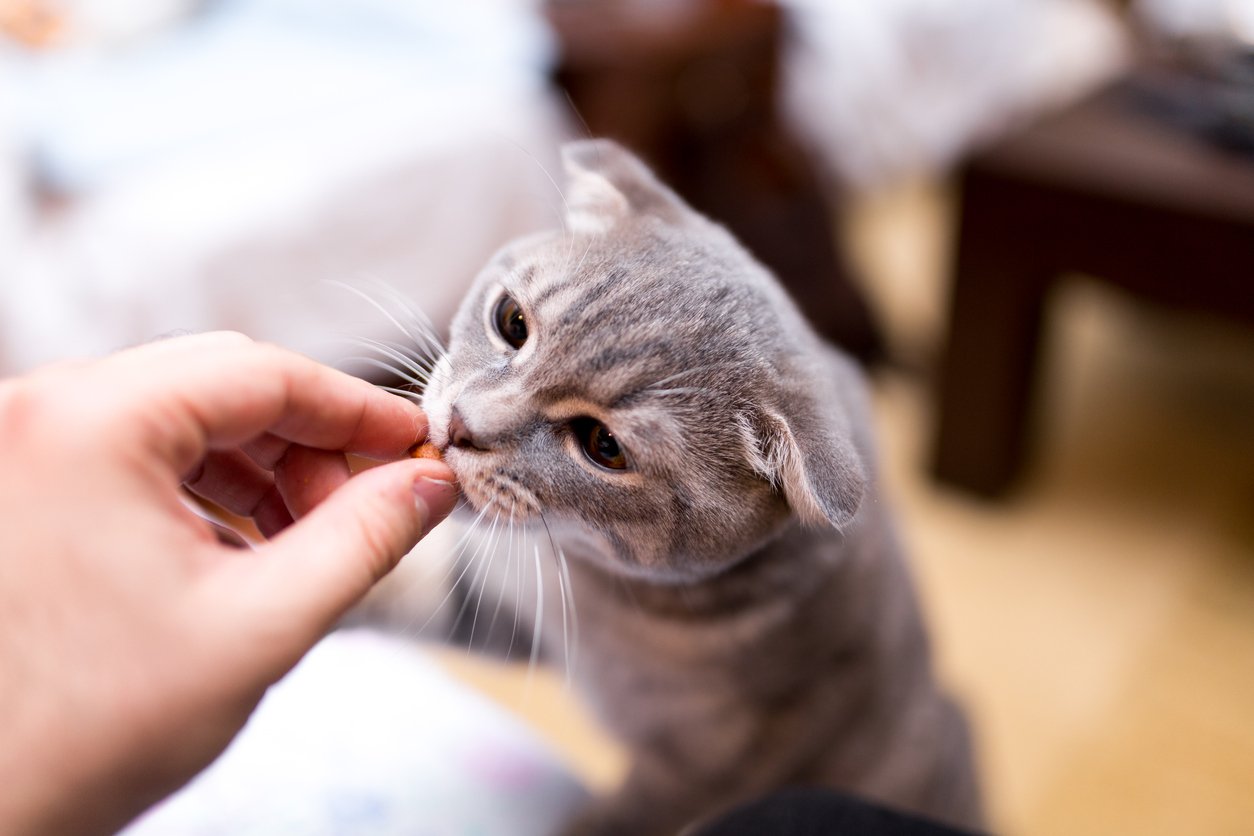 As you can see from the information above, there are many different types of kitten food available to owners. You should now be able to make a more informed decision about which one is best for your kitten by considering their age, health concerns, and overall needs.
And the best compliment to a balanced kitten food diet? A supplement like TRI-ACTA for pets.
Complete with ingredients like glucosamine, MSM, and chondroitin, your kitten can take this supplement as soon as they begin solid foods. Since it's a small dose (only ¼ gram) with no filler and a neutral taste, you simply sprinkle it over their dinner and voila – you have joint protection as your kitty grows big and strong.
TRI-ACTA for Pets
A proactive approach for developing and younger adult pets to maintain optimal joint health mobility, minimize inflammation and fend off age-related ailments.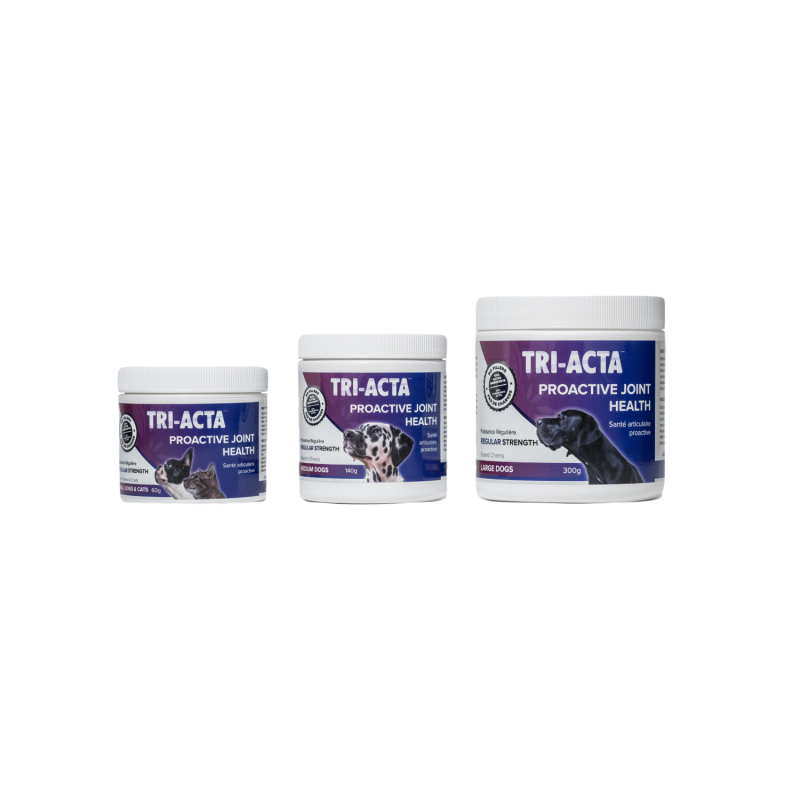 And though it may seem like a distant horizon right now, your kitten may need more joint health protection and repair as they age. When that day comes, you can try our extra strength TRI-ACTA H.A., including hyaluronic acid in the 100% active formula. This helps keep joints lubricated and mobile well into their golden years.
TRI-ACTA H.A. for Pets
Our maximum strength formula is optimally designed to accelerate the formation of cartilage, minimize inflammation, expedite the healing process, and improve joint conditions.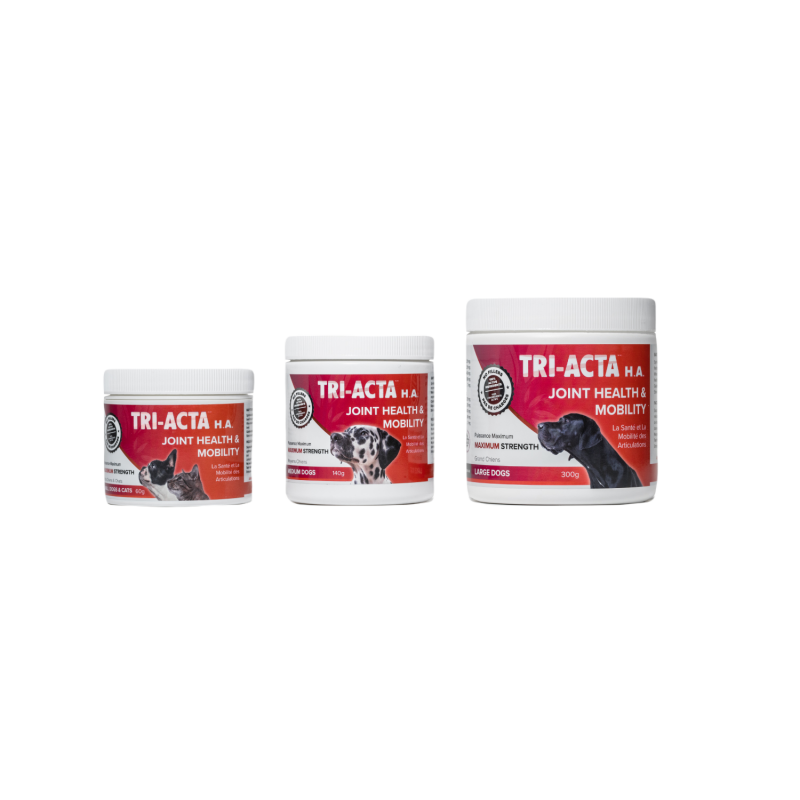 Now we can stop kitten around and you can make sure your sweet new addition has the best kitten food (and supplement) for their needs.
Newsletter Signup
Subscribe to our newsletter to receive the latest news and exclusive offers.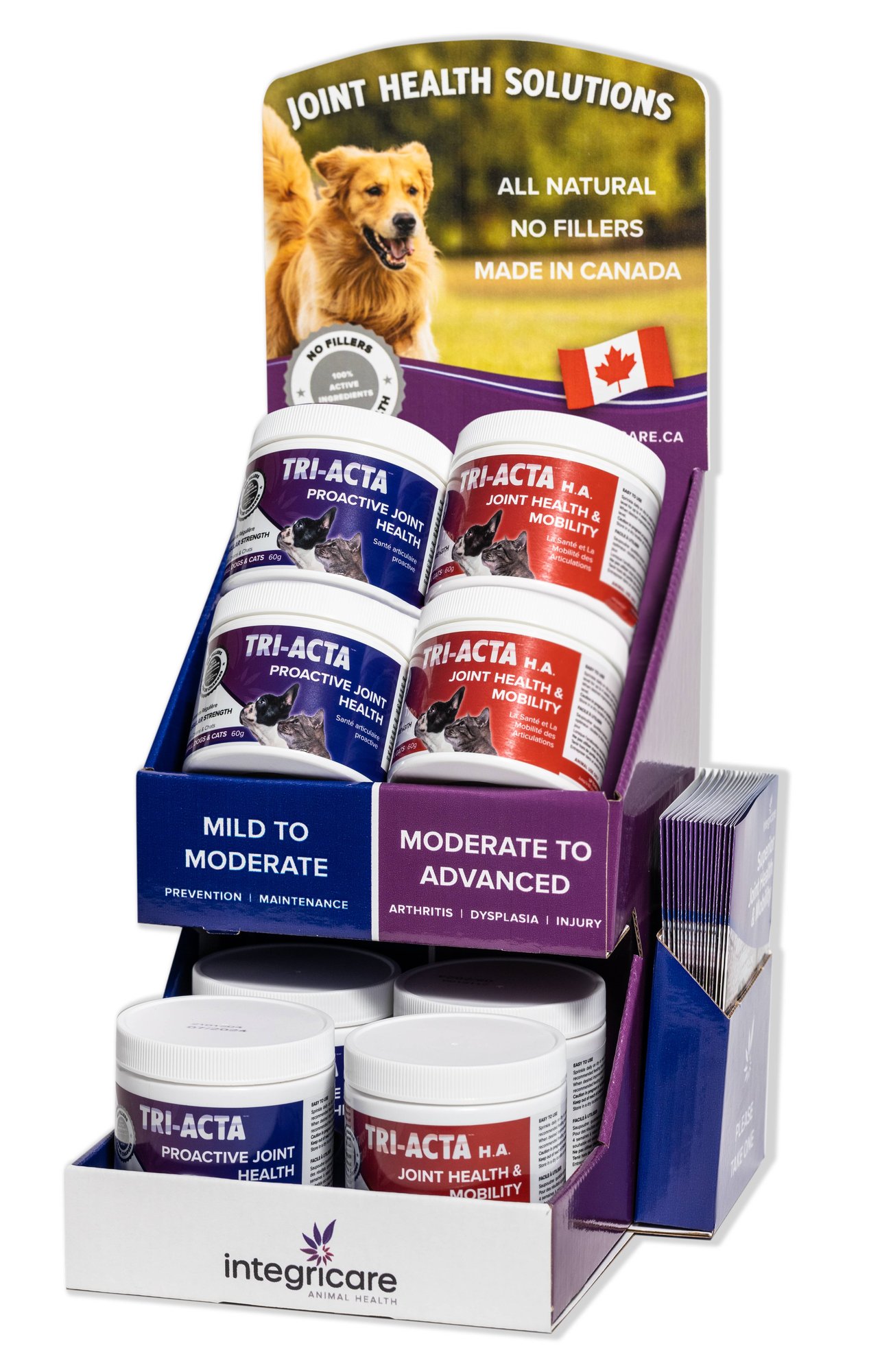 Proactive & Therapeutic Joint Supplements
When given daily, Integricare joint supplements recover bone and joint injuries faster and help prevent mobility injuries from happening in the first place.