Our dogs are our family, so when it comes to the care of our four-legged family members, we only want what's best for them. There are many factors to consider when it comes to their healthcare – but one of the most important is proper nutrition.
We take great care to choose the best possible food for our beloved pets, but what about supplements? Two of the most important components when it comes to joint health are glucosamine and chondroitin. These components are especially necessary and beneficial when it comes to aging dogs, or those competing in active sports.
Glucosamine is an amino sugar naturally produced by the body. It acts to repair cartilage by providing the necessary building blocks for its formation.
Chondroitin inhibits and neutralizes destructive enzymes in the joint. By doing so, it helps prevent the breakdown of cartilage.
But with all of the options for pet supplements that provide both glucosamine and chondroitin, available on the market, how do you know which ones to choose?
We've compared Integricare's high-quality TRI-ACTA and TRI-ACTA H.A. with 9 other brands also offering glucosamine chondroitin for dogs. In this comparison study, we will consider how they stack up to the competition, and why you should give TRI-ACTA a second look.
Evaluation Criteria
Below are the 10 different criteria we'll use to grade each product.
1. Price
Probably one of the first factors that anyone considers when purchasing anything is the price. About 70% of people are on a budget, so being so many are budget-conscious, price is an important consideration.
While many people expect to pay a little extra for products with the best quality – they don't want to pay an exorbitant amount either.
So when it comes to price, most consumers ask:
How much is it?
How much do I get for the price?
How long will it last?
Am I getting my money's worth?
So when evaluating the various glucosamine chondroitin supplements available, we checked them up against the price factors above to see how they fare, and if they're actually worth your money.
2. Purchasing Convenience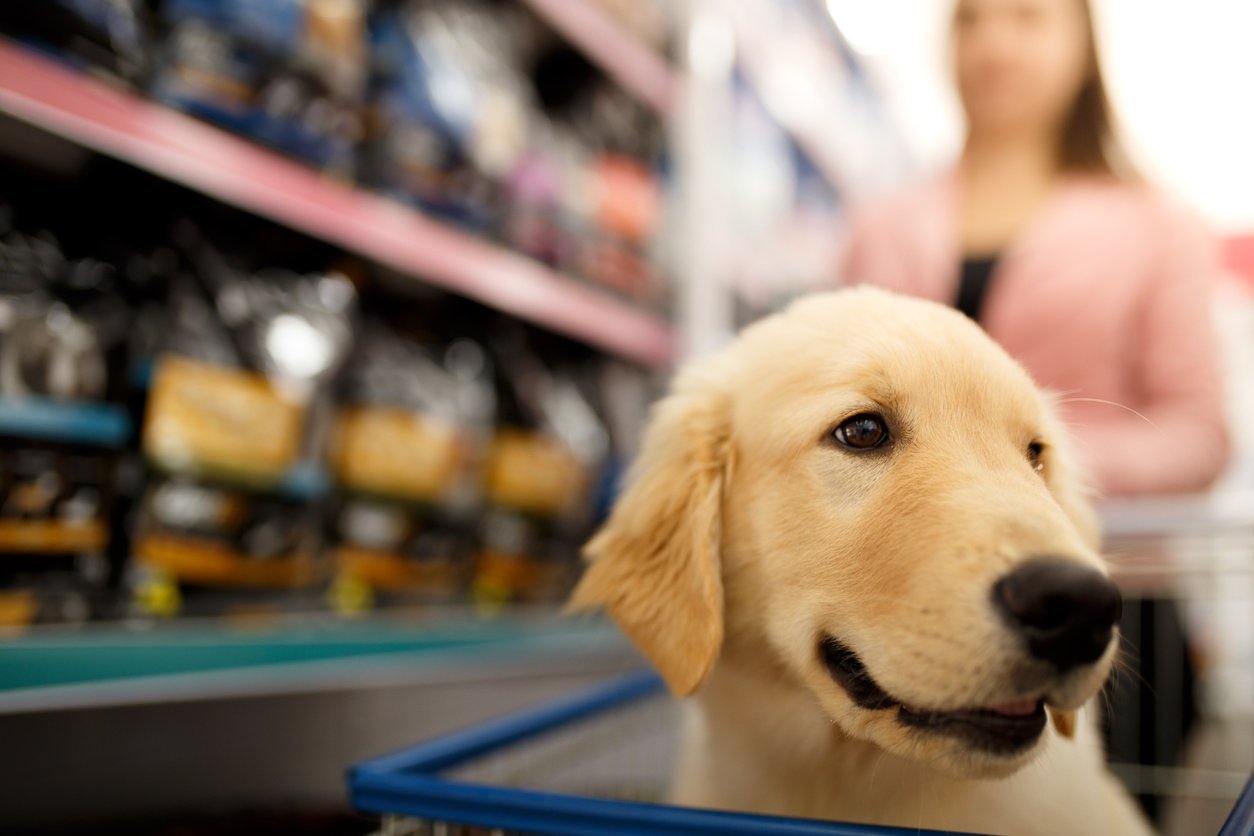 Convenience and ease of purchase are also important factors when choosing your dog's glucosamine supplement.
What happens if you're running out of your chosen supplement? You have several factors to consider such as:
How soon can you get it?
Will you be able to get quick shipping?
Or do you have to wait a couple of weeks – or more, before you can replenish your supply?
With everyone leading such busy lives, it can be easy to misjudge how much of your supplement you have left – until it's too late!
Also, accidents happen—a spilled bottle or lost bag can leave you needing more before you know it. Being able to replenish your supply quickly and easily, therefore, is a major consideration.
3. Ingredients
As you might already imagine, not all pet supplements are created equally. Some have all of the right stuff—some don't. And even still, the quality of each component tends to vary significantly. We evaluated each to make sure they don't have unnecessary and potentially harmful ingredients such as:
| | |
| --- | --- |
| Potentially Harmful Ingredient | Effect |
| Fillers | These substances are often used to increase the volume of the supplements. In addition to being unnecessary for a good supplement, they are often substances such as talc, which are barely considered edible |
| Sugars | These simple carbohydrates are unnecessary additives that can cause health problems such as obesity, heart, and liver conditions |
| Preservatives | Preservatives are extra substances added to foods and supplements in order to make them last longer. They make supplements last longer in storage (up to several months!) thereby benefiting the manufacturer more than the consumer |
| Artificial Colors | The chemicals used to fabricate these colours are unnecessary and can be carcinogenic – not to mention dogs really don't care what colour their pills are! |
When looking for a high-quality supplement for our pets, we want to make sure it has all of the ingredients we want and need—and nothing that we don't. The point is to improve their overall health, without adding anything that could potentially harm it.
Glucosamine supplements can be extracted from natural sources such as shellfish or made in labs.
4. Product Benefits
Supplements that provide glucosamine and chondroitin aim to do one thing mainly – support the musculoskeletal health of your aging or active pup. However, because of the quality of their ingredients, as well as varying dosages of each component, their effectiveness varies.
With that in mind, it's essential to check each supplement to make sure the benefits are what they should be. One way to do this is with product reviews.
| | |
| --- | --- |
| Review Type | Why It's Important |
| Veterinary Professionals | A high-quality canine joint supplement must be approved and recommended by a veterinarian. Trust the professionals! |
| Customers | We need to know whether the supplement works well for customers (and their dogs!) along with an insight into the ease of use. |
We took into account reviews and feedback from both veterinary medical professionals, as well as end-users, such as yourself, to determine which supplements had the most sustainable benefits – and which did not.
5. Packaging and Usability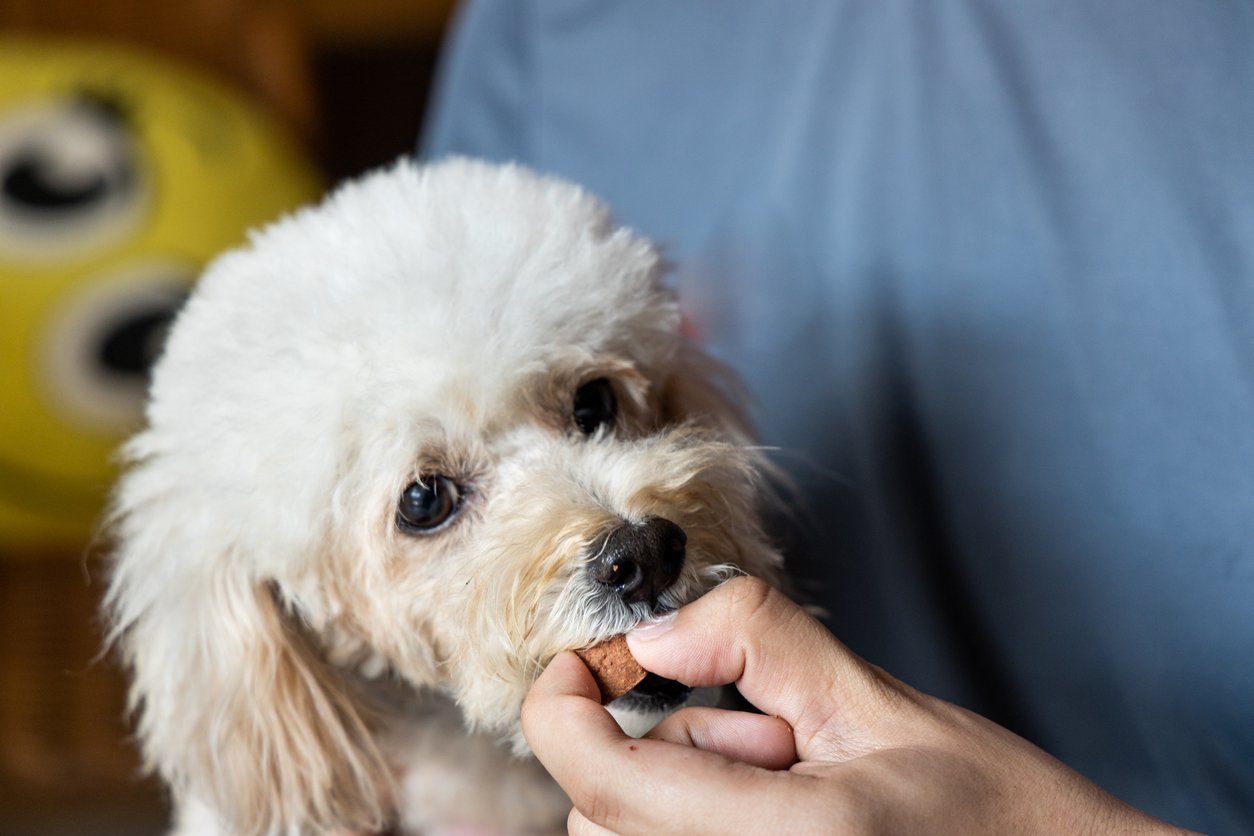 How the product is packaged, as well as how the dosage is administered is another important point to consider. You want to take into account:
How is it packaged?
Can I store it easily?
Does it need to be refrigerated?
How do I administer the supplement?
Some manufacturers require their supplements to be refrigerated to keep them fresh, while others are shelf-stable for a period of time. Others can be stored according to personal preference.
We also took into account the manner in which the supplement can be administered. Some supplements aren't exactly tasty to dogs – especially if you've got a picky eater on your hands. Most supplement manufacturers try to remedy that by providing chewable flavoured tabs, but as many dog owners know, this doesn't always work.
Some forms that dog supplements come in are:
Powders
Liquids
Chewable tabs
Supplements that make it that much easier to administer, even to the pickiest of eaters are more desirable and create less hassle on your end.
6. Manufacturing and Sustainability
People often wonder:
How is the product manufactured?
How well does it store?
If the supplement comes in, let's say a powder, in a large bag – how long will it keep?
No one wants to deal with a large number of supplements that will spoil before you've even gotten a chance to use it all.
This takes us back to being worth your money. If it spoils before you can use it, it's essentially like throwing money away.
The companies covered in this review all recommend storing their supplements in a cool, dry place.
7. Manufacturer Registration and Licensing
What is the company's reputation?
With the increasing demand for dog joint supplements, especially at cheaper prices, companies are cropping up left and right – and not all of them are reputable.
Dealing with a shady company can have disastrous effects! You want to purchase from a company that's reputable, been in business for at least 10 years, and has you and your pup's best interests at heart. You want them to be solely focused on the proper and thorough nutrition of your beloved pet.
8. Quality Assurance
There's nothing like knowing the food and supplements we give our four-legged family members are of the highest quality.
We don't want anything that could potentially damage their health. Things that help ensure a supplement's quality are:
Proper storage
Clean facilities
Approved by a veterinary medical authority
Carefully prepared
Caring staff
Reputable companies put emphasis on the factors above, making sure that their supplements are manufactured in the cleanest, safest way possible.
9. Side Effects
When a supplement is of the highest quality, there should be NO negative side effects. Checking on the prevalence of side effects of each and every company you consider is thereby of great importance.
Especially when it comes to aging dogs, side effects are a huge no-no. They're already in a more fragile health bracket, so any more strain on their health is not something you want.
Before starting any supplement regimen, you want to make sure to consult with your veterinarian first. This would be the case especially if your pup is on any medications. You want to make sure there will be no undesirable or potentially dangerous drug interactions.
10. Customer Service and Post Sale Support
What happens when you have questions after the purchase? Does the customer service experience end after you've received your supplement?
The best supplement manufacturers also have the best customer support. Should you have questions, you want to make sure your chosen company will care enough to support you and your dog throughout the life of using their product.
They should be available to speak with you either via phone or email without unreasonably long waiting times, and with the greatest of care and concern.
Best Glucosamine Chondroitin Supplements For Dogs
G-Max Joint Support
Manufactured by PawLabs, G-Max Joint Support is a joint supplement that highlights their use of 8 key ingredients. These featured ingredients are used to aid in supporting the health and well-being of dog joints.
Ingredients: Glucosamine, MSM, Turmeric, Chondroitin, Calcium Carbonate, Hyaluronic Acid, Beef Liver, Vitamin C
They come in bottles of 60 flavoured tablets, each bottle retailing for about CAD $63. They're shelf-stable but must be stored in a cool, dry place. G-Max Joint Support is available through their website only, and rush shipping is available for a fee.
PawLabs prides themselves on doing clinical research and manufacturing their products in an FDA approved facility. Vets and customers agree that the supplement is beneficial. However, there is little to no indication of post-purchase support or customer service.
*Prices as of April 2021
Mobility Bites
A joint supplement featured by manufacturer ZestyPaws, Mobility Bites are designed to promote joint health. They do this by encouraging the body to keep the joints lubricated, thereby creating more resiliency.
Active Ingredients: Glucosamine HCl (shellfish sourced), OptiMSM, Ascorbic Acid (Vitamin C), Chondroitin Sulfate (porcine source), Kelp, Vitamin E
They come with 90 soft chews that are either Duck or Bacon flavoured. These chews retail for about $26, and are available via the ZestyPaws website, as well as Amazon.com.
While their active ingredients are decent quality, they also include a variety of inactive ingredients—some of these being fillers such as cellulose and flour. They have several ways to reach customer service should you have questions. Customer reviews, however, are mixed.

*Prices as of April 2021
Hip & Joint: Pup Science
Manufactured by Pup Science, and simply called Hip & Joint, this supplement has been formulated to relieve pain, improve mobility, and repair cartilage. They also assert that the supplement can help reduce joint inflammation and lubricate the joints.
Ingredients: Glucosamine HCl, Chondroitin Sulfate, MSM, Manganese
They have a note indicating that their Glucosamine, Chondroitin, and MSM are shellfish-derived.
They come with 60 soft chews that retail close to $40 and are available through their website and Amazon. This supplement is manufactured in a facility that is FDA approved, and they are Good Manufacturing Practice Certified. They also offer a 120-day money-back guarantee if you're not satisfied.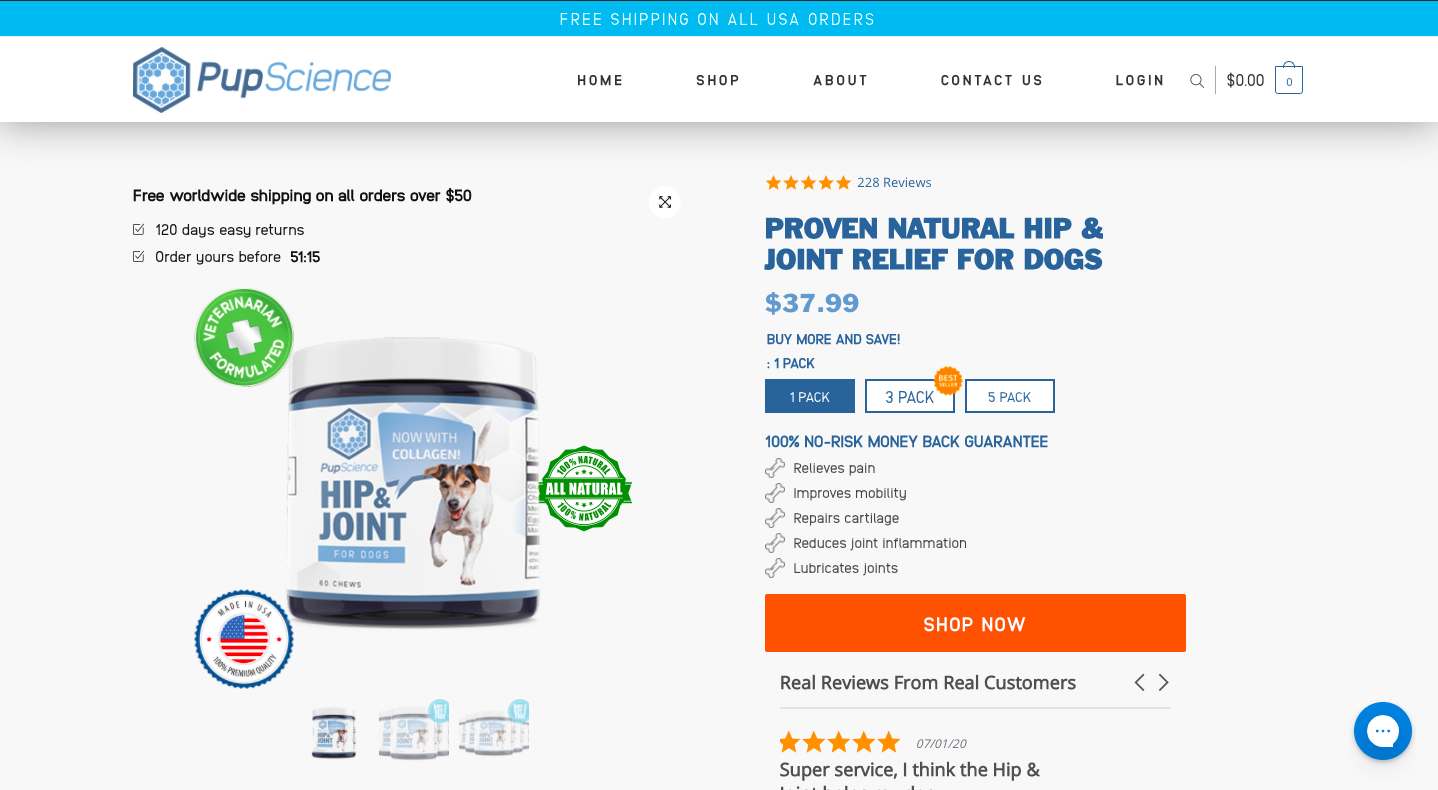 *Prices as of April 2021
Activ-Flex: PlanoPaws
Manufactured by PlanoPaws, Activ-Flex is advertised as guaranteed to relieve joint pain and improve mobility – or your money back! They mention it as a safe and effective way to support your dog's joints.
Ingredients: Glucosamine HCl, Organic turmeric, PurForMSM, Ascorbic Acid (Vitamin C), Chondroitin Sulfate, Dried Yucca Schidigera Extract, Vitamin E, Egg Shell Meal (Source of Collagen)
They come with 120 Chicken-flavored soft chews that retail about $30. Activ-Flex is available on the PlanoPaws website, as well as on Amazon.com. However, their formula also contains fillers and preservatives.
Customer reviews are mixed, with some indicating that it did not work, or they had a hard time getting their dogs to take it. The company does, however, offer an email address should you have any questions or concerns. They are responsive to questions on Amazon.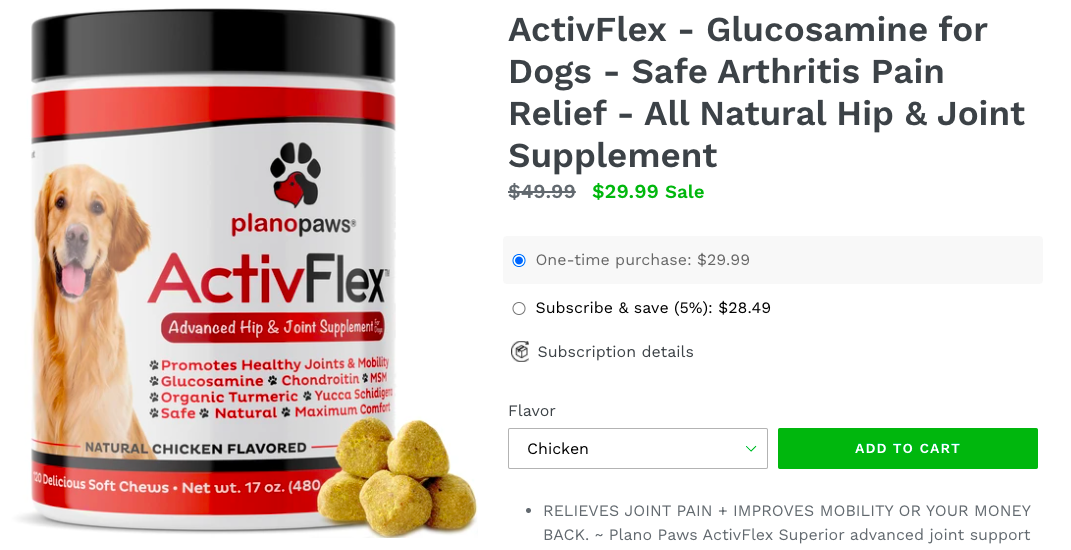 *Prices as of April 2021
Senior Hip & Joint Advanced Soft Chews
NaturVet's Senior Hip & Joint Advanced Soft Chews were designed for the needs of aging senior dogs, but are able to be used for any dog over one year of age. Their formula is designed to support joints and maintain healthy cartilage and connective tissues.
Ingredients: Glucosamine HCl (shellfish sourced), MSM, Calcium Ascorbate (Vitamin C), Omega-3 Fatty Acids (Fish Oil, Lecithin, Flaxseed, and Salmon Oil), Chondroitin Sulfate (Porcine Source), Yucca schidigera, Omega-6 Fatty Acids (Lecithin & Flaxseed), Vitamin E
This supplement comes in 240 Chewable Tabs that retail for about $40. They can be purchased at popular stores such as Petco and Chewy.Com, as well as their website.
Like a few others in its class, this supplement also includes fillers and preservatives. They even include ingredients such as Glycerin and Vegetable oil. Customers report mixed reactions, and some dogs don't seem to take the pills readily.
They do offer a 100% money-back guarantee and stand behind the quality of their products.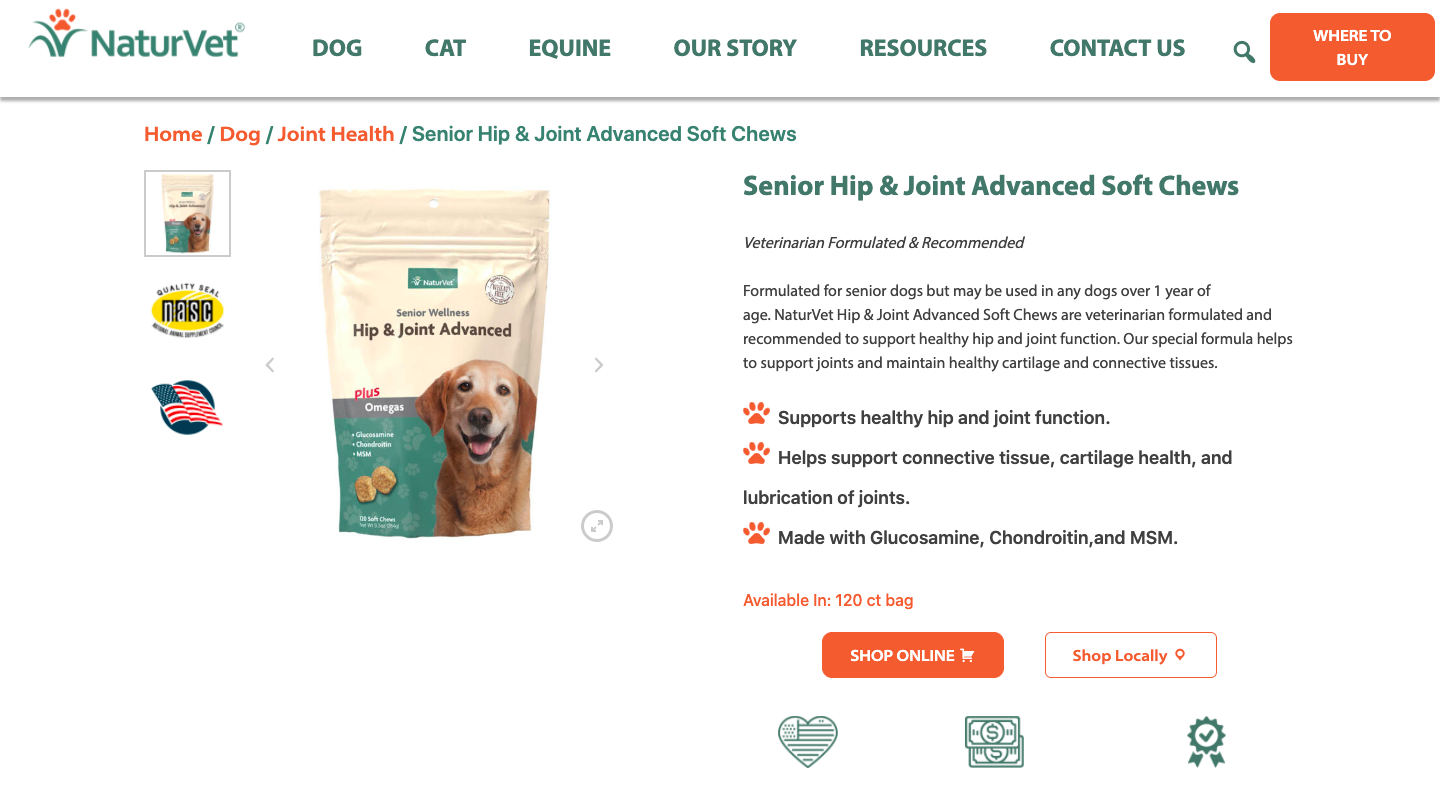 *Prices as of April 2021
Tomlyn Joint & Hip Chews
Tomlyn's Joint & Hip Chews come in three sizes – one for smaller dogs, another for larger dogs, and a third for senior dogs. They're specially formulated for dogs only and are designed to provide the best results, in the smallest possible dose.
Ingredients: Glucosamine, MSM, Chondroitin (from Perna canaliculus), Grape seed extract, Creatine, Omega-3 Fatty acids
They come with 30 soft chews and retail for anywhere from $15 – $25. They're available on their site, as well as on popular sites like Amazon, Wal-Mart, and Chewy.
Besides the information regarding how their formulas come in three dosages, Tomlyn provides little other information on their product. They do, however, provide a contact form should you want more information.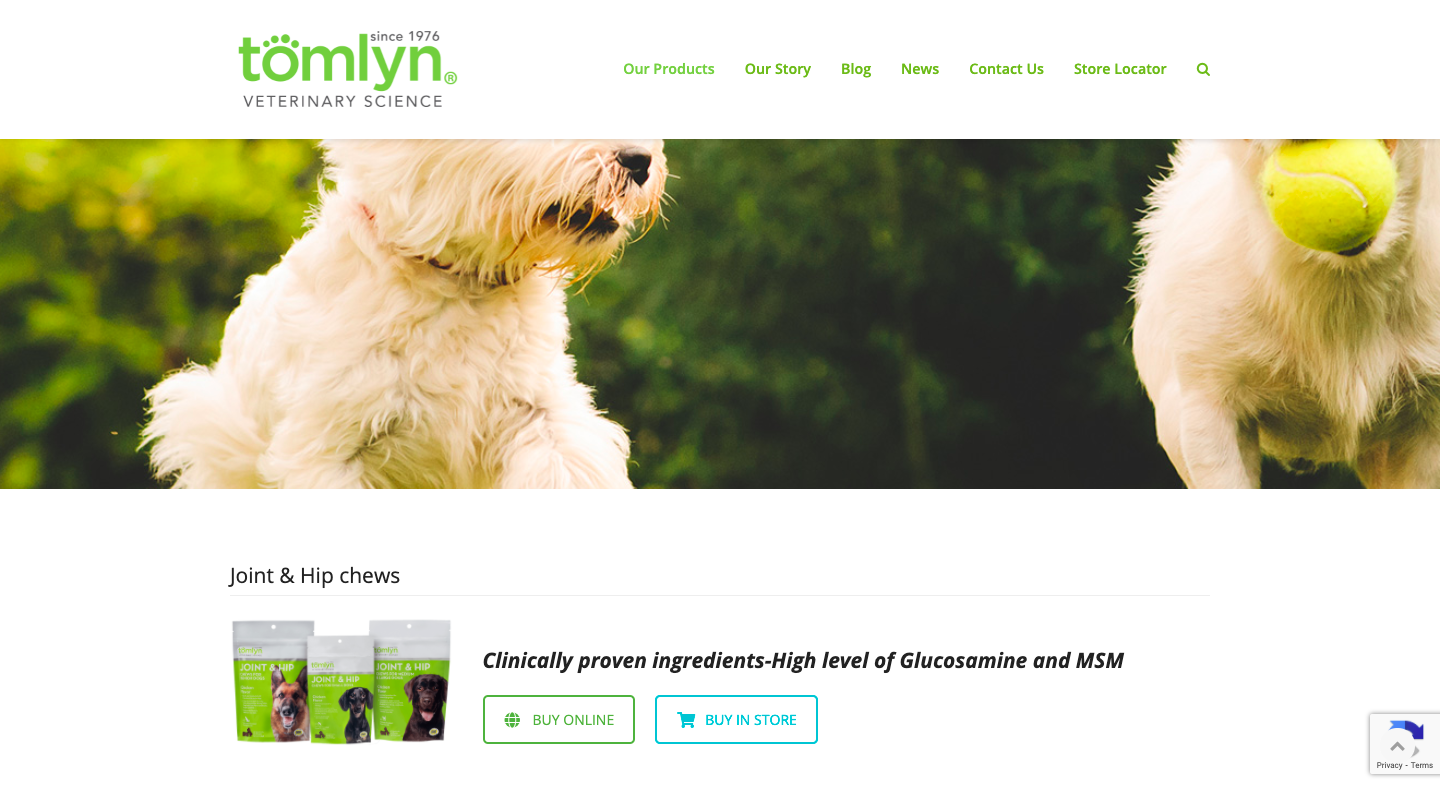 *Prices as of April 2021
ProSense Glucosamine Chew Tablets
Manufacturer ProSense offers their Advanced Glucosamine Chew Tablets, advertised as the Advanced Strength formula of Glucosamine. They help support the healthy function of joints and hips.
Ingredients: Glucosamine HCl (shellfish sourced), Chondroitin Sulfate (porcine source), MSM. Calcium Ascorbate (source of Vitamin C), Manganese (Manganese Proteinate).
They come with 60 chewable tablets which retail for about $10, or 120 tablets, which retail for about $20. They can be found at Walmart, Target, and Chewy.com.
Their formula also contains additives such as Glycerin and Silicon Dioxide. They recommend giving the supplement on a full stomach in order to avoid digestive issues. Customer reviews are mixed, and some say their dogs refuse to take the tablets.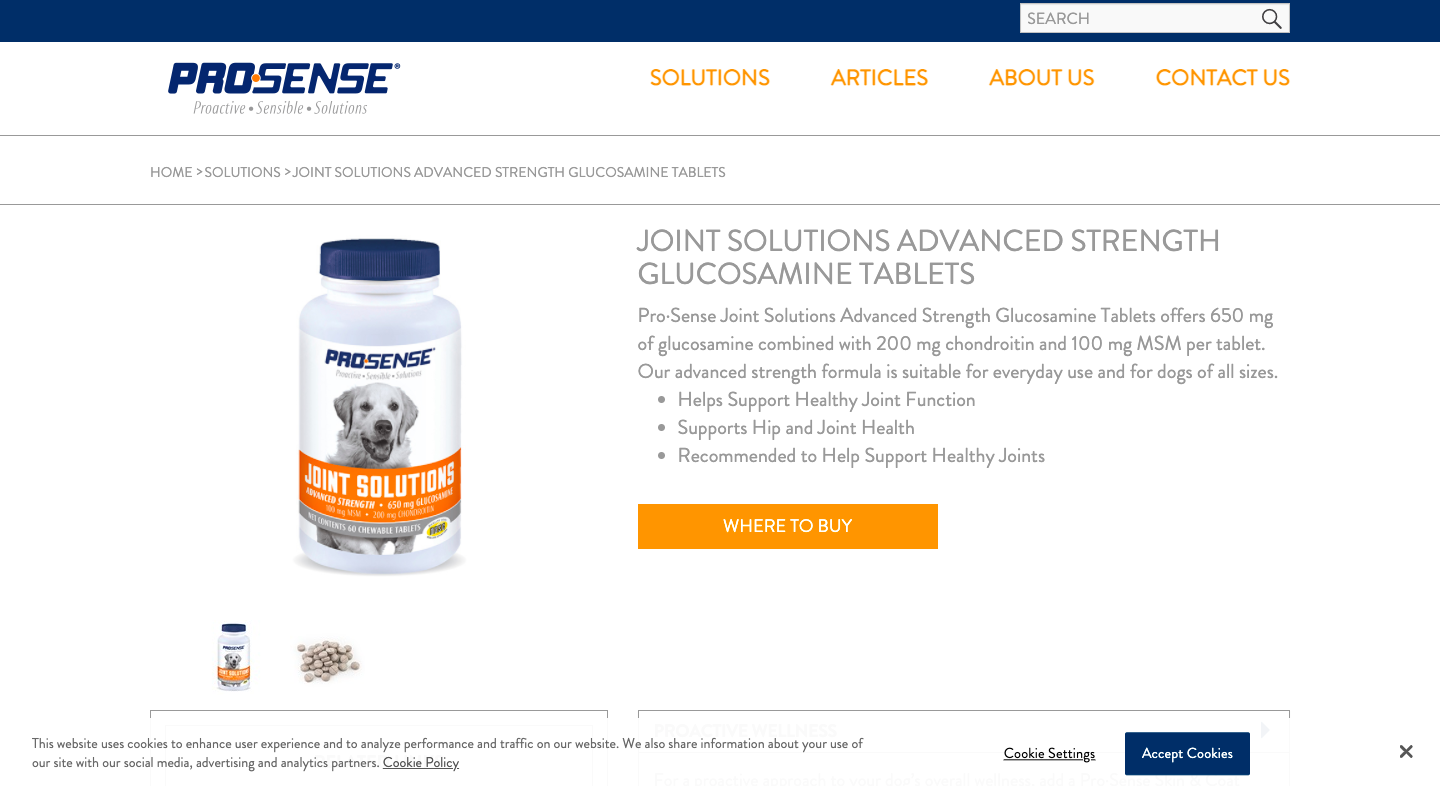 *Prices as of April 2021
Paramount Pets Liquid Glucosamine
Paramount Pets has created a line of Liquid Glucosamine supplements for small and large dogs. They even have a Vegetarian formula. It's designed to be easy to administer and to be high-quality Glucosamine to support overall joint health.
Ingredients: Glucosamine Sulfate (shellfish source), Glucosamine HCl (shellfish source), Chondroitin Sulfate (beef and porcine source), MSM. Hyaluronic Acid, Ascorbic Acid.
They come in 32 oz bottles that retail for about $70 and are sold on their website, and at Amazon.
Customers remark how the liquid form makes it easier to give to dogs, but some indicate a recent formula change makes it less palatable than usual. Paramount Pets does stand behind their products, and even offers a money-back guarantee should it not work for the customer.

*Prices as of April 2021
YuMove Chewable Tablets
YuMove Chewable Tablets are designed to provide the best ingredients for helping to maintain joint health in dogs.
Ingredients: Green-lipped Mussel (containing natural Chondroitin), Vitamin C, Vitamin E, Glucosamine HCl (corn extract), Manganese Sulfate, Hyaluronic Acid
They come with 300 tablets that retail for about $34. They can be found on the YuMove website, as well as Amazon.com.
Their site highlights Customer Support – but not how effective it is. They also offer a Money Back Guarantee, Free Returns, and they're said to be recommended by Veterinarians.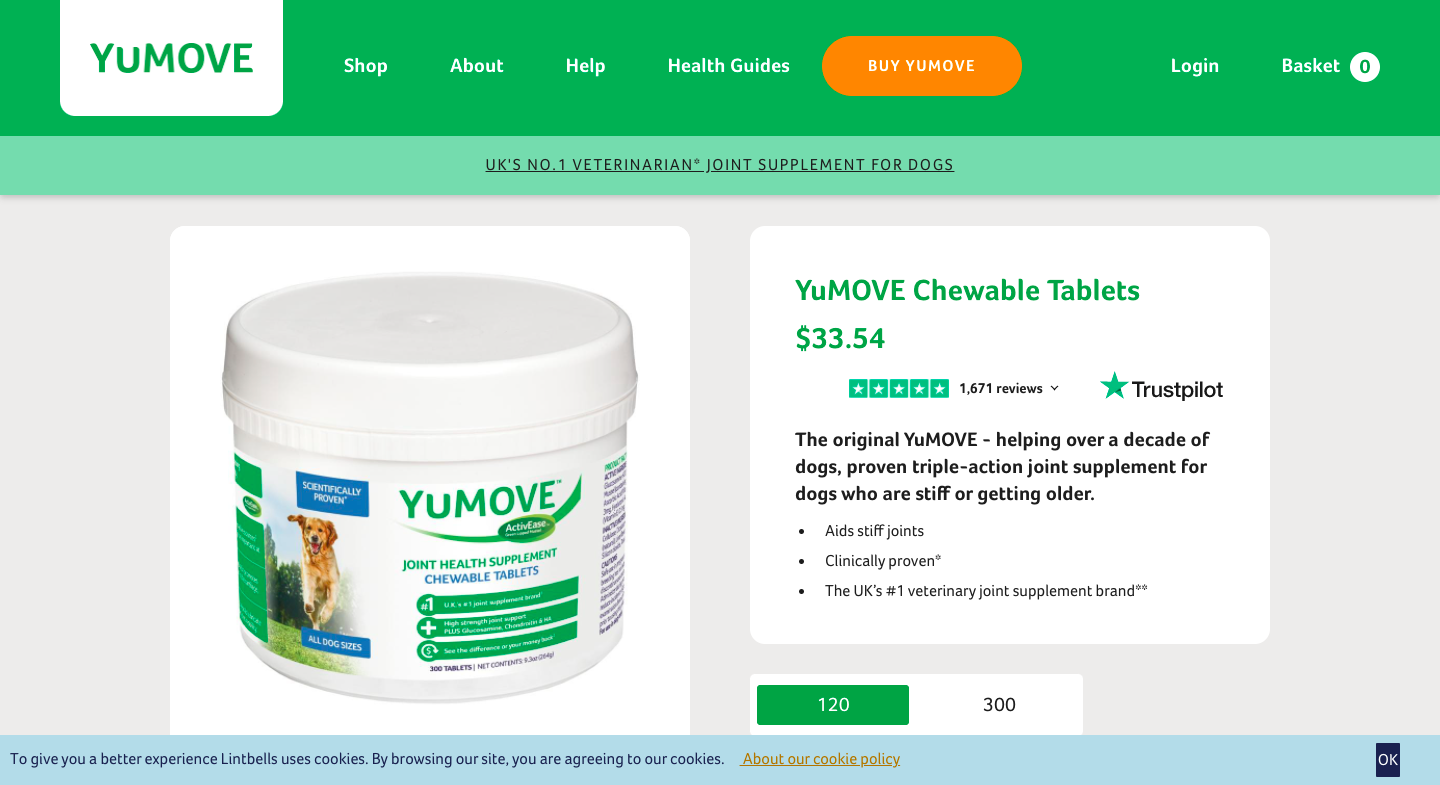 *Prices as of April 2021
TRI-ACTA & TRI-ACTA H.A.
Last, but certainly not least, is Integricare's TRI-ACTA & TRI-ACTA H.A. Formulated to offer the very best in joint health support. Manufactured carefully and under strict quality control, TRI-ACTA's ingredients don't contain one, but two forms of the highly valuable amino sugar, glucosamine.
Ingredients: Glucosamine HCl, Glucosamine Sulfate, Methylsulfonylmethane (MSM), Chondroitin Sulfate, and Hyaluronic Acid (only in the TRI-ACTA H.A. formula)—that's it, no fillers!
It comes in powder form in three sizes—60 g, 140 g, and 300 g and ranges in price from about $20 – $60. Because there are no fillers, the servings are small (1gram) and all three options provide great cost per serving, ranging from 0.20 cents to 0.33 cents for Regular Strength and 0.25-0.42 cents for Maximum Strength. And again, with zero fillers, the cost per active ingredient is among the industry's best. Besides the Integricare website, it can also be purchased at local retailers.
In a class of its own, TRI-ACTA offers all of the best ingredients and none of the rest. Period.
Some of the pickiest eaters won't even take a second look at a soft chew or chew tab—no matter what flavour it is. And crushing tablets can be such a hassle. Because of the purity and concentration, the servings are extremely small and easy to administer. You don't have to give a lot, but you do get therapeutic levels of the active components because of its concentration. But TRI-ACTA comes in a powder form that is easy to administer and mix into the food of even the pickiest eater, no matter how finicky they are.
Integricare takes great pride in its products and makes sure its facilities are clean, organized, and staffed with people that care about you and your dog. Customer support is there for you throughout your use of TRI-ACTA.
Customers report seeing significant changes in their dogs sooner than they expected. Should they have any questions, Integricare responds promptly and courteously.
*Prices as of April 2021
Give Your Dog The Very Best
When it comes to supplements that contain glucosamine chondroitin for dogs you want to make sure that you're giving your furry family member the very best.
Integricare has over 20 years providing top-notch supplements with the highest quality ingredients. Formulated in a facility with very strict quality control protocols, you can rest assured that your pet's supplements have everything they need—and nothing they don't!
Vets and pet owners alike speak well of TRI-ACTA and TRI-ACTA H.A., and if they could talk, their dogs would too!
Visit Integricare today and give your dog the best support for their joint health that money can buy.
Newsletter Signup
Subscribe to our newsletter to receive the latest news and exclusive offers.