Along with getting older and wiser, we can also get a little stiff. It's no different for your pets.
Let's take a dog for example—once hyper and nimble, may begin to slow and laze about in their mature years. The pup that used to bolt to the door as soon as he hears "W-A-L-K" may now be more content on the couch.
Even if we all age gracefully, there's bound to be a little creaking in the joints eventually. It can be challenging to watch your puppy get older, but you can do things to help.
Just as we take supplements to grease up our joints, your pets can take animal health supplements to oil the spots that may be giving them discomfort.
Wouldn't it be a dream to support your dog's joint health and mobility from here on out? What loving pet owner wouldn't?
Most people will get caught up in which animal supplements to purchase. There are so many joint and mobility animal supplements to choose from, so where do you start?
Well, you've stumbled upon the right article! We'll tell you about our top favourite animal supplements for your beloved pet.
Our Evaluation Criteria – How We Chose Our Favourite
We have ranked the following products with several things in mind:
Price
Ingredients
Product range
Product benefits
Manufacturing and sustainability
Manufacturer registration and Licensing
Potential side effects (if any)
Customer service/post-sale support
Price
Though we can all agree, it's not the most important for our pet's health; price is one of the first things we tend to think about when considering a product.
Ingredients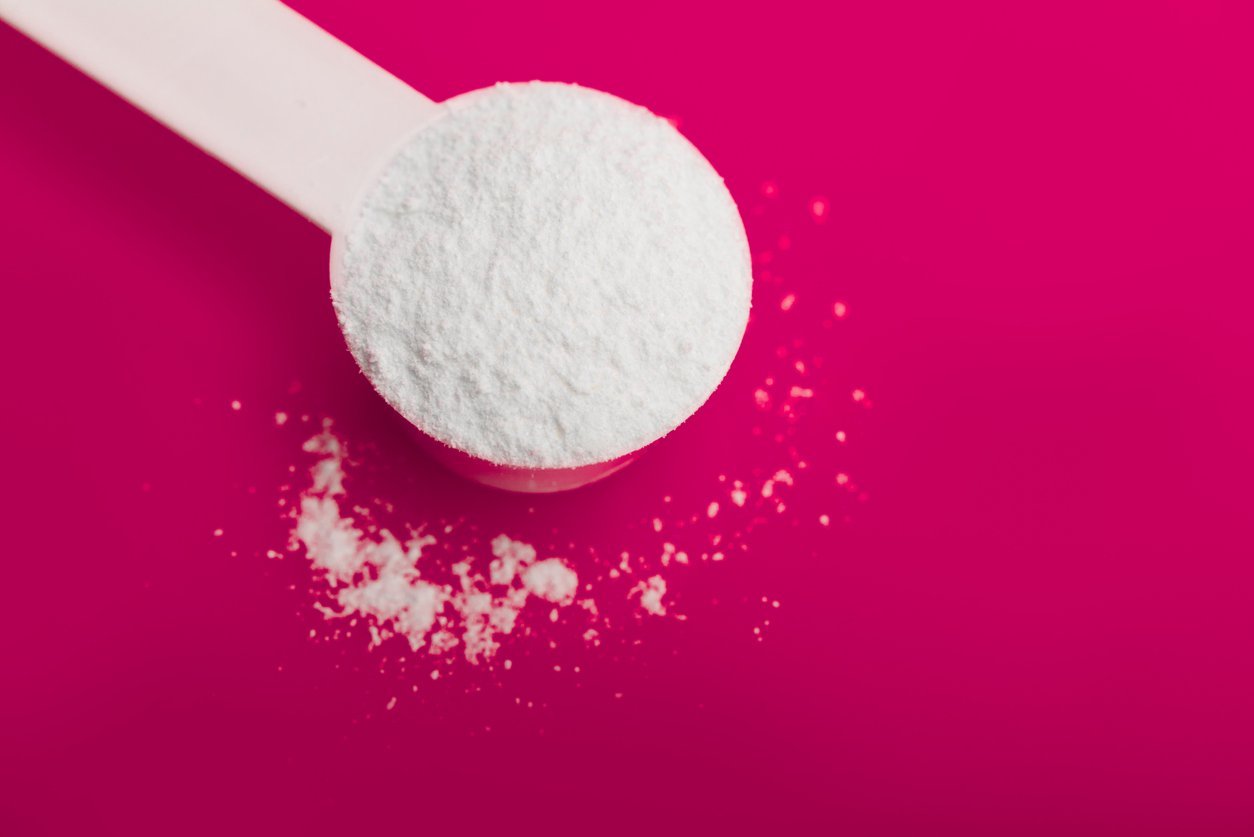 Whether you are buying food for yourself or your animals, ingredients are essential and not something to glance over. We know that organic, natural, unprocessed foods are better for us, right? The same goes for your dog.
There are three essential ingredients in animal health supplements for your pet.
Glucosamine
M.S.M. (Methylsulfonylmethane)
Chondroitin Sulfate
Glucosamine is a naturally occurring compound found in cartilage. As a supplement, glucosamine has the ability to repair cartilage. Essentially, it leads to the production of proteoglycans, which leads to the production of cartilage.
Chondroitin Sulfate works alongside glucosamine to make the perfect cocktail for anti-inflammatory, regenerative effects to the damaged joint tissue. This is the component to prevent cartilage from breaking down or deteriorating. It does this by inhibiting the destructive enzymes that wear away cartilage.
MSM also aids in reducing pain and inflammation and is a commonly used ingredient in joint health supplements.
Product benefits
How will this help your pet?
Manufacturing and sustainability
Is this product sustainable for the environment, or is it adding to the demise of our planet?
Manufacturer registration and licensing
These companies can be sneaky. Pet medicines without valid manufacturing registration or licensing can be hazardous. What's even more frightening is that these "knock-offs" are everywhere. Beware of ordering online from places that sell everything. Support your local pet specialty retail stores by purchasing high-quality animal supplements there.
Potential side effects (if any)
Strange things can happen when you are giving your dog new meds or animal nutrition supplements. It's essential to pay attention to the ingredients because some dogs are more sensitive to, say, tomatoes than others, while other dogs may be susceptible to another component.
Customer service/post-sale support
Doesn't it ruffle your feathers when you try to return something, and there is no phone number or customer service found on the website? When you need help with a product and the post-sale support is MIA, that is unacceptable and just plain bad business.
Top 6 Animal Health Supplements For Healthy Pets
Based on the criteria we just went over, we have picked these top six joint animal supplements for pets:
1. Integricare | TRI-ACTA Pet Supplements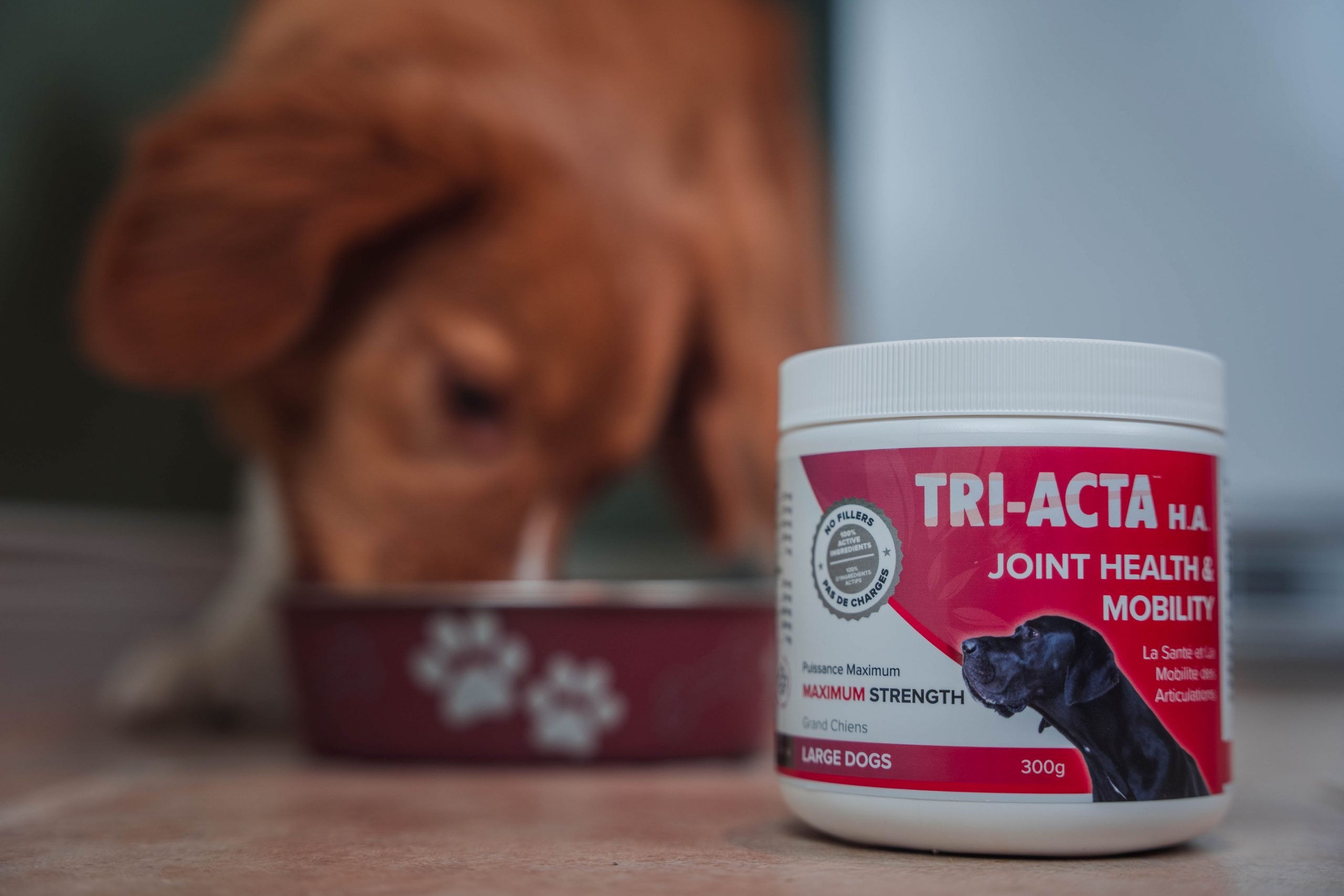 Hey! That's us! We might be a little biased here, but this list wouldn't be complete without us. We truly stand by our animal supplements. Integricare has been supplying Canada's animal lovers with premium, all-natural animal nutrition supplements for both horses and pets since 1999.
Our TRI-ACTA pet supplements are safe for animals of all ages! In particular dogs, from puppies to older guys suffering from arthritis or hip dysplasia.
Integricare is unique in that we use only active ingredients in our product. That means no fillers and no useless junk going into your furry friend's body. The customer is getting exactly what they have purchased, a quality product that will:
promote mobility
decrease stiffness
encourage & maintain healthy cartilage
protect joints
TRI-ACTA is a powder that is mixed in with your pet's food once a day. TRI-ACTA contains ONLY four ingredients and our maximum strength TRI-ACTA H.A. contains five ingredients. Both include two different types of glucosamine, and all are essential and active in the health of your dog's joints. For instance, glucosamine, chondroitin sulfate, MSM, and hyaluronic acid are all that's in TRI-ACTA H.A. (no hyaluronic acid in the regular strength).
Such an active formula results in a few things:
Value – You're not spending your money on anything but the active ingredients! Low cost per serving.
Efficiency – You can rest assured that every ingredient in TRI-ACTA will revitalize your pet's precious joints.
Small serving size – No need to hide a pile of powder under a hamburger or a pill inside a chicken breast. Since TRI-ACTA only has active ingredients, the serving size is just one gram per 35 pounds.
Safe – No weird and unexpected side effects from fillers you weren't expecting to be in there.
Besides the selling point of ONLY having active ingredients, TRI-ACTA is also made of all pharmaceutical grade materials and is a Health Canada approved Veterinary Health Product. This ensures the quality and contents are verified and regulated. In addition, all components are third party independently tested for purity and quality at a local lab in Ontario, Canada.
TRI-ACTA is the most effective and our choice for the best animal supplement in Canada.
| | |
| --- | --- |
| Animal Health Supplement | Dosage |
| Integricare – TRI-ACTA | One gram per 35 pounds (1/15) of a tbsp. |
| Platinum Performance Canine – Omega-3 Wellness and Performance Formula | One tablespoon per 30 pounds |
| Pet Honesty – Hemp Mobility Chews | One chew per 25 pounds |
| Geri-Active Chews | ½ chew per 33 pounds (15kg) |
| Extend – Joint Care | 4 grams per pouch |
| Zesty Paws Mobility Chews | One chew per 25 pounds |
15 g = 1 tablespoon 4.2g = 1 teaspoon
Try TRI-ACTA and TRI-ACTA H.A. for only $19.99 – $24.99.
2. Platinum Performance Canine | Omega-3 Wellness and Performance Formula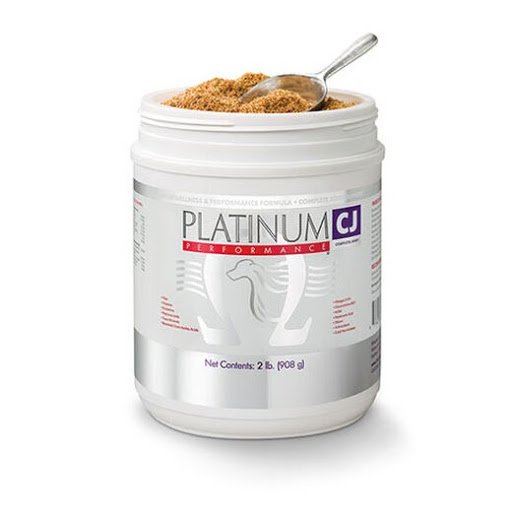 * $23.00 – $42.00 as of January 2021.
Platinum Performance is a trusted brand specializing in animal supplements for dogs, cats and horses.
For those pet owners looking for a proactive plan of attack for joint and mobility issues, Platinum performance offers a powder that is for all healthy dogs and puppies. They also provide more concentrated formulas for the old-timer that is struggling with joint stiffness and pain.
Platinum Performance products have a lot of nice-sounding ingredients, but the list is very long.
Chock full of vitamins, minerals, as well as yeast, aloe vera and whey protein, platinum performance has made somewhat of a multivitamin. They boast an array of benefits including:
immunity support
joint support
cognitive function
digestive health
skin health
allergy health
reproductive support
The only question is, does your dog need all of that?
It's hard to know how well an all-encompassing product will work on one specific target condition, in this case, joint degeneration.
With a dose of one tablespoon per 30 pounds for a dog, Platinum Performance suggests the largest serving size of all of our top animal sports supplements.
Could you imagine mixing in three heaping tablespoons for your 90 pound English sheepdog? Me either, but how else would they fit in all of those extra vitamins and minerals?
3. Zesty Paws Mobility Bites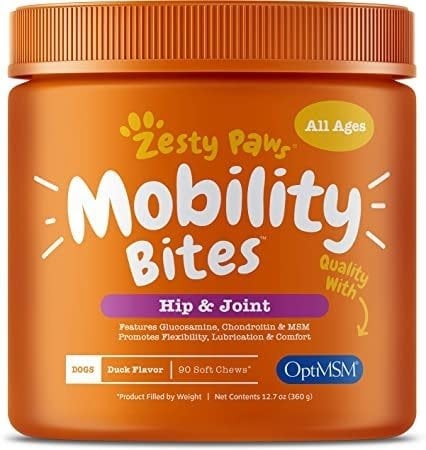 * $24.97 – $34.97 as of January 2021.
Zesty Paws Mobility Bites are fairly affordable and easy to give. Only one chew per 25 pounds of dog, so no trying to hide it in a bowl of dog food.
Zesty Paws use all of the vital ingredients for joint health and regeneration – Glucosamine HCI, Glucosamine Sulfate, MSM, Yucca Schidigera Extract and Vitamin C.
Many of the animal health supplements that come in "chew" form have a ton of fillers to keep the chew in one piece. It's like making cookies with eggs; the egg holds everything together. Unfortunately, when dog foods and packaged foods are made, they can't include fresh ingredients like eggs. That stuff would be rotten by the time it hit the shelf. So they use things like flours and flavours to keep everything together and tasting okay.
Zesty Paws uses a lot of different flours; it's almost a flour charcuterie with an array of flours available. In the inactive ingredients, you'll find pea, tapioca, and garbanzo flour—fancy. However, that isn't great if you have a gluten allergy, but it's nothing detrimental to dogs.
4. Geri-Active Chews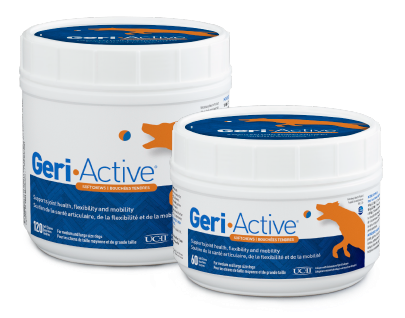 If nothing else, you have to give them props for the clever name.
Geri-Active chews come in two different sizes—one for small dogs and one for medium and large. They have the basic building blocks of joint health, Glucosamine and MSM, along with Creatine, Bromelain, and Omega-3 fatty acids. So if your dog is training for the next bodybuilder competition, they should be all set!
Creatine is known to increase muscle mass, boost strength, and lend energy in humans; it is unknown how much it can really do in dogs.
In humans, creatine is used as a supplement to help make ATP in the body. ATP keeps muscles pumped up and ready to go for a longer period so that one may workout longer than they would have otherwise.
For dogs, the point is somewhat moot. Though creatine will help your dog to make ATP, creatine itself doesn't "grow muscles." It just pushes your muscles to keep working longer. So, unless you're weight training your dog to be buff, there isn't a need for creatine in their diet.
Side effects of creatine include:
Dehydration
Gastrointestinal upset
Muscle cramps and spasms
Pulled muscles from all the extra energy they get from the creatine
Maybe this is a good option for you, but don't be upset with your dog when they're going nuts from all the muscle milk.
Available on Amazon from $39.95 – $79.95.
5. Extend Joint Care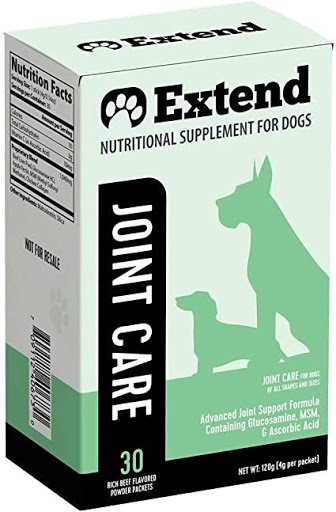 * $48.95 – $64.95 as of January 2021.
Another group of pet parents that went on a quest to make a quality product for their animals, Extend's joint care can help strengthen and nourish joints in ageing dogs specifically.
Extend's joint care powder comes in a handy little tear-open pouch for easy mixing. The contents of the pouch are mixed with water and topped with a gravy, which is included.
Extend's joint care does appear to have the active ingredients necessary for a good supplement. Still, information on how much of each active ingredient in their animal health supplements are not readily available. Other inactive ingredients are not evident on the website either, but we managed to find them online.
Extend's joint care can be found on their website for $64.95 for a one month supply or $51.95 for repeat delivery. The website also says you can order on Amazon, but ordering pet meds from Amazon is like getting your wedding dress on eBay. Read the ingredient list and tons of reviews to make sure you get the intended product.
Extend has a pretty short list of ingredients with Glucosamine and MSM at the top and beef liver meal and oat fibre at the bottom, not bad. Unfortunately, the product also has Maltodextrin on its list of inactive ingredients.
What is Maltodextrin?
Maltodextrin is a commonly used filler or thickening. It's made from corn, rice/potato starch or wheat, so you don't want to eat this on Keto! Even though Maltodextrin is made from vegetables, it is still very processed, and we all know processed isn't ideal.
Side effects of Maltodextrin include:
Allergic reactions
Flatulence
Bloating
Asthma
Difficulty breathing
Maltodextrin can even suppress the growth of probiotics in the belly. So if you're looking into buying one of the all-encompassing, "one supplement to do it all" products, and it has Maltodextrin, it can render the probiotic advantages useless.
Maltodextrin is also closely related to corn syrup solids, but not as sweet. The FDA has deemed Maltodextrin okay for consumption as an additive, but they say that about corn syrup and preservatives too. You decide for yourself what you choose as the best fit for your fur baby. I'm just the messenger.
Available at Extend Pets or Chewy.
6. Pet Honesty Hemp Mobility Chews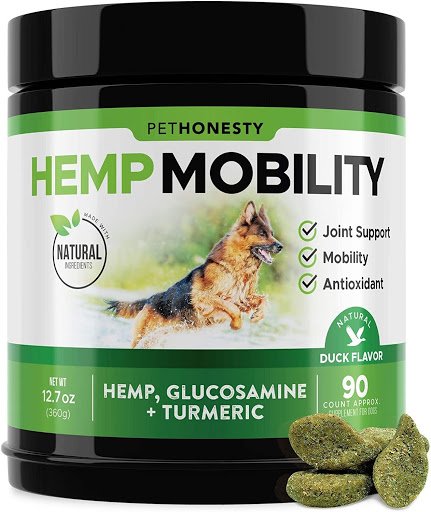 * $39.99 as of January 2021.
Oh, hemp. You've been around for so long, but only recently have people been raving about all of your benefits!
Pet Honesty's marketing team knows what they're doing. They talk of the fantastic hemp oil benefits – omega-3 fatty acids and the reduction of inflammation, as well as the known benefits of Glucosamine and MSM, but what makes hemp oil so magical?
It's true, hemp seed oil has more essential fatty acids than flaxseed oil and can offer many benefits like digestive, skin and heart health. It is full of antioxidants to keep the wrinkles away and vitamins and minerals to boot. However, Hemp seed oil alone doesn't have therapeutic benefits.
To get all of the therapeutic pluses, you must be using full-spectrum hemp oil. That means that the oil comes from the stalk, leaves or flowers of the plant, not from the seeds.
Full-spectrum hemp oil will deliver results like:
Reduction in inflammation (of joints)
Increase in appetite
Combating nausea
Relieving arthritis
Although the folks at Pet Honesty do speak of all of the benefits of "organic hemp oil" and "organic hemp powder", the ingredients read "organic hemp seed powder" and "organic hemp seed oil".
Hemp seed oil does some wonderful things, but it doesn't reduce inflammation and pain without the full spectrum.
It may seem like a case of the wolf pulling the wool over your eyes, but in reality, full-spectrum hemp oil would be costly, considering it's all the fun parts of the plant.
It would be a surprise if any "hemp oil" product brimming with pride of their hip new-age health cure is really full-spectrum hemp oil and not hemp seed oil. It's one of those tricky loopholes where they both could, in fact, be called hemp oil, so it's not exactly a lie to call it that, but it is if the product is promising the therapeutic effects.
For a bunch of hippies making dog chews, you'd think that palm oil wouldn't make it to the ingredient list. It's a controversial topic over the past couple of years and is a contributor to deforestation.
Lastly, tomato makes the list of ingredients, and don't get me wrong; they're delicious. Still, many dogs have allergic reactions to tomatoes, among other yucky side effects—nothing too serious, just something to watch.
Available from the PetHonesty website, Amazon & Chewy.
Beware of Whack Reviews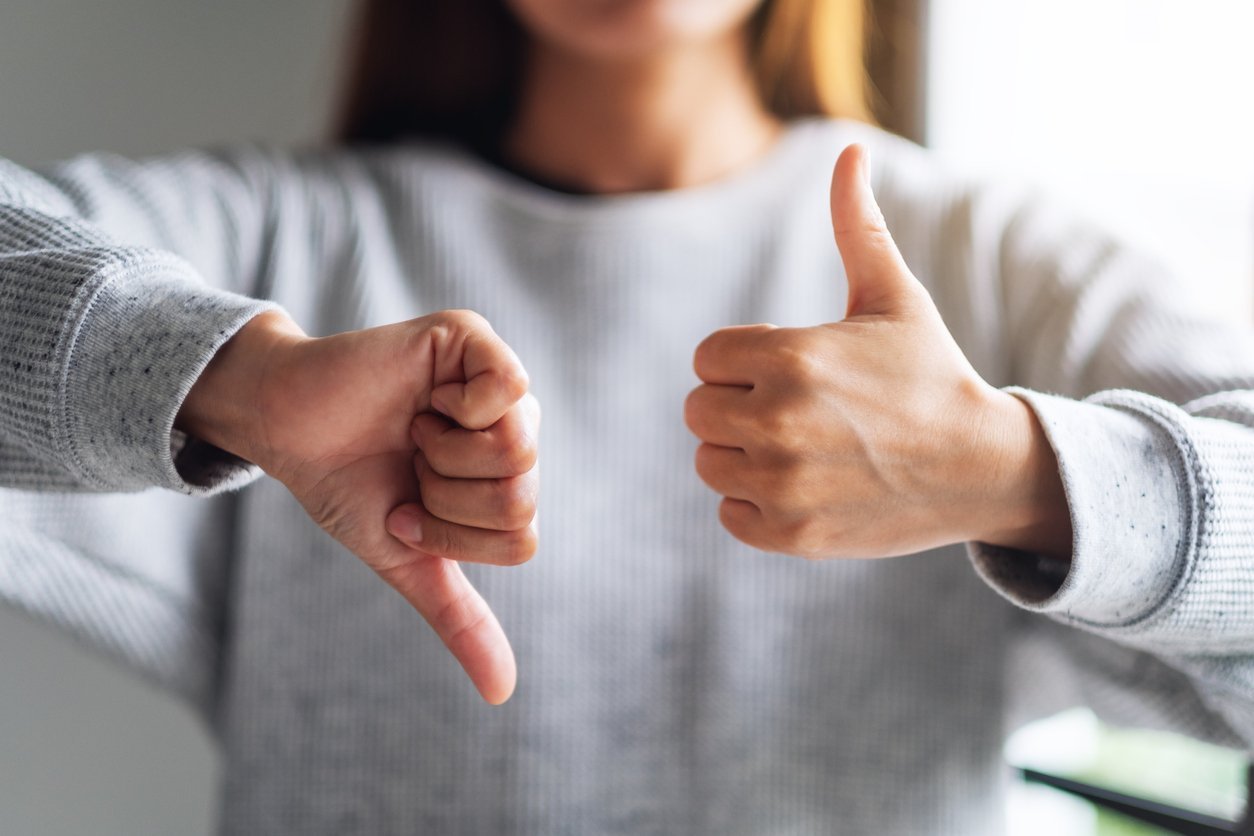 We all look at the reviews when we are shopping around for a new pair of shoes or a new product for ourselves or our beloved pets. Did you know that some sites pay for five-star reviews? It's not that surprising, but just a friendly warning, don't believe every review you read.
We've even noticed some websites that appear to have hundreds of reviews. You read all of the stellar first page reviews and click on page two of 10, nothing. It's a farce. Maybe the reviews on the first page are real, and maybe they aren't, but it doesn't leave you feeling warm and fuzzy.
Some companies and corporations are willing to go to extreme lengths to trick the reader into believing that they have hundreds of positive reviews when they don't. Considering that information, why would you trust the company at all? Again, you make your own opinions; we're just here to help you stay aware and informed about your pet and their health.
Active and Inactive ingredients
Inactive ingredients don't necessarily benefit your pet in a meaningful way but are in the product for things like preservation or as a thickening to hold everything together. Sometimes they are just there to make it taste better, can't fault them for that, but how much is too much?
Do you really need all of that other "junk" in the supplement that you're giving to your dog on a daily basis?
Think about it, if you're going to give this supplement to your dog every day for the remainder of their life, are all of these ingredients necessary? Our bodies, as well as our animals' bodies, work most optimally with an unprocessed, balanced diet.
Though all of the active and inactive ingredients are not made apparent on all of the company's websites, we could dig them up on the good old internet for comparison's sake.
Supplement
Active Ingredients
Inactive Ingredients
Integricare | TRI-ACTA H.A.

Glucosamine Sulfate
Glucosamine Hydrochloride
MSM
Chondroitin Sulfate
Hyaluronic Acid

Platinum Performance Canine | Omega-3 Wellness and Performance Formula

Glucosamine Sulfate 2KCL
Vitamin E
Taurine
Vitamins B1, B2, B3, B5, B6, B12, and D3.

Rice bran
Cane molasses
Selenium yeast
Rosemary & Citric Acid
Organic aloe vera
Zinc gluconate

Zesty Pets Mobility Chews

Glucosamine HCI
MSM
Chondroitin Sulfate
Ascorbic Acid
Kelp Yucca extract
Vitamin E
Flaxseed

Coconut glycerin
Chicken flavour
Pea flavour
Flaxseed meal
Garbanzo flour
Tapioca flour
Sorbic acid

Geri-Active Chews

Glucosamine
MSM
Creatine
Bromelain
Omega-3 fatty acids
Astaxanthin

Wheat flour
Chicken meal
Glycerin
Soybean oil
Corn starch
Maltodextrin
Potassium Sorbate

Extend | Joint Care

Glucosamine HCI
MSM
Type II chicken collagen
Ascorbic acid

Beef liver meal
Maltodextrin
Oat fibre

Pet Honesty | Hemp Mobility Chews

Glucosamine HCL
MSM
Turmeric
Organic Hemp
Green Lipid Mussel
Cod Liver Oil
Eggshell meal

Palm oil
Oat flour
Duck flavour
Duck digest
Coconut flour
Tomato
Carrot
Sweet Potato
Conclusion
In general, fewer ingredients means more room for the stuff that matters. We don't want to pump our kitties and pups full of preservatives and gluten when what they need is lubrication around their degenerating joints. It's like wanting a salad but forcing yourself to eat a piece of cake first. Doesn't make much sense.
TRI-ACTA and TRI-ACTA H.A. is our top pick as the best animal supplements in Canada.
This is because the supplements contain only active ingredients and no fillers.
Extra fillers derail the effectiveness of animal supplement ingredients that regenerate joints and ease stiffness. With Integricare, you get only the good stuff at the same price as competitors—meaning you save money with much smaller doses each day.
Joint and mobility animal supplements can help our pets tremendously, but like anything, it's important to do your research. We love our pets and want them to be as comfortable as possible throughout their time on this earth.
For more supportive advice about the best supplements for your pet, reach out to us.
Newsletter Signup
Subscribe to our newsletter to receive the latest news and exclusive offers.