You want the very best for your dog.
We get it; we do too.
Whether it's food, toys, or supplements, our dogs deserve to be pampered and treated with the world's finest things.
Their health, happiness, and well-being count on it.
So, where should you start?
You could ask your vet, you could check out customer reviews on a third-party site, or you could simply keep reading...
We've pulled this blog post together with your needs (and your dog's joints) in mind!
You'll learn all about:
The best joint supplements for dogs available on the market
Their benefits and drawbacks
How our TRI-ACTA supplements stack up to the competition
Why we whole-heartedly stand behind our products
Ready to get started? Awesome, let's jump in!
Types Of Joint Supplements For Dogs
Before we really ramp things up and start talking about all the best arthritis supplements for dogs and top joint supplements out there, we've got to take a second to go over the different kinds of joint supplements out there.
Typically, dog joint pain relief for dogs comes in four major varieties:
Powder
Liquid
Pellets
Gel
Here's a bit more detail on each one.
Powder
Hip and joint pain relief for dogs in powder form are easy to administer because you can simply add them to your pup's food. If you have a picky dog who doesn't typically do well with eating things like pellets, a powder can be a great way to administer the supplement without him realizing it.
Powder supplements typically come with a scoop to measure the correct dosage for your dog. The number of scoops of these dog arthritis supplements you give your pup will depend on his weight, age, and other factors.
Liquid
Another way to provide hip and joint pain relief for dogs is with liquid joint supplements. Liquid joint supplements often have to be administered to your dog orally using a syringe. Because of this, it can be pretty tricky to get your dog to eat. Unless you've got a pup with a very mild temperament, you're likely going to have a bit of a struggle convincing him to swallow these supplements.
Pellets
Pet joint care supplements also come in pellet form. These look like small treats, except they contain key ingredients your dog needs to stay healthy! Many times, pellets come in tasty flavors to encourage your dog to eat them. That way, you can get them down his gullet without too much of a fight.
Gel
Last but not least, when it comes to natural supplements for dogs with arthritis, you can also look for joint supplements in gel form. Gel dog arthritis supplements can be administered directly into your dog's mouth using a dropper or syringe. Or, you can mix it with his dog food to make your job even easier.
A Quick Snapshot of the Top 7 Dog Joint Supplements
First things first, here's an overview of the seven products we'll cover today.
Just do us one favour:
Don't jump the gun and order any pet joint care supplements yet!
Why?
Because it's worthwhile to wait until after you've read our evaluation criteria and in-depth reviews.
Our Evaluation Criteria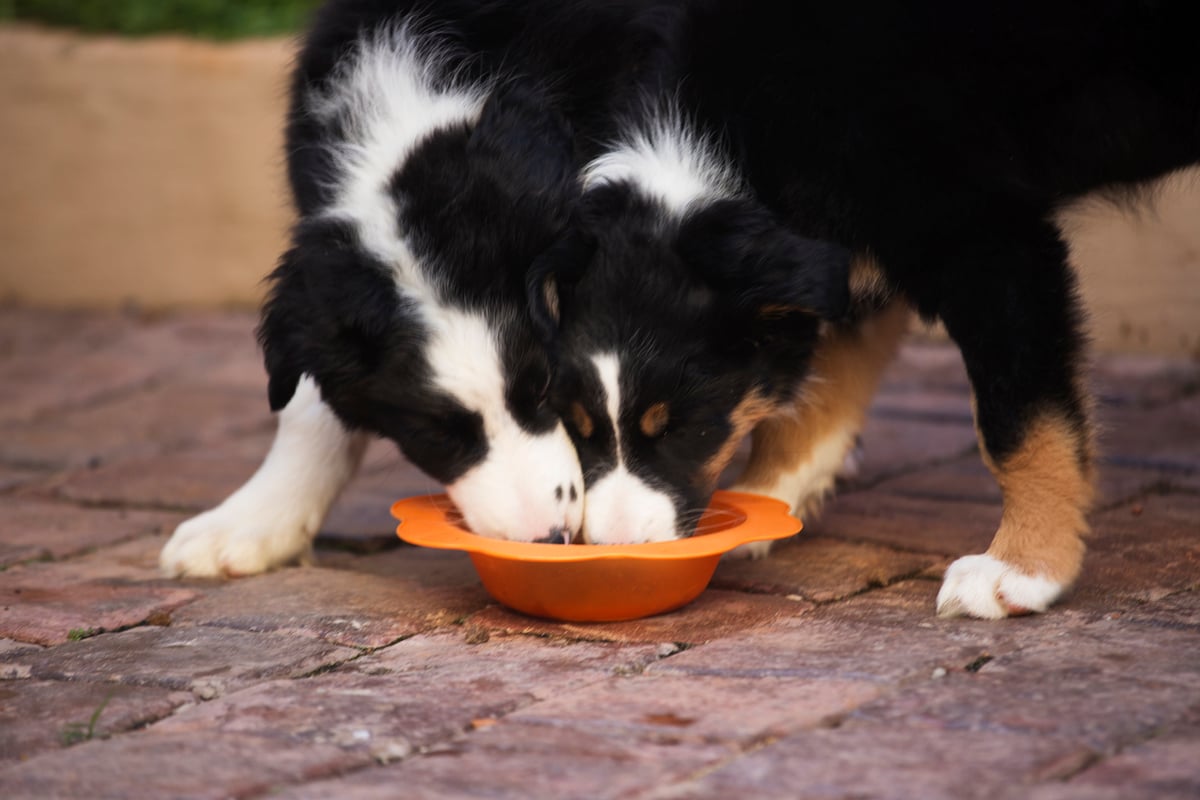 Below are the eight factors we considered when compiling this ranking of the supplements that provide the best joint pain relief for dogs.
Price
This first point is pretty obvious.
Most people (us included) are price-conscious customers who want to get as much value as possible for their hard-earned cash.
Nonetheless, we appreciate there are dog owners that are willing to pay for better quality.
So we put these two considerations together and looked for a dog supplement that delivers value for money without sacrificing ingredient quality.
Speaking of ingredients...
Ingredients
A joint supplement for dogs is only as good as the substances it contains.
It might sound simple, but reading a supplement label can be a nightmare — tiny letters, confusing words, and different formats and dosages add to the confusion.
Let's simplify it.
Here are the active ingredients you should look for in arthritis supplements for dogs:
Methylsulfonylmethane (MSM)
Hyaluronic Acid (H.A.)
And here are the inactive ones you should try to avoid:
Fillers (like flours and cellulose)
Added sugars
Preservatives
Artificial colours
Most of these additives won't harm your dog, but given they don't add anything positive, it's not worth taking the risk.
Benefits
Joint supplements for dogs might contain many different ingredients. In the table below, you can find the specific benefits of each one of these ingredients.
Ingredient

Benefits

Glucosamine Hydrochloride (HCl)

Supports cartilage regeneration

A really efficient and easy-to-absorb form of glucosamine

Glucosamine Sulfate

Contains sulfur, an essential nutrient for joint health

Stimulates the production of collagen, a fundamental component of cartilage

Chondroitin

Prevents cartilage breakdown

Improves the efficacy of glucosamine

Methylsulfonylmethane (MSM)




Reduces pain, swelling, and inflammation

Hyaluronic Acid (H.A.)

Keeps joints well-lubricated, flexible, and shock-absorbent
Then, after checking for the presence of these elements, we also read product reviews and feedback/endorsements from veterinarians.
These opinions are excellent proxies for understanding:
The quality of the active ingredients
The supplement's effectiveness across a larger sample of pets
Supplement Form and Packaging

Joint supplements for dogs come in a variety of forms, including:
Powders
Chewable tabs (like a treat)
Liquids
While no one form is inherently better than the others, it's fundamental that a dog supplement is easy to administer even to the pickiest of eaters.
If your fur baby won't eat it, it's completely useless.
This is why we prefer powder or liquid supplements with small serving sizes — most dogs don't even notice you've added it to their meals!
Packaging is also worth thinking about.
Does the supplement have any special requirements? For example, does it need to be refrigerated? Or does it expire quickly?
If so, ensure that fits with how you plan to use it.
Manufacturer Reputation and Quality Assurance
There are thousands of dog supplement manufacturers out there.
And not all of them are in it for the right reasons.
You should avoid the companies looking for a quick buck at your pet's expense and patronize those who genuinely care about your pooch's well-being.
Here are a few attributes that can help you identify a reputable company:
Positive reviews from pet owners
A stamp of approval from a regulatory body (like Health Canada)
Modern, regulated manufacturing facilities
Recommendations from veterinarians or veterinary associations
Good customer service
Over 10 years of being in business
A commitment to sustainability and the environment
Potential Side Effects
A well-made joint supplement for dogs shouldn't have any negative side effects on your pup.
However, that's not always the case.
To make their supplements more palatable, some companies use inactive ingredients (i.e., tomatoes or maltodextrin) that a few dogs are sensitive to.
This means you must stay on your toes and carefully check the supplement label for additives that might upset your canine friend.
This is especially important if your dog has a painful condition like arthritis or hip dysplasia — their aching bodies don't need any more strain!
Two other things:
Glucosamine is often naturally extracted from shellfish, so stick to lab-made alternatives if your dog is allergic.
Speak with your vet about dog joint supplements before starting a regimen.
Ease of Purchase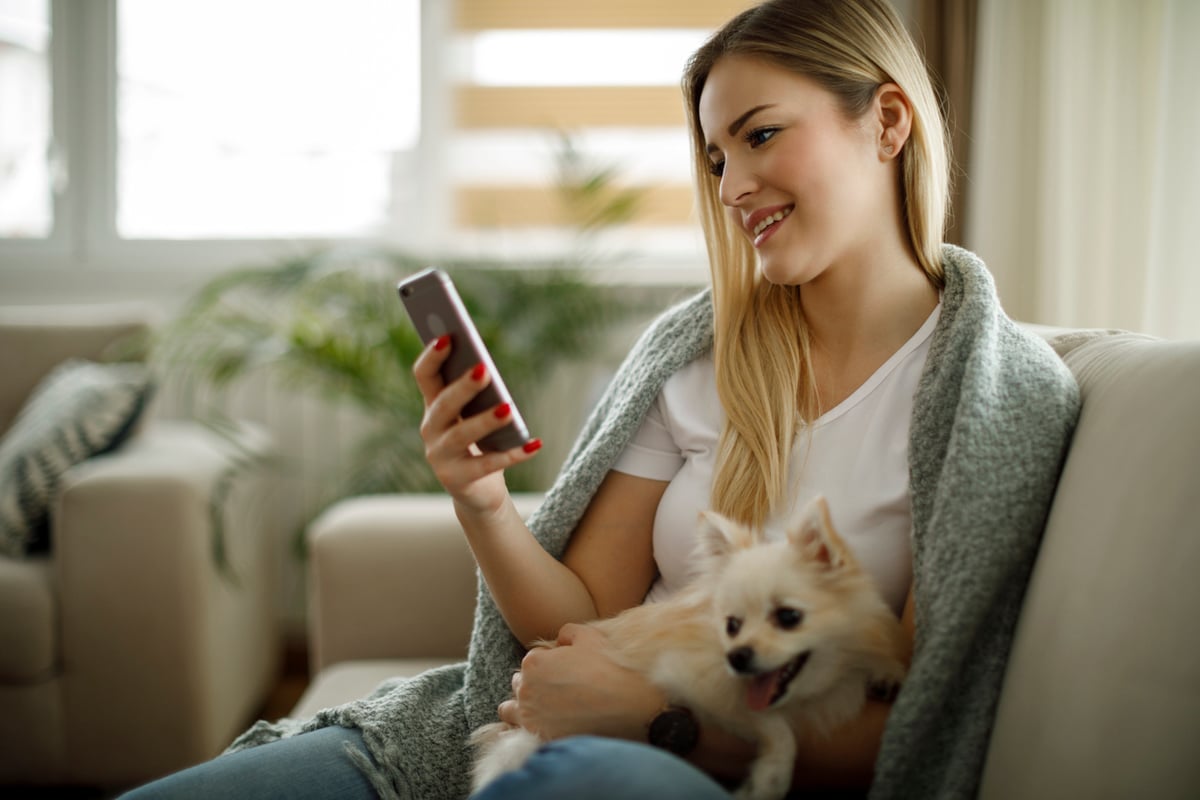 The hardest part about buying canine supplements should be saying 'dog joint pain relief supplements.'
Life is already hectic enough without you having to stress about where and when to buy your dog supplements.
You'll thank us for considering convenience the next time you need to replace a spilled bottle on the fly!
Customer Service and Post-Sale Support
Your experience doesn't end with buying a supplement, and neither should the customer support you receive.
Companies that care deeply about animals also care about their owners.
It should be easy to contact them and ask them any questions you might have, be it by email or phone.
And, of course, their responses should be prompt and helpful.
Top Joint Supplement For Dogs
Based on the criteria we just covered, we scoured the marketplace and picked our favourite products.
Then, not satisfied with just presenting you with a list of names, we also took the time to pull together in-depth dog joint supplements reviews as well.
These will give you an excellent overview of each leading joint supplement and help you pick the perfect one for your needs.
1. TRI-ACTA for Pets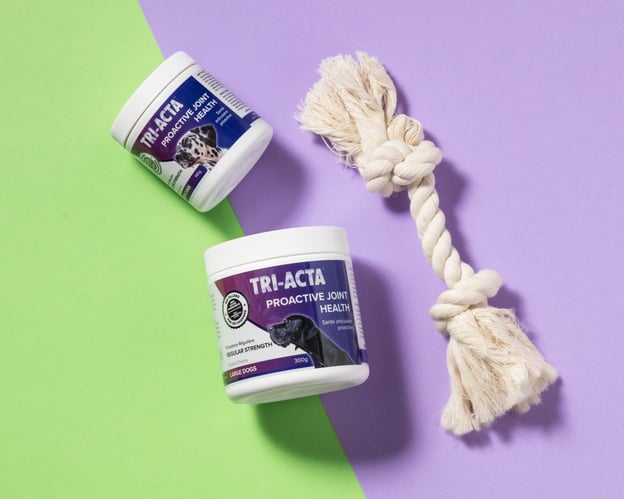 Starting with our own product might feel a little like self-promotion…
And let's be completely honest, it is! 😊
But that's not why we wrote this article or ranked ourselves first.
We did it because we genuinely believe we're manufacturing the best dog joint supplements in North America, and we'd like to help as many animals as possible stay fit and healthy.
What makes our TRI-ACTA products so good?
For, we've been around since 1999, giving us well over 20 years of experience working with animal supplements.
During all that time, we definitely learned a thing or two.
Fillers and additives are useless — only using 100% active pharmaceutical-grade ingredients is the way to go for your pets' health and your wallet.
Powders with tiny serving sizes (1g per 35lb) are the easiest supplements to serve.
Glucosamine is most effective when two types are included (sulfate and hydrochloride) alongside chondroitin sulfate.
Customers love the convenience of purchasing both online and in local retailers, and having a range of different packaging sizes to pick from.
And our supplements reflect this.
They're safe, great at protecting and revitalizing joints, and 100% hassle-free.
There are two forms of glucosamine. Both forms have a long history of research and clinical trials showing their efficacy in supporting joint health. However, they have unique advantages and benefits.
About half the products on the market use the HCl form, while the other half use the sulfate form. TRI-ACTA uses both to ensure all the benefits of glucosamine are made available in the product. This is one of the reasons it is highly effective and produces noticeable results.
But if you don't believe us, take it from the trustworthy guys at Health Canada who regulate our work. After rigorous testing, they've approved our supplements as Low-Risk Veterinary Health Products (and we're really proud of it). Our dog joint supplement reviews speak for themselves—our customers are raving!
So give us a try, you won't be disappointed.
Active ingredients: Glucosamine HCl, Glucosamine Sulfate, Methylsulfonylmethane (MSM), and Chondroitin Sulfate
Starts at $23.99 CDN. Pricing as of June 2023.
TRI-ACTA H.A. for Pets

Are you looking for a higher-strength supplement? TRI-ACTA H.A. for Pets is the right choice for you.
It combines all the goodness of regular strength TRI-ACTA with the added power of hyaluronic acid (H.A.).
What does the extra H.A. do? It increases the viscosity of your dog's synovial fluid.
In layman's terms, please! H.A. makes your dog's joints more flexible and shock-absorbent, in turn reducing pain and delivering even better results in pooches with more severe conditions. It's powerful, potent and highly therapeutic!
This makes it the best supplement for dog arthritis, hip dysplasia, and luxating patella — just check out what our customers say!
We recommend it for:
Senior dogs without preexisting conditions
Sporting dogs
Dogs recovering from injury or surgery
Active ingredients: Glucosamine HCl, Glucosamine Sulfate, Methylsulfonylmethane (MSM), Chondroitin Sulfate, Hyaluronic Acid
Starts at $27.99 CDN. Pricing as of June 2023.
2. Paramount Pet HealthLiquid Glucosamine Supplements for Dogs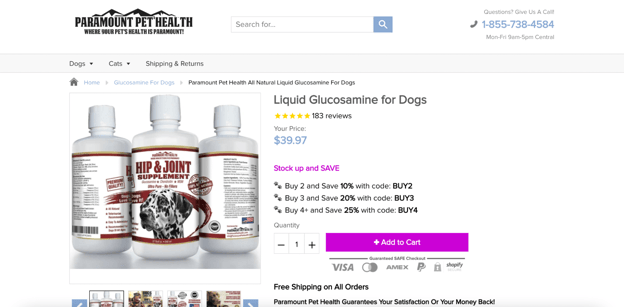 Our second favourite hip and joint supplement for dogs is this liquid solution from Paramount Pet Health.
What do we like about it?
Paramount's Liquid Glucosamine for Dogs is highly palatable.
It contains all of the essential active ingredients (from glucosamine to H.A.).
This supplement is backed by scientific research and has many raving customer reviews.
Paramount Pet is a reputable company that loves pets, manufactures its products in the USA, and offers a money-back guarantee.
All these positives make it one of the best supplements for dogs with arthritis.
But what do we wish was better?
Simple:
Less inactive ingredients and smaller serving sizes. These natural arthritis supplements for dogs also contain only one form of glucosamine.
Active ingredients: Glucosamine HCl (Shellfish Source), Chondroitin Sulfate (Beef and Porcine Origin), Methylsulfonylmethane (MSM), Hyaluronic Acid (H.A.), Manganese Chelate
Inactive ingredients: 100% Pure Aloe Vera Juice, Citric Acid, Potassium Sorbate, Purified Water, Sodium Benzoate, Stevia, Vegetable Glycerin
$39.97 CDN. Pricing as of June 2023.
4. Zesty Paws Mobility Bites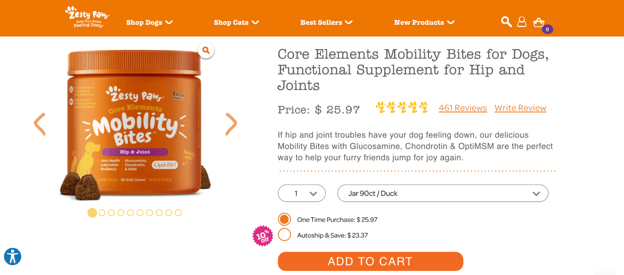 Next up is a supplement in tablet form., which raced neck and neck with Cosequin for the bronze medal.
And despite just missing out on the third place, these Mobility Bites are affordable supplements that come in two delicious flavours (duck and bacon).
Other pros include:
However, these dog joint pain relief supplements fall short in one crucial category:
They contain way too many filler ingredients — thirteen to be exact.
And that's just way too many; your dog doesn't need them.
But to end this review on a positive note, we must mention that Zesty Paws is a customer-centric organization. They take excellent care of their pet owners during the entire purchasing journey.
Active ingredients: Glucosamine HCl (Shellfish Source), OptiMSM (Methylsulfonylmethane), Ascorbic Acid (Vitamin C), Chondroitin Sulfate (Porcine Source), Kelp, Vitamin E
Inactive ingredients: Coconut Glycerin, Flaxseed, Garbanzo Flour, Mixed Tocopherols, Natural Chicken Flavoring, Natural Duck Flavoring, Natural Flavors, Palm Fruit Oil, Pea Flour, Powdered Cellulose, Rosemary Extract, Sunflower Lecithin, Tapioca Flour
$29.97 CDN. Pricing as of June 2023.
5. Infinite Pet Infinite Joint Supplement for Dogs (Powder)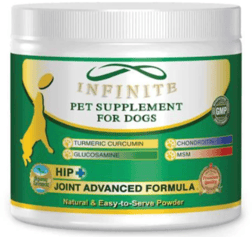 Infinite Pet makes the cut with its Joint Supplement Powder.
This is an all-natural product that's free of fillers and only contains active human-grade ingredients. It's also fairly priced and manufactured in FDA-certified facilities in the USA.
Now that's what we're talking about!
So what are the components of these natural arthritis supplements for dogs?
Active ingredients: Glucosamine Sulfate (Bovine Origin), Organic Turmeric, Chondroitin Sulfate (Shellfish Source), Methylsulfonylmethane (MSM)
That sounds exactly like what we need... so what's the catch?
Unfortunately, this Infinite dog joint supplement doesn't contain enough glucosamine and MSM per dose. It only has about half the amount we use in our TRI-ACTA products.
And your dog's joints will notice: it'll take longer for the positive effects to take action, and they won't be as pronounced.
But don't get us wrong, this is still a great product, especially if you use it preventively or with pups with only minor joint issues.
$24.97 CDN for a one-time purchase, $19.98 for a subscription. Pricing as of June 2023.
6. ProSense Advanced Strength Glucosamine Tablets
ProSense also manufactures a high-quality glucosamine supplement for dogs.
These advanced strength tablets support canine joint and hip health by giving your dogs an adequate dose of glucosamine HCl, chondroitin, and MSM.
This product also includes vitamin C and manganese to give your four-legged friend a little immune system and energy level boost.
And before we forget, we must note that these supplements are reasonably priced at about $10 for 60 tablets.
So why are they only in sixth place?
You guessed it!
The usual three suspects: too many filler ingredients, finicky dogs dislike them, and there's no version with hyaluronic acid (H.A.).
Active ingredients: Glucosamine Hydrochloride (Shellfish Source), Chondroitin Sulfate (Porcine Origin), Methylsulfonylmethane (MSM), Calcium Ascorbate, Manganese Proteinate
Inactive Ingredients: Brewer's Dried Yeast, Dicalcium Phosphate, Glycerin, Iron Oxide, Magnesium Stearate, Silicon Dioxide, Stearic Acid
$19.97 CDN on Walmart.ca. Pricing as of June 2023.
7. YuMOVE Chewable Tablets for Dogs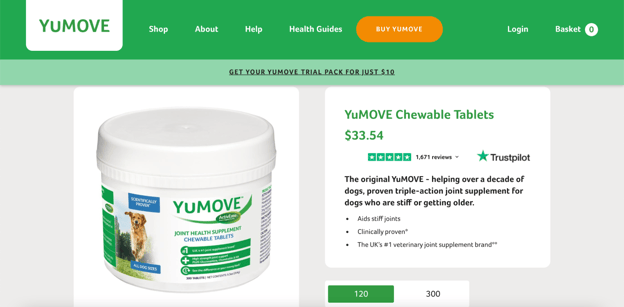 YuMove is a UK-based company that prides itself on being the leading veterinary joint supplement on the other side of the Atlantic.
And we have to give it to them:
They're a fantastic company with great values that really cares about keeping animals healthy and pet owners relaxed and happy.
Over 24,000 five-star reviews really prove it.
They've branched out to the North American market with these chewable tablets, and they thoroughly deserve a place as one of the best joint supplements around.
There's only one thing stopping them from grabbing a third-place finish as the best joint supplement for dogs in tablet form:
They contain a smaller amount of active ingredients than we'd like to see…
Fingers crossed that their next formula will be a bit more generous!
Active Ingredients: Glucosamine HCl (Corn Extract), Green-Lipped Mussel (with Natural Chondroitin), Ascorbic Acid (Vitamin C), Manganese Sulfate, Hyaluronic Acid (H.A.), Vitamin E
Inactive ingredients: Cellulose, Dicalcium Phosphate Dihydrate, Natural Fish Flavor, Natural Liver Flavor, Magnesium Stearate, Silicon Dioxide, Tocopherols Extract
Starts at $13.99 CDN. Pricing as of June 2023.
8. Extend Joint Care for Dogs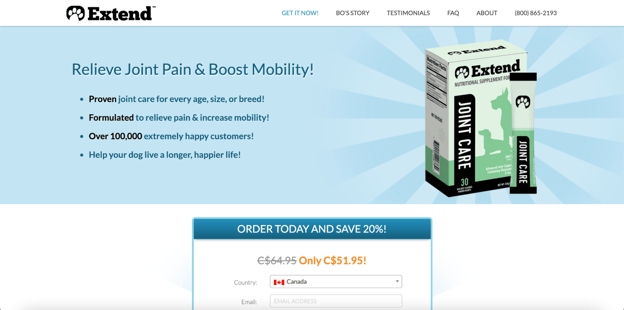 Extend was founded in 2012 by a small group of pet parents that wanted to create a new, trustworthy product for their aging dogs.
And they succeeded!
Their Joint Care for Dogs is a quality supplement that can help nourish your dog's joints and give them an extra bounce in their step.
It comes in powder form and is individually packaged in tear-open pouches.
This makes it easy to give to your puppies: you only need to pour it over their food or mix it with water to make a delicious gravy.
However, it's not all roses and butterflies with Extend… there are three flaws to remember:
It's impossible to tell how much of each active ingredient is in their proprietary blend (aside from 300mg of glucosamine HCl).
The supplements are pricey if you consider the
The powder contains maltodextrin, a processed ingredient that could cause allergic reactions.
Active ingredients: Glucosamine HCl, Methylsulfonylmethane (MSM), Type II Chicken Collagen, Ascorbic Acid
Inactive ingredients: Beef Liver Powder, Apple Pectin, Maltodextrin, Silica
$51.95 – $64.95 CDN. Pricing as of June 2023.
Q&A
If you've still got some lingering doubts about the best joint supplements for dogs, don't fret! We've compiled a list of some of the most frequently asked questions on the subject. That way, you can put your worries behind you and start focusing on giving your dog the best of the best.
Does glucosamine really help dogs' joints?
Yes, glucosamine really does help dogs' joints. We know that glucosamine and chondroitin helps with the formation of cartilage in the joints, meaning that your dog's body will be better able to repair degraded cartilage, which helps alleviate dog mobility concerns. TRI-ACTA contains two types of glucosamine, sulfate and HCl, to give your dog the maximum benefits that each of these types of glucosamine offers. Glucosamine sulfate contains sulfur, which is an essential component for joint health. HCl is a more stable form of glucosamine, and as a result may be more bioavailable.
Are there side effects of joint supplements for dogs?
In most dogs, there are no side effects of taking joint supplements. However, some pups do have a glucosamine allergy or sensitivity. In this case, nausea, vomiting, diarrhea, gas, constipation, and a lack of appetite can all be unfortunate side effects of taking joint supplements.
Can I give my dog joint supplements every day?
You can give your dog joint supplements every day. However, you need to make sure that you get the dosing correct. In general, the exact dosage of joint supplements and, more specifically, glucosamine for dogs depends on your dog's weight.
How long does it take for dog joint supplements to work?
Joint supplements are typically slow-acting and can take anywhere from four to eight weeks to kick in and start showing improvements in your pup's movement. While this is definitely a bit slower than other dog anti-inflammatory treatments, such as NSAIDs, they're more natural and have fewer side effects.
However, it's not uncommon to see results from TRI-ACTA within 10-14 days due to the highly therapeutic ingredients the joint supplement contains. Although this can depend on dog breed, age, conditions, and other factors, so it's best to give the supplement at least 4-6 weeks to show results.
How do I know if my dog needs joint supplements?
A few signs that your dog needs joint supplements include panting, trouble standing up, limping, favoring one leg over the other, or joint swelling. Of course, it's always best to talk to your vet to ensure that your dog is dealing with joint issues and not a different malady.
Are dog joint supplements in Canada safe?
Yes, dog joint supplements in Canada are safe for your pup. One trusted dog joint supplement is TRI-ACTA, which has actually been on the market for over 20 years, proving its track record in helping support healthy pups.
Final Thoughts on the Best Joint Supplement for Dogs
That was it… We've finished going through all the best joint supplements on the market.
And guess what that means? You're now a specialist in supplements that relieve dogs' hip and joint pain.
Sounds pretty serious, right? That's because it is. Our dogs' joint health is no laughing matter! Our dogs, on the other hand, are hilarious. 🐶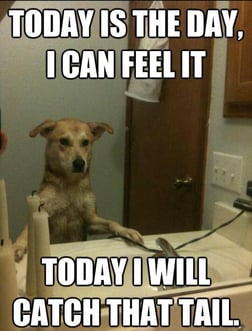 So do them a huge favour and help them stay this fun well into their retirement by getting them a leading joint supplement.
We highly recommend our very own TRI-ACTA Supplements for Pets.
Our regular-strength TRI-ACTA for Pets is ideal as a preventive regimen or for dogs with minor joint issues, while our maximum-strength TRI-ACTA H.A. is the best dog arthritis supplement around.
But feel free to try any of the other products we've mentioned in this article — they'll also help to keep your dog's joints flexible and pain-free.
If you have any questions about joint health, glucosamine, or supplements in general, don't hesitate to send us a message and we'll help out the best we can.
Until then, happy supplementing!
Newsletter Signup
Subscribe to our newsletter to receive the latest news and exclusive offers.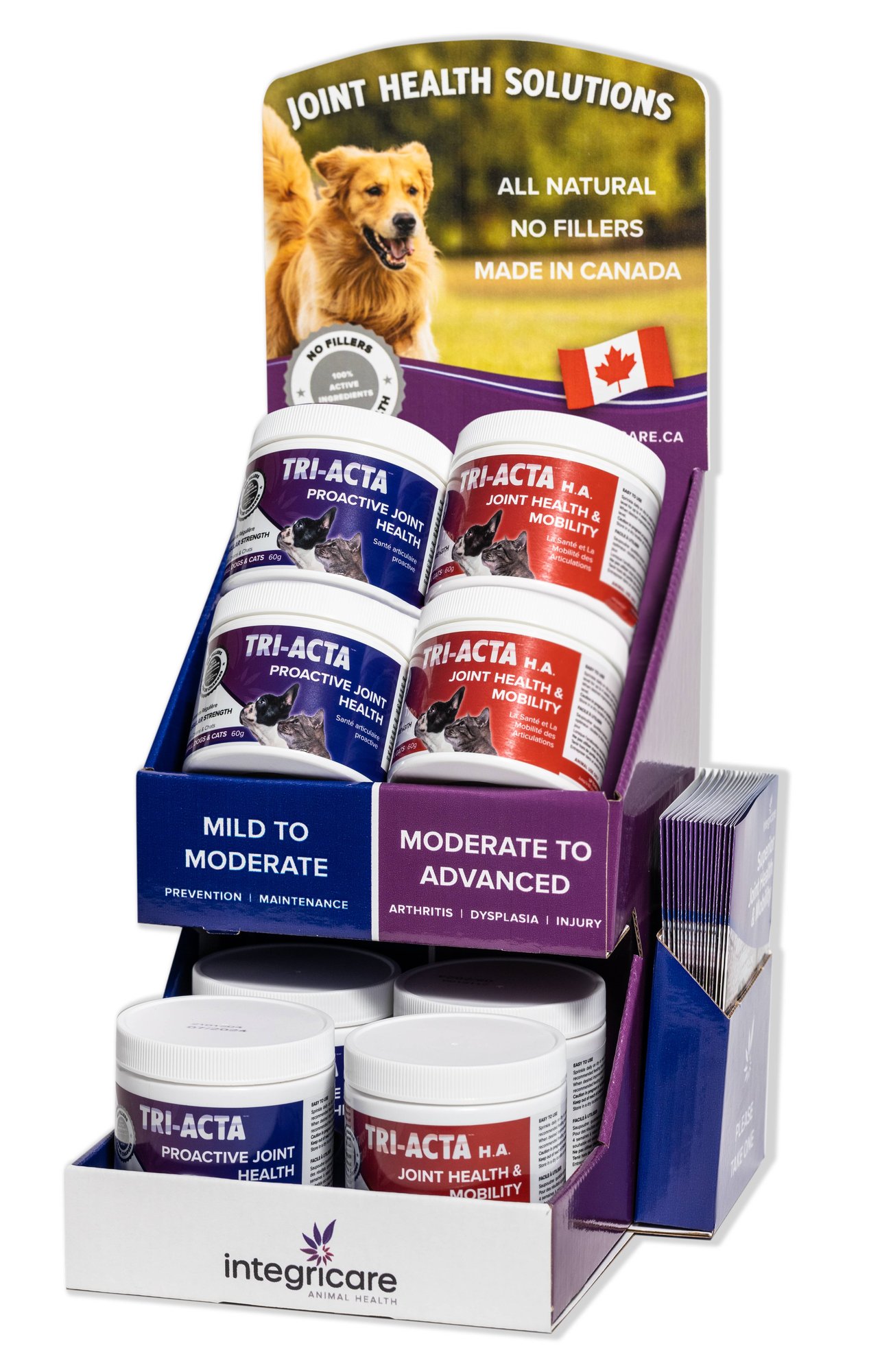 Proactive & Therapeutic Joint Supplements
When given daily, Integricare joint supplements recover bone and joint injuries faster and help prevent mobility injuries from happening in the first place.