You've just brought home your new puppy.
Bright-eyed and bushy-tailed, your new best friend is eager to explore. He runs around sniffing absolutely everything, taking in all the new scents around him, learning about his new surroundings. He chews a shoe or two before his first birthday, but you forgive him because he's just such a good boy, yes he is.
After a few years of walks, runs in the dog park, and countless games of fetch, you may notice that your once big ball of energy is slowing down. He might even start hopping or skipping a little during outings because his joints just aren't what they used to be.
By the time he's a senior dog, he might be struggling to rise from his favourite dog bed or hesitate to lift his body when you toss him a treat.
It's super common for an old dog to experience joint pain. Arthritis, for example, occurs in 80% of senior dogs (over the age of 8).
However, it isn't only senior dogs that experience joint issues—According to one study that gathered data from 200 veterinarians, 20% of dogs over one year of age that these vets treated showed symptoms of osteoarthritis.
These stats mean that your dog has a high chance of experiencing some sort of joint issue at some point in their life.
Joint issues in dogs can be caused by various factors, including breed, genetics, diet, and more. So how can you help prevent joint issues as your pup ages?
One of the easiest and best ways to keep your dog's joints happy and healthy as they grow is by giving them a joint supplement for dogs. Most joint supplements are given daily as part of your dog's diet and come in powder, chewable treats, liquid, or capsules.
But there are a ton of pet joint supplements on the market, making it difficult to choose a product that's good for your dog. Some supplements can contain more fillers and additives than active ingredients, which means your pup isn't getting the maximum benefit—or any benefit—from the supplement. Other supplements might not contain high enough amounts of active ingredients per dose to be beneficial, meaning you have to feed your dog a higher dose or provide other supplements to make up the difference.
That's why it's important to choose a vet recommended joint supplement for dogs to ensure that your pup is getting the best of the best.
In this article, we outline the benefits of a vet recommended joint supplement for dogs when you should consider giving your pup a joint supplement, and how to choose a great supplement out of the sea of choices you have on the market.
Let's get started!
Key Benefits of a Joint Supplement for Dogs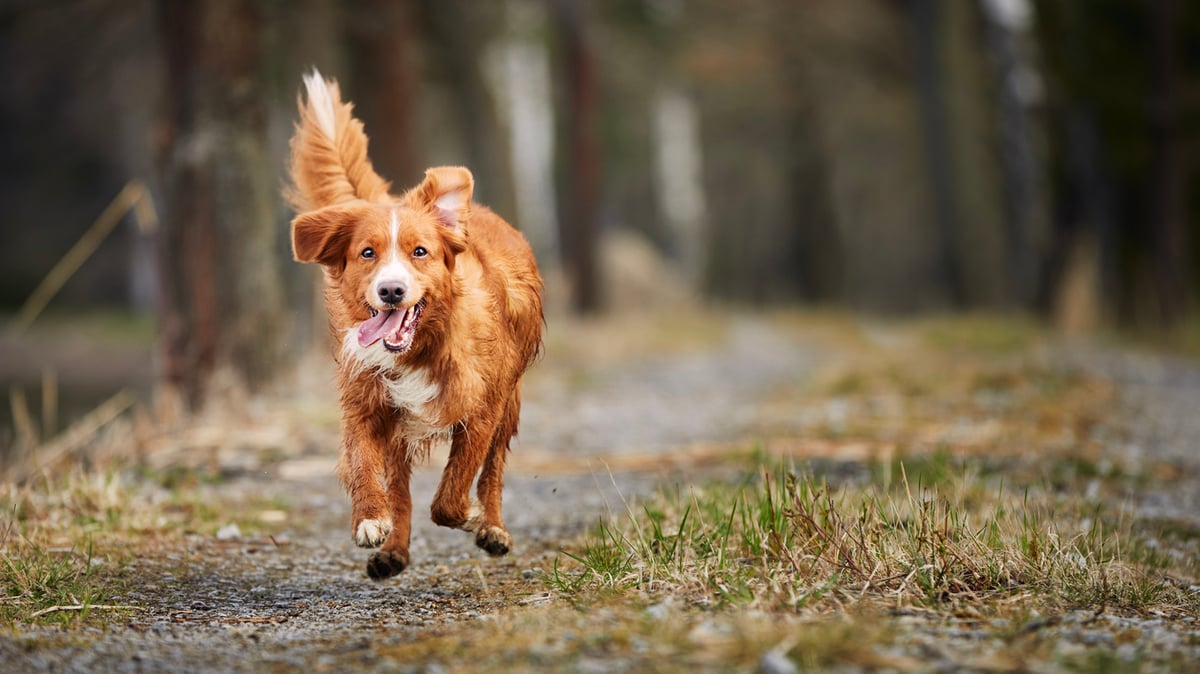 Alongside feeding your dog a healthy diet, playing with them and exercising them, and taking them for regular vet check-ups, giving them a joint supplement is an important part of ensuring they stay healthy and happy.
Key benefits of the best dog supplements for joints include:
1. Helps Prevent or Alleviate Symptoms Associated with Joint Conditions
Vet recommended joint supplements for dogs contain several key ingredients:
Glucosamine for dogs, either glucosamine sulphate or glucosamine hydrochloride, which are both great options (we'll get into the nitty gritty of these ingredients later in the article) is an amino sugar naturally produced by your dog's body. It helps repair cartilage in the joints.
Chondroitin is also a naturally occurring substance in your dog's body that inhibits and neutralizes destructive enzymes that result in the deterioration of cartilage.
Methylsulfonylmethane (MSM), a natural anti-inflammatory, helps reduce inflammation in your dog's joints that cause pain and discomfort.
Some supplements also contain hyaluronic acid (like TRI-ACTA H.A.), which helps greatly with joint lubrication and provides that extra "oomph" for maximum joint protection and to support healing.
Whether your dog has joint problems or not, you can start giving them a joint supplement immediately. A great daily joint supplement for dogs of all ages is TRI-ACTA. Being proactive can help prevent joint issues in your dog as they age.
2. Aids Your Dog in Recovering Faster from Injuries
There may be no stopping your dog from bouncing around the house or backyard, but when they get injured, the best dog joint pain relief can come in the form of a joint supplement, especially if it contains MSM.
The ingredients in vet recommended dog joint supplements help your pup heal faster, as they support your dog's body by providing more of the natural materials that it needs to heal the damaged joint.
Usually, when a dog experiences a joint injury, your vet will prescribe NSAIDs, which are non-steroidal anti-inflammatory drugs, like ibuprofen (Advil). While NSAIDs are effective for managing pain, like all pain medications, they come with risks.
Potential side effects of NSAIDs in pets include:
Vomiting
Diarrhea
Loss of appetite or reduced appetite
Lethargy or being less active than usual
Ulcers in the stomach and intestine
Liver and kidney issues
While most side effects from NSAIDs in pets are mild, they should still be used with caution. Severe side effects, although rare, can be extremely serious.
NSAIDs can also cause more damage to the kidneys and liver of dogs and cats that already have issues with these organs, so you should be especially cautious about giving your animal NSAIDs in these cases.
One way to avoid giving your dog NSAIDs, or be able to give them a lower dose, is by giving them a joint supplement. If your dog is suffering from an injury, giving them a joint supplement with hyaluronic acid, such as TRI-ACTA H.A., gives them the best dog joint pain relief possible from a supplement.
3. Helps Protect Your Dog's Joints As They Age
If you're over 30 years old, you know what it's like to wake up in the morning and wonder why your neck and shoulders are sore. Dogs are no different. As they age, their joints stiffen and can get sore with regular activity. This is because, over time, your dog's body lessens the production of glucosamine, chondroitin, MSM, and other chemicals that support their joint health.
By giving your dog a daily supplement like TRI-ACTA, you can help replace the missing ingredients that your dog's joints no longer produce enough of, helping to keep their joints in tip-top shape.
4. Slows the Progression of Joint-Related Diseases
Because a vet recommended joint supplement for dogs works to assist your dog's body in producing the essential chemicals that lubricate the joints and repair and replace muscle and cartilage, it can help slow the progression of joint-related diseases.
Conditions like arthritis, osteoarthritis, and other orthopedic conditions are extremely common in dogs, especially older ones, so giving their body the tools it needs to keep joints healthy is important.
5. Saves You Money on Costly Vet Bills
Because joint issues in dogs are so common, you'll probably have to bring your pup to the vet at some point because of dog joint health concerns. Not only is a regular vet visit costly, but the costs associated with common surgeries like joint replacement, TPLO (Tibial Plateau Leveling Osteotomy), and more are in the thousands.
By giving your dog a joint supplement, you can help avoid having to shell out the cash for these expensive surgeries by giving your dog's body the tools it needs to support their joint health for years to come.
When to Consider Senior Dog Joint Supplements?
When you bring a new puppy home for the first time, the last thing you're probably thinking about is the joint issues they may experience. But as they age, and you notice that they're taking a bit longer to get up off the couch than usual, the question of when to start giving them senior dog joint supplements inevitably arises.
Proactive vs Maximum Strength
Even if your dog isn't experiencing joint issues, you can give them joint supplements. Some supplements are made for proactive joint support, such as TRI-ACTA. This is a great supplement that you can start giving your dog from the time they are a puppy as a preventative measure to support their joint health as they age.
On the other hand, if you have a senior dog that is currently experiencing joint health issues, they would benefit from a maximum-strength joint supplement. TRI-ACTA H.A. is recommended in this case, as aside from containing the same ingredients as the regular-strength version, it includes hyaluronic acid. This ingredient improves the viscosity of the synovial fluid in your dog's joints, helping them move easier. Synovial fluid supplies nutrients to your dog's cartilage and functions as a boundary lubricant for their joint tissues.
Senior Dog Arthritis Supplements
Let's say your senior dog has arthritis, and you're trying to decide which joint supplement to give him. Since arthritis is a more serious joint problem than stiffness and slight immobility, you'll want a supplement that provides more healing and pain relief than a standard dog joint supplement.
This means you'll want to look for these key ingredients:
Glucosamine and chondroitin (available in essentially all joint supplements)
MSM (usually available in joint supplements)
Hyaluronic acid (usually only available in joint supplements made for senior dogs or dogs with existing joint issues)
Considering the table above listing the therapeutic dosage amounts for each ingredient, you should be able to choose a senior dog arthritis supplement that works for your pooch.
Best Hip and Joint Supplement for Senior Dogs
For the best senior dog joint supplement, we have to recommend TRI-ACTA H.A. This supplement not only provides therapeutic dosages of all the ingredients that support your dog's joints, it does it in an easy-to-administer powder that can be easily sprinkled on top of your dog's food. Because TRI-ACTA H.A. only contains active ingredients, you can give your pooch a small amount of supplement, ensuring that they don't get overwhelmed with powder on their food and that your bank account doesn't get overwhelmed as well.
In addition to the above, TRI-ACTA H.A. also:
Follows Good Manufacturing Practices (GMP), meaning that TRI-ACTA supplements are made with the highest quality ingredients. Also, our clear labels and website descriptions make it easy for you to verify ingredients and ensure that you're giving your pet the right dosage.
Is an approved Veterinary Health Product (VHP) by Health Canada, meaning that Health Canada regulates and verifies all ingredients in the supplement.
Uses 100% natural, active ingredients with no fillers or preservatives.
How to Choose The Best Supplement for Dog Joints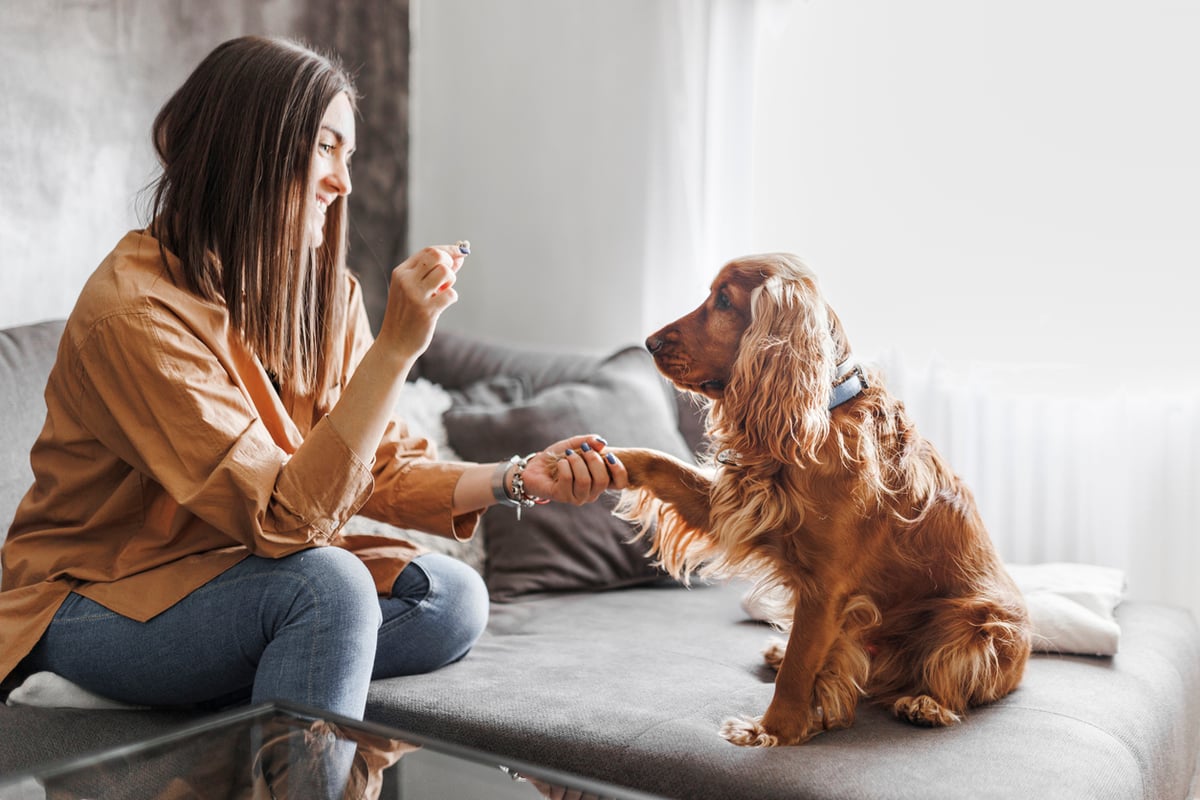 There are a few important considerations to remember when choosing the best supplement for dog joints. Here they are in detail:
1. Ensure it Comes From a Reputable Source
Did you know that supplements made for humans and animals aren't regulated by the FDA in the United States? In Canada, animal supplements are also not regulated, but some are designated by Health Canada under the Veterinary Health Product program.
The FDA puts animal supplements in the same category as food, which means that there are specific regulations that they need to follow, like putting all the ingredients on the label. However, these regulations are often not enough, as unpermitted ingredients can still make it into pet supplements through alternative means. Further, these products are considered a low priority for the FDA, meaning it's easier for them to avoid enforcement.
Health Canada will still approve veterinary health products provided they meet the strict requirements. TRI-ACTA and TRI-ACTA H.A. are both approved by Health Canada.
What this means is that it's possible that some pet supplements may not list all the ingredients they contain on the label or that the label may be misleading with some ingredients. Due to the way that pet supplements are regulated (or lack thereof), it becomes the pet owner's responsibility to purchase supplements that are from trusted, reputable sources.
2. Check the Supplement Label
Although we just said that some pet supplements might be misleading with ingredients or not list all the ingredients that are in the supplement, once you've chosen a supplement from a reputable source, it's important to know how to read a supplement label.
If you're getting a pet supplement from a reputable company with positive reviews and expert endorsement, chances are they will be straightforward with what's in their product. Reading a supplement label properly will ensure that you understand which ingredients are active and which are non-active and how much of the supplement you should give your dog daily.
3. Ensure the Product Has Therapeutic Levels of Ingredients
One of the biggest differences between one dog joint supplement versus another is the amount of active, therapeutic ingredients. There is obviously some science behind how much of each key ingredient, including glucosamine, chondroitin, MSM, and others need to be in a joint supplement for it to be effective, and depending on the formula that the joint manufacturer is using, the therapeutic benefits of one supplement may not be as high as another.
Here are some general measurements of the different types of ingredients found in dog joint supplements:
Glucosamine and Chondroitin for Dogs

(typically always given together)

Hyaluronic Acid

10-50mg for every 1lb that your dog weighs

For dogs 10-35lbs (4.5 kg-16) give 300-500 mg of MSM
Add 300-500mg for every 10-35 lbs

If you're getting hyaluronic acid on its own, it usually comes in liquid form
Dosage range is:

10-35lbs = 7 mg
35-75lbs = 14 mg
75-100lbs = 21 mg
In addition to this table, it's also important to recognize that there are two different types of glucosamine: glucosamine sulphate and glucosamine hydrochloride.
| | |
| --- | --- |
| Glucosamine Sulphate | Glucosamine Hydrochloride |
| Reaches stabilization with sodium chloride (salt), which makes up about 30% of the overall compound. This form of glucosamine also helps with the production of collagen, one of the important components of cartilage production. | It is naturally stable, meaning it doesn't need an extra ion like salt. It's a more concentrated form of glucosamine and is highly bioavailable, so your dog's body can use it efficiently and effectively. |
Both types of glucosamine are often used in pet joint supplements and provide their own benefits in terms of therapeutic value. Most pet supplements use one or the other, but Integricare's TRI-ACTA products use both. This is so that your dog's body can take full advantage of the benefits that each type of glucosamine provides.
If you take a look at Integricare's TRI-ACTA products, you'll notice that there are two different offerings: TRI-ACTA and TRI-ACTA H.A. At first glance, you might think that these two products are the same, but TRI-ACTA H.A. has one important difference: it includes hyaluronic acid. This means that in addition to the healing power of glucosamine, chondroitin, and MSM, your pooch also gets improved viscosity of the synovial fluid in their joints.
4. Compare Similar Products
One of the great things about researching what is a good joint supplement for dogs online is that you can easily compare products. With your newfound knowledge of how to read a dog joint supplement label, you should be able to compare:
Ratio of active versus inactive ingredients
Recommended dosage versus the number of therapeutic benefits in each dose
Cost (based on the amount that you get in each container and daily dosage)
3 Best Dog Supplements for Joints
With the above considerations in mind, let's take a look at some of the best dog supplements for joints that are offered on the market today.
1. TRI-ACTA and TRI-ACTA H.A.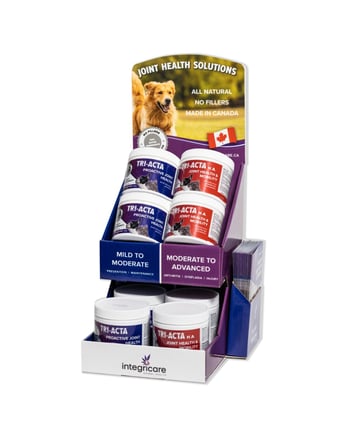 As dog owners ourselves, Integricare knows just how important our furry friends are to the family. That's why TRI-ACTA products have been developed with the utmost care and attention, meeting Good Manufacturing Practices and being certified by Health Canada as Veterinary Health Products.
If your pet is experiencing joint stiffness, immobility, pain, or suffering from a joint condition like arthritis, then TRI-ACTA H.A. is your best choice.
If you're simply looking for the best proactive joint supplement you can give your pup daily, then TRI-ACTA is the supplement you're looking for.
Both supplements contain the maximum glucosamine, chondroitin, and MSM therapeutic levels. TRI-ACTA H.A. also contains hyaluronic acid for better joint lubrication.
TRI-ACTA starts at $23.99 CDN for a 60g container. TRI-ACTA H.A. starts at $27.99 for a 60g container. Pricing as of June 2023.
2. Nutri-Vet Hip & Joint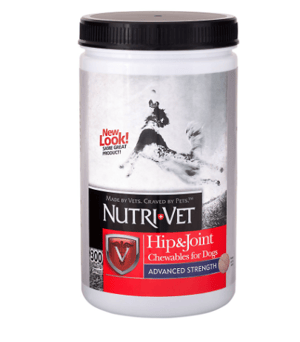 This joint supplement is marketed towards dogs with long-term joint problems, including seniors and larger-breed dogs. In terms of therapeutic ingredients, Nutri-Vet provides 500mg of glucosamine hydrochloride (sourced from shellfish), and 400mg of chondroitin sulphate (sourced from porcine trachea). Looks good so far, but then we see that there are only 50mg of MSM. That may not be enough to have a therapeutic effect on your pup.
Other notable ingredients include vitamin C (which helps with absorption) and hyaluronic acid (of which the dosage seems to be in line with therapeutic levels at 6mg). Overall, this supplement would provide effective joint support for your pup but may not provide the pain relief that you would want.
$114.99 CDN (300 chewable tablets). Pricing as of June 2023.
3. Grizzly Hip & Joint Aid for Dogs & Cats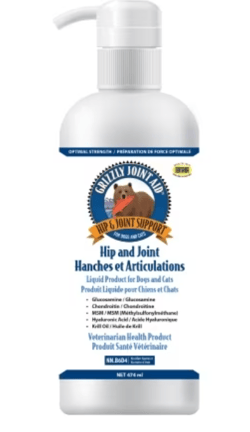 This liquid joint supplement is marketed towards both dogs and cats and contains wild krill oil, which they claim makes the supplement super yummy for your pet. The therapeutic ingredients in Grizzly Joint Aid are, per 14ml of product:
Glucosamine sulphate 2KCL (from shellfish) 750mg
Chondroitin sulphate (from porcine) 620mg
MSM 620mg
Krill oil 280mg
Sodium hyaluronate (which is a derivative of hyaluronic acid, both offer the same benefits) 5mg
In terms of therapeutic benefits, this supplement seems to fit the bill. The recommended dosage is at least two pumps daily (about 3.5ml). Because it's flavoured with Krill oil, your pet may not like the taste when mixed in with their food if they're picky eaters.
Starts at $30.99 CDN for a 16oz (473ml) bottle. Pricing as of June 2023.
Summary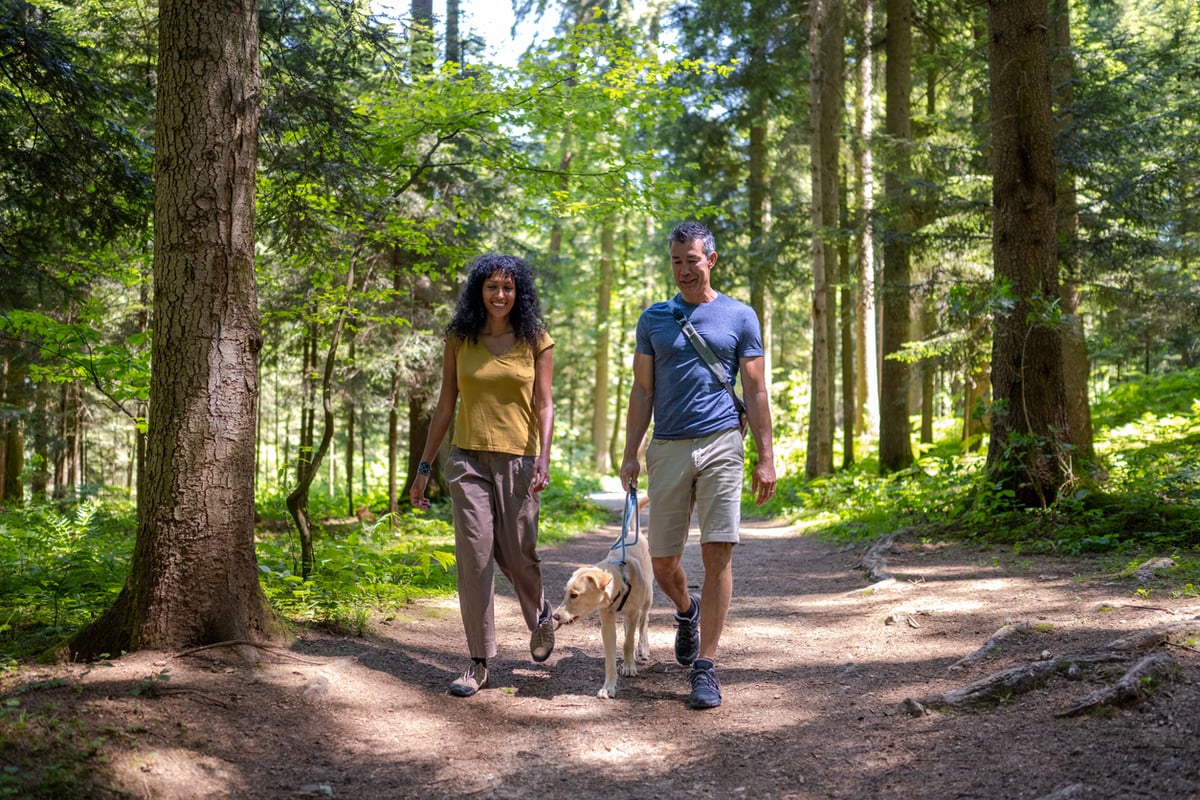 Caring for your junior or senior pup's joint health should include using a vet recommended joint supplement for dogs. By giving your pup a joint supplement, you can help them stay mobile well into their senior years and help prevent painful joint conditions like arthritis from developing.
Discover retailers that sell TRI-ACTA products by checking out our where to buy page.
Newsletter Signup
Subscribe to our newsletter to receive the latest news and exclusive offers.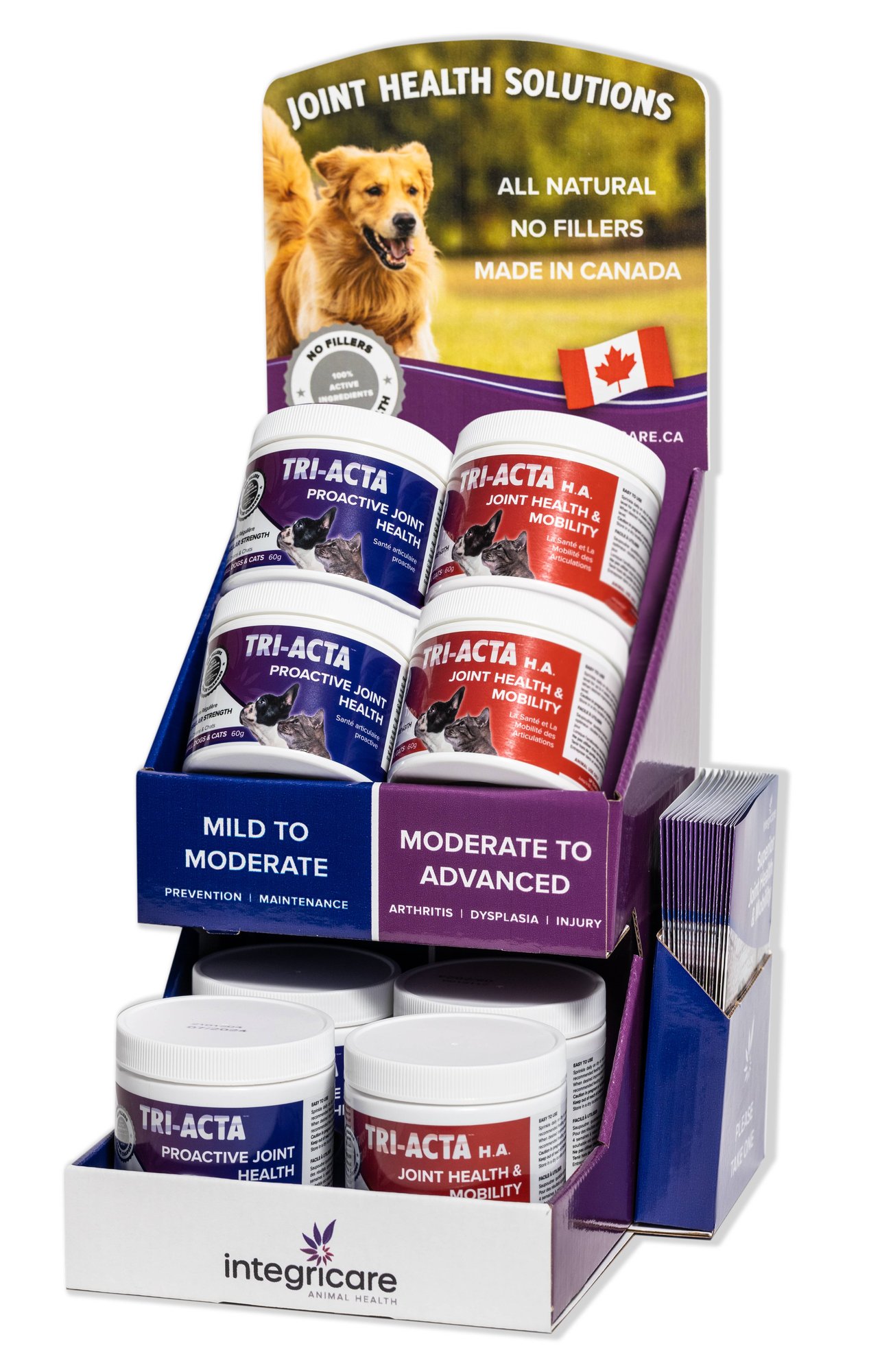 Proactive & Therapeutic Joint Supplements
When given daily, Integricare joint supplements recover bone and joint injuries faster and help prevent mobility injuries from happening in the first place.