Most dogs have no problems running, jumping, and playing, especially when young. Sometimes, joint problems in your pup present themselves by your dog having more trouble jumping onto the couch or bed than before.
Problems like dog arthritis and hip dysplasia dogs can rear their ugly heads and impact the mobility of our furry friends.
Dog arthritis can affect as many as 20% of all dogs over a year old, meaning that there's a good chance your dog may suffer from this condition eventually, especially when they become a senior.
German shepherd hip dysplasia and golden retriever hip dysplasia are extremely common conditions affecting these dog breeds. Overall, it's estimated that as many as 70% of purebred dogs suffer from some form of hip dysplasia—which is when the "ball and socket" that make up the hip joint doesn't develop properly, causing partial dislocation with movement, and severe cartilage damage. Hip dysplasia can also lead to arthritis.
As dogs get older, their body doesn't have the ability to repair and replace joint cartilage as well as when they were young. This means that their joints don't have as much cushion and ability to absorb impact, which can result in discomfort and pain.
To help prevent the pain and discomfort associated with joint pain, you might be wondering if giving them a joint supplement is a possible solution. But with so many different types and formulations in the market, it can be difficult to choose the best joint supplement for your pup.
In this article, we'll help you decide which joint supplement will work best for your dog by providing information on dog joint supplement types, ingredients, and more.
Importance of Joint Supplements for Dogs
Given that so many dogs experience joint issues, it's natural that dog owners would want to find another solution for their dog aside from giving them NSAIDs.
Non-steroidal anti-inflammatory drugs, or NSAIDs, are more commonly known by names like Ibuprofen and Acetaminophen for humans. However, painkillers made for humans can be toxic to dogs, so specific safe NSAIDs have been developed. These include Carprofen, Deracoxib, and more. While these are considered safe for short-term use, long-term use of NSAIDs in dogs can lead to issues like liver and kidney damage. If your dog already has kidney or liver issues, even short-term use of NSAIDs can cause serious problems (potential failure of these organs). Given the potential of serious negative side effects, pet owners should work to reduce or eliminate using NSAIDs to control their dog's joint pain.
This is where joint supplements come in. Research shows that chronic pain from osteoarthritis can be improved by supplementing with a combination of glucosamine and chondroitin in therapeutic amounts.
The biggest benefit of using joint supplements over NSAIDs is that they don't cause harmful side effects. Glucosamine and chondroitin naturally occur in your dog's body, meaning you're simply giving them more of what their body already produces to support their joint health. Giving your dog joint supplements often means that you can reduce the dosage of NSAIDs over time and in many cases, eliminate the need for NSAIDs altogether.
Many joint supplements like TRI-ACTA also contain Methylsulfonylmethane (MSM), a naturally occurring anti-inflammatory, to help provide consistent pain relief for your dog.
Types of Dog Joint Supplements
Dogs can be picky about what they eat, meaning that simply giving them a joint supplement might not be as easy as choosing one and being done with it. Texture and taste are important factors that determine whether a dog will be fine consuming a joint supplement.
Powders
Powdered joint supplements for dogs are one of the easiest to administer. Most powdered joint supplements come with a measuring scoop to make it easy to get the correct dosage, and most varieties (like TRI-ACTA products) can be easily sprinkled onto your dog's wet, dry, or raw food without issue. The best dog joint supplement in powdered form will be a flavourless product (like TRI-ACTA) so that your dog won't even know they are eating something different than their regular food.
Pros and Cons of Powdered Joint Supplements for Dogs
Pros

Cons

Typically the most palatable because it can be mixed into wet or dry food without affecting the overall texture or taste
Usually flavourless
Has a long shelf-life compared to liquid or chewable supplements
Easy to store; doesn't require refrigeration
Easy to administer
Powder is easily dissolvable in your dog's stomach, meaning the supplement will work faster
Supplements with 100% active ingredients like TRI-ACTA ensure that dosages remain low (e.g., 1-2g), decreasing the chance that your dog will even notice the supplement

Flavoured varieties may contain additives, fillers, and preservatives, taking away from the number of active ingredients in each dose
Dosages sometimes need to be dissolved in water before administering
Liquids
Liquid joint supplements for dogs are another potential option. Liquids can be a bit more tricky to administer because you need a syringe to extract the liquid from the bottle, and it may take a few tries to get the dosage right, especially when the bottle is close to being empty. Liquid dog joint supplements also often contain additional ingredients, like fish oil for dogs, for both flavour and to provide additional benefits to joint and digestive health. However, your dog may not be keen on the fishy flavour, and more ingredients mean more consideration for allergies and other negative reactions.
Pros and Cons of Liquid Joint Supplements for Dogs
Pros

Cons

Often easier to administer than a tablet or capsule supplement
May have faster absorbability in the body compared to a tablet or capsule (because liquid doesn't need to be broken down)
While flavouring may turn your dog off, it also may encourage them to eat the supplement

Dosages are typically quite high (e.g., 10+ ml) because liquid supplements are often highly diluted
More difficult to administer than powder, requires a syringe to extract the liquid from the bottle
Often contains additional ingredients that may cause allergies or negative side effects in your dog (usually general stomach upset)
Often flavoured due to additional ingredients, which your dog may not like
Squirting onto dry food will cause the food to get soggy, affecting palatability
Shelf life isn't as long as powders or capsules
May need to be refrigerated
Chews
Chewable supplements for dogs often come in the form of treats or chewable, flavoured tablets. In theory, chews are one of the easiest joint supplements to administer because they mimic real treats, so in theory, your pup should love them. But because chews are meant to be a pseudo treat for your pup, they always contain fillers, additives, and preservatives. Chews can add additional calories to your pup's diet that you may not want.
Pros and Cons of Chewable Joint Supplements for Dogs
Pros

Cons

Easy to administer as they mimic real treats
Your pup may enjoy eating this type of joint supplement the most

Always contain fillers, additives, and preservatives—which may cause stomach upset for your pup, and increase the dosage amount because of less active ingredients
Adds calories to your pup's diet that you may not want (weight control is important for keeping joints healthy)
Doesn't have as long of a shelf life as capsules or powders
Your pup may not like the flavour of the supplement you choose, meaning you have to go through a process of trial and error to find one that they like and that also provides therapeutic levels of ingredients
Capsules
Capsule dog joint supplements are the rarest on the market, probably because they are the most difficult to administer. Most dogs aren't keen on taking pills, and as soon as they see that capsule sticking out of a piece of cheese, they're doing everything they can to avoid it (while still eating the cheese, of course). Plus, most of the capsule dog joint supplements we looked at on the market require that you give more than one capsule per dose—making administration even harder!
Pros and Cons of Capsule Joint Supplements for Dogs
Pros

Cons

Has a long shelf life compared to liquids or chewables
Easy to store
You can ensure your dog is getting the entire dose as long as they swallow the capsule
Flavourless

Very difficult to administer
A typical dose is often more than one capsule at a time
May require you to hide the capsule in a treat or food item, adding calories to your dog's diet that you may not want
Is often more expensive than other supplement types because of the higher dosage requirement
Not easy to find online or in pet stores
Senior and Puppy-Specific Formulas
Some dog joint supplements offer specific formulas that cater to dogs in different life stages, including seniors and puppies.
Why would you need to give a puppy a joint supplement? We're glad you asked!
Remember when we said that the majority of purebred dogs suffer from some form of hip dysplasia? Well, it's not just purebreds that are affected—dogs that are predominantly considered "large" or "giant", even if they have other breeds in them, are more likely to suffer from hip dysplasia compared to smaller dogs.
This means that a proactive approach is the best to help prevent the pain of a condition like hip dysplasia or arthritis—which can affect dogs even if they don't have hip dysplasia—from affecting your dog's quality of life.
When it comes to puppies:
Dog joint medicine in the form of a supplement can be given to puppies as soon as they are ready to eat solid foods consistently to set them up for great dog joint health for the rest of their lives.
Most dog joint supplements can be safely given to puppies as long as you carefully follow the dosage instructions (which tell you how much supplement to give your dog based on weight).
On the other hand, your old dog may benefit from an extra-strength joint supplement:
Older dogs' bodies are less able to produce the building blocks required to develop cartilage in their joints, meaning that senior dogs often need a stronger joint supplement to compensate.
TRI-ACTA H.A. is the best dog joint supplement for your senior dog. It contains the same ingredients as the regular strength TRI-ACTA but includes hyaluronic acid. This essential ingredient increases the viscosity of the synovial fluid in your dog's joints, allowing for easier and more comfortable movement.
How to Choose the Best Dog Hip and Joint Supplement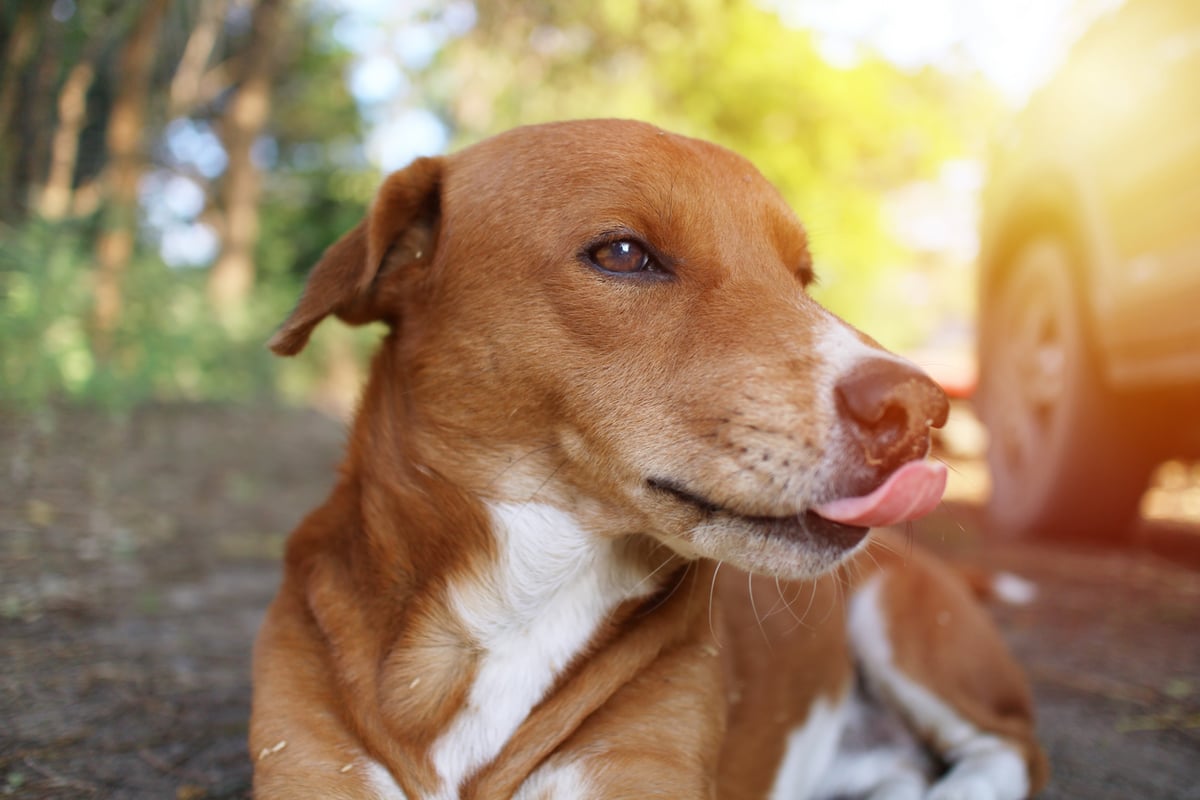 You're probably ready to head to the store or hop online and purchase a joint supplement. But before you click add to cart, there are a few important considerations that you should keep in mind.
1. Reviews and Vet Recommendations
With so many different companies out there making pet supplements, It's important to do your research on different products. Reading reviews from other dog owners is a great way to get an overall sense of how consumers are liking the product, as is checking out the company's website and seeing what information they have available about their supplement. If they are transparent about the ingredients and take the time to explain the therapeutic value of the product, then that's a good sign. Be sure to also ask your vet for their recommendations.
2. Ingredients
The ingredients in the joint supplement you give your dog are paramount. You want to make sure that what you're giving your dog is backed by evidence-based scientific research. When it comes to ingredients, there are several important points you should know:
Understanding how to read a supplement label is extremely important. Pet supplement manufacturers will use different fonts and formats for ingredient lists, so knowing exactly what you are looking for is important. Glucosamine for dogs, chondroitin, and MSM are the key ingredients every effective joint supplement should include. Some versions, especially extra-strength joint supplements for senior dogs, may include hyaluronic acid.
Knowing what ratio of active to inactive ingredients the supplement contains is key. The best dog joint supplement will contain 100% active ingredients with no fillers, additives, or preservatives, so your dog gets the maximum benefit from the supplement. Most joint supplements for pets only contain 50–80% active ingredients, so be sure to read the label carefully.
Knowing how the ingredients are sourced. Ingredients for joint supplements can vary widely in therapeutic value, and there are environmental concerns with the source of some ingredients. Some joint supplements will attempt to augment with certain plants or animals, like Boswellia serrata extract (a type of plant with anti-inflammatory properties), but the problem is that it's tougher to indicate exactly how much therapeutic value this would provide, as differing growth conditions can affect the components of the plant. The same goes for green lipped mussel for dogs. While it's a popular joint supplement option, it's difficult to ensure consistent therapeutic benefits.
3. Designations
For dog joint supplements made in Canada or the United States, there are certain designations that you can look for that indicate the product has met certain criteria with its ingredients.
To achieve the Veterinary Health Product designation in Canada, joint supplements have to follow Good Manufacturing Practices (GMPs), which means that the product is made with vetted, reliable ingredients that have evidence behind them that supports their effective use for a certain purpose—in this case, joint care.
In the United States, an independent non-profit organization called the National Animal Supplement Council (NASC) provides a quality seal that manufacturers can display on their products, provided it meets the NASC's requirements. To achieve the NASC quality seal, manufacturers must have effective ingredient quality control measures, follow labeling guidelines, submit to random testing, and more.
Best Dog Joint Supplement
Based on the criteria listed in the previous section, here are several picks for the best dog joint supplement in a variety of categories:
Best Senior Dog Joint Supplement: TRI-ACTA H.A.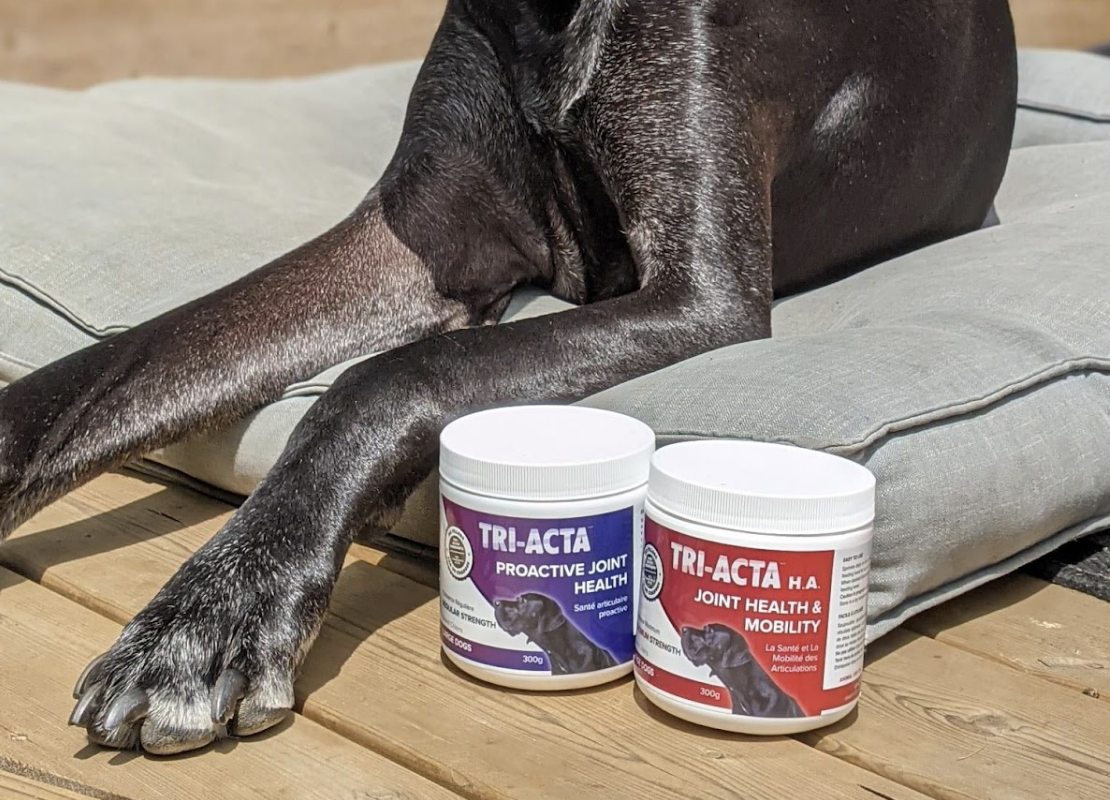 Senior dogs need a little more TLC than younger pups, and that's exactly what TRI-ACTA H.A. has been designed to give. Older dog bodies aren't able to protect their joints as well as when they were younger, so TRI-ACTA H.A. includes hyaluronic acid (that's what the H.A. stands for!) in addition to therapeutic amounts of two types of glucosamine chondroitin, and MSM. This best senior dog joint supplement is an approved Veterinary Health Product and is independently batch-tested to ensure the quality of ingredients.
Plus, TRI-ACTA H.A. is easy to administer as it's in a powdered form and includes a measuring scoop to make it easy to give your dog the right amount of supplement. Simply sprinkle or mix the supplement in your dog's regular food, and you and your pup are good to go.
Starts at $27.99 CAD for a 60g container. Pricing as of July 2023.
Best Dog Joint Supplement Chews: GlycoFlex Stage 3 Joint Support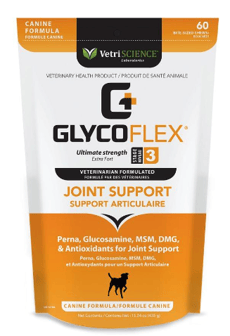 As a Made in USA product, Glycoflex makes it onto our list because each chew contains therapeutic amounts of glucosamine HCI and MSM, and the product has the NASC quality seal. Because the supplement only contains glucosamine HCl and not glucosamine sulfate, your dog may miss out on the positive effects of this other type of glucosamine (increased collagen production) and therefore it may not have as great of an effect on joint health compared to other supplements that contain both. However, the supplement does have antioxidants included, which is a plus for digestive health, but doesn't provide any joint health benefits. Further, this product does contain quite a few filler ingredients, so be sure to read the supplement label carefully to ensure that this product is right for your dog.
$49.99 CAD for 60 chews. Pricing as of July 2023.
Best Liquid Joint Supplement: Liquid-Vet by COOL PET Holistics K9 Hip & Joint Advanced Formula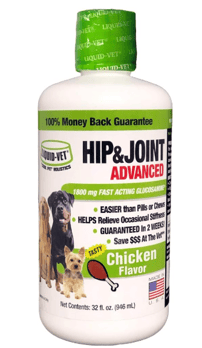 Liquid joint supplements can be tricky because your pup may not like the flavour, so it's good that the Liquid-Vet K9 Hip & Joint supplement comes in a wide variety of flavours, and even an allergy-friendly unflavoured version. The product contains glucosamine, MSM, chondroitin, and hyaluronic acid, although it doesn't specify the exact amounts of each ingredient, just saying that it's 2033mg in total. While it doesn't specifically list the NASC quality seal, they do reference the organization on their website and ensure that the entire product is made from materials sourced from USA-based suppliers and manufactured at their own plant with rigorous quality control. Plus, they have a full money-back guarantee.
$39.99 CAD. Pricing as of July 2023.
Best Proactive Large Dog Joint Supplement: TRI-ACTA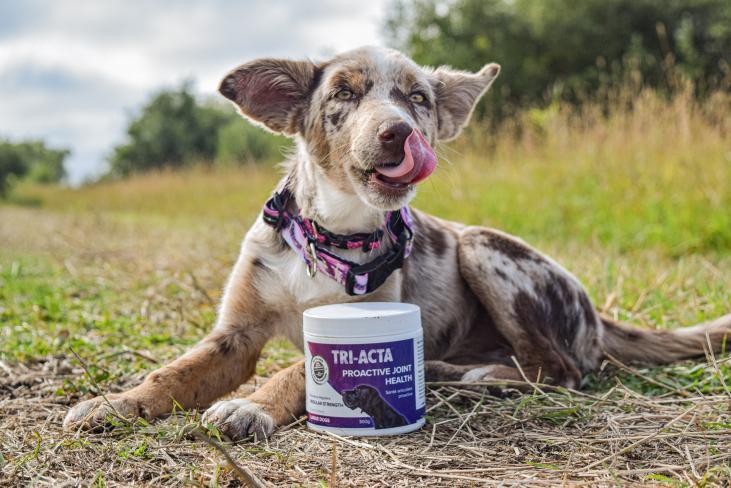 Preventive joint care, especially for quick-growing large breed dogs, is also important. With their bigger stature and genetics, large breed dogs like German Shepherds, St. Bernards, Great Danes, and more are prone to developing osteoarthritis, hip dysplasia, and degenerative joint disease compared to their smaller-breed cousins known more for conditions like luxating patella. Because of this, getting your large breed dog on joint supplements as early as possible is extremely important.
TRI-ACTA is a great choice for the best large dog joint supplement, as it contains therapeutic amounts of glucosamine, chondroitin (together, these support your dog's joint cartilage and provide enhanced lubrication), and MSM (a natural anti-inflammatory to help with joint pain and swelling). By giving your dog just a small amount of this supplement on a daily basis, you can help their joints stay strong and healthy as they age.
Starts at $23.99 CAD for a 60g container. Pricing as of July 2023.
Additional Dog Joint Mobility Factors to Consider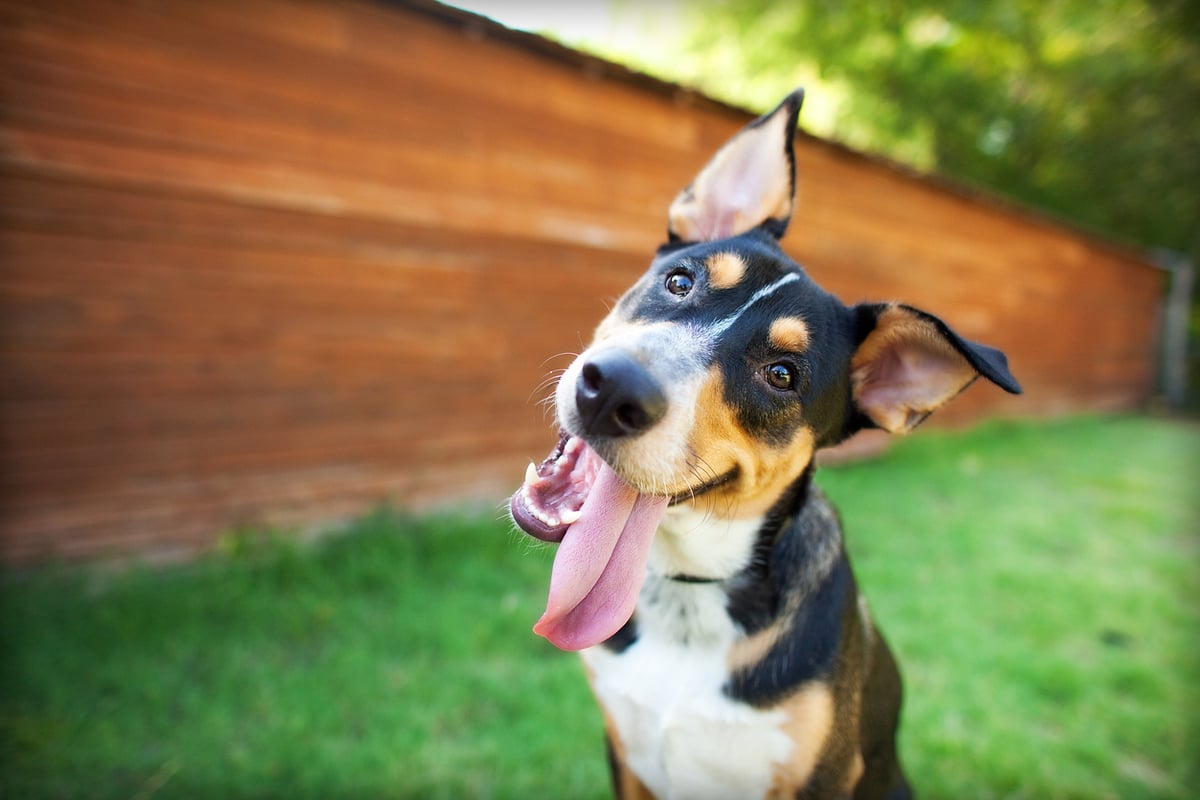 Aside from giving your pup the best dog joint supplement, there are other considerations that you need to know to protect their joint health.
Ensuring that they eat a healthy diet of high-quality dog food is extremely important for your pup's joint health and overall health. Food rich in nutrients and low in calories is the best choice for your pup. Since pet food lists ingredients from most to least on the label, look for meat in at least the first three ingredients on the list. Also, look for an indication that the food is appropriate for your pup's life stage (puppy, adult, senior) and that the food contains the appropriate levels of calcium, phosphorus, and vitamin D.
Ensuring that your dog gets plenty of exercise is also key. Different breeds of dogs also have different energy levels and, therefore, different demands for exercise. Sport dogs like Jack Russels are high-energy, so they need at least an hour of exercise a day if not more. On the other hand, Bulldog breeds are fine with a small daily walk.
Regular therapeutic care might also be necessary for your pup if they are experiencing joint issues. Hydrotherapy, acupuncture, and even laser therapy are all options that can help relieve joint pain alongside supplements.
Summary
It's important to be as proactive as possible with your dog's joint health. Since joint problems in dogs are so common, adding the best dog hip and joint supplement that works for your pup to their diet as soon as possible is necessary.
For the best dog supplement for joint pain that's easy to administer and works for all dog breeds, consider TRI-ACTA. If your pup is already experiencing joint issues or is a senior, consider giving them TRI-ACTA H.A. instead.
Purchase TRI-ACTA products online or check out our where to buy page to find retailers near you.
Newsletter Signup
Subscribe to our newsletter to receive the latest news and exclusive offers.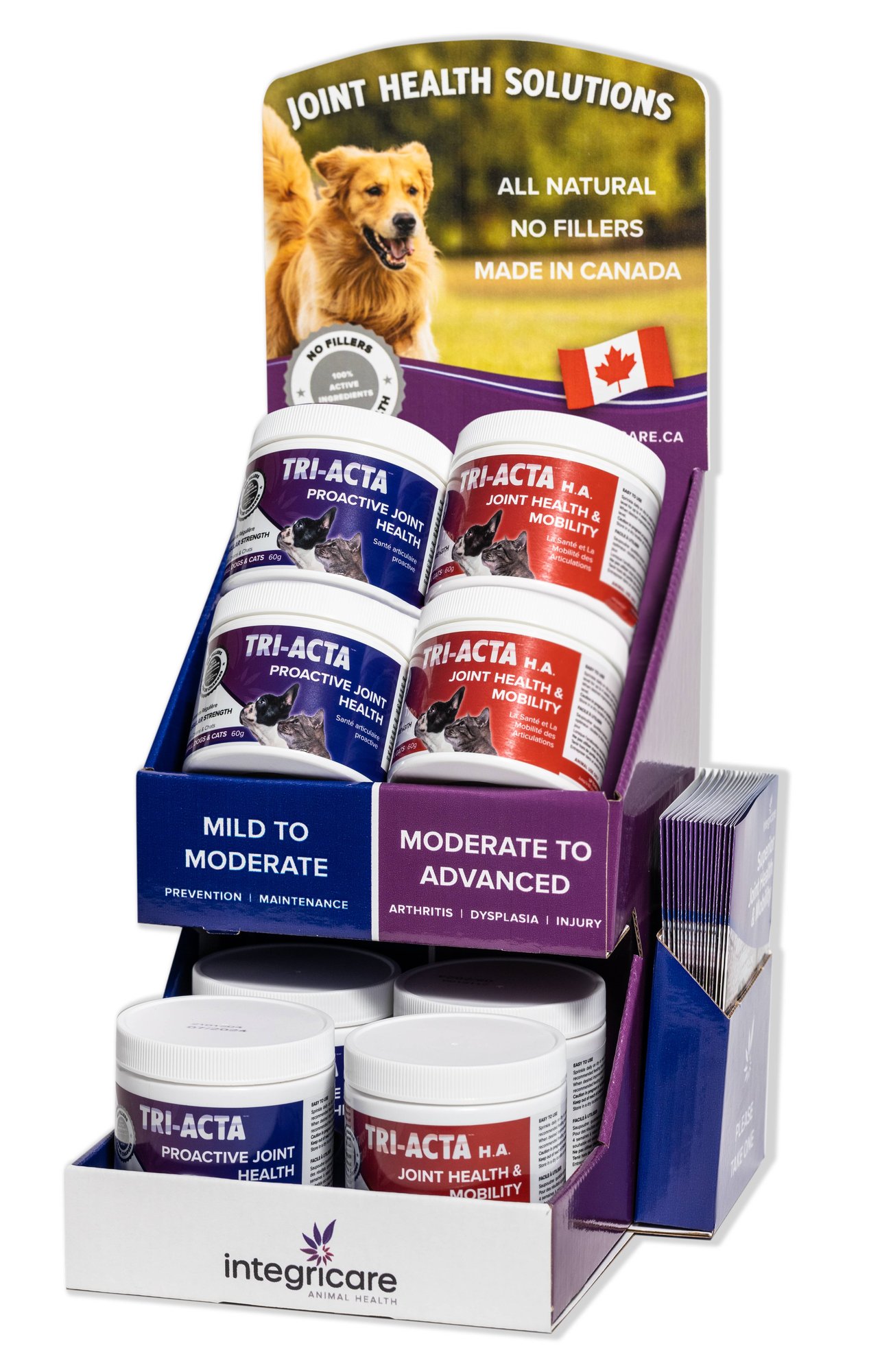 Proactive & Therapeutic Joint Supplements
When given daily, Integricare joint supplements recover bone and joint injuries faster and help prevent mobility injuries from happening in the first place.