2. Designations
These days, it's so easy to purchase a product online that doesn't follow the quality standards that you'd expect. To prevent a flop purchase, it's important to look for several indicators that your product has high-quality ingredients.
The best joint medicine for dogs made in Canada should have the Veterinary Health Product designation just above the barcode on the product label. This designation means that the product is made with reliable, batch-tested ingredients with scientific evidence that indicates their effectiveness in providing the best joint help for dogs.
In the United States, a non-profit organization called the National Animal Supplement Council (NASC) provides a quality seal that the best joint medicine for dogs manufacturers can place on their product if it meets the requirements. To get the seal, manufacturers must follow the NASC's labelling guidelines, prove that they have effective quality control measures for their ingredients, submit to random product testing, and more.
3. Reviews
Reading online reviews and asking the opinions of your family, friends, and even those on social media are all great ways to evaluate the reputation of the dog supplement product you're about to buy. Also, take the time to check out the company's website. If they are straightforward with the supplement's ingredients and the amount of active versus inactive ingredients, that's usually a good sign that they are trustworthy. However, you can always ask a professional's opinion, like your veterinarian, for advice on a specific product or to get a recommendation.
How to Get Maximum Effectiveness in Joint Medicine for Dogs
Aside from ensuring that you're choosing a dog joint supplement product with as many active ingredients as possible, has a good reputation, and maybe has a designation or two, the other way that you can ensure you're getting the maximum effectiveness out of the joint supplement for dogs that you choose is by considering how you'll give it to your pup.
After all, you could provide the best joint medicine for dogs that money can buy, but it doesn't matter if it's difficult to give your dog!
In general, dog joint supplements that are capsules or non-chewable pills are the most difficult to give to your dog, as they usually need to be disguised in a treat to give to your dog. Many dogs realize that there's something not quite right about the delicious treat you're about to give them and come up with creative ways to eat the treat without consuming the pill.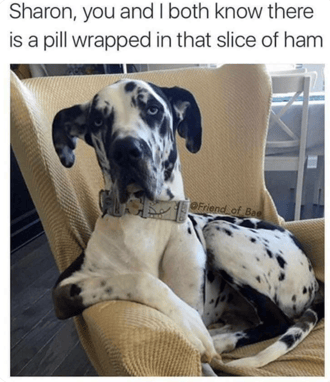 Powders and liquids, on the other hand, are much easier to give to your dog because they don't need to be hidden in a treat, they can be put directly onto your dog's food. The next section summarizes the different formulations of the best joint health supplements for dogs and outlines how they are administered.
Formulation Types
The best joint medicine for dogs comes in various forms—powder, liquid, capsules, and chewables. These different formulations are outlined in the table below:
| | |
| --- | --- |
| Dog Joint Formula Type | How to Give It to Your Dog |
| Powder | Simply sprinkle onto your dog's regular food. Most products include a scoop to make it easier to ensure you're giving the correct dose. |
| Liquid | Can be squirted directly into your dog's mouth or onto their food. Usually comes with a syringe with indicators so you can draw up the liquid from the bottle to a specific level. |
| Capsules | Needs to be administered orally. This can be done by disguising the pill in an irresistible food or by using a product like a pill pocket treat. |
| Chewables | Flavoured and formulated into a treat, which can be given to your dog as you would any other treat. |
Why Powdered Dog Joint Medicine is Recommended
As you can see, there are many options for choosing the best joint relief for dogs. In terms of the best formulation you can choose, powdered dog joint medicine sits above the others for a few key reasons:
It's convenient. Powders are easier to store than liquids and easier to give to your dog compared to capsules. Powders are also often flavourless, and don't add as much of a texture difference to your dog's food compared to liquid.
It's highly absorbable in your dog's body. Capsules or chewables can take a while to work as they need to be broken down by your dog's stomach. Powders, on the other hand, are highly absorbable, meaning that your dog can get the benefits of the supplement sooner.
It supports full therapeutic amounts of ingredients. Liquids, in particular, tend to be less concentrated compared to powdered pet joint supplements, meaning that your dog may not get the maximum positive effect on their joints with the recommended dosage of the liquid supplement.
Best Joint Care for Dogs Recommendations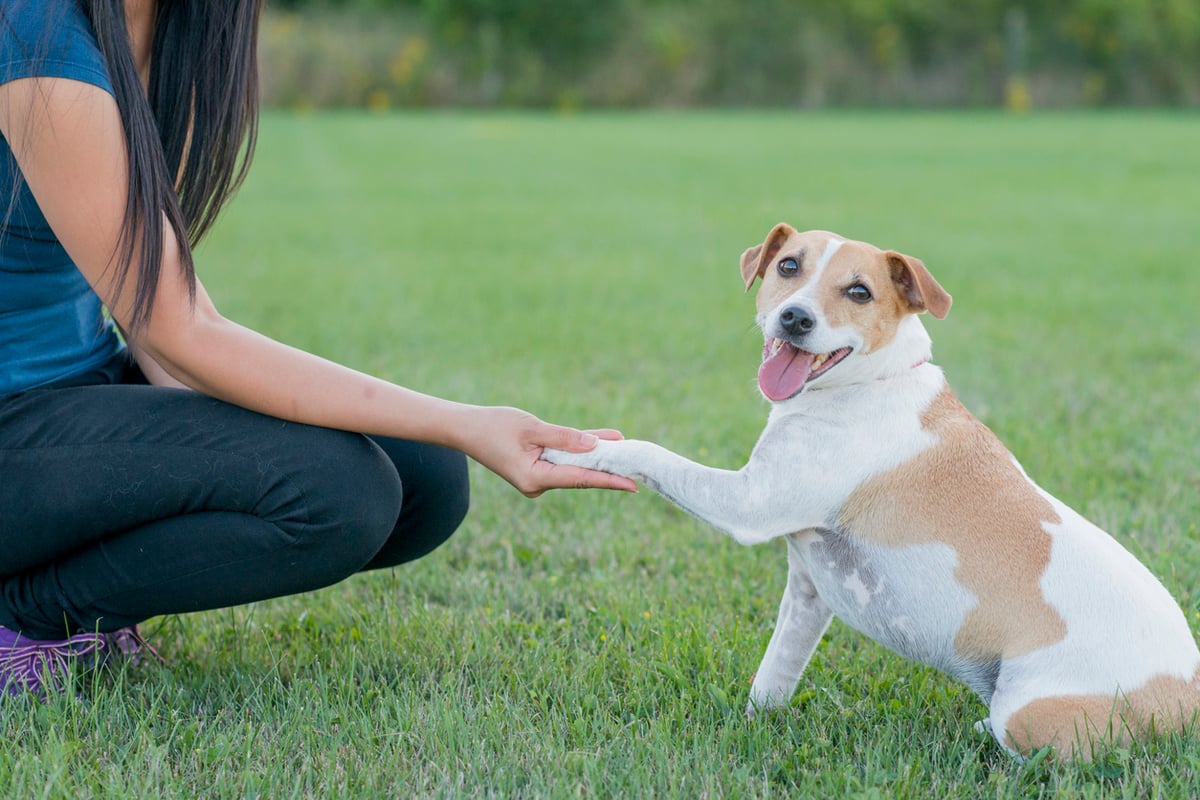 With all the information we have so far regarding choosing the best joint medicine for dogs, let's get into our recommendations.
We've chosen the contenders for best joint medicine for dogs based on the following criteria:
Ingredients (active versus inactive ingredients)
Designations (Veterinary Health Product for Canada or NASC for products made in the United States)
Reviews
We'll also point out whether there's any drawbacks to any of the supplements listed below.
1. TRI-ACTA Products
Our first recommendation for the best joint medicine for dogs has to be TRI-ACTA products. With a regular and an extra-strength version, there's a TRI-ACTA to help every type of dog with their joint issues.
TRI-ACTA products contain 100% active ingredients, which means that every dose you're giving your pup provides the maximum benefit to their joint health. Plus, the dosage is small—often only 1-2g for most dogs, depending on their weight—so your pup is much less likely to notice the supplement when it's mixed into their regular food. Unlike most joint supplements, TRI-ACTA products contain two types of glucosamine: sulfate and HCl. Sulfate is an essential joint structure component, while HCl is highly bioavailable. With these two glucosamines together, you're giving your dog the maximum possible benefit they can get from available formulations of glucosamine.
Because of Integricare's commitment to providing the highest quality joint supplement, TRI-ACTA, and TRI-ACTA H.A. are approved veterinary health products by Health Canada, meaning they meet the rigorous criteria regarding manufacturing practices and quality of ingredients.
TRI-ACTA H.A. for Pets
Our maximum strength formula is optimally designed to accelerate the formation of cartilage, minimize inflammation, expedite the healing process, and improve joint conditions.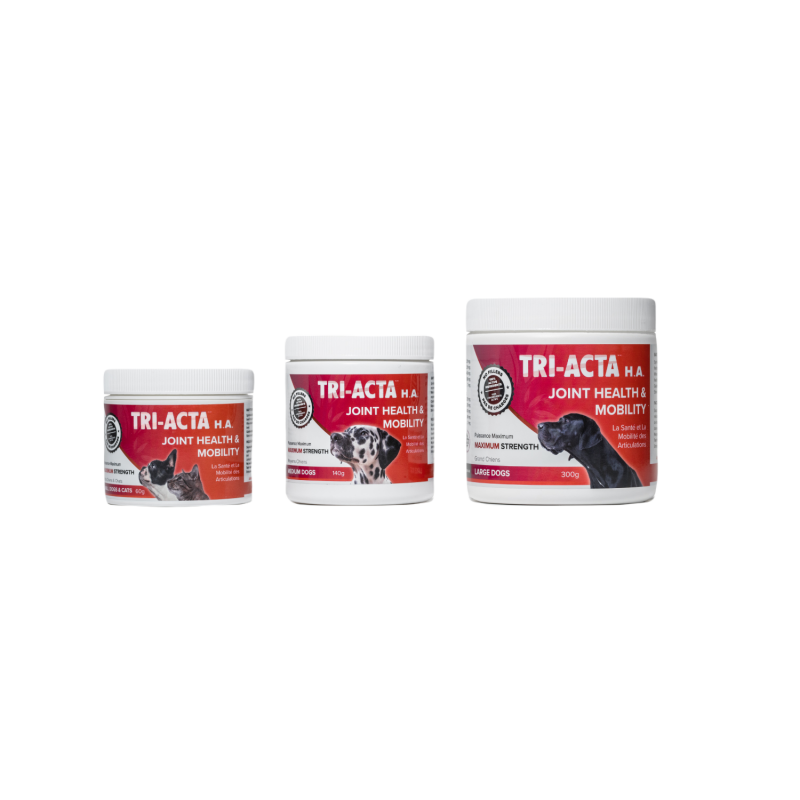 Starts at $23.99 CAD for a 60g container of TRI-ACTA, and $27.99 for TRI-ACTA H.A. Pricing as of August 2023.
2. Paws Bonez Organic Hip and Joint Powder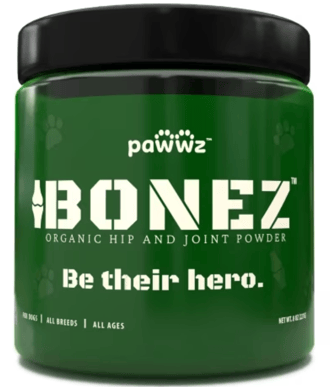 This hip and joint powder checks all of our boxes for the best joint medicine for dogs, so it's an easy recommendation. With clearly listed active and inactive ingredients, NASC certified (the product is made in the United States), and glucosamine, chondroitin, and MSM, this product is sure to provide benefits for your dog's joint health.
However, there are a couple of drawbacks. First, it's unclear whether the amount of active ingredients is per container or per scoop and how big the scoop is, so it's difficult to tell exactly how much of each active ingredient your dog is getting with each dose. Secondly, it does contain some inactive ingredients, and the amounts of those are not directly listed. What this means is that you'll have to do some math to figure out the therapeutic benefits of each dose.
$74.99 for a 227g container. Pricing as of August 2023.
3. Vet's Best® Advanced Hip + Joint Chewable Dog Tablets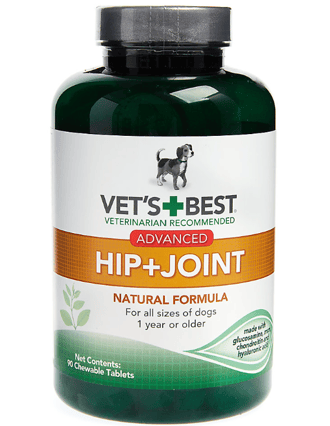 It may not be a powdered supplement, but these chewable tablets carry the NASC seal, have glucosamine, chondroitin, MSM, and Hyaluronic acid, and the dosage is small.
A few notes are that this supplement contains a fair number of inactive ingredients due to the need for flavouring and binding of the supplement. Among the active ingredients is a "proprietary joint support blend" that doesn't list the specific ingredients.
$43.99 for 90 tablets. Pricing as of August 2023.
Summary
Choosing the best joint medicine for dogs requires some education. You want to make sure that the supplement you're choosing has at least one type of glucosamine (although two types are better), chondroitin, and MSM, and if your pup is currently suffering from joint issues and needs some extra support, hyaluronic acid. Powdered supplements are usually preferred over other types because they are easy to store, to administer, and the ingredients aren't diluted like with liquid supplements.
TRI-ACTA for Pets
A proactive approach for developing and younger adult pets to maintain optimal joint health mobility, minimize inflammation and fend off age-related ailments.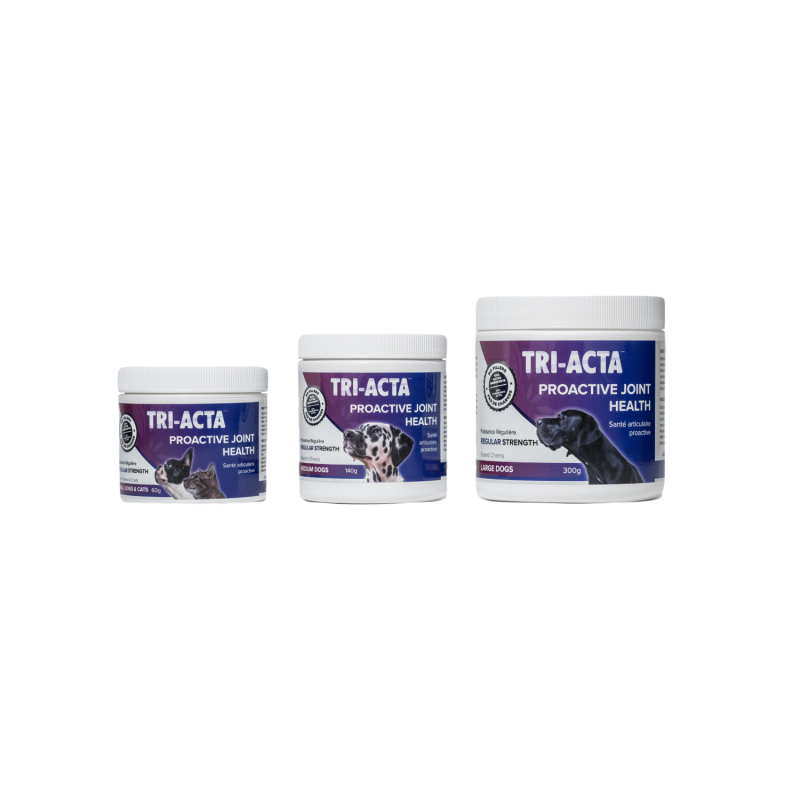 TRI-ACTA provides the best joint help for dogs in the form of a powdered supplement. Purchase TRI-ACTA today or find out where to buy at a store near you.