Obesity is not only a common health risk in humans, pups can experience this condition too, especially when their breeds have a higher risk.
According to the Association for Pet Obesity Prevention, more than 50% of dogs are overweight, while around 40% to 45% have measurements higher than normal. This can lead to all kinds of problems, such as dog mobility concerns, joint issues, and more.
So while chonky pups are cute, it's up to us to keep them at a healthy weight.

The good news is that there are treatments to help your megachonker lose some pounds. This guide talks about different breeds that are more likely to become fat dogs and the recommended low-fat dog treats you can give them. We'll also give you tips on the best dog food you can give your overweight canines.
Common Fat Dog Breeds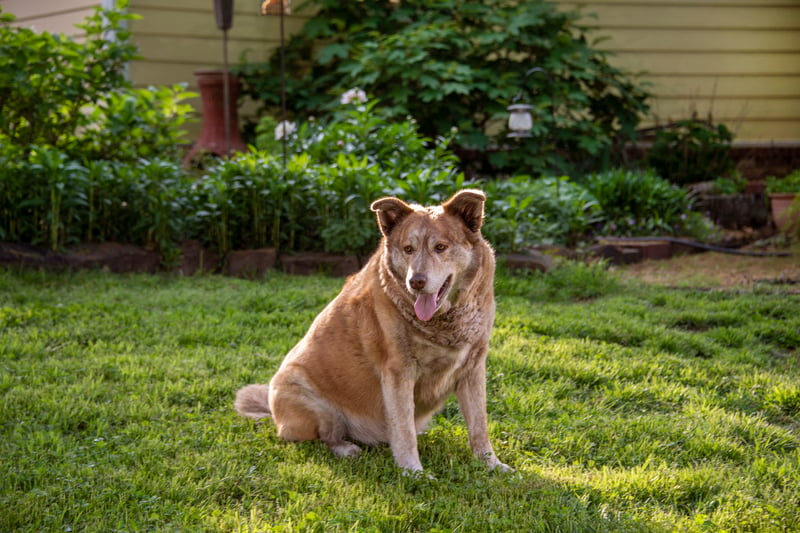 While obesity is common in dogs, there are breeds that are prone to weight gain, meaning extra care should be taken to ensure they stay at a healthy weight.
Remember that obese dogs often live shorter lives. Monitoring their weight is a must so you know when to watch out for the treats you provide these dogs.
To help prevent dog health issues caused by weight gain, you'll want to make sure you practice:
Food portion management
Regular exercise
Routine weigh-ins
With that in mind, let's check out seven dog breeds that are more likely to need support to stay at a healthy weight.
1. Pugs
Pugs are known for being cheerful and fun-loving. Pet owners love their bubbly personalities, which make them more adorable. Pugs surely know they are cute, and use that to ask for more treats.
But Pugs are one of the dog breeds that can become overweight quickly. And if you keep on giving them more food, it can exacerbate breathing issues, which are already prevalent because of their squished-in face.
When pugs suffer from breathing problems, it makes it more difficult for them to exercise. Regular exercise and diet management is key.
2. Beagle
Another dog breed that loves eating and lying down at home are Beagles. Because Beagles are food-motivated, the chances of becoming overweight are high.
You can keep them in great shape through routine exercises or by giving them a job. If Beagles have something to do, they won't consider dog treats as much. For example, border security often hires beagles as drug-detector dogs at the airport.
3. Bulldogs
Bulldogs are bred with an elongated soft palate and short noses, almost similar to their pug cousins. And because they cannot tolerate heat, bulldogs do not enjoy exercising for long periods.
Bulldogs are typically highly motivated by food, leading owners to give them more treats during training sessions, which can lead to weight gain.
However, if you want to prolong their lives, keeping them fit, healthy, and strong is always best. Talking to your vet also helps because he can provide safe exercise routines even under the sun.
4. Labrador Retriever
Labrador Retrievers are also food-obsessed and prone to weight gain, especially when you don't regularly walk or engage them in quick exercises. They're just one breed that makes up the 50 million overweight dogs, according to the APPA.
Labrador Retrievers rarely feel full after every meal, which increases the need to feed them with treats. New science predicts this was because of a genetic mutation.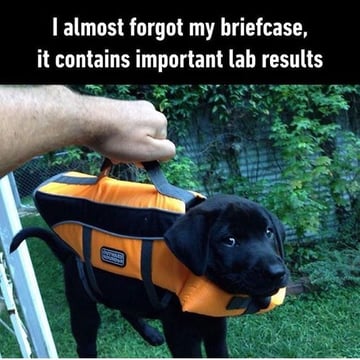 5. Basset Hound
Basset hounds are big-boned breeds with a higher chance of being overweight because of their inactivity. These species don't enjoy exercising or walking that much, and you can better see them taking a nap at home.
If you want to manage the weight of basset hounds, it should be you who will take charge. You need to give these dogs a little push so they will start moving around. A diet program from the vet can also help you keep them on the healthier side of the scale.
6. Dachshunds
Dachshunds were once known for hunting rabbits, badgers, and foxes. However, they are now more used to becoming treasured companions or lapdogs. Because dachshunds needed more energy for hunting, they are prone to weight gain.
Additionally, dachshunds' general conformation cause them to be more prone to developing joint issues like slipped discs. This makes them even harder to exercise. But it's also why you must manage their weight and keep them thin.
Engage your dachshunds in daily exercises, and provide them with a high quality diet that's low in fat.
7. Golden Retrievers
The primary reason we included golden retrievers on this list is that they are people-pleasers. These dogs love showing new tricks, so their owners will give them treats as rewards.
Additionally, golden retrievers were once hunting breeds, now living inside your house. This means they don't get as much exercise as before, so there are no activities that can burn those calories and keep them at an average weight.
The long, soft, and fluffy fur characteristic of goldens can hide their weight, so you may want to break out the scale every now and then to make sure they're at the size they should be.
Health Effects from Dog Obesity
Most dog owners think their pooch looks cute with a few extra pounds. However, while all those rolls might trigger cute aggression, they're far from good for your dog.
Dogs that are overweight can suffer from a number of serious health conditions, including:
Joints & mobility issues
Heart problems
High blood pressure
Osteoarthritis
Type II diabetes
Skin diseases
Respiratory diseases
Decreased life expectancy
That's why ensuring that your pooch is healthy and at an acceptable weight is so critical. The good news is that if you're experiencing issues such as these, especially problems with joints, mobility, and osteoarthritis, TRI-ACTA can help. TRI-ACTA is packed with nutrients that help support your dog's mobility and keep him limber and moving without pain. It is also 100% active ingredient, which means there are no fillers. Because of this you can support their joint health without any added caloric intake.
Nutrition 411 for Overweight Dogs
Is Low Fat Dog Food Recommended?
One way that pet owners can try to lower their dog's weight is with low fat dog food. A low fat diet for dogs consists of 10% less fat or 17% fewer calories from fat.
Where do food calories come from? They are mainly sourced from carbohydrates, protein, and fat. There are at least four calories per single gram of food of protein and carbohydrates, while fat has a whopping nine calories per gram.
Logically speaking, the easiest way to reduce dog food's caloric content is to change or reduce the fat content. Most pet owners look for low-fat alternatives to manage their dogs' weight.
Yes, low-fat dog food can help keep your dogs in tip-top shape and maintain an average weight. But you must also look after the recommended fat content from the most recent AAFCO recommendations.
According to the recommendations, dogs need not less than 5% of dry matter coming from crude fat. Plus, 13.8% of the dog's daily caloric intake should come from crude fat. This helps them maintain their weight.
But you must also remember that other factors should be considered, including:
Different dog breeds
Life stages
Health conditions
If you check out the nutritional label of commercial pet foods, you'll notice that their fat contents typically fall within the recommended percentage range. This means switching to low-fat dog food is only necessary when your veterinarian advises you to.
In addition to low-fat dog food, mobility dog supplements such as TRI-ACTA H.A. may be a good addition to your dog's diet. These can help support overall dog health and assist with mobility throughout their weight loss journey, help with joint inflammation, and help alleviate other joint health concerns.
Benefits of Low Fat Dog Treats
We all know our dogs love a good treat from time to time. After all, who isn't interested in getting some dessert?
If you've got a dog who struggles with being overweight, low fat dog treats are your best friend. Aside from having fewer calories, low-fat dog treats have other benefits. Let's talk about them below.
Less Calorie Dense
The first fact about low fat dog treats is that they are less calorie dense. Low fat treats contain fewer calories than normal dog treats so that they won't take up much space in your canine's digestive system and metabolism.
Aid in Weight Management
Veterinarians normally prescribe low fat dog treats to obese and overweight breeds. Because they contain fewer calories and fat content, low-fat dog treats can help dogs lose weight to prevent severe health conditions.
However, like humans, a low fat dog diet can only work when combined with regular exercises or activities. You must be determined to engage your pet in walking, fetching, and other activities that can help them burn fat.
Better Energy Levels
Low fat treats are guiltless dog snacks you can give your pets anytime. They can help provide energy to your canines throughout the day. Moreover, because they contain fewer calories and fat, low-fat treats serve as healthy energy sources for your dogs.
Low fat dog treats can also help energize your dogs for longer periods. And because they contain more fiber, vitamins, and protein, low-fat dog treats can support your pup's overall well-being.
Improved Digestion
Your dog's digestion can also significantly improve with low fat dog treats. They can reduce bloating and the risk of developing an upset stomach. Low fat dog treats can also protect your dog's gut and the feeling of having too much gas.
The fibers present in the treats also aid in digestion. Plus, most selections contain probiotics, which are healthy bacteria that promote a healthy digestive system. Probiotics can more effectively break down food to improve the dog's immunity levels and can help boost overall dog gut health.
Is High Fat Dog Food Recommended?
Low-fat dog food isn't always the solution for dogs. Sometimes, dogs require high-fat dog food if they have specific health conditions. These types of food contain higher fat content, so expect their calories to be more than the average.
High fat dog food is suitable for dog breeds that need more energy to thrive. Working dogs need a high number of calories to support them and give their bodies what they need to perform their best. Some of the most common working breeds include the following:
Golden Retrievers
Labradors
German Shepherds
Standard Poodles
Belgian Malinois
If you give a working dog low fat dog food, they won't have the energy they need to power through their working days. Moreover, low fat dog food can negatively affect their metabolism and overall digestive health because they won't receive the energy they need from their food.
But you must also be wary of the ingredients of high fat dog food. You need healthy fats and proteins to enter your dog's digestive system. We suggest looking for things like:
Fish meals
Flaxseed oil
Fish oil for dogs, omega-3 fatty acids
These premium ingredients can make your dog food more expensive, but they are worth it.
Benefits of High Fat Dog Food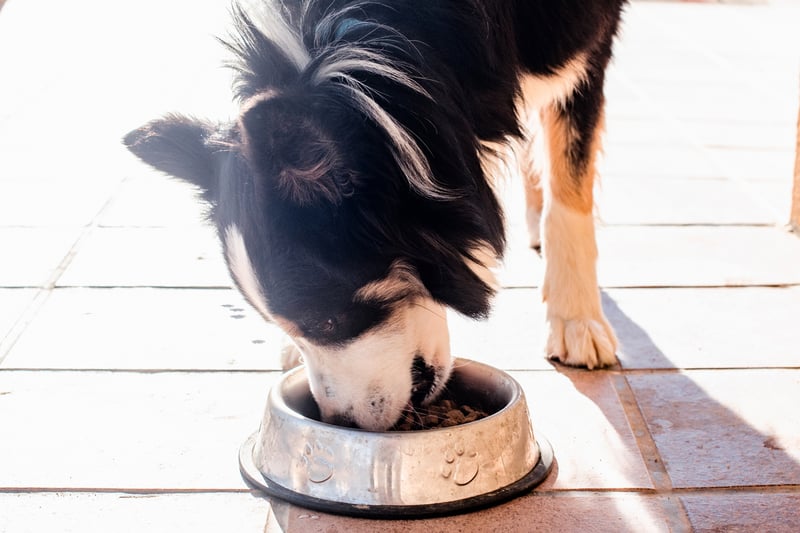 While generally not recommended for fat dogs looking to lose weight, it's worth noting that veterinarians may prescribe high fat dog food for working dogs to supply them with the calories they need. Aside from containing more calories, carbohydrates, and proteins, high-fat dog foods help working dogs stay healthy.
Let's look at a couple of the benefits of high fat dog food.
Increased Strength and Cardiovascular Performance
High fat dog food provides a substantial amount of energy for working dogs. Active dogs need more fat to serve as their muscles' primary fuel source. With high fat dog food, dogs can burn fatty acids while performing at a sustained high level.
Aid in Weight Gain
High fat dog treats can also be your companion when your dog is underweight. You can frequently feed him these high-fat snacks with more calories. These can also help in better nutrient absorption and digestibility.
However, like low fat dog treats, the fats, carbs, and proteins from high fat dog food can only be most beneficial when your dog exercises or moves.
Low Fat Wet Dog Food vs. Dry Dog Food
Now that several dog food brands are available, choosing one that suits your canine can get overwhelming. Moreover, even selecting wet vs. dry dog food can be challenging.
With the help of your veterinarian, it gets easier to choose which low-food diet works for your dogs and which ones you must avoid. However, you must be able to differentiate and compare low-fat wet and dry dog food.
Let's look at a couple of factors to consider when comparing dry and wet dog food, as outlined in the table below.
| | | |
| --- | --- | --- |
| What to Consider | Wet Dog Food | Dry Dog Food |
| Cost | More expensive | More practical and economical |
| Convenience | Less convenient | Easy to store and take on the go |
| Protein Content | More | Less |
| Carbohydrate Content | Less | More |
| Fats | More | Less |
| Preservatives | Few to no preservatives | Contains preservatives |
| Moisture | More | Less |
| Flavor | More flavors | Less |
| Refrigeration | Keeps it fresh | No need |
Low-fat wet and dry dog food can sustain nutritionally-balanced diets for your dogs. Knowing where they differ can help you choose the right brands to manage your pup's weight. Moreover, you must also be aware of how these food types are processed.
Wet dog food contains meat ingredients and ground protein sources. After mixing these primary ingredients, a gravy with the following elements is incorporated:
Cooking and sterilization of the mixture take place to produce canned wet dog food. This is also why this dog food contains more moisture, not exceeding 78%. You can see this on the food label.
On the other hand, dry food contains almost similar ingredients to wet dog food. The difference is that manufacturers pulverize the meat mixture instead of gravy, creating a consistent dough for cooking.
The cooked dough is shaped to form kibbles through shaped holes. And they undergo a drying process, which is why dry dog food contains moisture not exceeding 10%. After drying, the kibbles are sprayed with minerals, fats, oils, and vitamins.
Benefits of Low-Fat Wet Dog Food
Incorporating low-fat wet dog food into your pup's diet provides the following benefits:
The higher moisture content is ideal for dogs that don't drink as much water or for species that are suffering from improper hydration, like kidney or urinary disease.
Dogs enjoy wet dog food because it's more palatable, aromatic, and flavorful. It's suitable for sick dogs with a decreased appetite.
Wet dog food aids in weight management because it makes dogs feel full for longer.
Because of the moisture, wet dog food is easier to chew, which works best for dogs suffering from

dental diseases

or oral abnormalities.
Benefits of Low-Fat Dry Dog Food
Like low-fat wet food, dry dog food can also promote several benefits for your canines. Here are the most common advantages:
Dry dog food can encourage dogs to chew, which helps prevent calculus build-up and periodontal diseases.
It's convenient. Dry dog foods are easier to portion and don't readily spoil.
Dry dog food is also more affordable, so you can purchase it in bulk and store it at home.
Top 3 Recommended Dog Food for Fat Dogs
Now that you know how low-fat dog food can help your fat canines, you might want to start looking for the best selections in the market. Remember that choosing the best diet dog food for fat dogs will depend on your veterinarian's recommendations.
Your vet will better understand what foods make sense for your pup and what foods are best left to other dogs.
Although your vet will be the one to ultimately help you decide which diet dog food is for you, there are a couple of good picks out there that you might want to consider. The below table breaks down the key ingredients in some popular diet dog foods as well as what they're best for.
Brand

Main Ingredients

Suitable For

Royal Canin Gastrointestinal

Rice

Chicken

Wheat

Best for maintaining gut health and proper digestion in dogs

Purina Pro Plan Weight Management Adult Dry Dog Food

Chicken

Wheat

Oat Meal

Barley

Beef Fat

Best Low-Fat Dry Dog Food

Natural Balance Limited Ingredient Diets

Chicken

Chicken meal

Sweet potatoes

Peas

Best for all types of dogs and can help in supporting gut health
Royal Canin Gastrointestinal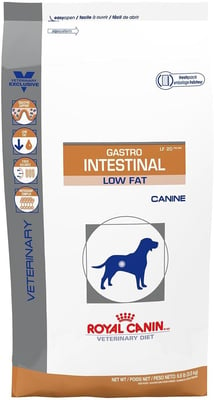 Royal Canin Gastrointestinal contains the right amount of calories and fat content to support your canines' digestive system. It also consists of prebiotics, ideal for maintaining optimum gut health. With its dietary fibers, Royal Canin Gastrointestinal aids in weight management by promoting optimal stool quality and healthy digestion.
The following are the benefits of Royal Canin Gastrointestinal:
Contains antioxidants for a better immune system
Highly palatable, ideal for dogs with decreased appetite
It's vet-exclusive, so it's suitable for canines with sensitive stomachs
Purina Pro Plan Weight Management Adult Dry Dog Food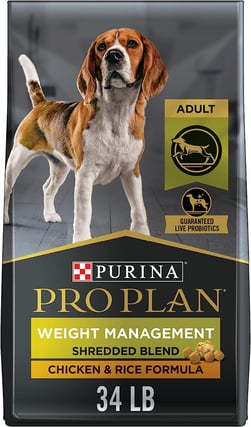 Purina Pro Plan Weight Management Dry Dog Food does not need any prescription from the vet. Because it contains 15% less fat than average dog food, it aids in weight management for fat dogs. Moreover, it contains an optimized protein-to-fat ratio, ensuring your pup won't lose all the muscle mass while losing weight.
The following are the benefits of Purina Pro Plan Weight Management Adult Dry Dog Food:
Promotes digestive health with live probiotics and prebiotic fibers
Contains 9% crude fat
Ideal for less active and overweight dogs
Highly palatable and flavorful
Natural Balance Limited Ingredient Diets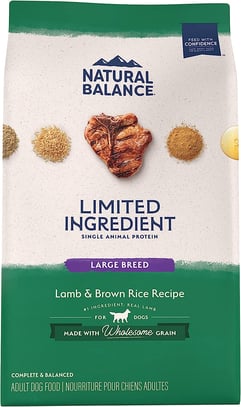 Natural Balance Limited Ingredient Diets feature premium-quality carbohydrate and protein sources at a relatively affordable price. It also contains potatoes, which are highly digestible for canines. This makes this dog food a popular grain-free energy source.
The following are the benefits of Natural Balance Limited Ingredient Diets:
No preservatives and artificial flavors
Also promotes a healthy and shiny coat
Helps maintain proper digestive health
Additional Support for a Fat Dog
Besides food designed for dieting doggos, you can also support your pooch with a healthy exercise routine. Make sure to incorporate active play sessions into your dog's daily schedule, such as going on longer walks or increasing time spent at the dog park.
For overweight animals or animals suffering from joint pain, some pet physiotherapy organizations offer underwater treadmills and pool hydrotherapy options to exercise your dog safely.
The water level on an underwater treadmill (which is adjustable according to your dog's height and weight) supports your dog's body with buoyancy, allowing him to move freely with reduced stress on his joints. Pool hydrotherapy is similar, but your dog will get a lifejacket to further support him in the deeper water.
Another effective way you can support your overweight pooch's joints is by giving them joint supplements. Supplements help combat some of the negative effects of weight gain in dogs, such as by improving dog mobility.
TRI-ACTA or TRI-ACTA H.A. are both natural joint supplement options with glucosamine and MSM, which help with joint movement. Over time, your dog will benefit from less painful joints, encouraging them to move around more and shed those pounds.
Conclusion
Obesity can be just as dangerous in dogs as it is in humans. Not getting your dog's weight back on track can lead to more dangerous health conditions that can shorten your pup's life.
The good news is that low-fat dog food selections can help you control your dog's weight and keep him healthy. On top of that, getting a vet check-up can help rule out possible underlying causes for weight gain and help get him back to a healthy size.
Moreover, adding supplements to your dog's diet can also help prevent health conditions that can progress quickly. Integricare's TRI-ACTA and TRI-ACTA H.A. joint supplements feature effective nutrients that protect your dog's joints, legs, and other essential body parts to keep it strong and healthy for a long time. If you're interested in learning more about them, check out our resources for dogs or drop us a line today.
Newsletter Signup
Subscribe to our newsletter to receive the latest news and exclusive offers.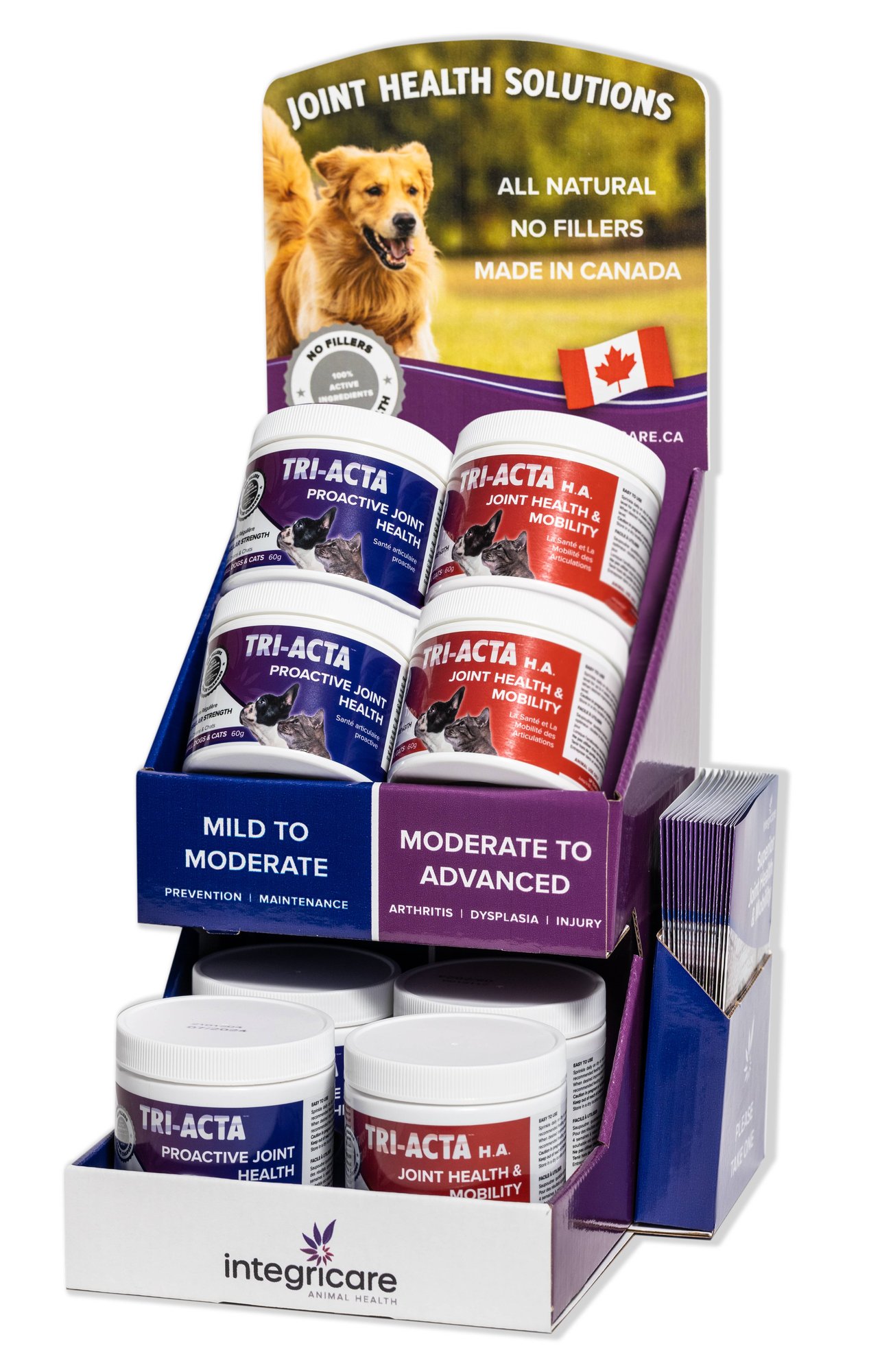 Proactive & Therapeutic Joint Supplements
When given daily, Integricare joint supplements recover bone and joint injuries faster and help prevent mobility injuries from happening in the first place.