You love your pup. So much so, you want to reward them for being your furry family member with their favourite treats and extra nibbles from the table.
The old saying about someone's stomach being the way to their heart is often true for pets – but it can be to their detriment. From overfeeding to missing key nutrients to their needs changing as they transition to a senior dog diet, a dog's diet can be led astray in many ways, even with the best and most loving intentions in mind.
That's why it's important to understand the role diet dog food plays in your dog's wellbeing, now and in the future.
Whether your dog has obesity problems or heart issues or is just slower than they once were, maybe it's time to consider a diet dog food, along with some dietary supplements, to keep your furry companion healthy and happy for years to come.
What is Diet Dog Food?
Diet dog food is a specialty category of pet nutrition focused on helping address one or more nutritional concerns for your canine. Diet dog food can be aimed at providing a modified, reduced, or fortified diet based on your dog's unique nutritional needs. These needs may not be noticed until you visit the vet for a regular checkup.
Diet dog food can address any number of dog health concerns in your canine pal, as outlined in the table below.
Dog Health Issue
How Diet Dog Food Helps
Obesity

Offers reduced caloric content
Relies on less filler content, like soy and corn, and more wholesome ingredients like chicken or other protein

Skin and Coat Problems

Poor skin and coat is often caused by a diet lacking in fatty acids
Adding fish oils and other sources of Omega-3 Fatty Acids can improve the condition of the skin and coat

Heart Conditions

The salt in your dog's diet can cause elevated blood pressure, which puts more strain on their heart
Offering a reduced-sodium diet can help improve heart health

Pancreatitis

Too much dietary fat and over-processed foods can cause pancreatitis
Reducing fat intake, especially from scraps like bacon is one way to prevent pancreatitis

Diabetes

Diabetes is a multifactorial disease that does relate strongly to diet
Reduce diabetes risk by avoiding corn, soy, rice, bread, and other complex carbohydrates

Mobility

Trace amounts of glucosamine and chondroitin can be found to help with mobility, but not typically at therapeutic levels
Depending on what your vet finds, and how severe the problems are, you can begin to adjust your dog's diet accordingly. It's important to know that the healthy diet dog food that's best for your canine may be different from what's best for another dog, no matter how similar they seem. You can take note, however, of any familial problems that your dog may inherit, but it may affect your dog differently than their parents or siblings.
Types of Diet Dog Food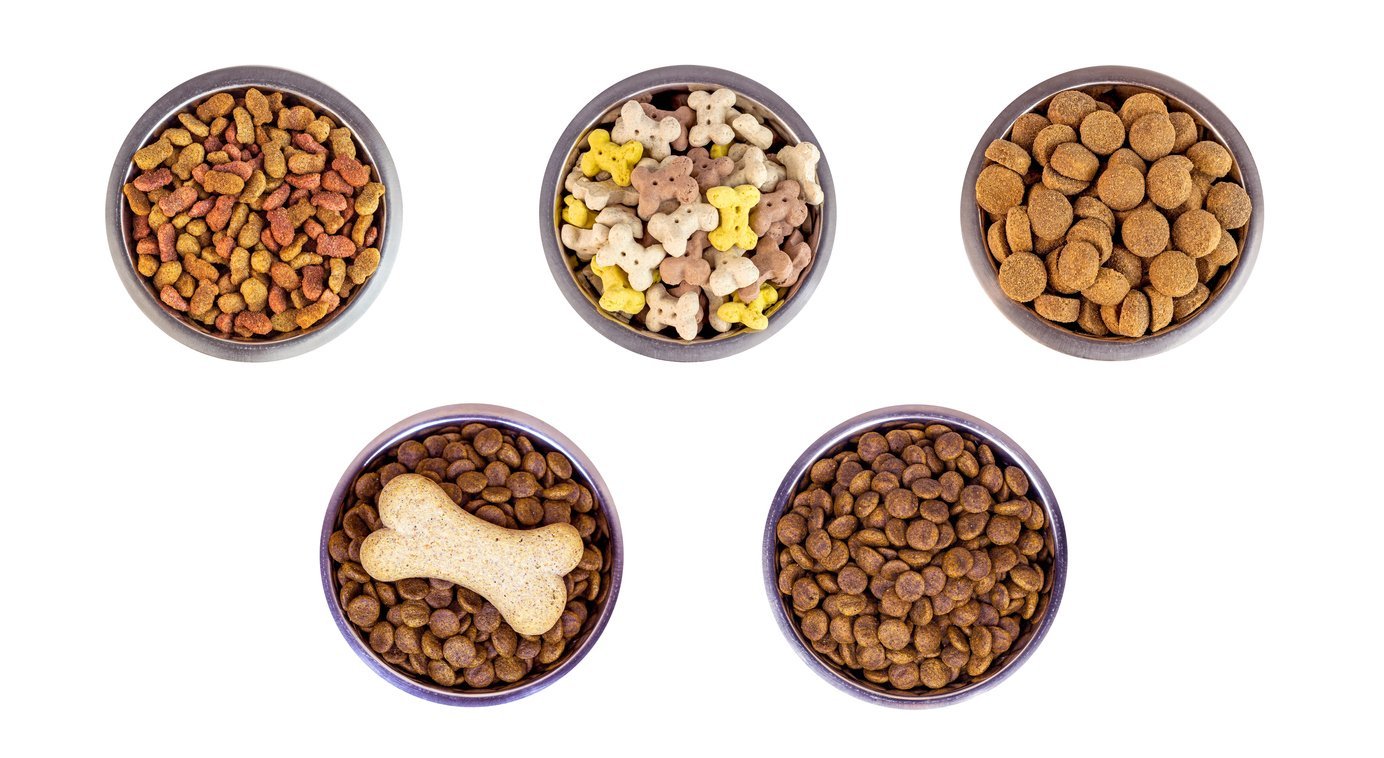 In order to address the variety of dog health problems out there, there are a variety of types of diet dog food out there targeted at solving them, either separately or in combination.
Like most common dog foods, there are several types of dog diet food available to pet parents:
Diet dry kibble
Diet wet food (canned or refrigerated)
Other specialty dog foods (raw food, semi-moist)
But which type of diet dog food is best for your pup?
Your vet should always have the final word on what's best for your pet, but we wanted to give you a serving of the best options out there to get your research started.
Diet Kibble
Does your dog love to chow down on dry kibble? They wouldn't be alone! Approximately 94% of dog owners feed kibble to their pets regularly, and diet kibble is no exception.
Dry diet dog food often targets obesity and weight management, but many blends offer combination solutions like coat management and heart health, too.
Diet dog food kibble definitely has some pros:
Affordable
Easy to store
Easy to buy in bulk
Long shelf life
Complete nutritional profile
These diet dog foods are carefully constructed to contain the exact amounts of nutrition your dog needs. They have been balanced by veterinary experts and are often the easiest way to assure your dog is getting what they need and avoids the dangers of home-crafted foods.
One major drawback to diet dog food in kibble format is that the label can offer lofty promises but a closer look reveals that the product is packed full of fillers. This isn't going to be the best diet dog food option and is a reminder to read the label carefully.
Wet Diet Dog Food
Wet diet dog food encompasses both the traditional canned or packaged wet foods as well as the modern refrigerated fresh wet food. Due to their soft nature, wet diet dog foods are ideal for senior pups or dogs with dental problems.
Wet diet dog foods offer several key benefits:
More appealing to dogs (scent and texture)
Lower in carbohydrates
Higher in protein and fats
Help maintain hydration
Easier portion control
Combined, these benefits satisfy many of the concerns that lead owners to pursue a healthy diet dog food and diet dog treats.
Unfortunately, there is a primary drawback to wet food – its cost. The cost of wet food is generally higher than that of dry, especially if you are only feeding this to your pup. It's also messier and takes longer to prepare than simply scooping some kibble into a dish.
Specialty Diet Dog Food
If traditional formats aren't for your dog, consider implementing a specialty dog food diet.
For various reasons, including border societal trends and the proliferation of the internet for sharing information between pet parents, alternative dog diet foods have become more popular in recent years. Consumers expect pet food products on the shelf to match healthy food choices for humans.
And pet parents are spending to back that desire. A majority of Canadian pet owners said they'd be willing to splurge if it meant buying healthier foods for their animal companions. This is reflected in the popularity of diets like the raw food diet.
Raw food diets are all about providing raw, wholesome food to your pup. Some supporters purport the benefits of this diet to be based on the concept that it reverts dogs' diets to their pre-domesticated states. Unfortunately, there are some drawbacks to this kind of diet, too.
Some drawbacks of a raw diet dog food:
Possibility of bacterial contamination and animal to human disease
Not properly balanced by scientists and vets for optimal health
If not handled properly, bones and meat can cause choking or other hazards
Due to some of the risks of raw food diets, owners have turned to fresh refrigerated options to help provide specialty dog diet food for their pups. Mirroring the meal kit delivery options for humans available today, options like FreshPet allow you to provide curated, healthy meals for your pets.
They focus on using fresh, whole ingredients that are cooked gently and kept refrigerated. This claims to benefit your pup by locking in vital nutrients and featuring zero fillers in the recipe. But there is not much to back up those claims yet, as this is a new category.
No matter what kind of specialty diet or diet dog treats you pursue your furball, always consult your vet first so you can do what is best for your pet's overall health and safety.
Dog Diet Concerns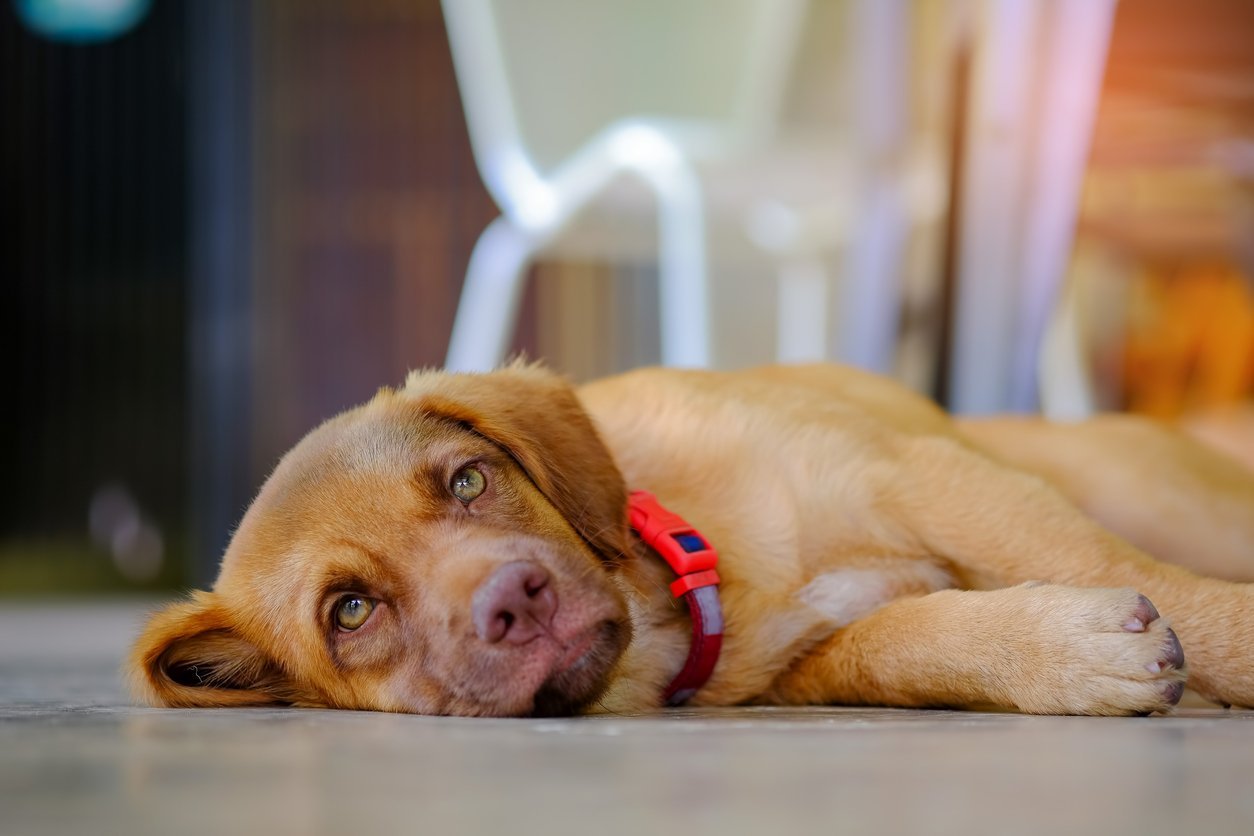 Targeting specific dog nutritional concerns is one of the primary reasons for choosing diet dog food. Whether it is
You can target various areas of dog's health with dog diet food by:
Reducing fat in their food
Controlling weight and reducing weight
Reducing bladder stones and other ailments
Minimizing sodium content for blood pressure control
The primary way to do this is by implementing a specialty dog diet food as their main food. We're going to cover a few of the most popular diet dog food types and categories.
Low Fat Diet Dog Food
Bacon. So delicious, so dangerous.
Unfortunately, tasty scraps like bacon and high-fat dog diets can lead to painful consequences for your pup – like pancreatitis.
Symptoms of pancreatitis caused by a lack of low-fat diet dog food include:
Lethargy
Fever
Hunching over
Multiple vomiting episodes (either over a short period of time or periodically over several days)
Distention or pain in the abdomen (dog appears bloated or uncomfortable)
Diarrhea
Lack of appetite
Dehydration
While the symptoms may appear like a mild case of tummy troubles, pancreatitis is deadly if not addressed. It is extremely serious for your pet to suffer from pancreatitis, whether it is acute or chronic. When the pancreas begins to become inflamed from the increased fat intake, the enzymes present in the digestive tract begin to leak out, causing the organ to digest itself. Sounds pretty ruff to us.
So what does fat have to do with it?
Pancreatitis can be a bit of a mystery, but what is known is that when dogs have more fat in their blood, they are more susceptible. This link has often been noted after dogs dine on table scraps in large quantities or get into leftovers or even just the trash. That's why the day after Thanksgiving is one of the busiest times for vets! Keep leftovers away from your canine pal, and ask your guests to skip feeding bits of fat and treats at the table to keep your pup safe.
In addition, grains rich in unnecessary fats are also believed to contribute to pancreatitis. In general, veterinarians have found that feeding your dog processed foods gives them a greater risk of pancreatitis. Skip the highly processed foods, and opt for kibbles or wet diet dog foods low in fat and fillers.
Weight Control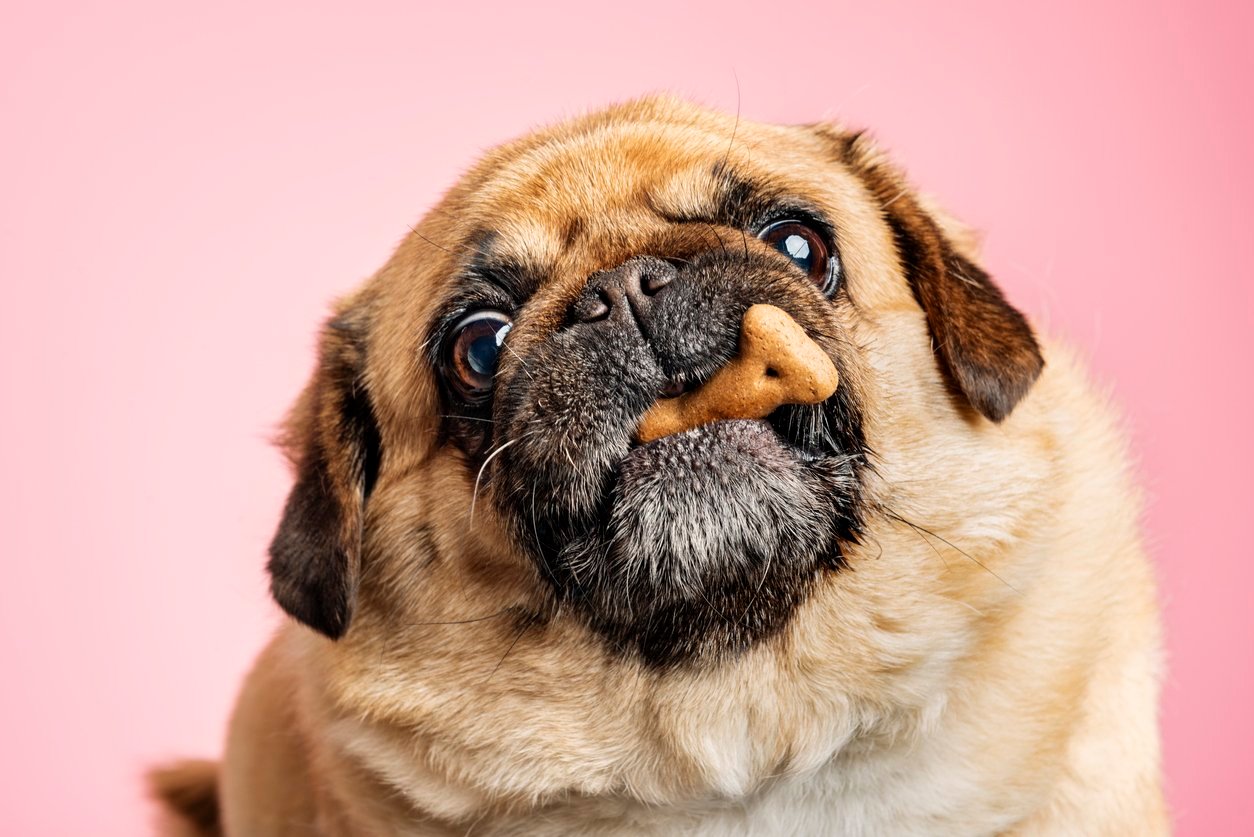 A survey conducted by the Association for Pet Obesity Prevention found that 55.8% of dogs are overweight or obese. That's over half of our pups who are putting more stress on their joints leading to dog arthritis, are at higher risk for heart disease, and possibly even shorter lives.
Typically the problems that cause weight issues for dogs that lead to needing diet dog food later are:
Calorie content in their food is too high
Grain is the primary ingredient in their food
Food is too high in fat content
Your dog is not exercising enough for their caloric intake
When your dog goes beyond cute and pudgy and moves into the unhealthy zone – it's time to switch things up.
Diet dog food for obese dogs is all about helping your dog with weight loss through specific nutritional profiles.
Some common features seen in weight management diet dog foods include:
High protein
Minimal ingredient list (no fillers)
Less grain
Whole ingredients like chicken and beef
Lower calorie content
These features help your pup reduce their weight, and when paired with daily exercise, you can build strong dog muscle and a healthier future.
Low Phosphorus & Calcium
If your dog is plagued by common ailments like tummy troubles and bladder stones, it could be a sign their diet needs to change.
Not that anyone likes to talk about it, but diarrhea can be a larger sign of dietary problems. Both large and small bowel diarrhea is something to keep an eye on. A high-fibre diet has been shown to be helpful for dogs suffering from large bowel diarrhea. A diet should contain both soluble (the type of fibre colonic bacteria eat) and insoluble (indigestible) fibre. In cases of small bowel diarrhea, a bland, low-fat diet is recommended to make it easier for the body to digest.
Another common health problem caused in part by diets is bladder stones. Specifically, struvite bladder stones are thought to be most related to dietary issues.
Bladder stones can form when your dog's diet food contains too much:
Protein
Phosphorus
Magnesium
Over time this can cause problems like urinary accidents, discoloured urine, and urination straining. In cases with low risks of a urinary tract obstruction, it is often recommended to use special diets to dissolve struvite bladder stones. In general, these diets limit minerals that cause stones and are designed to facilitate the formation of acidic urine.
Always talk to your vet if you suspect that your dog has recurring symptoms of either of these conditions or you are concerned about their behaviour.
Low Sodium
Worried about heart disease in your pup? Reducing sodium is key to helping prevent and reduce poor health outcomes.
Hypertension or high blood pressure is directly related to increased sodium intake. Water retention in the blood vessels and elevated blood pressure result from excessive sodium intake. For the diseased heart to pump blood from its ventricles, it must continue to enlarge in response to increased blood pressure. This can even lead to bursting blood vessels and congestive heart failure.
So it's clear from the understanding of this disease, you need to keep sodium levels low in your dog's diet to help reduce doggy blood pressure. Focusing on reducing sodium intake for a dog with heart failure or high blood pressure to 0.08% – 0.25% on a dry matter basis is the best way to bring the stress on their heart and body to more manageable levels.
Pros and Cons of Dog Diet Food
Like any choice you make for your furry friend, you want to weigh the pros and cons.
We've gathered up some of the primary things to consider when you're thinking about switching your pup to diet dog food, but it goes without saying you should consult your vet first before changing anything major in your dog's diet because every dog is unique and may not respond in the same way as another dog.
Check out the table below to get an idea of the pros and cons of diet dog food.
Type of Diet Dog Food
Pros of Diet Dog Food
Cons of Diet Dog Food
Dry Kibble Diet Dog Food

Helps dogs clean teeth with hard kibble
Highly specific blends to target nutritional needs
Convenient to feed
Long shelf life

Not all kibbles are made equally and may contain fillers and poor ingredients
Low moisture content can cause dehydration and coat issues

Wet Diet Dog Food

Appetizing and palatable
Easy to eat and digest
Good for dogs with limited kidney function due to water content
Long shelf life
Good for small dogs
Highly specific blends to target nutritional needs

Costlier than dry food
Diet of only canned food may require more dental cleanings
May cause diarrhea or loose stool
Not all wet foods are made equally and may contain fillers and poor ingredients

Cooked Diet Dog Food

Convenient to feed
Appetizing and palatable
Highly specific blends to target nutritional needs
Whole proteins and natural ingredients with no fillers

Expensive
Not always accessible
Can be missing key nutrients

Raw Diet Dog Food

Can help address coat problems and digestion
Can control what is going into diet

Harmful bacteria like E. coli and salmonella can be passed to dogs and humans
Doesn't provide complete nutrition profiles
Bones can cause bowel obstruction and intestinal perforations
Can be more expensive
Diet Dog Food for Small Dogs
We love our littlest pooches. They are sweet, sassy, and the perfect lap companion for many of us.
But these special little guys need special diets, too.
This is because a small dog's nutritional requirements differ significantly from their larger counterparts. Their small size often comes with common health concerns, another primary reason to seek out small dog diet food.
Despite their small size and what you'd assume from that, miniature and small breed dogs need more calories per pound than large breed dogs. Small dogs require 40 calories per pound of their body weight, while large dogs require only 22.5 calories per pound. When you consider small dogs' tiny stomachs, it makes sense why their foods tend to be more calorie-rich than large breed foods.
Further, a small dog's age and dietary antioxidant levels can assist in preventing free radical damage over their typically longer lifespans. Due to that typically longer lifespan, small breeds can also benefit from glucosamine for dogs to support joint and soft tissue health. This is best added to their diet through a supplement such as Integricare's TRI-ACTA line of products. Supplements are more efficient and effective at offering therapeutic doses to your dog than simply offering glucosamine-added dog food.
TRI-ACTA for Pets
A proactive approach for developing and younger adult pets to maintain optimal joint health mobility, minimize inflammation and fend off age-related ailments.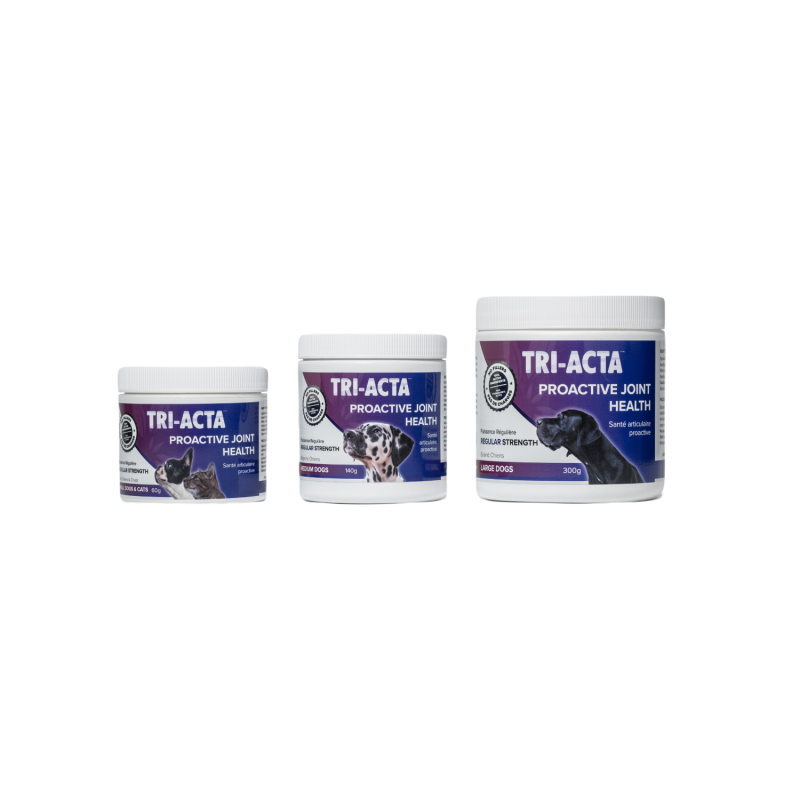 Best Wet Diet Dog Food for Small Dogs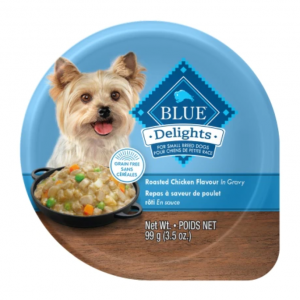 If you're looking for a small plate that will keep your small dog happy, Blue Buffalo's Delights for Small Breeds could be the perfect option for you.
Offering a tasty array of flavours, this product is ideal for dogs who have loose or missing teeth and need to get the good nutrition that they can eat easily. It has no grains and corn filler, which is nice to see in a diet dog food for small dogs.
Best Diet Dog Food for Small Dogs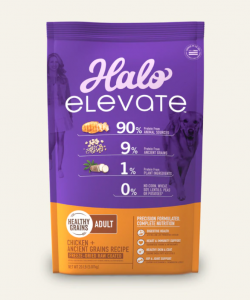 If wet food isn't your dog's preference, then perhaps Halo's Elevate Dog Healthy Grains for Small Breeds is right for you.
Allowing your dog to reap the benefits of hard kibble including dental care in a format that's formulated just for dogs, this diet dog food for small dogs is made with no fillers and plenty of protein. They claim to support digestion, heart, coat, and dog joint health.
3 Best Diet Dog Food Brands
You need to make sure you're happy with the choice you make for your diet dog food, so it only makes sense you'll want to do some research before committing to a particular formula.
To make your life a little easier, we've gathered up our top picks for diet dog food brands, summarized below in the table, and with more information on each brand in the following section.
| | | |
| --- | --- | --- |
| Brand | Best Wet Diet Dog Food | Best Dry Diet Dog Food |
| Blue Buffalo | True Solutions Weight Care Formula | Life Protection Formula Healthy Weight |
| Hill's Pet Nutrition | Perfect Weight Adult Wet Dog Food | Perfect Weight Adult Dry Dog Food |
| Purina | Specialized Adult Wet Dog Food – Weight Management | Specialized Adult Dry Dog Food – Weight Management |
Blue Buffalo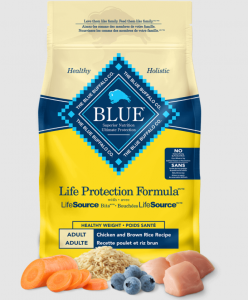 This brand is all about natural, wholesome products with no fillers. They offer several options both wet and dry that are aimed at tackling weight management, among issues like skin and coat problems and mobility issues. With hundreds of positive reviews, you have an array of options you can feel good about choosing for your pet.
Best Wet Diet Dog Food in the lineup: True Solutions Weight Care Formula (Priced $3.79/unit CAD as of March 2022)
Best Dry Diet Dog Food in the lineup: Life Protection Formula Healthy Weight (Priced $54.99 CAD as of March 2022)
Hill's Science Diet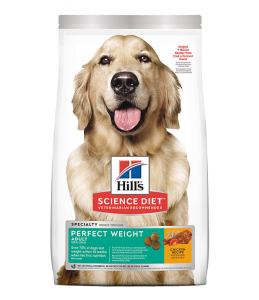 With dozens of products on the market, Hill's Pet Nutrition has a wide variety of wet and dry foods available for your dogs, small and large. Their Science Diet line provides carefully formulated, balanced meals for your canine companion that are backed by being the number one pick from US vets.
Best Wet Diet Dog Food in the lineup: Perfect Weight Adult Wet Dog Food (Priced $4.29 CAD as of March 2022)
Best Dry Diet Dog Food in the lineup: Perfect Weight Adult Dry Dog Food (Priced $82.99 CAD as of March 2022)
Purina Pro Plan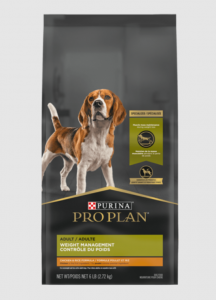 Another huge company with a big lineup of diet dog foods for your pup is Purina, specifically the Pro Plan line of foods. Pro Plan foods offer nutritionally balanced, fortified formulas that address common dog health problems.
Best Wet Diet Dog Food in the lineup: Specialized Adult Wet Dog Food – Weight Management (Priced $2.99/unit CAD as of March 2022)
Best Dry Diet Dog Food in the lineup: Specialized Adult Dry Dog Food – Weight Management (Priced $82.99 CAD as of March 2022)
Importance of Adding Supplements in Your Dog's Diet
Many dog foods tout the lengthy, fortified ingredient list they offer your dog.
Even the best diet dog foods do not always contain enough extra fortification to be truly therapeutic for your dog. Despite the addition of antioxidants like vitamin C, omega-3 fatty acids, or joint-health-supporting ingredients like glucosamine to diet dog foods, the amount is rarely enough to provide real benefits.
It's for this reason that many pet parents choose to add supplements like Integricare's TRI-ACTA to their dogs' diets.
Joint health supplements are designed to support the joints, bones, and tissues of your pup via key ingredients including:
MSM
Chondroitin
Hyaluronic acid
Each of these ingredients works together to reduce inflammation, repair cartilage, and reduce pain. The product may be useful for dogs who are overweight and have more stress on their joints, as well as those who are ageing and face degraded cartilage and joints. With pharmaceutical-grade ingredients that have been tested by third parties, you can trust TRI-ACTA to provide your dog with a safe, effective, and therapeutic supplement.
The Best Diet Dog Food & Supplements
Ensuring your dog is happy, healthy, and free of painful conditions are some of the primary goals we have as pet parents. Much of the way you reach these goals is through feeding a proper dog diet food plan, alongside proper exercise, regular visits to the vet, and the addition of dog supplements.
Integricare's TRI-ACTA for pets provides you with pure, therapeutic ingredients you can rely on, backed by over two decades of experience, and serves as a great complement to dog diet food.
Get answers to your questions about our products by reading our FAQs, and find out where to buy TRI-ACTA near you.
TRI-ACTA for Pets
A proactive approach for developing and younger adult pets to maintain optimal joint health mobility, minimize inflammation and fend off age-related ailments.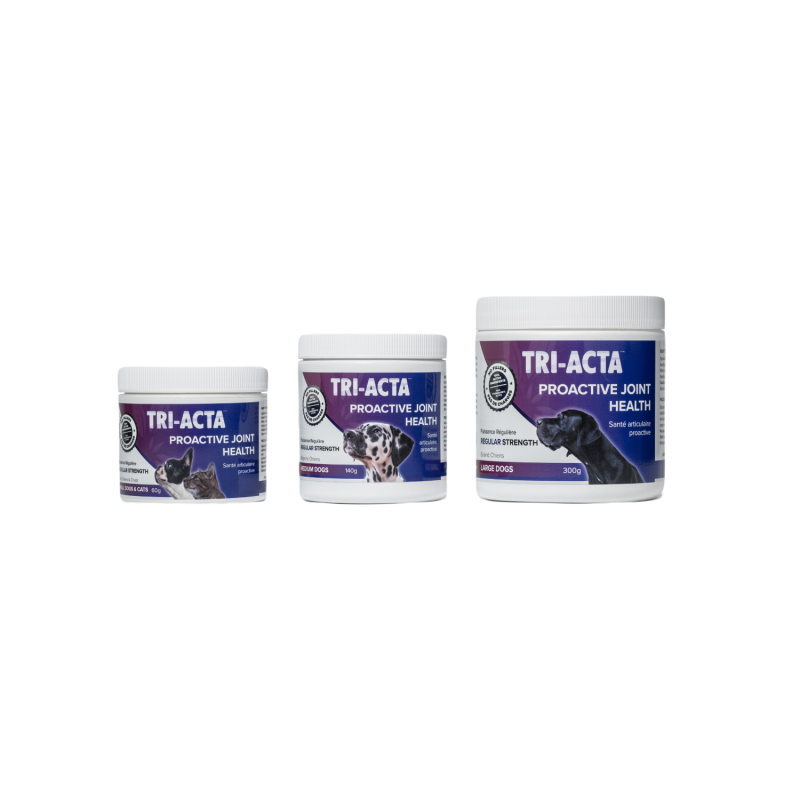 Newsletter Signup
Subscribe to our newsletter to receive the latest news and exclusive offers.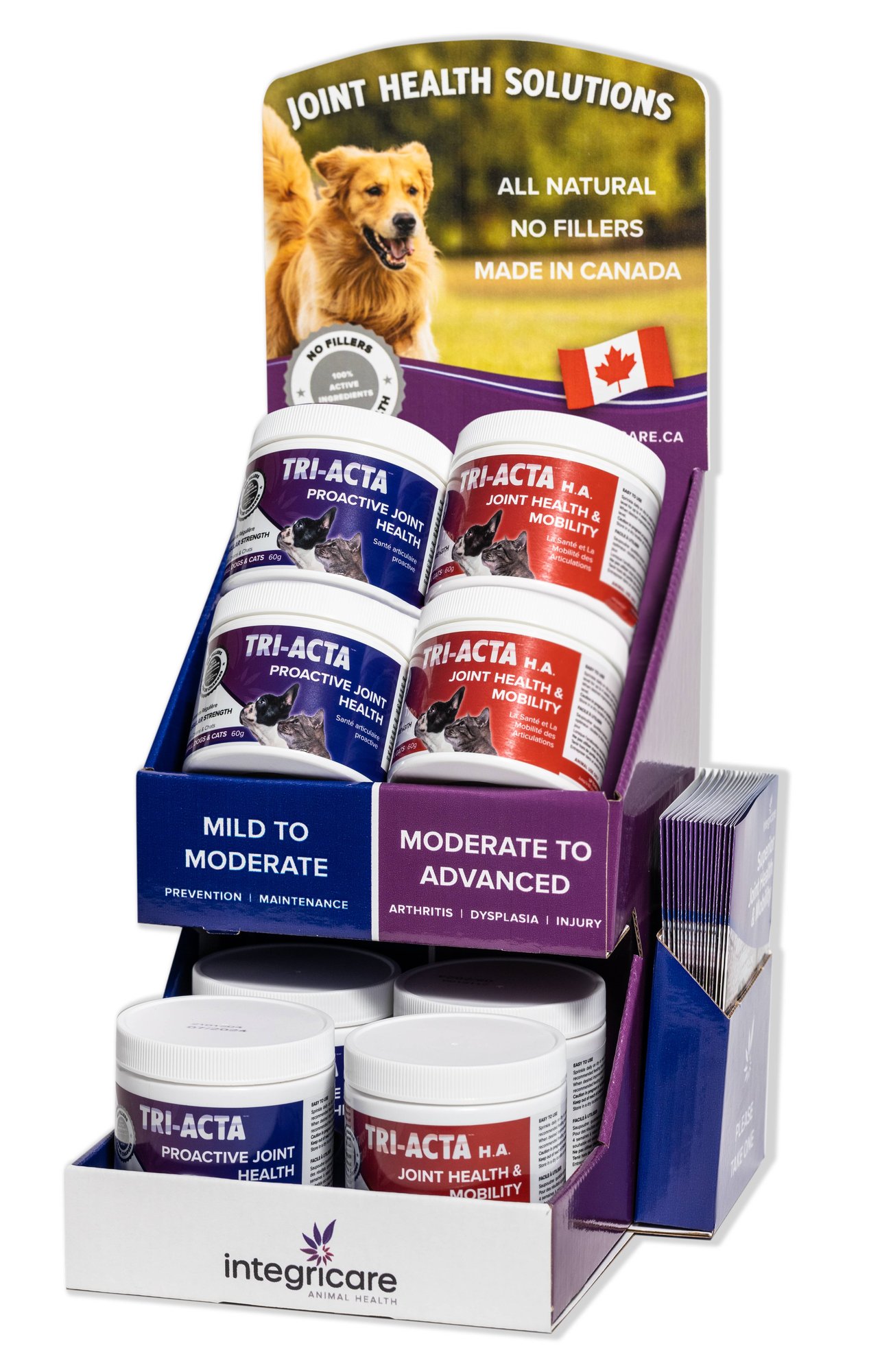 Proactive & Therapeutic Joint Supplements
When given daily, Integricare joint supplements recover bone and joint injuries faster and help prevent mobility injuries from happening in the first place.