Most of us probably has an aging relative that's had some aches and pains as they get old. Or hey, perhaps some of us have already started experiencing those aches ourselves!
Whatever the case, dogs aren't that much different—as they get older, they too, start to experience things like muscle fatigue and joint pain. Thankfully, there are steps you can take to help your furry friend feel better.
Aside from regularly taking them to the vet for monthly check-ups, giving them the right supplements and dog food can also help. But, of course, that's only scratching the surface.

This guide gives you a deep dive into the importance of good dog food for joint health and its benefits. Plus, it also covers some of the best dog foods on the market for keeping your pooch feeling his best!
What Makes Dog Food Good for Joints?
Healthy joints serve as the cornerstone of the canines' physical health. Dogs with healthy joints can move easily, increasing their overall mobility to stay healthy well into their senior years. Because these animals are always active, having healthy joints ensure they keep moving effectively while running and walking.
However, when not taken care of properly, dogs' joint health can deteriorate, which can also affect their overall quality of life. A 2018 study revealed that among various joint disorders, degenerative joint disease or osteoarthritis is one of the most common types.
When osteoarthritis is not immediately treated, its negative effects can pose physical health challenges to the dog. Degenerative joint disorders like osteoarthritis cannot be fully prevented, especially when a dog ages. And what you can only do is provide your dogs with good nutrition accompanied by adequate physical activity.
Ensuring your dog maintains a tiptop shape can also help prevent worsening symptoms and effects. Moreover, exposing them to low-impact exercises together with the right dog food can significantly lower the development of joint problems.
Pet owners should also be aware that choosing the right dog food means avoiding the kinds of food high in calories with only a few to no nutrients. These types of food will only add to your dog's weight without contributing many nutritional benefits.
We also understand you want to spoil your canines with treats, but they should also be given moderately. Treats contribute to your dog's overall calorie intake, and being overweight can increase their susceptibility to joint disorders.
As a general rule, dog treats should only account for at most 10% of your dog's daily calorie intake. As for protein, choose lean meat. It's always the superior option rather than giving your dogs fatty protein. You can feed your dogs the following:
Chicken breast without the skin
Whitefish loaded with omega-3 fatty acids
Lean ground beef
Lean meat contains the right amount of proteins your dogs need to keep their muscles and joints healthy. Plus, proteins also enable their immune system to stay stronger and resist various diseases.
Benefits of Proactive Dog Food for Healthy Joints
Proactive dog food strips down extra calories, which could contribute to added weight. Aside from diminished physical activity, being overweight can increase the chance of your dog's joints and muscles being unable to support its body. This brings on a whole slew of dog mobility concerns for pet owners to worry about.
That's where proactive dog food and supplements can come in. Proactive dog food can mean a number of things, but it will likely be meant to support healthy dog joints when pooches are younger so that as they age, they don't run into as many joint issues.
Below are a couple of benefits of using proactive dog food for healthy joints to keep your pup mobile:
Controlled Fat Levels
Proactive dog food kinds have been formulated with an equal balance of fat and calories. This means your canine's fat levels are more controlled because they are created using the right adult maintenance formula.
When fat levels are controlled, the chance of your dog gaining unwanted weight and calories is lower. Subsequently, this helps maintain the animal's muscles, joints, and bones.
Contains Right Nutrients
Proactive dog food also contains the ideal nutrients your dog needs to stay healthy. Moreover, they are kept at optimum levels so that your dog receives only what he needs. The following are significant nutrients and vitamins canines need to have healthy joints and bones:
Omega-3 fats for immune-modulative and anti-inflammatory properties, which can help with arthritis and pain relief
Essential amino acids, superoxide dismutase, and carotenoids
Medicinal mushrooms to help with pressure reduction on dogs' joints
Chondroitin, glucosamine, and MSM help synthesize cartilage and maintain optimum joint health.
One thing to note is that even though a dog food brand says that it contains these key ingredients, just having the dog food might not be enough. Typically, dog food brands will indicate around 1000mg of glucosamine on the nutritional label. However, this is per kg of food, meaning that dog owners would be better supplementing that diet using an effective glucosamine supplement such as TRI-ACTA.
TRI-ACTA has 1000mg per 1 gram of active ingredient compared to 1000mg per kg in food, giving dogs that extra boost that they need to stay mobile even in their old age! On top of that, TRI-ACTA, and TRI-ACTA H.A for aging pets contains other key mobility players, such as chondroitin, MSM, and hyaluronic acid, which are not likely found in food.
TRI-ACTA H.A. for Pets
Our maximum strength formula is optimally designed to accelerate the formation of cartilage, minimize inflammation, expedite the healing process, and improve joint conditions.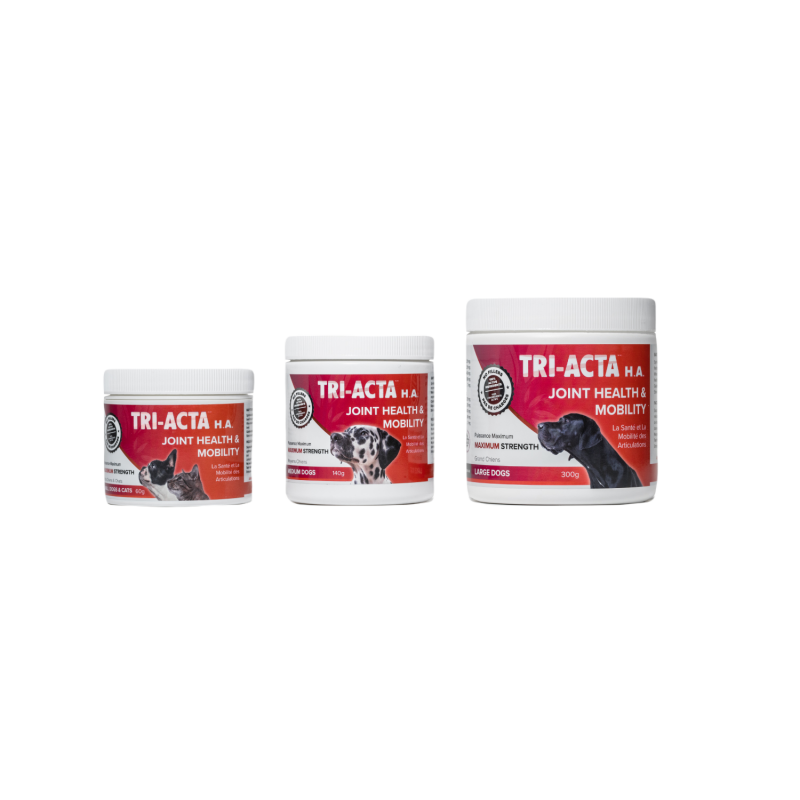 Contain Probiotics
Probiotics are not only good for your dog's joint health but also have benefits for his gut. These vitamins help keep proper digestion to prevent canines from suffering from indigestion and constipation.
What's good with proactive dog food is that it's loaded with probiotics to ensure your dog gut health is on point, which also helps with fat metabolism and getting rid of gut bacteria.
Adequate Phosphorus to Calcium Ratio
Dogs should have a strong and healthy skeletal framework to support their muscles and weight. When their bones are in tip-top shape, it can help prevent possible joint problems and disorders as they age.
This is why switching to a diet with an adequate calcium-to-phosphorus ratio is essential. Bones need calcium and phosphorus to stay strong, which decreases the chance of being brittle and susceptible to fracture.
As we have mentioned, dogs are highly active animals, so they need healthy bones to be able to jump and reach high places. When their bones are brittle and weak, landing hard can cause fractures and joint injuries.
Considerations for Buying the Best Dog Foods for Joint Health
A dog's diet should provide your pet with the proper nutrition to remain active and strong. It should consist of the right food and meals that will not make dogs overweight, which is not good for their joints.
Ingredients in dog food should also contain the right substances to help your dog cope with joint pain and muscle fatigue. This allows your pet to maintain his mobility. Let's look at a few factors to think about when choosing the best pet joint food:
Ingredients
Ingredients play a major deciding factor when purchasing dog food good for his joint health. When canines suffer from joint disorders or pain, you should look for dog food that is rich in the proper minerals and vitamins.
Aside from the supplements we've mentioned before (glucosamine, chondroitin sulfate, and omega-3 fatty acids), the following are other helpful vitamins to look for when scrolling through the ingredients section:
Vitamin D
Vitamin C
Vitamin E
Vitamin B
These vitamins are not exclusive for your dog's joints. They also have a positive impact on your canine's overall health.
Aside from the required vitamins and minerals, always check whether the ingredients are natural or processed with artificial flavoring. Artificial ingredients will more likely have potentially toxic substances harmful to your dog's health. Instead of helping canines recover from joint pain, these can lead to more severe issues and infections.
Vet Testimonials
Aside from pet owners, veterinarians know your dogs best. They know what works and what should be avoided, especially with what you feed them. When you keep your dog's vet part of the circle, serious health issues can be avoided.
Choosing the best dog food for joint health should not be stressful, especially when veterinarians recommend it. With several brands on the market, we always recommend looking for vet testimonials. These testimonials make the product certified that it has advantages for your canines.
Age of Dog
As a dog owner, you must understand that a canine's body systems evolve as they age. This means that their bodies undergo various developments and maturation. Picking the right food for dog health means understanding your canine's body needs.
When you let puppies eat dog food which should only be given to adults, the ingredients it contains might be too toxic for them. And this can lead to several side effects, which could further harm your pup's small organs.
Likewise, adult dogs should be given the right dog food to ensure they get exactly the quantity they need. Giving them food for puppies might not be enough, and it might not provide them with the right minerals and vitamins to protect their joints.
Dog Breed
Different dog breeds will have different dog sizes. This means they would need various quantities of vitamins and minerals for the food to be effective. You must consider this when choosing the proper dog food for your canine.
Also, when you're an owner of giant dog breeds, like Great Danes or St. Bernard's, we recommend starting early by feeding them with the right dog food to keep their joints healthy. Big dogs are more likely to become overweight, so they must be given the right supplements and vitamins at a young age.
Best Joint Health Dog Food
Now that you've gotten all the basics about dog food for joint health aboard, it's time to explore your options. According to essential factors to consider, we have summed up our top recommendations of the best joint health dog food for your canines to pair with a joint supplement.
Product

Features

Key Ingredients

The Farmer's Dog Fresh Chicken Recipe

USDA-chicken as the primary protein source
Contains fish oils
Best to keep immunity healthy

USDA chicken
Fish oils
Chicken liver
Broccoli
Brussel sprouts

Merrick Real Texas Beef and Sweet Potato Recipe

Primary ingredient is deboned beef
Contains vitamins and supplements to support joints and bones
Additional ingredients are all natural

Deboned beef
Lamb meal
Sweet potatoes
Potatoes
Salmon meal
Glucosamine
Chondroitin sulfate
Omega-3 fatty acids

Purina ONE +Plus Joint Health Formula Adult Dry Dog Food

Contains real chicken
Easily digested
Contains glucosamine and fish oil

Real chicken
Rice flour
Chicken as a by-product meal
Fish oils
Glucosamine

Blue Buffalo Prescription Mobility Support

Help in weight loss
Whole fish as primary ingredient
Promotes healthy gut

Deboned salmon
Pea protein
Chicken meal
Peas
Powdered cellulose

Royal Canin Large Joint Care Dry Dog Food

Effective for weight management
Contains collagen
Contains various proteins

Wheat
Corn
Chicken by-product meal
Collagen
Glucosamine
Chondroitin sulfate
The Farmer's Dog Fresh Chicken Recipe
The Farmer's Dog Fresh Chicken Recipe features USDA-grade chicken, the main ingredient which gives this dog food its overall tasty flavor. It also has broccoli and Brussels sprouts, healthy vegetables ideal for your dog's health.
This joint health dog food also promotes healthy immunity and protects your dog's fur and skin. And with its fish oils, it can keep your canines' joints in check, supporting them and keeping them healthy.
A possible downside of this dog food is that the broccoli and sprouts might not be the best ingredients if your pup is a picky eater.
Merrick Real Texas Beef and Sweet Potato Recipe
If your dog is experiencing joint problems like arthritis, Merrick Real Texas Beef and Sweet Potato Recipe contain three essential joint-supporting ingredients to protect their joints. This dog food contains the following:
Omega-3 fatty acids
Glucosamine
Chondroitin
Additionally, this dog food is also ideal for breeds suffering from allergies because of glucosamine. This ingredient ensures your dog stays healthy and recovers quickly from allergies and joint disorders.
Note this food is grain-free, so it's best to consult your vet about whether it's a good fit for your particular pup, especially if your dog has deteriorating heart health.
Purina ONE +Plus Joint Health Formula Adult Dry Dog Food
Purina One +Plus Joint Health Formula deserves to be on the list because of its budget-friendly price. It's high in protein, keeping your dogs healthy with the maximum energy they need to stay active.
This dog food by Purina contains fish oils and glucosamine to promote better joint health and mobility. And its other ingredients are highly digestible, which is good for keeping your dog's heart strong and healthy. Its main ingredient is real chicken, with key nutrients, vitamins, and minerals to help maintain the optimum health of older breeds.
Lastly, it's important to note it does contain higher calories per serving compared to other options on this list. Keep this in mind when discussing food options with your vet to prevent any unwanted weight gain.
Blue Buffalo Prescription Mobility Support
Blue Buffalo Prescription Mobility Support features a healthy salmon and chicken recipe which contains high levels of chondroitin, omega-3 fatty acids, and glucosamine. However, you need your vet's permission and a prescription to secure this option.
This Blue Buffalo product is also fortified with a weight management formula, so it's an excellent supplement for dogs who need to lose weight to protect their joints. The only possible downside of this dog food is that it's on the pricier side.
Royal Canin Large Joint Care Dry Dog Food
Royal Canin Joint Care is recommended by most vets because its formula is ideal for almost all dog sizes. This dog food contains higher levels of collagen and chondroitin sulfate to support dog joints and keep them healthy.
Royal Canin Joint Care features various protein sources. Plus, it tastes delicious, so picky dog eaters will like it. You will also find lower calorie content, so you can feed this to your dogs even if you want them to lose weight.
However, like Blue Buffalo, it's also expensive. So if you're watching out for your budget, you may need to consider other options on this list.
Conclusion
Joints are essential because dogs are always running or jumping. They are active animals, and joint disorders can gravely affect their overall quality of life.
Choosing the best dog food for joint health can be a tedious task, but you should always consider essential factors, including:
The ingredients that compose the food
Dog breed and age
Vet testimonials
In the end, your dogs will greatly benefit from thorough research and consultation with your vet to ensure they have the best possible dog food for their needs.
Lastly, dog food should also be an adjunct to your mobility supplements, like TRI-ACTA. This particular supplement contains key ingredients to keep your dog's joints in optimum shape at a therapeutic level that dog food simply can't provide alone.
TRI-ACTA for Pets
A proactive approach for developing and younger adult pets to maintain optimal joint health mobility, minimize inflammation and fend off age-related ailments.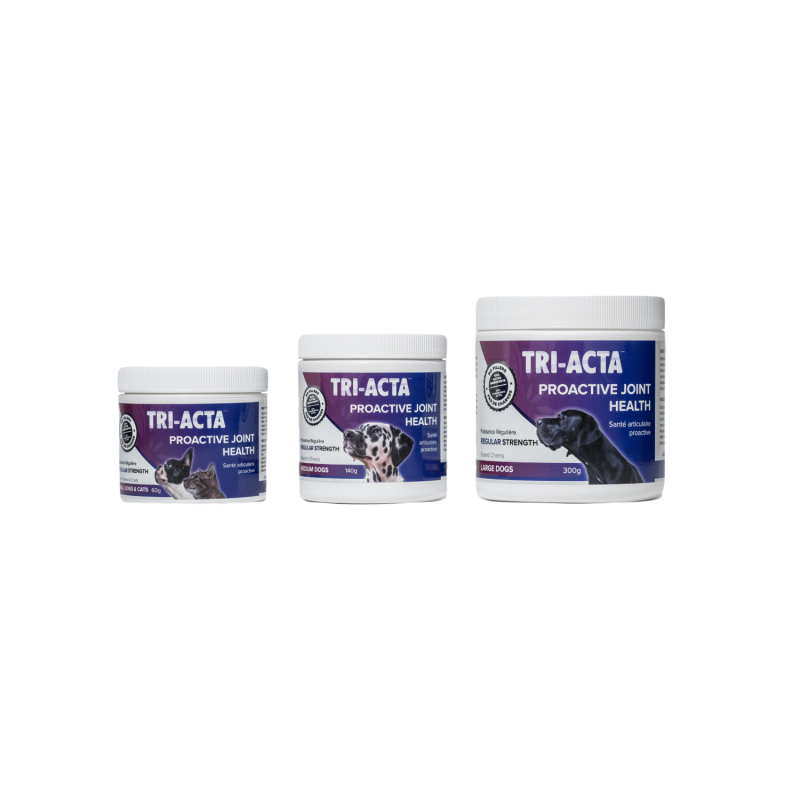 Newsletter Signup
Subscribe to our newsletter to receive the latest news and exclusive offers.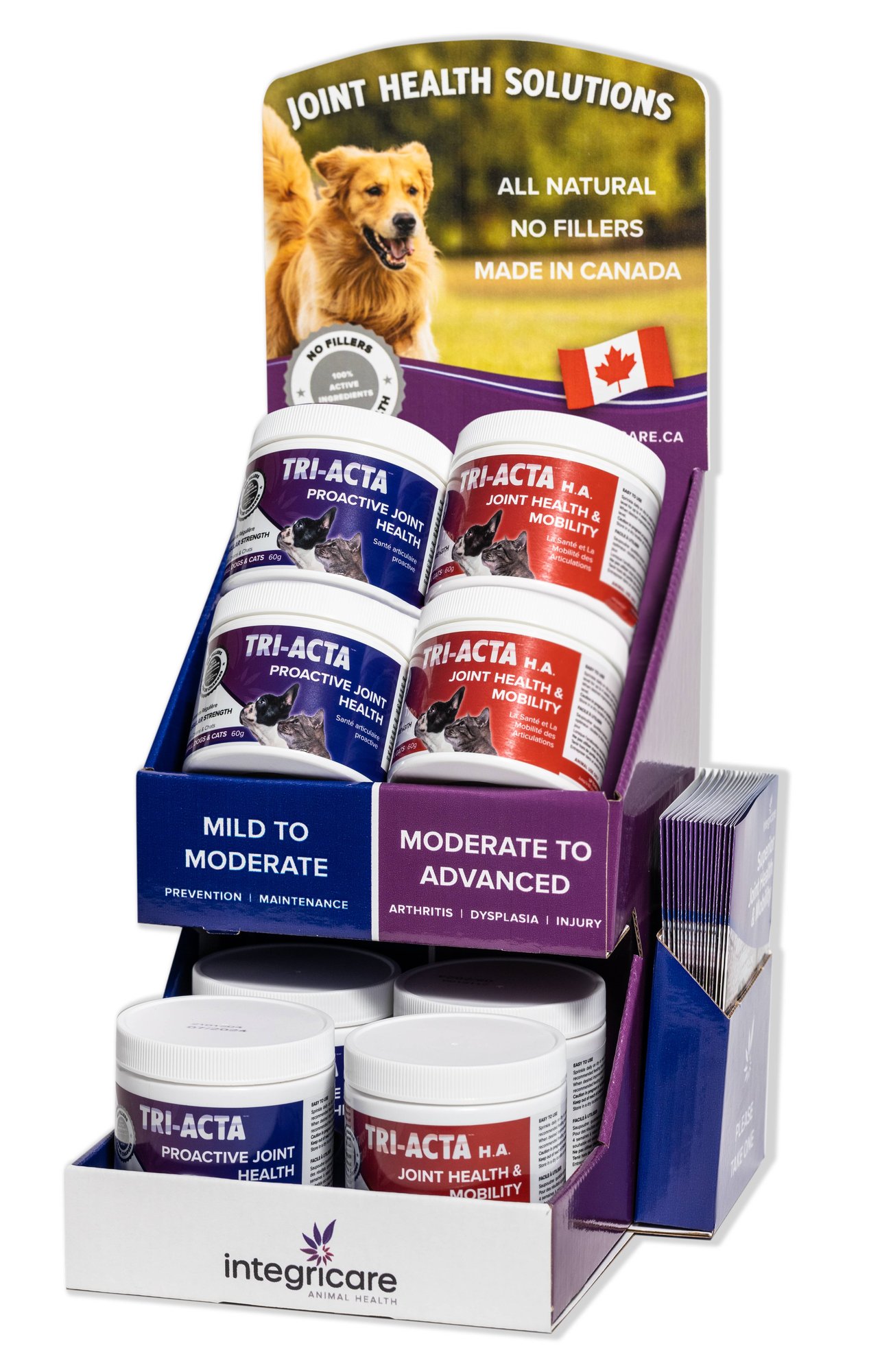 Proactive & Therapeutic Joint Supplements
When given daily, Integricare joint supplements recover bone and joint injuries faster and help prevent mobility injuries from happening in the first place.