If you own a dog, you probably don't do a whole lot of vacuuming—Fido has got you covered, licking up anything they can get their chompers on!
Unfortunately, all the foraging our dogs do can cause some significant problems with dog gut health.
The good news is that there are ways to help avoid upset tummies and keep our dogs healthy and happy. Whether your doggo is a seasoned snack smuggler or just deals with gut health issues in his old age, this guide is for you.
Here are the top ways to improve your dog's gut health and keep him on the right track!
Gut Health Dog Problems to Watch Out For
Before we dive right into how to improve our dog's tummy troubles, let's talk about a few warning signs to be aware of.
Dog gut health problems can crop up for many different reasons. Whatever the cause, however, they decrease the ability of the digestive system to absorb nutrients and digest food.
That's why common pooch habits like overeating or eating strange objects, such as shoes or toys, can be big red flags. Many times, these issues end up warranting a trip to the vet.
Of course, these aren't the only problems that can lead to gut health distress in dogs.
Being attentive to the signals your furry friend gives you can help you recognize potential problems, as outlined in the table below.
Dog Health Issue

Symptoms

Causes

Gastritis

Yellow vomiting (bile content)
Diarrhea
Excessive gas
Constipation
Abdominal pain
Dehydration
Weakness

Food allergy
Oral medication
Consumption of toxic substances or plants
Pathologies caused by viruses, bacteria, or parasites
Poisoning by contaminated food
Ingestion of foreign objects
Malabsorption syndrome

Gastroenteritis or stomach flu

Dehydration
Diarrhea (Sometimes bloody)
Vomit
Fever
Weakness
Lack of appetite

Food intake in poor condition
Ingestion of toxic substances or plants
Ingestion of high-fat meals
Parasites, bacteria or viruses
Malabsorption syndrome
Tumors

Colitis

Watery and sometimes bloody diarrhea
Increased frequency of bowel movements
Painful defecation

Food allergy
Pathologies caused by viruses, bacteria, or parasites
Poisoning by contaminated food
Ingestion of foreign objects

Parvo

Bloody diarrhea
Vomiting
Fever
Weakness
Lack of appetite

Canine parvovirus infection

Distemper

Fever
Vomiting
Runny nose
Cough
Diarrhea
Weakness
Lack of appetite

Infection with distemper virus

Bloat

Gas accumulation in the stomach (with or without fluid)
Abdominal pain
Rapid breathing
Swelling
Pale mucous membrane

Stress
Aggressive behavior
Dry food diet
Eating quickly
Once daily feedings
As you can see, most of these diseases have nonspecific symptoms. So, it's best to take your furbaby to the vet to get a correct diagnosis. That way, you can correct the issues that could be causing your dog to have digestive issues.
You should also remember that each dog handles food differently and may have different responses to meals. Just because one dog can scarf down your leftover KFC tenders and not have issues afterward doesn't mean all dogs can.
Pay attention to what seems to affect your dog so that you can help him avoid those foods going forward.
How to Choose The Right Digestive Health Dog Food?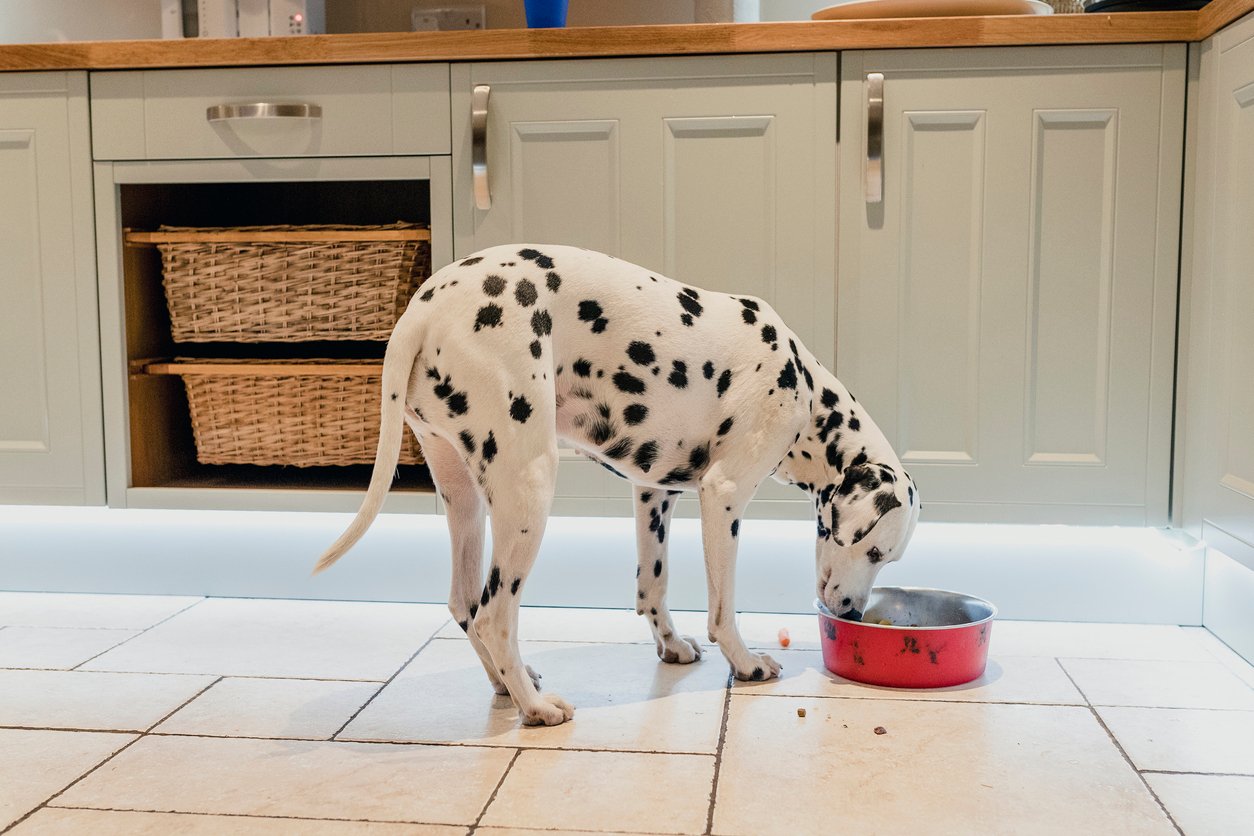 You're ready to start improving your dog's gut health with a bit more background on common gut health problems.
The easiest way to do that is to figure out what food to give to your pup!
Choosing the right digestive-health dog food means knowing how much food to give your pup, their meal schedules, how to store the food, and how to serve their chow.
To start, you'll want to pay attention to the nutrients your dog food contains. Dogs are naturally carnivorous animals, so you should prefer meals containing vitamins, proteins, prebiotics, and fats that they normally find in meat.
Of course, dogs have different needs depending on age, breed, sex, disabilities, whether or not it's pregnant, and many other factors. If this overwhelms you, you can always ask the vet for guidance.
For a quick look at choosing the right ingredients, however, you'll want to think about what nutrients support your dog's gut health depending on their life stage:
Newborn puppies (0-6 months): Ideally, they feed on breast milk, but if for some reason it's not possible, it must be replaced with formula and digestive care puppy foods. After a few months, they should start eating solids.
Young puppies (6 months-2 years): Foods high in protein. They may need feeding 3 to 4 times a day.
Adult dogs (2-6 years): Less need for calcium and phosphorus, rich in proteins and carbohydrates, and controlled fat levels. Remember that this depends on their size and activity, so you may need to check with your vet.
Elderly (7-11 years): Minerals and antioxidants allow them to easily absorb proteins. These dogs often need soft ingredients that won't hurt their teeth.

Geriatric (Over 12 years old):

Gut health dog food low in calories and very high absorption. This type of senior dog food is easy on the stomach and allows the dogs to get as many nutrients as possible.
Once you've figured out the right type of food, remember to check the storage instructions. Proper storage ensures preserving the food's properties, benefits, characteristics, and nutrients.
Usually, the packaging indicates how it should be stored. If you're unsure, you'll typically want to keep the dog chow in dry spaces and without direct light.
You'll also need to consider the environmental temperature. Humid and tropical climates require food to be stored in airtight containers that prevent insects and microorganisms from affecting it.
Recommended Ingredients in Dog Food for Digestive Health
Remember how we said that you need to look at the ingredients in your dog's food? Well, that's going to be hard to do if you don't know what you're looking for!
A few ingredients to look for on your dog food packages can be seen in the table below.
Ingredient

Benefits

Real meat (Chicken, lamb, beef, salmon, turkey, etc.)

In addition to giving an irresistible flavor and smell to the food, your furry friend will receive proteins and natural fats found in real, whole meats.
Some organ meats such as heart and liver are also concentrated sources of valuable vitamins and minerals.

Vegetables (carrots, spinach, lettuce, cabbage, etc.)

An essential source of vitamins, minerals, and fiber.
They give special support to other organs and systems such as eyes, joints, teeth, fur, and more.

Fruits (Pumpkin, strawberry, watermelon, blueberries)

It contains fiber and antioxidants, they are foods of high digestibility and absorption for your pup.
High water levels keep your pup hydrated.

Grains (Oatmeal, rice, barley, rye, etc.)

Lots of vitamins like E and B improve the nervous system, skin, eyes, fur, and more.
Beneficial for gastrointestinal functioning.

Prebiotics and probiotics

Very beneficial for gastrointestinal health, these are the "good bacteria".
Both prebiotics and probiotics can increase absorption capacity at the intestinal level of your pup.

Healthy fats (Flaxseed, salmon oil)

Source of omega-3 and omega-6 fatty acids, beneficial for growth and strengthening the immune system.
Crucial for absorbing vitamins A, D, E, and K, it's also a great energy source.
Recommended for bright, healthy, and beautiful coats.
These ingredients often make up the best dog food for digestive health. Combined with a healthy lifestyle, these ingredients can help keep your dog's gut health in good working order.
And of course, you can always give your dog healthy treats and supplements, such as TRI-ACTA. These can be a great complement to an already healthy diet to keep them mobile well into their senior years.
TRI-ACTA for Pets
A proactive approach for developing and younger adult pets to maintain optimal joint health mobility, minimize inflammation and fend off age-related ailments.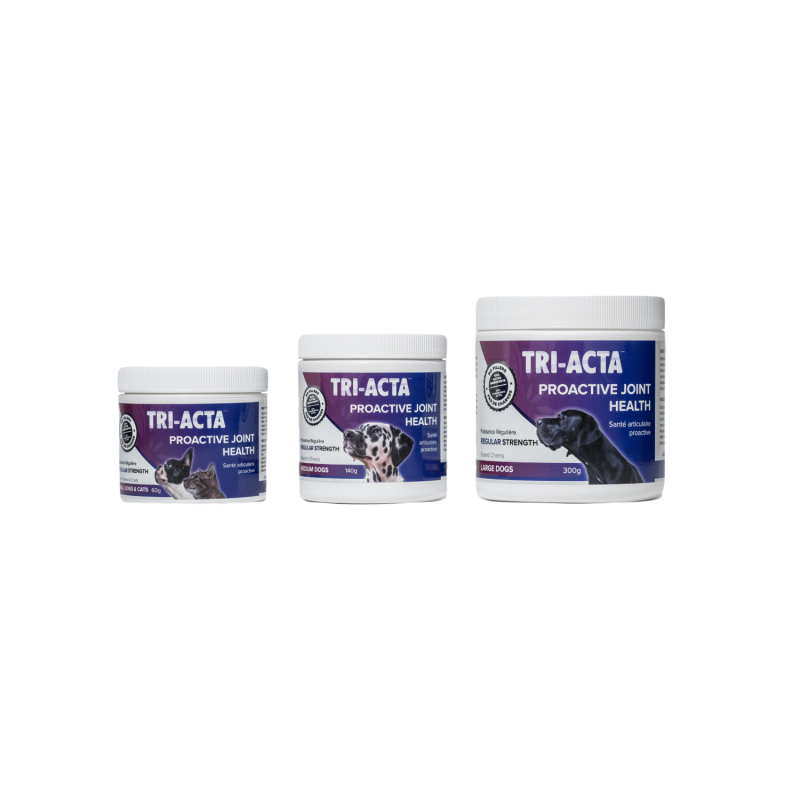 Foods to Avoid Giving to Your Dog
Knowing what to give your dog isn't just about knowing what foods you should give your dog. You've also got to know what to avoid.
Some foods are toxic to dogs and can actually damage the gastrointestinal system and hurt the microbiota dogs have. Sometimes these effects can last for years, too, leading to some pretty major health issues. A few side effects of eating unhealthy foods include:
Diarrhea
Vomiting
Heart damage
Stomachache
Fever
Weakness
Muscles and joints swelling
Dehydration
On the other hand, some of these foods are fine on occasion and in low doses. It all depends on knowing your dog and being aware of what works for them.
So, think twice when your dog sniffs something delicious in the kitchen and makes googly eyes at you asking for a treat. If he's pining after any of these foods, your answer should be 'no':
Coffee
Alcoholic drinks
Milk
Cheese
Chocolate
Onion
Nuts
Grapes
Raw potatoes
And, if you're ever unsure, it's better to go with 'no.' It's far better to be safe than sorry and have to take a pricey trip to the vet.
Best Digestive Health Dog Food
Before we keep going on how to improve your dog gut health, let's take a look at a few of the best digestive health dog food brands to look into.
Each of these dog food blends comes with the aforementioned ingredients and is specially formulated to help your pooch's stomach.
Royal Canin Digestive Care
Royal Canin is one of the better-known dog food brands out there. While they have multiple food blends designed for dogs at different life stages, they've also got a special line of dog gut health products.
These food blends have nutrients that help boost digestive comfort and improve intestinal absorption. They also contain probiotics to support stool consistency and good gut bacteria.
As of right now, there are four main digestive care blends to look into:
Maxi Digestive Care: For adults and large breed dogs over 15 months old
* Priced $28.74

CAD as of October 2022

Medium Digestive Care: For adults and large breed dogs over 12 months old
* Priced $28.74

CAD as of October 2022

Mini Digestive Care: For adults and small breed dogs over 10 months old
* Priced $32.75

CAD as of October 2022

Digestive Care Loaf: All sizes, adult over 10 months old
* Priced $16.69

CAD as of October 2022
Hills Gastrointestinal Biome
Hill's Pet Nutrition is a brand that offers both wet and dry food for dogs and other pets.
If you're looking for digestive health pet food for dogs, you might want to try their dry Gastrointestinal Biome blend. This food is high in fiber to help soothe the gut and keep your dog's doo-doo consistent.
The best part about this blend is that it's actually suitable for all sizes of dogs, as well as both adults and seniors.
* Priced $92.98 CAD as of October 2022
Purina One +Plus Digestive Health
Purina has a lengthy catalog of wet and dry foods for all breeds and ages. Once again, they're known for using natural ingredients.
Purina's digestive food line uses real chicken as the main protein and includes vitamins, minerals, and probiotics. It's also got rice included in the formula, which helps soothe irritable tummies and keep your dog's gastrointestinal system working right.
* Priced $39.37 CAD as of October 2022
Blue Buffalo
Blue Buffalo is a dog food brand that uses purely natural ingredients. That means no artificial flavors or preservatives or fillers such as corn, wheat, or soy.
Like some of the other blends on this list, Blue Buffalo offers more than just a digestive blend. However, if you go for its Digestive Care option, you'll get food that's packed with omega-3 and 6 fatty acids. It's a super absorbable blend that's designed to support your dog's gut health.
* Priced $34.31 CAD as of October 2022
Dogswell Digestive Health
Dogswell is another good pick if you need digestive health dog food. Although Dogswell has several different types of food, you want to look for the digestive health blend.
This line of food contains lamb protein, prebiotics, and fiber. However, probably the best part of this pet food is that it offers transgenic (GMO-free) ingredients.
* Priced $90.59 CAD as of October 2022
Try Adding Supplements to Your Dog Diet
Making sure your pet has a balanced diet isn't the only way to keep your dog's gut working correctly. Adding supplements to your dog's diet can also help keep their tummies happy!
On top of that, adding natural supplements can help boost other aspects of your dog's health. For instance, dog supplements can improve nutrition, and boost dog gut health. Probiotics especially are great supplements to help improve your dog's gut health.
A few probiotics to keep your eyes peeled for in gut dog supplements include:
Enterococcus faecium
Bacillus coagulans
Bifidobacterium animalis
Lactobacillus acidophilus
Bifidobacterium breve
Lactobacillus rhamnosus
Although that's not an exhaustive list of healthy ingredients, those are a few nutrients that can make a big difference to your pooch's health. Plus, don't forget to look for breed specific probiotics.
Purina Pro FortiFlora supplements are a great general dog gut supplement. However, you can also look for ones that are specific to your dog's size, breed, or age.
Look Into Dog Digestive Health Treatments
In the event that your dog does develop a gastrointestinal issue, there are a few things that you can do to help them out and keep them healthy.
Of course, the first thing to do is always take them to the vet for a proper diagnosis of what's affecting their gut health. From there, the vet will prescribe your dog the necessary medicines and treatments.
Your vet may also order other medical measures or procedures, depending on the cause of the gut disease, such as:
Diet with special food for sensitive stomachs
Abdominal surgery
Fluid therapy
Dewormers
Regardless of what the vet prescribes, sticking to the treatment schedule and adhering to special instructions is critical to getting your dog's gut health back on track.
Besides what the vet prescribes, there are a couple of other home remedies you can try. Once again, remember to always consult with the vet before taking matters into your own hands.
Bland Diets
Dogs often fast on their own if they've got an upset tummy. But, if your dog seems to keep eating despite not feeling well, you can help him out with a fast.
To do this, make sure your dog doesn't eat anything until he's fully digested all his food. You can try taking him for a walk or playing with him to help reactivate his metabolism and get things moving.
Once your pet does show signs of being ready to eat, give him a bland diet of foods like rice and chicken. Pumpkin and carrot can also be good picks, but remember to consult the vet first.
Also, remember that cooked foods are easier to digest than raw foods. Try giving your dog cooked foodstuffs twice daily to avoid overloading his tummy.
Adding Probiotics and Prebiotics
If your doggo is having problems going number two, adding probiotics with laxative properties can help release stress and generate stools without pain.
Plus, probiotics give their gut microbiota a boost for absorbing nutrients. They help keep your dog's gut bacteria well-balanced and working properly.
Avoid Foods That Cause Gas
We've all eaten baked beans and suffered the consequences. While dogs might not have gas issues with baked beans, there are definitely meals that can leave them with a bit of a stinky butt.
If your dog has a lot of gas, this can cause discomfort and gastrointestinal issues. To help him out, try to avoid giving him foods that cause flatulence.
You can also add vegetables that relieve excess gas naturally to his diet. A couple of examples include lettuce and spinach.
Monitor the Feeding Time
Many gastrointestinal problems begin because our pet eats too fast. When your dog is in a rush, he swallows a lot of air with his food.
Not only does this lead to vomiting (ick!) but it also means your dog doesn't process his food very well. That means his stomach has to work twice as hard to process his meal.
If you've got this issue, you can try purchasing special bowls that are designed to slow your pooch down as he eats.
Take Measures to Prevent Digestive Diseases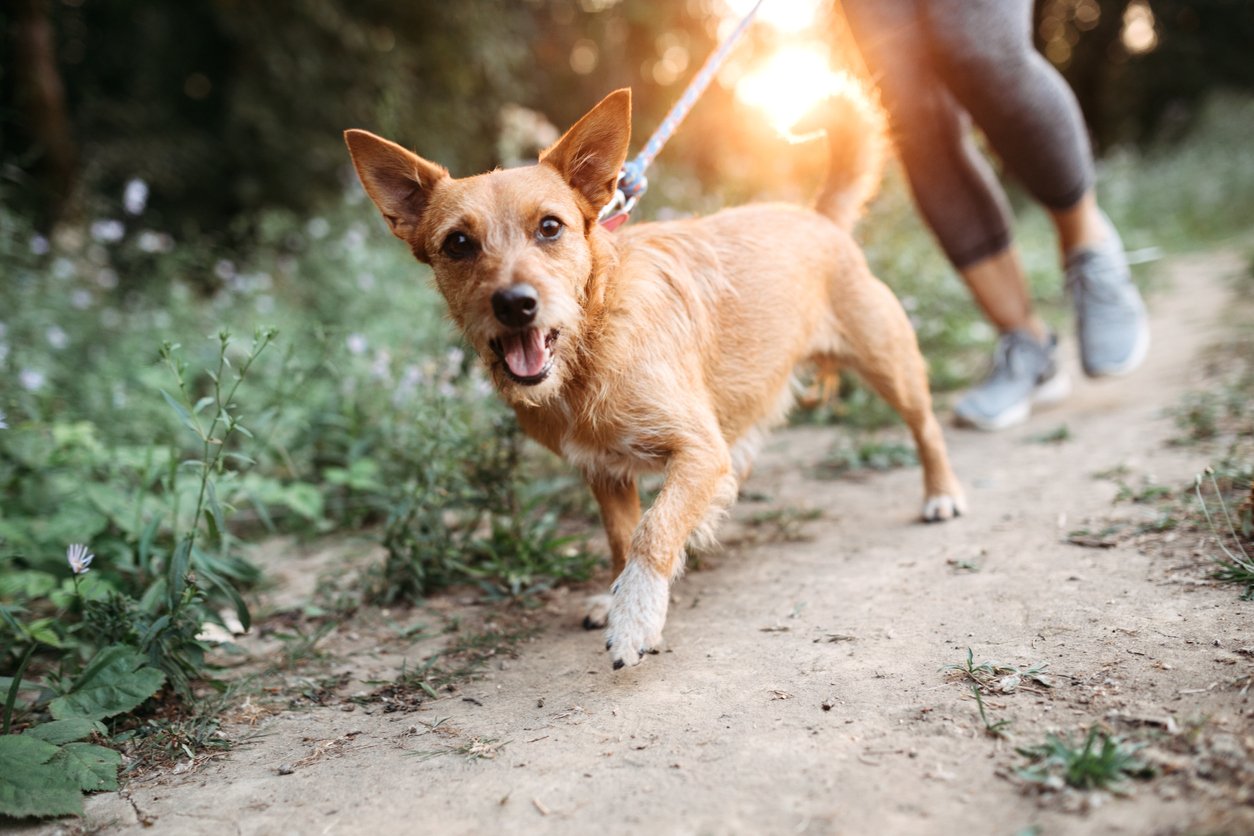 One final way to ensure your dog's gut health is by taking preventative care measures. Luckily for us, many medical conditions due to gastrointestinal diseases in dogs can be prevented with the right steps.
As mentioned earlier, problems related to gut health are very common, and can even be related to natural animal instincts like stealing something from the kitchen counter.
However, there are a few preventative measures you can take to make sure that your pooch doesn't run into gut health problems at all. A few steps you can take include:
Make sure your pooch has all its vaccines to prevent your pet from contracting common gastrointestinal diseases
Encourage your pet to exercise regularly—sedentarism causes slow intestinal function and can cause gut problems
Balance nutrients in your dog's diet to make sure that he's getting all the vitamins and minerals he needs to stay healthy
Add edible and safe fruits, vegetables, and grains appropriate for dogs, so you give new experiences, flavors, and textures to your pet's diet.
Always keep a bowl of fresh water accessible to your dog—water consumption helps keep things flowing in your dog's intestines
Don't leave foreign objects, chemicals, or garbage lying around that your dog may accidentally swallow
Keep your furry BFF on a leash while outdoors, or release it in a safe dog area where they're unlikely to chow down on mystery substances
By taking these seven steps, you can help prevent your dog from developing gut health problems in the first place!
Q&A
Still got some questions about dog gut health? Here are a few questions and answers to help you sort out any lingering doubts on the subject.
What Is the Best Digestive Care Puppy Food?
The best digestive care food for puppies is one that supplies all their nutritional needs. Puppies need high amounts of protein to help their growth and strengthen their immune system.
What Do I Do if My Dog Ingested A Toxic Substance or Food That Should Be Avoided?
Depending on what your pooch ingested and the dose, you can determine next steps. For example, eating a small piece of chocolate isn't the same as eating a whole jar of pesticide. In general, monitor your pet's symptoms and be prepared to take them to the vet if you notice anything that doesn't seem right.
How to Care for the Dog Gut Health of Pregnant Pets?
For pregnant females, you usually find commercial dog gut health products aimed at giving the necessary nutrients to the mother to feed her puppies properly. However, the vet can give you some tips on natural foods that you can add to the diet for this type of special situation.
Conclusion
Being a pet parent isn't always easy. That's especially true when you've got pups that just can't stop sniffing around the trash can!
However, with a bit of due diligence and hard work, you can keep your dog healthy, happy, and free of gut problems.
One of the easiest steps you can take to protect not just your dog's gut health but its overall health is to introduce TRI-ACTA to their diets. The active ingredients in these supplements help support healthy joints, keeping your pooch happy, mobile, and feeling their best.
Get answers to your questions about our products by reading our FAQs, and find out where to buy TRI-ACTA near you.
TRI-ACTA H.A. for Pets
Our maximum strength formula is optimally designed to accelerate the formation of cartilage, minimize inflammation, expedite the healing process, and improve joint conditions.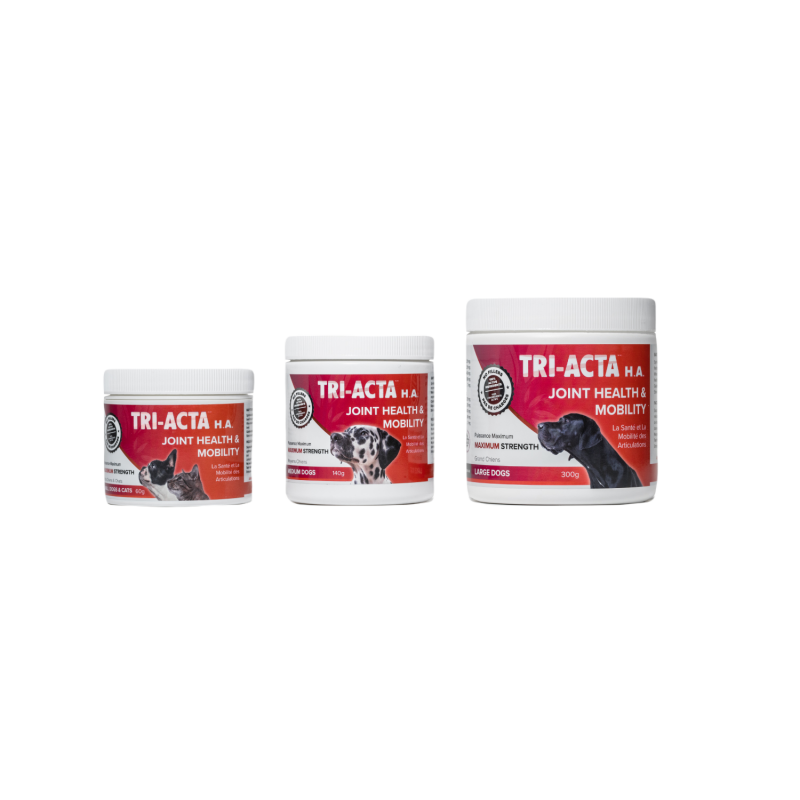 Newsletter Signup
Subscribe to our newsletter to receive the latest news and exclusive offers.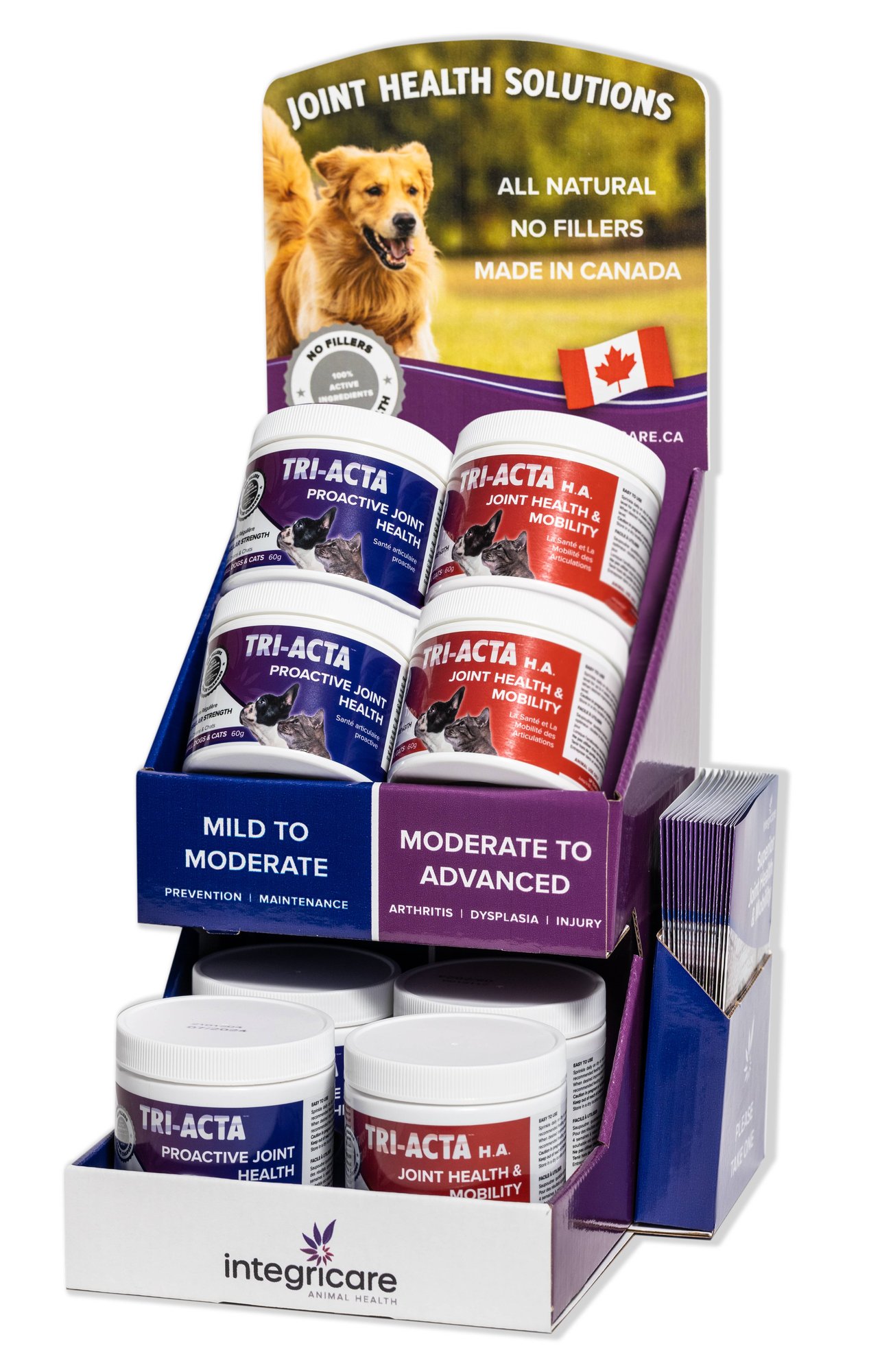 Proactive & Therapeutic Joint Supplements
When given daily, Integricare joint supplements recover bone and joint injuries faster and help prevent mobility injuries from happening in the first place.