The equine supplement industry is vast. There's a supplement to promote every kind of vitality and prevent every kind of problem your horse might have – from keeping his coat shiny and hooves healthy to his weight and energy management.
But one of the most important types of horse supplements is for joint health. A quality equine joint supplement can potentially reduce inflammation and lubricate joints.
But, finding the right joint supplement for your horse can be tricky.
When searching for the right equine joint supplements in Canada, the U.S., or anywhere, it's essential that you choose a product that:
Comes from a reputable source
Contains high-quality ingredients, and
Is backed by research proving that it works
We compiled a list of the top equine joint supplements Canada and the U.S. to help you make the best decision for your horse's health and wellbeing.
Let's get started.
​​Equine Joint Supplements Evaluation Criteria
We have ranked the following products with several things in mind.
Price
Ingredients
Product range
Product benefits
Manufacturing & Sustainability
Manufacturer Registration & Licensing
Side effects (if any)
Customer Service/Post-sale support
Price
Price is the most obvious factor to consider, but shouldn't be the most essential criterion. Every horse owner knows that the cheapest isn't always the best – and we spend upwards of $9000 per year on our ponies, eventers, and broodmares. Still, it's important to choose an equine joint supplement with the best value for money.
Ingredients
When choosing equine joint supplementsCanada, you've got to know how to read a supplement label and understand exactly what's listed in the ingredients.
There are three essential, science-backed ingredients to look for in equine joint supplements:
Glucosamine
MSM (Methylsulfonylmethane)
Chondroitin Sulfate
Glucosamine is a naturally occurring compound found in cartilage. As a supplement, glucosamine has the ability to repair cartilage. This necessary ingredient reduces inflammation and joint pain—especially when paired with chondroitin.
Chondroitin Sulfate works alongside glucosamine as an anti-inflammatory and regenerator of damaged joint tissue. Many studies show that glucosamine and chondroitin work together as a powerful reparative equine joint supplement.
MSM also aids in reducing inflammation and is a popular ingredient in equine joint health supplements.
Product Range
How broad or limited are the products of each brand? Does the brand specialize in products for a few different breeds or species? Knowing that your product comes from a leading brand specializing in joint health for a range of equine disciplines is a good sign that the product will be beneficial.
Product Benefits
How will this product benefit your horse? Check what the provider says about the benefits of their product—do they use scientific research and case studies to support their marketing messages?
Manufacturing & Sustainability
If you're interested in purchasing sustainable products from companies that follow ethical manufacturing practices, this is a criterion to look out for. An easy way to ensure sustainability is to check if an equine joint supplement's packaging is recyclable.
Manufacturer Registration & Licensing
Equine medicines without valid manufacturing registration or licensing can be hazardous. What's even more frightening is that 'knock-offs' are everywhere. Beware of ordering online from places that sell everything—meaning they don't specialize in equine health.
Side Effects
Some supplements have so many ingredients that you put your horse at risk of an allergic reaction or negative side effects. Paying attention to active and inactive ingredients in any product is essential.
Being inactive means the ingredient does not offer any therapeutic benefit or intensify the active ingredients. Inactive ingredients are still part of the recipe and can cause possible adverse reactions.
Customer Service/ Post-Sale Support
You should expect to be able to contact a company selling horse supplements and receive assistance with returns or how to use the product.
Now that you know our criteria, here are our best picks for equine joint supplements Canada for sports horses.
Best Equine Joint Supplements for Sports Equine
Integricare TRI-ACTA H.A. Equine Supplement
Pureform Glucosamine Plus
Absorbine Flex + Max Joint Health Supplement
Equithrive Complete Joint Pellets
Ultra Cruz Equine Wellness Performance Supplement
1. Integricare – TRI-ACTA H.A. Maximum Strength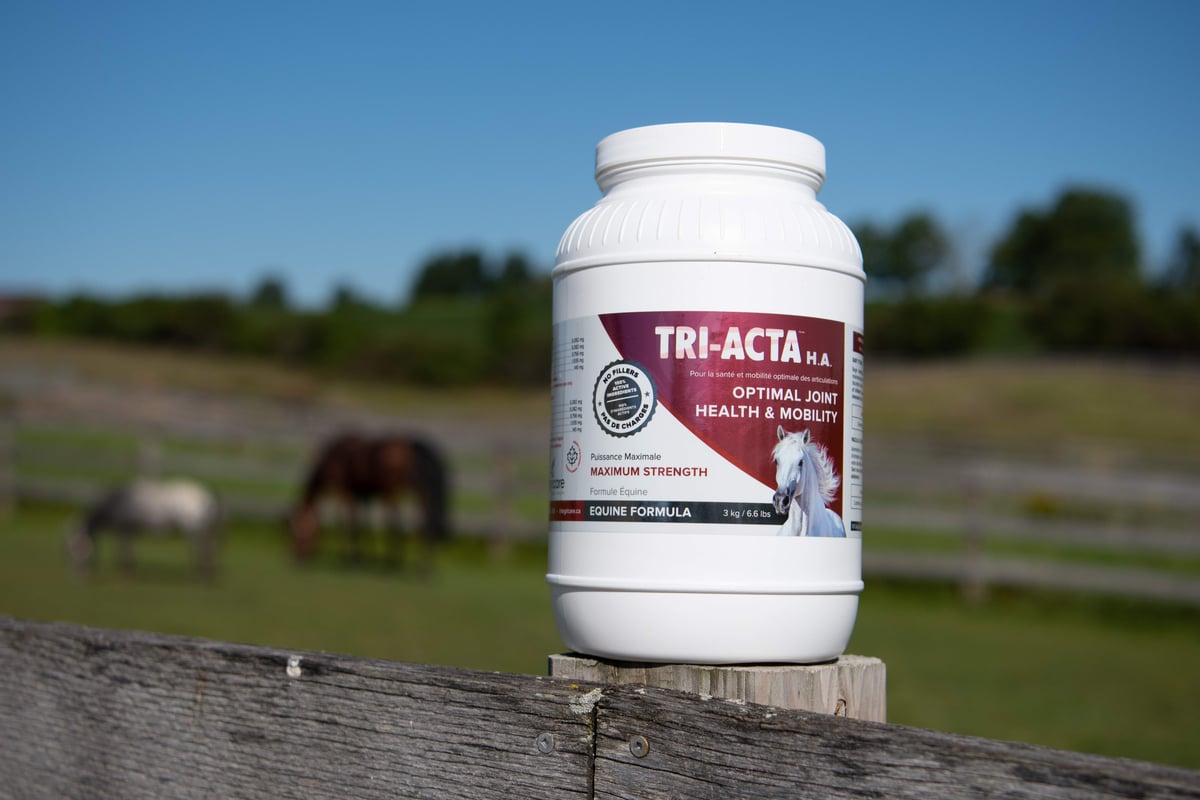 If you're looking for equine joint supplements Canada, look no further.
Integricare's TRI-ACTA H.A. is unique because we only use active ingredients in all our products.
This can help ensure optimal sport horse performance as your eventer absorbs all the necessary ingredients to aid in joint health and cartilage support, lubrication, and regeneration.
TRI-ACTA H.A. is a maximum strength powder supplement specifically formulated for horses that are:
Ageing
Experiencing arthritis
Training
Competing
Under a heavy workload
Integricare's TRI-ACTA H.A. is made up of only five active ingredients:
Glucosamine HCl
Glucosamine Sulfate
Chondroitin Sulfate
Methyl Sulfonyl Methane
Hyaluronic Acid
The advantage of using products from Integricare, particularly the TRI-ACTA H.A., is that the product contains 100% active ingredients. This means no filler or extra ingredients – just an all-natural, potent dose of ingredients that are proven to provide optimal equine joint support.
The high concentration of active ingredients makes this product economical for every horse owner, with only a small serving size required to give your horse ultimate joint protection.
Integricare follows GMP (Good Manufacturing Practices) and is approved as a Low-Risk Veterinary Health Product (LRVHP).
2. Pureform – Glucosamine Plus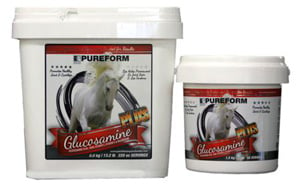 Pureform, another manufacturer and distributor of equine joint supplements Canada, offers Glucosamine Plus.
Just as the name suggests, this product has significant amounts of Glucosamine HCl and MSM. Both are very important for equine joint health, and this product boasts many positive reviews from horse owners who have seen tremendous results.
However, it's important to note that this product does not contain chondroitin.
Studies have shown that Glucosamine is much more effective when used in combination with Chondroitin Sulfate. Therefore, it's possible that this product does not provide the same results offered by equine joint supplements containing both Glucosamine and Chondroitin.
Pureform also contains Vitamin C, Vitamin E, and molasses for flavour. Ideally, horses can get all of the vitamins they need from grazing the pasture and quality feed.
Vitamin E can aid in coat and skin health and appearance. It is worth noting that vitamins can prevent the absorption of other fat-soluble vitamins like A, D, and K. Be mindful of this when choosing an equine joint supplement.
3. Absorbine – Flex + Max Joint Health Supplement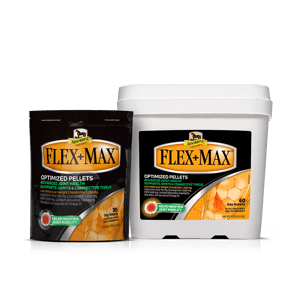 Absorbine's Flex + Max comes in pellet form and has all of the best equine joint supplements' building blocks: Glucosamine, Chondroitin, MSM, Hyaluronic Acid, along with Boswellia Serrata and rice bran.
Boswellia serrata has been known to help decrease inflammation since medieval times. Rice bran is another story – it can be made up of about 20% starch!
Starch is not helpful for horses in general. Starchy things like corn and rice meal can lead to overheating and weight gain. Sometimes weight gain is acceptable in pet horses, but it's not ideal for sport horses with strict regimens. Keep an eye on their weight with this one!
You can check out the full-scale ingredients analysis to see exactly what each ingredient does in this product, which is very useful!
4. Equithrive – Complete Joint Pellets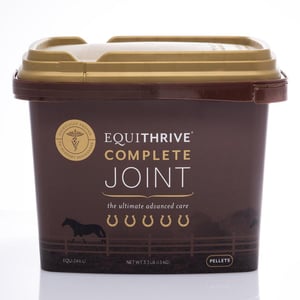 We must admit Equithrive Complete Joint pellets have beautiful packaging.
It also includes the active ingredients we love for joint supplements, including Glucosamine HCl, Chondroitin Sulfate, MSM, and Hyaluronic Acid.
Equithrive contains an incredible anti-inflammatory antioxidant called Resverasyn, which is 99% Resveratrol.
What is Resveratrol?
Resveratrol is a phytophenol. Though phytophenol is naturally derived, it isn't part of a natural grazing horse's diet. Phytophenol resveratrol has been proven beneficial in humans, providing anti-inflammatory and antioxidant effects. It has even been used for heart and brain support.
Unfortunately, no significant evidence suggests that Resveratrol lends much of a benefit to horses.
Equithrive includes several inactive ingredients like vegetable oil, flaxseed oil, flaxseed meal, water, yeast culture, and natural flavours. Again, this is fine as long as you can check every other part of your horse's diet. Too much fat can lead to weight gain and possible toxicity.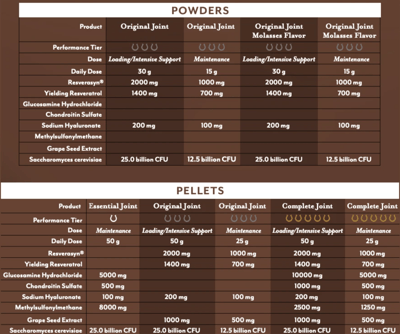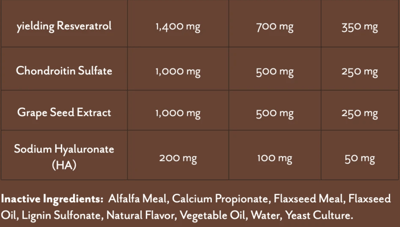 5. San Juan Ranch – Ultra Cruz Equine Wellness Performance Supplement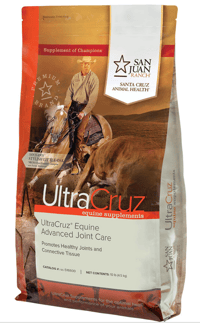 As the most expensive of all the products we've covered, Ultra Cruz Equine Wellness Supplement packs many ingredients into this supplement. Sometimes a performance supplement can go too far – more is not always better.
San Juan Ranch's Ultra Cruz has the best intentions with this vitamin-packed equine joint supplement. With massive amounts of vitamin D3 and Vitamin A at 22,255 IU. Considering the daily dose for a 500kg (1,100lb) horse at rest is 15,000 and 22,500 for a working horse, this supplement seems to be teetering on the edge of over-supplementing.
Over-supplementing Vitamin A can cause accumulation in the liver.
Though increasing vitamin A is sometimes necessary for cold months when there is no green grass to be had when your horse is grazing naturally, they could be at risk of over-supplementing Vitamin A.
Ultra Cruz has a long list of inactive ingredients like molasses, pea protein, montmorillonite clay, apple powder, rice bran, and Vitamin A palmitate. As if there wasn't enough vitamin A in the active ingredients. Sometimes more is just more, not better.
Vitamin

Over Supplementation Signs

Vitamin A

Bone fragility
Abnormal bone growth
Scaly skin
Poor coat
Decreased clotting of blood

Vitamin D

Weight loss
Loss of appetite
Stiffness
Seizures

Vitamin E

May prevent the absorption of fat-soluble vitamins.

Vitamin K

Injections of vitamin K can cause renal failure.
Can be fatal
An Important Note on Equine Supplements from Equine Canada
Equestrian Canada is the equine sports governing body for Canadians that are interested in competiting in events with their sport and performance horses. As a result, this organization sets rules and regulations that athletes must follow to ensure that their horses remain happy and healthy during events.
A complete list of permitted medications is provided so that participants know what they can and cannot give their horse prior to competiting in an event.
In terms of joint supplements, hyaluronic acid, chondroitin sulfate, glucosamine, pentosan, and polysulfated glycosaminoglycans are all permitted. However, they must not be given by intra-articular injections during the competition.
TRI-ACTA is an example of an equine joint supplement that would be perfectly fine to give your sport or performance horse on competition day, as it comes in a powdered format that you would simply sprinkle on your horse's food.
Best Equine Joint Supplements for Domestic Horses
Integricare TRI-ACTA Equine Supplement
Ramard Total Joint Care
Mojo Joint Horse Supplements
SmartPak Equine SmartFlex Ultra Pellets
EQUI-EEZ by Purina
1. Integricare – TRI-ACTA Original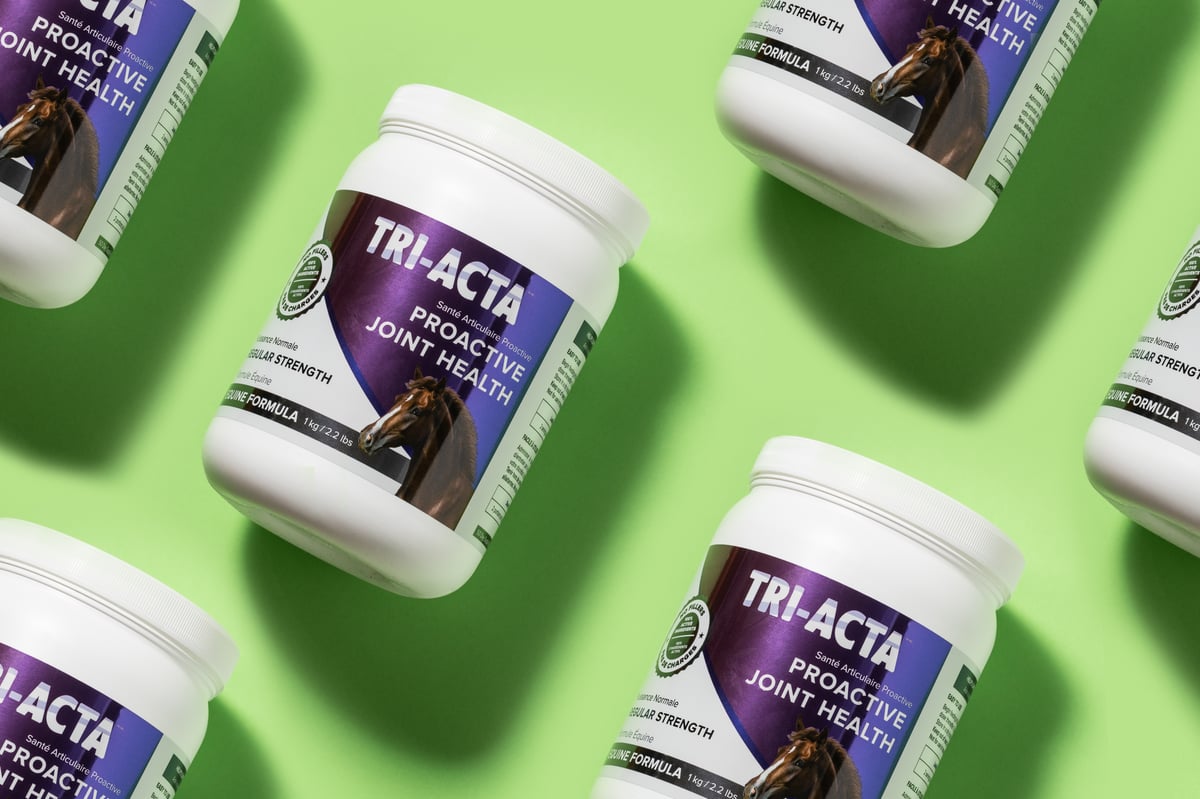 Horses need a healthy balance of quality and other fibrous feeds like hay and natural grazing. Adding too much extra junk into an equine joint supplement will only prevent a horse from getting all of the additional necessary nutrition in its daily diet.
With Integricare's regular strength TRI-ACTA, there is no false advertising – just straight-up honest and effective ingredients.
The customer will get exactly what they have purchased, a quality product that will:
Promote mobility and flexibility for a healthy stride
Maintain collagen and connective tissues
Decrease stiffness
Encourage & maintain healthy cartilage
Protect and cushion joints
Canada's equine joint supplement, Integricare's TRI-ACTA, is a powder that is mixed with your horse's food once a day. TRI-ACTA contains ONLY four ingredients, two are different types of glucosamine, and all are essential and active in the health of your horse's joints. Glucosamine, Chondroitin Sulfate, and MSM are all ingredients that can be found in TRI-ACTA. This results in a few things.
Value—You're not spending money on anything but the active ingredients with this Canadian equine joint supplement!
Efficiency—You can rest assured that every ingredient in TRI-ACTA will revitalize your horse's precious joints.
Purity—No unexpected side effects from fillers and unnecessary ingredients
Besides the selling point of ONLY having active ingredients, TRI-ACTA is also made of all pharmaceutical grade materials and is a Health Canada-approved Veterinary Health Product.
TRI-ACTA is the most effective and our top choice for equine joint supplements Canada, as well as the US.
If only every product included 100% active ingredients, think of how many adverse side effects and allergy interactions we could avoid.
2. Ramard – Total Joint Care Performance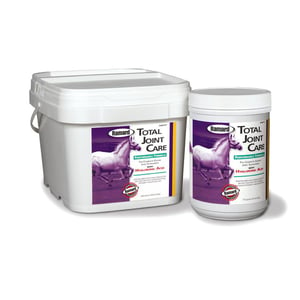 Ramard is an American manufacturer and distributor of health performance products for horses and pets alike. Ramard's Total Joint Care is a close contender, with all of the "good stuff" we like to see in an equine joint supplement: Glucosamine, MSM, Chondroitin, Hyaluronic Acid, and Ascorbic Acid.
Though Ramard's product does contain all of the right things for a worthwhile equine joint supplement, it has only 6000mg of the beneficial ingredient: Glucosamine.
But, it does boast the benefits of an all-natural equine joint supplement with no fillers or additives.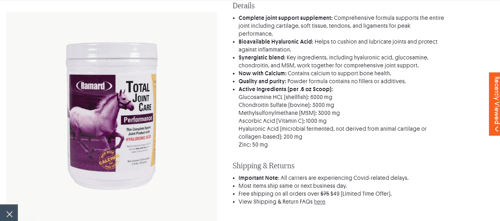 3. Mojo Joint – Horse Supplements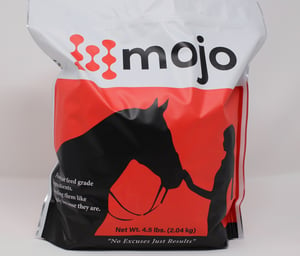 Mojo Joint specializes in dog and equine joint supplements. Mojo Joint's equine supplements have many of the building blocks for cartilage health along with their cool name. The only thing they are missing is the key ingredient, Chondroitin.
Studies have shown that Glucosamine is more effective if used with Chondroitin.
Without it, horse owners can't guarantee that their equine joint supplement delivers optimal support and protection.
This product comes with a lot of additions as well. Horse owners will likely be wary of these ingredients, especially one labelled "binder".
It is critical to know what you are feeding your horse to keep them healthy and strong.
4. SmartPak Equine SmartFlex Ultra Pellets
SmartPak is all about horses. From gear and tack to fly control and equine joint supplements, they sell everything equine. Smartflex pellets are affordable and contain the five top ingredients for joint health—Glucosamine HCl, Chondroitin, MSM, Hyaluronic Acid, along with collagen and Vitamin C.
The inactive ingredients include alfalfa meal, corn distiller's dried grains and a preservative called sodium propionate, and vegetable oil.
These are not harmful ingredients in moderation. There is only an issue if there is no balance in the remainder of a horse's diet.
Starchy vegetables aren't always the best option for horses, especially in excess. Horses enjoy dried grains all day long in their feed; adding corn, grains, or preservatives to a supplement could prove to be a waste of precious belly space in your equine animal on top of their regular diet.
5. EQUI-EEZ – Purina Equine Canada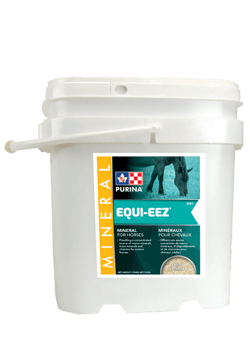 Purina Equine Canada Equi-EEZ is affordable and full of numerous vitamins and minerals, but are they all valuable and will they all be utilized by your horse?
We'd like to keep things simple, but that isn't always possible with all the care and attention horses need, particularly to their diet. Vitamins are great, but is there such a thing as too much?
There is also the issue of waste. Horses' digestive systems don't always get a chance to absorb the vitamins they ingest because they don't hold onto them long enough. Horses have a tiny stomachs compared to their massive bodies.
A horse's stomach comprises only about 7% of the digestive system. This is why they must eat so often and need a carefully constructed diet with vitamins and minerals that complement each other.
For example, Biotin is found in most hoof supplements as it can significantly improve hoof quality. However, for biotin to be used efficiently for hoof repair, it must be accompanied by a sulphur-bearing amino acid called methionine. Without methionine, the biotin becomes ineffective and will just pass through the horse without absorption. This doesn't necessarily put the horse at risk for toxicity in itself, but it is a waste of money.
Dosage Cost of Equine Supplement Canada
Now that you've been given a rundown of the different types of supplements available, you're likely asking yourself, "what will it cost me to include equine supplements into my horse's diet each day?"
Don't worry, we're not going to leave you to do that math yourself. We've created a table to provide you with some extra guidance when budgeting your equine joint supplement of choice.
Equine Joint Supplement Daily Dosage for Sports Horses
| | |
| --- | --- |
| Supplement | Cost per day |
| Integricare TRI-ACTA H.A. Maximum Strength | $ 2.57 |
| Pureform Glucosamine Plus | $ 2.53 |
| Absorbine Flex + Max Joint Health Supplement | $ 2.38 |
| Equithrive Complete Joint Pellets | $ 2.35 |
| Ultra Cruz Equine Wellness Performance Supplement | $ 2.91 |
Equine Joint Supplement Daily Dosage for Domestic Horses
| | |
| --- | --- |
| Supplement | Cost per day |
| Integricare TRI-ACTA Original | $ 1.73 |
| Ramard Total Joint Care Performance | $2.16 |
| Mojo Joint - Horse Supplements | $ 1.52 |
| SmartPak Equine SmartFlex Ultra Pellets | $ 2.07 |
| EQUI-EEZ by Purina | $ .62 |
Basic Equine Nutrition Canada
Did you know that the foundations of equine nutrition state that a horse should eat 1% of their body weight in long stem forage per day in order to maintain a healthy functioning gut? To get a rough idea, that means a 2,000-pound horse needs to eat about 20 pounds of forage a day.
What's even more surprising is that horses receive most of their total equine horse feed ​​ nutrients from grazing in the pasture. Forage is a primary source of the sugars and starches a horse requires for energy.
Equine Horse Feed
While your horse may get most of their nutrients from hay and grass, some horse owners supplement their horse's forage with an adequate amount of vitamins and minerals.
Modern equine Canada horse feeds include ingredients from each of the following categories:
Complex carbs: Alfalfa, beet pulp, and grain hay
Simple starches: Barley, oats, and corn
Digestive aids: Yeast cultures
Fats: Fish oils, vegetables, and corn
Vitamins and minerals: Sodium, potassium, calcium, phosphorus, magnesium, and chloride
Proteins: Canola meals, linseed, and dried whey
Equine owners must consider not only what they feed their horses but also the timing, location, and meal size, in order to digest their food properly and efficiently. Grazing in fresh pasture isn't always possible; therefore, equine Canada owners must do their best to mimic natural feeding conditions, such as prioritizing forage and dividing feed into smaller meals throughout the day.
Contents of the NRC Nutrient Requirements of Horses
The principles for basic equine nutrition Canada follow the guidelines of the USA NRC Nutrient Requirements of Horses. The USA's National Academy of Sciences has a group of scientists involved in the National Research Council (NRC) who study the nutrient requirements for horses and prepare guidelines.
According to the NRC and Equine Canada rules, horses require six essential nutrients:
Vitamins
Minerals
Protein
Fats
Water
Carbohydrates
Vitamins
Horses need supplementation from vitamins their body cannot make. Essential vitamins like vitamin E are abundant in fresh green pasture but not in hay. If your horse does not intake enough green grass he may need additional supplementation.
Minerals
Your horse needs a combination of macrominerals and microminerals. Macrominerals, minerals the horse needs to consume in large amounts, include calcium, sodium, and potassium. Minerals required in trace amounts and microminerals, include manganese, selenium, copper, iron, and zinc.
Protein
Proteins and amino acids are not required for energy but are vital for building and maintaining body tissues. Mature horses require a diet with 8-12% protein; sports horses require more protein for energy, and young foals require 12-18% crude protein to support their development.
Fats
Horses can tolerate high levels of fat within their diets. Fats and fatty acids are excellent sources of energy, as they increase energy density without drastically increasing the ration size. Natural sources of fats include grains, flaxseed, and oils.
Water
Horses require clean water to stay hydrated. Dehydration can cause health issues faster than lacking in any other nutrients. Ensuring proper water quality and providing a heated water source during the winter is important.
Carbohydrates
Carbohydrates are the primary source of energy in a horse's diet. A horse needs nonstructural carbohydrates that include starches and sugars, found in grain, and fibrous structural carbohydrates, found in forage.
Depending on if you have a young or old horse, and whether you have a leisure horse vs a performance or dressage horse, your feeding analysis will be customized to suit their specific needs. Donkeys and other equids will have a different ratio formulation and evaluation to horses and sport equine. Many Canadian equine professionals use a computer model to estimate requirements for equine animals.
Feeding Behavior and General Considerations for Feeding Management
It's important to understand unique aspects of equine nutrition and options for feed, and methods of feed processing so that you can determine what is right for your horse.
Some methods are more equitable for equine senior horse feed, whereas others are formulated for ​​equine Canada dressage horses. The two main types of feed are pelleted and extruded feeds.
The chart below compares the differences in pelleted vs extruded horse feed.
Pelleted Feed

Extruded Feed

Common in commercial feed lines
Every bite is uniform
High nutrient availability and digestibility
Horses tend to consume pellets quickly
Hard to hide feed additives like supplements

Ingredients are ground, conditioned with steam, and cooked
Feed is softer and easier to chew
Higher in fats and calories
Horses consume extruded feed slower
Easier to hide feed additives like supplements




Next Steps - Find the Right Equine Supplement For Your Horse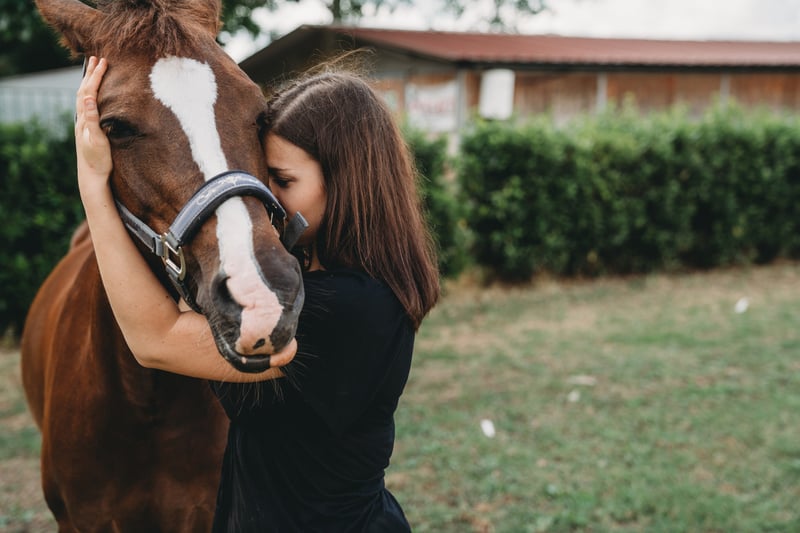 Integricare has been a trusted supplier of quality equine joint supplements Canada for over 20 years. Whether you have a leisure horse or a sport horse, you want to give your horse the best possible mixture of feed, foraging, and horse equine joint supplements.
Wouldn't it be nice to have the most straightforward, quality, and cost-effective equine joint supplement available in Canada with all of those things to consider and purchase?
Integricare's TRI-ACTA simplifies your job as an equine caretaker with an efficient equine joint supplement made from only active ingredients right here in Canada.
There is no wondering where you need to add or restrict because, unlike so many things, this equine joint supplement is what it says. There are no fillers or extra unnecessary ingredients to take up space where something beneficial could be.
At Integricare, we believe equine joint supplements shouldn't be 25 or 50% active and beneficial ingredients. We strive for 100% in more ways than one. Keep it simple, and let us help.
For more supportive advice about the best equine supplements, please contact us. We'd love to answer any and all questions pertaining to your unique needs.
Newsletter Signup
Subscribe to our newsletter to receive the latest news and exclusive offers.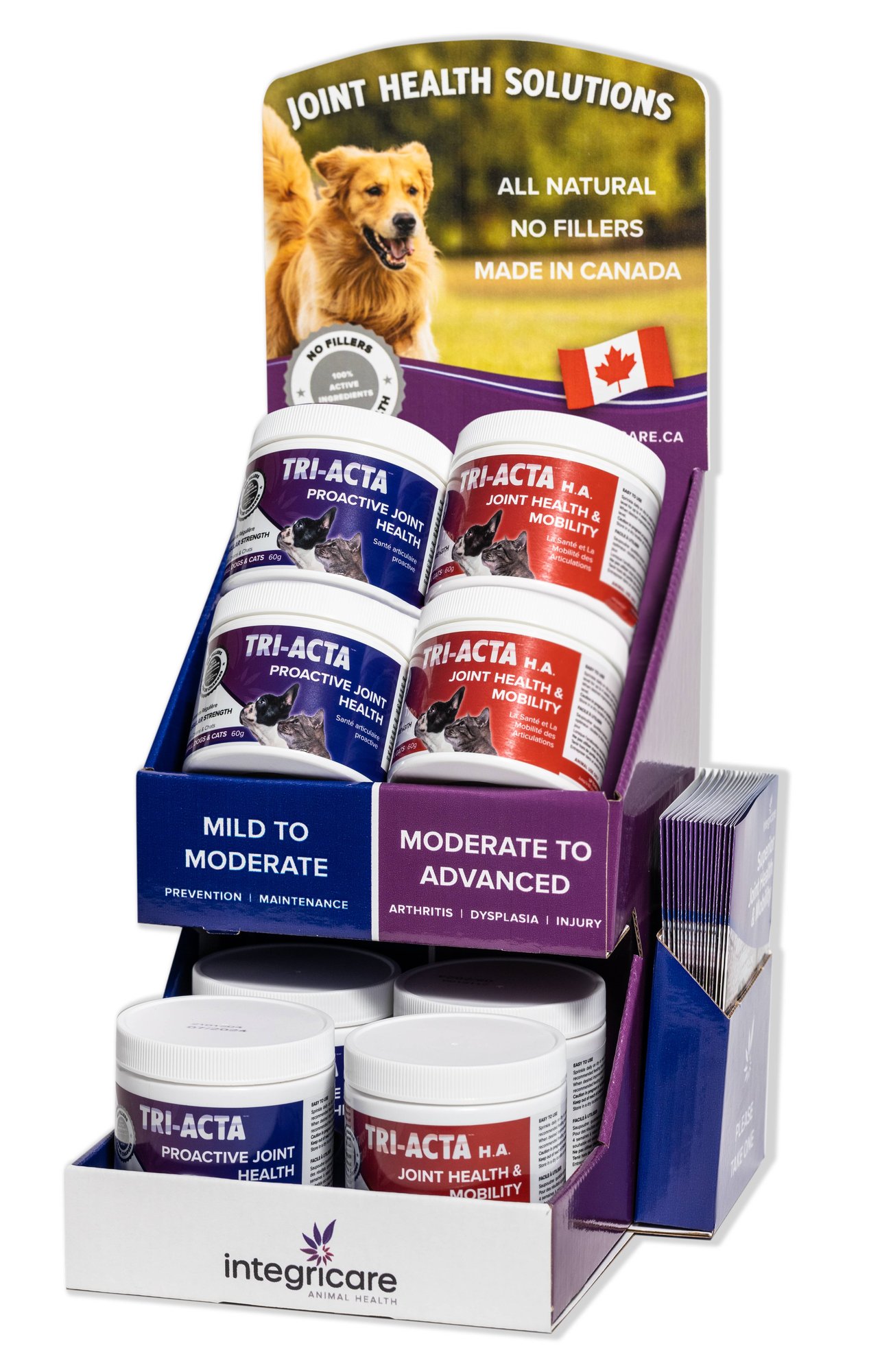 Proactive & Therapeutic Joint Supplements
When given daily, Integricare joint supplements recover bone and joint injuries faster and help prevent mobility injuries from happening in the first place.