The individual components in our formulations are all naturally occurring in the joint matrix of mammals and are normally recommended for supplementation to delay the progression of joint degeneration. Additionally, they may also reverse the symptoms associated with osteoarthritis when the level of degeneration exceeds the body's ability to repair the joint matrix on its own.
TRI-ACTA products are third-party batch tested and are designated to be a Low Risk Veterinary Health Product (LRVHP), meaning the contents are regulated and verified by Health Canada. All of the components we have selected in our formulation are supported by independent scientific studies. The merits of these components can be found through peer-reviewed journals and are widely considered to be safe for the treatment of osteoarthritis1. Additionally, our product was identified as a 'superior-quality' in an independent study published in the Equine Veterinary Journal for its purity and integrity that matches its label claims2.
In general, glucosamine and chondroitin have been observed for their 'chondroprotective' effects, meaning they contribute to the integrity of chondrocytes. Chondrocytes are involved in the formation of collagen and proteoglycans which are molecules necessary in the formation of cartilage3. Glucosamine contributes to the formation of glycosaminoglycans, proteoglycans and glycolipids within chondrocytes4,5. On the other hand, chondroitin primarily acts by inhibiting the proteolytic degradation of chondrocytes6. In simple terms, glucosamine helps repair and rebuild cartilage, and chondroitin prevents cartilage from breaking down. Methylsulphonylmethane (MSM) has been identified for its ability to reduce oxidative stress and inflammation7,8, which is important in first addressing the discomfort associated with degenerative joint conditions. Hyaluronic acid is available in our maximum strength formulation and it is used to increase the supply and viscosity of the synovial fluid within the joint capsule9,10. Therefore, our product is designed to treat pain and inflammation, repair and rebuild cartilaginous tissue, reduce friction and enhance the fluidity of the joint matrix.
This research summary is certainly not exhaustive, but it does point to safe and effective use of these components for the prevention and treatment of degenerative joint conditions. This is particularly true in comparison to the use of non-steroidal anti-inflammatory drugs (NSAIDS) which only treat pain and can have severe long-term side effects such as stomach ulceration, intestinal bleeding, reduced kidney function, vomiting and loss of appetite.
TRI-ACTA is designed to help reduce pain and inflammation, repair cartilage and prevent further breakdown, halting the progression of the degenerative joint disease. If your vet has prescribed NSAIDs for pain relief, you could use TRI-ACTA in conjunction with it, using the NSAIDs only as needed.
| | | |
| --- | --- | --- |
| Footnote | Research Type | Resource Link |
| 1 | Management of chronic osteoarthritic pain. | |
| 2 | Evaluation of glucosamine levels in commercial equine oral supplements for joints. | |
| 3 | A review of evidence-based medicine for glucosamine and chondroitin sulfate use in knee osteoarthritis. | |
| 4 | Stimulation of proteoglycan production by glucosamine sulfate in chondrocytes isolated from human osteoarthritic articular cartilage in vitro. | |
| 5 | Glucosamine HCl reduces equine articular cartilage degradation in explant culture. | |
| 6 | Biochemical basis of the effect of chondroitin sulphate on osteoarthritis articular tissues. | |
| 7 | Effect of single dose administration of methylsulfonylmethane on oxidative stress following acute exhaustive exercise. | |
| 8 | Effect of chronic supplementation with methylsulfonylmethane on oxidative stress following acute exercise in untrained healthy men. | |
| 9 | Antioxidant activity of synovial fluid, hyaluronic acid, and two subcomponents of hyaluronic acid. synovial fluid scavenging effect is enhanced in rheumatoid arthritis patients. | |
| 10 | Efficacy of an oral hyaluronate and collagen supplement as a preventive treatment of elbow dysplasia. | |
Newsletter Signup
Subscribe to our newsletter to receive the latest news and exclusive offers.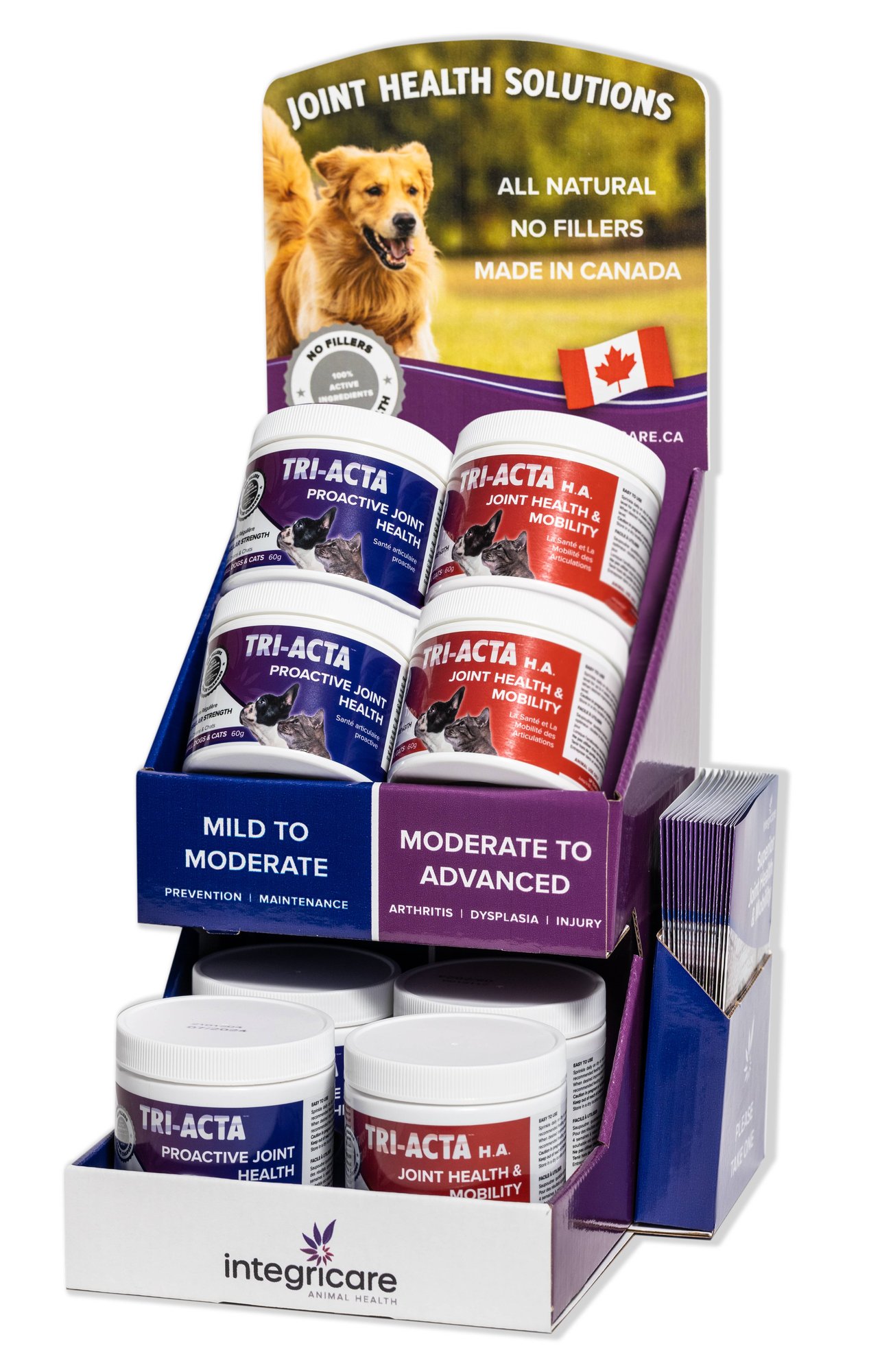 Proactive & Therapeutic Joint Supplements
When given daily, Integricare joint supplements recover bone and joint injuries faster and help prevent mobility injuries from happening in the first place.