How to Care for a Dog When They Reach Senior Dog Age
When your dog gets older, you may have to change their diet, exercise, and more to accommodate them.
Diet
When a dog reaches senior dog age, you may need to seek out the best senior dog food for their size and breed. Senior dog food is often specially formulated to help aging pups with their changing diet needs. These specific needs can include:
Dental issues—it's not uncommon for senior dogs' teeth to cause them problems with eating. This could be because of loose teeth, shrinking and bleeding gums, or general tooth pain. Dental problems should be addressed by a vet, which may result in your pup getting teeth removed, making it harder to bite kibble. Mixing water with kibble to soften it up or switching your dog to wet food are two possible solutions.
Obesity—As dogs age, their bodies often need fewer calories because they are done growing. If a senior dog is overweight, it puts more stress and pressure on already degrading joints and can put them at a higher risk for heart-related diseases and arthritis. Most senior dog food formulas are lower in calories for this reason.
Diabetes—Another risk factor that comes with obesity and a high-fat diet is diabetes. Dogs suffering from diabetes can have various symptoms, from incontinence to poor vision. Feeding your dog a lower-calorie diet that matches their activity level is one way that you can help prevent diabetes. Also, ensure they have access to plenty of fresh, clean water at all times.
Arthritis—Many dog breeds (large and giant breeds especially) are at an increased risk of developing

dog arthritis

regardless of what diet you give them, but that doesn't mean that you can't help prevent it or at least make your dog more comfortable if they do develop the condition.

Dog food for joint health

includes glucosamine to help with arthritis-related joint issues, but it often isn't a therapeutic amount (enough to actually make a difference). The best way to help prevent joint conditions later in life or help your dog currently suffering from joint problems is to incorporate a joint supplement into their diet.

TRI-ACTA

is the

best joint supplement for dogs

for preventing joint issues, while TRI-ACTA H.A. is recommended for dogs that are already experiencing joint health issues.
Heart Disease—Some dogs can develop heart issues as they age. Like other issues we outlined in this article, heart disease can be caused by genetics, diet, breed, other health problems, and the environment. Feeding your dog a healthy diet that matches their life stage is important for prevention.
Kidney problems—when our pups reach senior dog age, it's not uncommon for them to develop kidney issues. Problems affecting your dog's kidneys can range from less function than before (but still fine) to complete organ failure. To keep your senior dog's kidneys healthy, feed them a diet lower in

phosphorus

and high in moisture content. Making sure your dog is well-hydrated can go a long way in keeping their kidneys working properly as they age.
Supplements
Giving your senior dog supplements is a great way to ensure they have the necessary nutrients and support. Common types of supplements that you can give your senior dog include:
| | |
| --- | --- |
| Senior Dog Supplement Type | How it Helps |
| Joint | Supplements for joint health provide additional support for repairing and strengthening the cartilage and fluid in your aging dog's joints, aiding with ease of movement. |
| Digestive | Supplements with probiotic and prebiotic fiber help support your senior dog's immune system and ensure that their stomach has enough healthy bacteria for easy digestion and to ensure that they are able to absorb the nutrients from their diet. |
| Omega-3 fatty acids | Fish oil for dogs, one of the most common ways to provide omega-3 fatty acids, helps manage joint pain, improve your senior dog's immune system, eyesight, brain activity, and more. |
| Antioxidants | By reducing the effect of free radicals (bad molecules that attack your dog's cells) in your dog's body, antioxidants boost your pup's immune system. |
| Medium chain triglyceride oils (MCT oils) | Recent research has shown that giving your dog MCT oils can slow CCD and dementia in senior dogs by increasing the total phospholipids in the brain (fats that protect brain cells), assist omega-3 fatty acids with accessing the blood-brain barrier, and increasing lactic acid and ketones in the blood (good alternative energy sources for the brain). |
Exercise
Every dog should get regular exercise. Of course, different dog breeds and personalities will have different exercise needs. For example, a Dalmatian will need more daily walks and playtime than an English Bulldog.
As your pup ages, you may have to adjust their regular exercise level. Your pup may seem less interested in playing as they age because chasing a ball or frisbee is more difficult, and instead prefer a short walk. Low-key exercise is great for senior pups because it's not as hard on their joints.
Here are some ideas to help your senior pup get the daily exercise they need to stay healthy and moving:
Walking—taking your dog for short walks around your neighbourhood is a great way for them to work their joints and muscles and stimulate their mind with new sights, sounds, and smells.
Taking them to the dog park—while your senior pup might not be too keen on chasing a ball or fetching a stick, the social interaction and encouragement to move around from other dogs can help them get much-needed exercise and keep their mind sharp.
Swimming—because water has buoyancy, swimming takes the pressure off of your pup's joints and allows them to move around with less pain.

Hydrotherapy

is commonly used for dogs with joint problems or recovering from surgery or trauma.
Canine Enrichment
Like all animals, senior dogs need fun activities to keep them physically active and to keep their mind sharp. Canine enrichment can include a wide variety of activities, toys, and opportunities for socialization.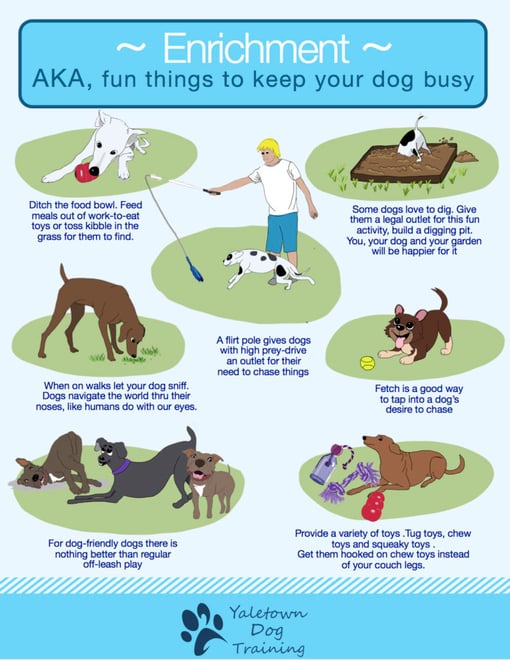 You'll need to keep your pup's age, energy level, and medical issues in mind when coming up with creative ideas to keep them active and engaged, but thankfully there are a lot of great ideas you can find online.
Snuffle mats

(fabric mats with long ribbons or squares that hide treats and kibble that your dog needs to use their nose to find)
Treat balls and toys that your dog has to use their brain to figure out how to extract the tasty food are great options for enrichment
Doggy play dates with other dogs or animals that they know and like to play with are great for keeping your pup active and happy
Chew and squeaky toys encourage your dog to play by themselves and help stop them from chewing your shoes or furniture
Sandboxes are a great alternative to your yard for dogs that love to dig
Taking your dog to different environments, such as walking in a different neighbourhood, gives them the chance to experience new smells, sights, and sounds
Home / Environment Setup
Older dogs aren't as agile as they used to be, so you may have to modify your home to accommodate them.
Dog stairs

are a great option to help your senior pup get onto the couch, your pet, or their favourite chair rather than jumping up onto these areas, which could hurt their joints.
Senior dogs have more trouble keeping their balance compared to younger dogs. Putting area rugs on slippery floors is a good idea so your dog has a lower chance of slipping and injuring themselves.
If your dog has joint issues, giving them an

orthopedic pet bed

can help ease the pressure and stress off their joints as they rest.
Proactively Preparing for Senior Dog Mobility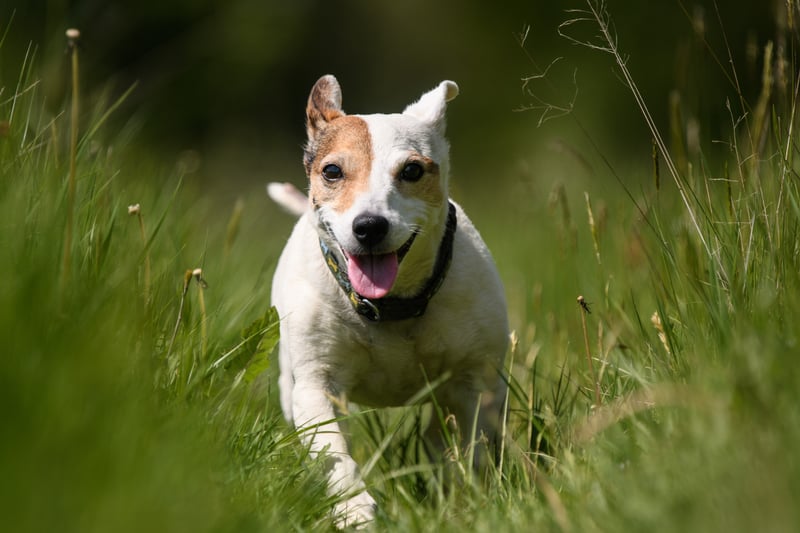 Did you know that nearly 20% of all dogs over a year old experience some form of arthritis? In addition, dog bodies slowly lose the ability to repair and replace degraded cartilage as they age. So you can imagine, then, that joint issues only become more prevalent in dogs as they age.
Preparing for when your dog reaches senior age should be preventative and proactive.
Giving your dog joint supplements as early as possible is important to protect their joint health as they age. TRI-ACTA is a great dog joint supplement to give as a preventative measure. TRI-ACTA H.A. is recommended if your dog is already suffering from joint issues.
Being proactive by making small modifications to your home and your dog's diet, exercise routine, and enrichment activities helps make the transition from adulthood to senior easier.
TRI-ACTA for Pets
A proactive approach for developing and younger adult pets to maintain optimal joint health mobility, minimize inflammation and fend off age-related ailments.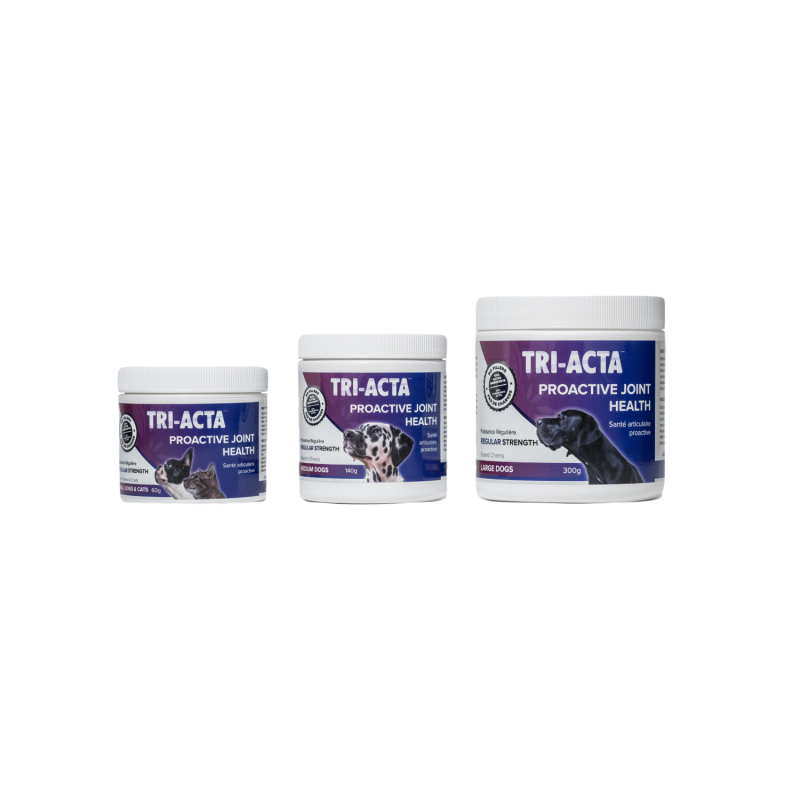 Summary
The answer to the question, "When is a dog considered a senior?" depends largely on your dog's breed(s), size, and medical history. Determining a senior dog's age is more complex than simply adding seven years to each year your pup has been alive and assuming that's their age. Because large breed dogs age faster than smaller breeds, they typically become seniors faster and benefit more from preventative and proactive care.
Giving your dog joint supplements is important for maintaining joint health as they age. TRI-ACTA supplements are designated veterinary health products with independent batch testing to assure the quality of ingredients.
Purchase TRI-ACTA or TRI-ACTA H.A. online, or find a retailer on our where to buy page.