Have you ever considered the importance of health insurance for pets?
Like many Canadians, you might consider our universal healthcare insurance system to be a point of pride. It doesn't matter your age, where you live, your income, or even pre-conditions; Canadians have peace of mind knowing they are covered of all essential physician and hospital care by their Provincial Medicare plans.
Consider, however, your pet as a member of your family and the responsibility you carry for their well-being. Of course, the safety net of universal healthcare doesn't exist for pets. This means pet owners may be left unprepared for the cost of shots, vaccines, spay/neuter procedures as well as sudden and unexpected visits to the vet for prescription medications or even surgery. Moreover, consider that a consultation alone can cost $60 to $100, plus additional incidental costs.
What Veterinary Costs can I Expect as a Pet Owner?
The Ontario SPCA estimates that the first year of a puppy's life costs around $1,040 in veterinary costs alone. These include costs associated with physical examinations, vaccines, deworming/heartworm medication, flea prevention, microchip, and spay or neuter procedures. Subsequent years in the early stages of your dog's life typically cost between $300 to $500 each, which accounts for essential services, as well as added costs for lyme disease tests, fecal examinations and dental cleaning.
With age, a myriad of other conditions and costs can accumulate, from ear/eye infections, skin irritations, diarrhea, and debilitating injuries. For instance, CCL (cranial cruciate ligament) rupture is one of the most common orthopedic injuries in dogs requiring surgery costing about $3000.
It may be uncomfortable to think about, but as a care provider for your pet, one should consider how much you would pay for life-saving treatment. A survey conducted by the Associated Press polled U.S. pet owners to answer this question. About half of all respondents would pay a $1,000 vet bill to keep their dog alive. One-third said they would pay $2,000, and 22 per cent said they would be willing to pay $5,000. Interestingly, in each instance, the percentages were less among cat owners.
Unfortunately, dogs and cats can also develop cancers, requiring the removal of tumors, radiation therapy, and/or chemotherapy. According to a recent study, the incidence rate of all anatomical cancers for dogs and cats is approximately 0.3812% and 0.1558%, respectively. Though rare, in this instance, one might spend in excess of $5,000 for advanced and difficult to treat forms of cancer. You may ask yourself, "Am I within the 22 percent that would pay $5,000 for life-saving surgery for my pet?".
Reasons to Invest in Health Insurance for Pets
Depending on your willingness to pay for critical care, you may want to weigh out the costs of investing in health insurance for pets. The North American Pet Health Insurance Association reports that about 1.4 million pets are insured in Canada and the U.S. However, that only represents less than 1% of 174 million dogs and cats. Still, the number of insured pets is expected to grow for the following reasons:
Shifting attitudes towards pet wellness, with owners demanding better and more advanced care for their companion animals

Improved availability of technologically sophisticated equipment to veterinary clinics

Rising prices for complex, or life-saving treatments

Increased awareness for proactive wellness leading to an increase in the number of tests for preventative and routine care procedures.

Pet health insurance is being offered in employee benefits packages by some companies – something you may want to inquire about!
What Pet Health Insurance Plans are Available to Me?
Pet insurance health plans can vary considerably, depending on the coverage and the deductible you are willing to pay. Higher deductibles typically mean lower monthly payments and vice versa. Another thing to consider is that veterinary examinations are sometimes not covered, meaning this expense may come out pocket. Below is a list of some pet health insurance providers and their offerings:
Insurance Provider
Coverage
PetPlan
· Flexible annual reimbursement up to UNLIMITED

· Choose Annual Deductible from $100-$1,000

· No additional fees (riders) for alternative therapies

· Veterinary coverage in Canada or the USA

· 24/7 Customer Service – Fast Claim Reimbursement

· Most Comprehensive Coverage (includes vet exam fee!)

Pets+Us
· Wellness care

· Age-dependent annual deductible

· Up to $15,000 in maximum benefits per year

· Standard $100 deductible for accident only plan holders

· Alternative therapy

· $1,000 coverage for medical devices

Pet Secure
· Up to 80% cover for treatments and care

· Preventive care

· Alternative therapy

· Medical device

· No benefit limits for Secure 4 plans

trupanion
· Unlimited payouts and no coverage limts

· Direct payment to the vet – upto 90% coverage!

· Condition-dependent deductible (applicable for chronic conditions)

· Fast payouts and no filing claim penalties
Alternatives to Pet Health Insurance
If you're not in the market for extensive health coverage for your pets, it might be worthwhile considering a subscription-based, online veterinary consulting service, such as HealthyPets. This service provides 4 complimentary online consults with a veterinarian for $10/month. Consultations last 15 minutes and include personal one-on-one time between you and your veterinarian via online video or text chat. After your consultation, your vet will provide advice on the severity of your concern and provide recommendations as to whether an in-clinic visit is necessary. In some cases, pet insurance and an online veterinary consultation subscription may be more economically feasible in the long-run. If veterinary examinations are not covered by your pet health insurance plan, a trial consult only costs $40.
Lastly, in the event of an accident, you can always create a gofundme campaign to reach out to friends and family for assistance on life-saving, albeit, cost-prohibitive procedures. However, planning ahead with an insurance plan for your pet will ultimately save you and your pet precious time in dire circumstances.
Until recently, pet owners sometimes had to bear the emotional burden of economic euthanasia in instances of severe injury or illness. Now, with a greater availability of pet health insurance, pet owners can make informed decisions for critical care without the fear of exorbitant costs looming over them.
Newsletter Signup
Subscribe to our newsletter to receive the latest news and exclusive offers.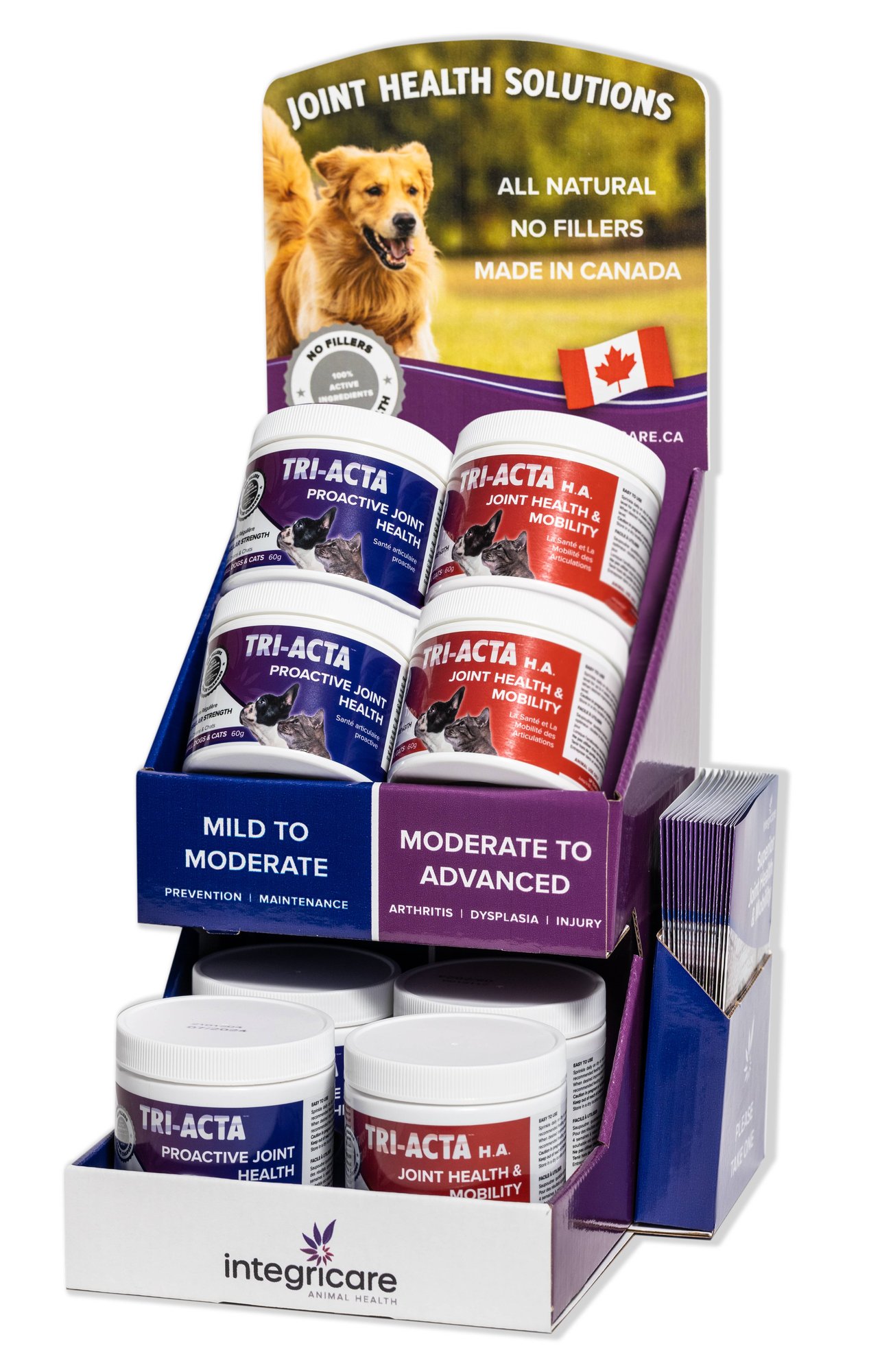 Proactive & Therapeutic Joint Supplements
When given daily, Integricare joint supplements recover bone and joint injuries faster and help prevent mobility injuries from happening in the first place.