It is no secret that dogs love treats. They'll wag their tails and make those big puppy eyes as they beg for more.
Pet parents use treats to show affection or as a reward for good behavior. But sometimes, as a pawrent, you want to spoil your furbaby with yummy treats just because. While treats are a sure way to a dog's heart, more pet owners are becoming aware of the importance of natural and organic treats.

The demand for organic healthy dog treats has led to an increase in brands lining up shelves with new products. In this article, we take a closer look at organic natural dog treats. What to look for when buying them, plus a list of dog treats that your doggo would love.
Benefits of Organic Natural Dog Treats
Many health-conscious pet parents are turning to organic, and natural pet treats because they understand the importance of keeping their four-legged besties healthy. The task is always to find good quality treats that support your dog's health while keeping them happy.
Have you ever stood at the dog food section and felt overwhelmed? We don't blame you. The sheer number of dog treat brands seems to be growing overnight.
Organic natural dog treats are the current trend. And more pet parents appreciate that they can be equally healthy and tasty for their canines. Plus, the ingredients used in organic treats are grown without artificial fertilizers and pesticides. This makes them extra good and nutritious for dogs.
Natural organic dog treats are a great choice for your furbaby because they have plenty of benefits:
Maintain good dental health. Organic treats have no artificial or added sweeteners that may cause tooth problems. Some treats help promote teeth and gum health by removing accumulated plaque and tartar. There are many options for hard or soft treats, depending on your dog's age and preference.
Lower risk of allergies. Natural dog treats are great because they are easy on your pooch's stomach and free from artificial fillers. Artificial fillers can trigger allergic reactions, which often manifest in skin conditions. Ingredients like wheat, soy, and corn are known allergens that should be avoided.
Help maintain a healthy weight. Obesity is a growing problem among pets, with

obesity in dogs

b

eing a major concern. It can be hard denying your furbaby an extra piece of a tasty treat when trying to keep them in good shape. Organic healthy dog treats are a good option for overweight canines because they tend to have more nutritional value and fewer calories compared to regular treats.
Supports longevity and improved quality of life. Just like you, what your furry buddy eats impacts their overall health. Natural dog treats that contain wholesome ingredients can help keep your pup healthy and strong. Organic treats also support a dog's immunity especially those containing organic foods like mushrooms and omega fatty acids. These help your dog stay active and fit from puppyhood to old age.
Organic natural dog treats are a source of wholesome nutrition. Since they are made with natural ingredients like fruit, vegetables, and real meats, organic dog treats can be a great source of vitamins, nutrients, fiber, and protein.
Improved psychological well-being. Treats that contain chemically processed ingredients and fillers can give your dog an upset stomach and cause an imbalance in its healthy gut microflora. When your pooch has an upset stomach, it causes stress, affecting their overall mood and mental health. If you have ever had an upset stomach, you know it can keep you in the dumps. This is true for your doggy as well. Chewing also mentally stimulates your furry best friend.
Organic natural dog treats are hormone free. Some commercially produced treats are made from low-quality ingredients sourced from animals and plants treated with hormones. Over time, accumulating these components in your dog's system can lead to related health conditions like hyperactivity and antibiotic resistance.
What Should You Look for in Natural Organic Dog Treats?
While it would be nice to simply pick the first dog treat you see labeled as organic off the shelf and call it a day, there are actually several key considerations you should keep in mind while you're looking for the right organic dog treat for your canine friend.
Quality of Ingredients
The key to healthy dog treats lies in the ingredients used to make them. Only buy organic dog treats made with quality ingredients like real meats, veggies, and fruits. Avoid organic dog food treats made from unspecified animal by-products or that have compromised sources of ingredients. For example, ingredients sourced outside the country can come from places where certain fertilizers, pesticides, or vet medications are not as strictly regulated. Sometimes, the quality control measures may not be as stringent thus compromising the quality of the final product.
Number of Ingredients
Single-ingredient treats are often the best for picky eaters, allergy prone dogs or those with known medical conditions. Stick with organic dog treats that have a minimal number of ingredients—some of the best organic dog treats are things like freeze-dried liver with only one ingredient eliminating unnecessary fillers.
Fat and Calorie Content
Always check how many calories are packed into treats and the fat content. This information is important if you have a chonky doggo that needs to lose some weight. As a general rule, treats should make up less than 10% of your dog's daily calories.
Manufacturer
Take some time to do background checks on your preferred brands. It is important to pick brands from known and reputable manufacturers who adhere to provided guidelines and have positive customer reviews on their products.
Dog Organic Treats vs Dog Treats With Artificial Ingredients
| | |
| --- | --- |
| Organic Dog Treats | Dog Treats with Artificial Ingredients |
| Made from natural organic whole ingredients | Made with modified ingredients and ingredient byproducts (e.g., poultry byproducts, wheat byproducts) |
| Less or no filler ingredients | Contains filler ingredients such as artificial flavors, dyes, and colors |
| Free from common allergens, hypoallergenic options | Contain potential allergens like artificial preservatives |
| High protein and low fat | High in artificially refined sugar |
| Often Gluten and grain-free | Often contain wheat gluten and grain by-products like rice and oat hulls |
| Minimal ingredients (1-4) | Multiple processed ingredients |
| Lower in overall calories | Most are high in calories |
Can I Make My Own Organic Dog Treats?
If you want to switch your pooch to healthy organic treats but are thinking, "there are no organic dog treats near me," there is good news. You can always make your own.
Making organic dog treats at home is a fun and easy way to create healthy snacks for your four-legged buddy. As we always recommend, work with your vet or pet nutritionist to get verified dog-friendly recipes for your dog breed.
Let's look at some pros and cons you should consider when making your own dog treats.
Advantages
Control over the quality of ingredients. You can add quality whole-food ingredients and pure meats to homemade dog treats. Commercially made dog treats often contain by-products and fillers that do little to contribute to your dog's overall nutrition.
Creating unique dog treats. You know your dog's palette best. That means you can tailor-make the treats to suit your doggo's likes. Your vet can also help you create a special dog treat recipe if your dog has unique medical conditions.
Avoiding allergens. Commercially made dog treats may have more of the ingredients that trigger allergic reactions in your dog. Making organic dog treats can eliminate anything you know your dog is potentially allergic to.
Avoid artificial fillers and additives. While additives might add flavor and prolong the shelf life of commercially made dog treats, they are less healthy for your dog in the long run. Homemade treats are great because they are filler-free.
Serving fresh treats for your furbaby. Homemade organic treats do not require long-term preservation and can be served fresh each time.
Help keep things interesting. You can always switch up your recipes to serve your pooch fun treats each time and keep their days interesting. Most dogs appreciate the variety and will enjoy trying out new things.
Can save money. If you grow or keep most of the ingredients you use to make dog treats, you can significantly reduce your dog treat budget and save some coins. This is great, especially if you have more than one furry friend.
Disadvantages
Cooking is time-consuming. Busy pet parents may not have the time–or the patience–it takes to create recipes and make organic dog treats. Unlike commercially made treats that are ready to go, homemade options require additional shopping, planning, cooking, and storing. Though you can always make teats in bulk and freeze them, the process can demand the commitment of a monk.
Could be expensive. If you favor premium meat options or pricier whole food ingredients, you might spend more on homemade organic dog treats than commercially available options. Also, you might need special equipment and storage facilities which will add to your overall costs.
Unbalanced nutrition. It is essential to add vitamins and other supplements to create wholesome and nutritional treats for your dog. Homemade recipes might be lacking in these important vitamins and supplements.
Toxic ingredients. Home kitchens contain ingredients and human food potentially toxic to dogs, like onions, grapes, chocolate, avocados, mushrooms, and nuts. Some dog owners may not be aware of these, resulting in the contamination of dog treats that could be fatal.
Inconvenient for traveling pet parents. Fresh treats are not the ideal choice for busy or traveling dog owners, as they may spoil faster than treats with preservatives or need to be refrigerated.
Potential to overfeed. Due to the lack of regular caloric distribution that is standard in commercially made dog treats, you can overfeed your pooch.
Top Recommended Natural Organic Dog Treats
The Honest Kitchen Goat's Milk N' Cookies
The Honest Kitchen is an American brand that prides itself in creating high-quality human-grade pet food products.
This treat is a perfect fix if your pooch has been drooling at your milk and cookies snack. The Goat's milk N cookies allow your four-legged best friend to enjoy a dog-friendly version of the organic baked dog treats.
The Honest Kitchen treat is made with the protein-rich goodness of goat milk and pumpkin puree with a hint of cinnamon for flavor. In addition, it is fortified with probiotics (20,000,000 CFU/lb) to keep your dog's gut healthy.
The treats are GMO-free and do not contain artificial flavors, colors, or preservatives. Your pooch is bound to love these treats and give you lots of doggie "kisses" in appreciation.
Unfortunately, you will have to dig deeper into your pockets for the Goat's Milk N' Cookies treats. They also contain more calories per treat than similar products (11 calories per average treat) .
* Price starts at CAD$ 12.99 as of February 2023.
PureBites Dog Treats
PureBites is an American brand that makes limited-ingredient dog treats. This means that their products contain one to three human-grade ingredients. PureBites dog treats come in different sizes and flavors. They are made with 100% pure USDA-inspected ingredients.
These PureBites treats are freeze-dried. Freeze-drying preserves the original raw nutrition while maintaining the natural taste and smell of the beef, which dogs love. PureBites dog treats are high in protein, easy to digest, and do not contain any preservatives.
The single-ingredient bites are a great option for dogs prone to allergies and come in various flavors like chicken, turkey, duck, salmon, lamb, and cheese.
Whether you are looking for organic small dog treats or something yummy for your Great Dane, PureBites are a crowd pleaser. They are also great for training, you can easily break the pieces into smaller bits. The treats are also relatively low on calories, packing about 10 calories per piece.
* Price starts at CAD$ 8.99 as of February 2023
Northern Biscuit Peanut Crunch
This Canadian peanut butter crunch biscuit is made for pooches of all ages and breeds. It is a sure winner for your furbaby if you are looking for organic baked dog treats for a pooch with a sensitive tummy.
The Northern Biscuit bakery sports a range of vegan dog treats in many flavors like lamb berry, bacon, liver, and pumpkin pie, yum! The Peanut Crunch is a wheat-free formulated biscuit made with vegan peanut butter and blended with oats and barley.
It contains zero animal products and comes in bags of different sizes so you can buy the most suitable package for your doggo. One other great thing about Peanut crunch is that it is calorie-light, packing only three calories per treat.
* Price starts at CAD$ 5.99 as of February 2023
Crumps' Natural Apple Bite Treats
Crumps' Apple bites is a natural and wholesome one-ingredient treat containing non-GMO apples. This treat is made by drying thinly sliced apple pieces into chewy bits suitable for dogs of all breeds and ages. Crumps' Apple bites are low in fat and loaded with fiber, Vitamin C, and A that help with digestion and keep your canine's coat and skin healthy.
These Apple Bites are packaged in small batches that trap an enticing smell and taste, making them irresistible even to the most fruit-loathing furbaby.
All ingredients are sourced and made in Canada with no added artificial colors, additives, or preservatives. This Canadian brand also carries plaque busters, mini-trainer treats, and other yummy flavors.
Though Crumps' Apple bites are pricier than similar products, the joy on your dog's face will be worth it.
* Price starts at CAD$ 6.79 as of February 2023
Additional Health Considerations
Supplements
To make sure that your dog's nutritional needs are met, it is always a good idea to incorporate supplements. Especially with regard to keeping your dog's joints healthy and strong. Supplements like TRI-ACTA contain 100% pure active ingredients (MSM, glucosamine for dogs, and Chondroitin sulfate) that maintain healthy joints and cartilage
TRI-ACTA for Pets
A proactive approach for developing and younger adult pets to maintain optimal joint health mobility, minimize inflammation and fend off age-related ailments.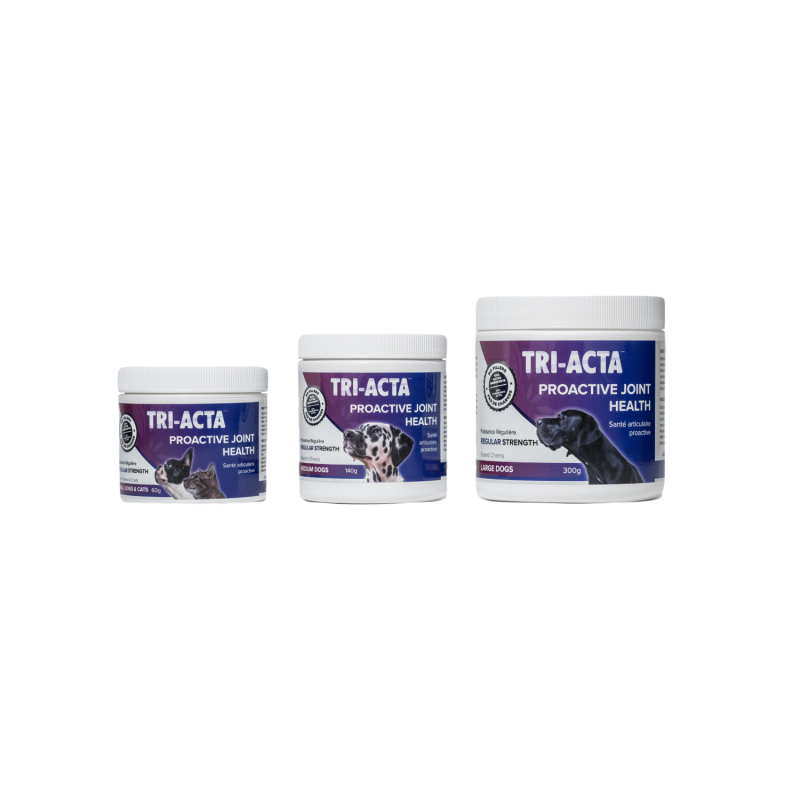 Exercise
Exercising is important for every dog. It helps them maintain a healthy weight, build muscle, and reduce behavioral problems such as chewing, barking, and digging. Exercise also mentally stimulates dogs, improves flexibility, reduces the effects of aging, enhances their quality of life, and helps them combat anxiety. So ensure your dog gets in some good quality exercise time every day.
Summary
Organic dog treats have numerous benefits for your dog. Whether making your own dog organic treats or buying commercially made natural organic dog treats, remember to look for all-natural and high-quality ingredients.
Also, even while training, ensure you give your pooch treats within reason. Do not exceed the recommended quota regardless of how healthy the treats are.
Ready to learn more? Hop onto our resource page for dogs to learn more about keeping your dog healthy, or check out our info on TRI-ACTA joint supplements for long-term mobility care.
TRI-ACTA H.A. for Pets
Our maximum strength formula is optimally designed to accelerate the formation of cartilage, minimize inflammation, expedite the healing process, and improve joint conditions.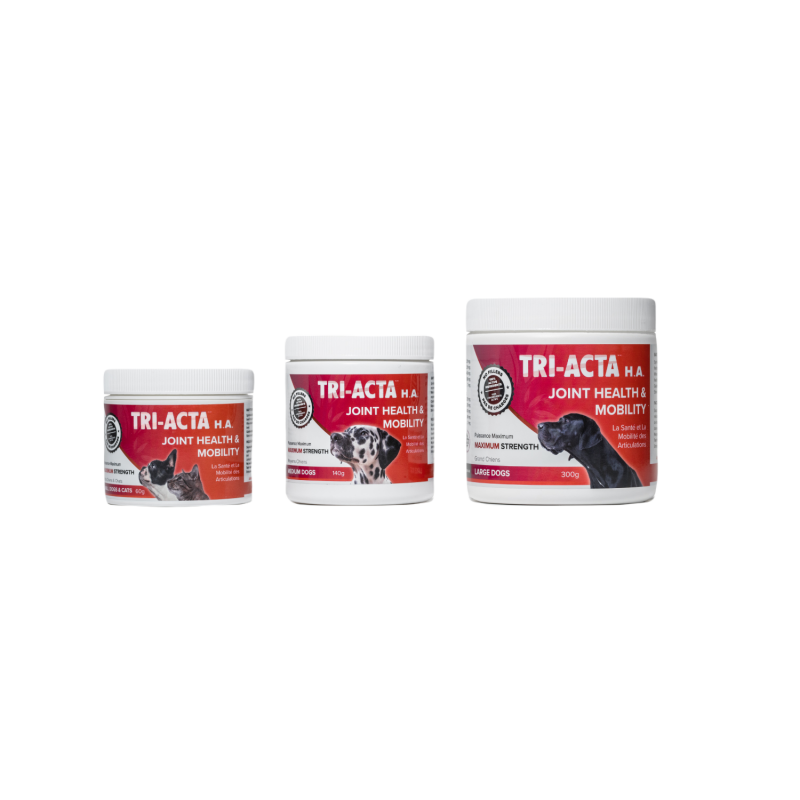 Newsletter Signup
Subscribe to our newsletter to receive the latest news and exclusive offers.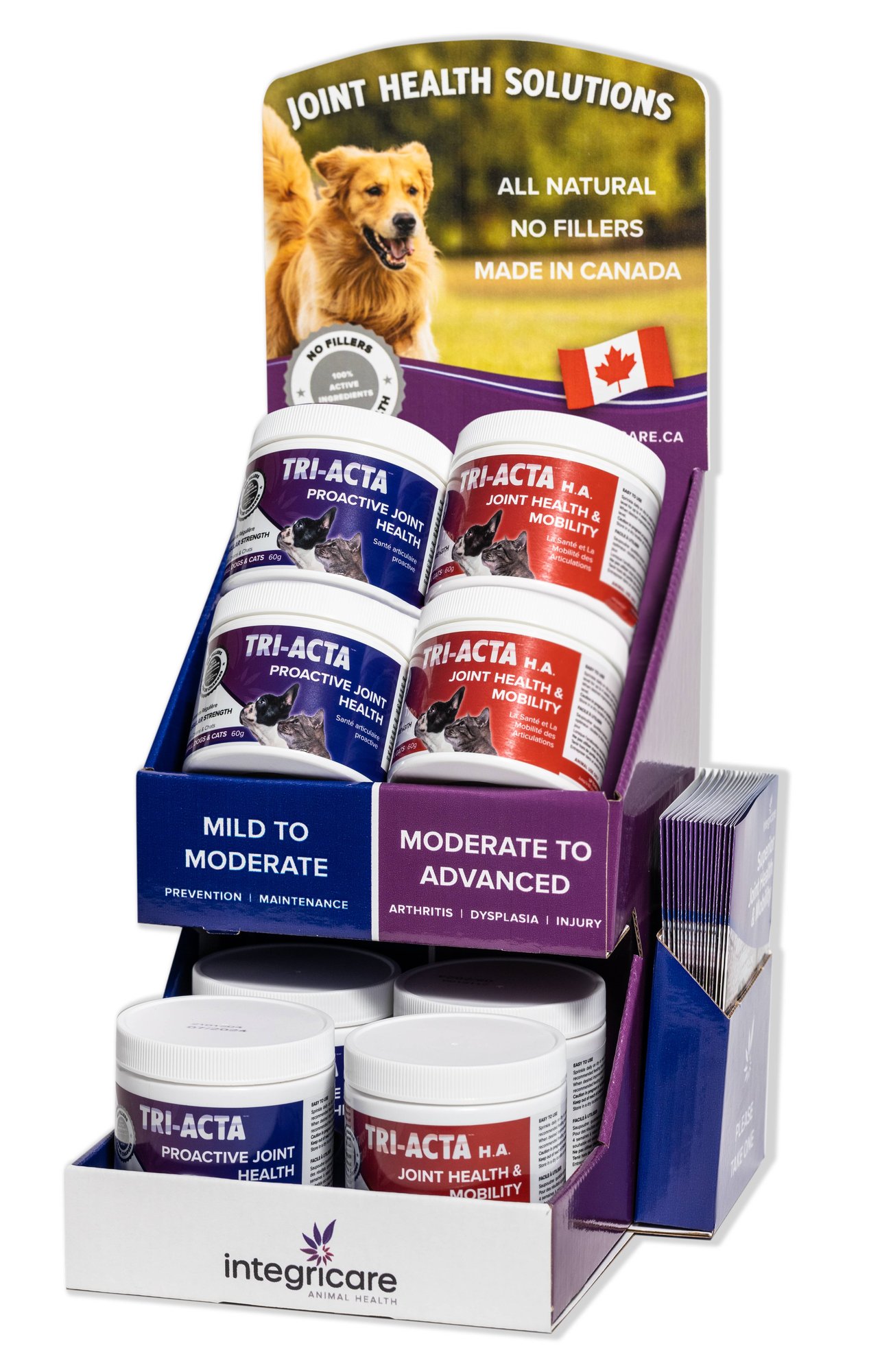 Proactive & Therapeutic Joint Supplements
When given daily, Integricare joint supplements recover bone and joint injuries faster and help prevent mobility injuries from happening in the first place.