Training a puppy or adult dog can seem challenging, especially for first-time pet parents that are concerned about overall dog health. Healthy dog treats for training are an excellent resource for making training manageable while reinforcing good behavior. The eventual result is a happy and well-behaved pooch.
But training a pup is not just about teaching them commands and fancy tricks. It involves showing them how to interact, live and thrive in our world. While physical touch and verbal affirmations are great for reinforcing good behavior and task completion, dogs will almost always prefer a treat instead. That is why it is important to use healthy dog treats for training. This ensures that your dog eats something nutritional while still making for a scrumptious reward.
Did someone say, "treat"?
Though training a dog requires plenty of patience and consistent positive reinforcement, it is not all work and no play. Training sessions can be a wonderful way to spend one-on-one time with your canine bud.
This article discusses more about healthy dog training treats, including what to look for when purchasing.
Why are Healthy Dog Training Treats Recommended?
Healthy dog training treats are often made with all-natural ingredients, have limited or no fillers, and avoid artificial flavors and colors.
Healthy dog training treats offer many benefits for your dog including:
Providing a nutritious treat that helps reinforce positive behavior
They help your pup maintain focus during challenging training sessions
Treats are an effective way of maintaining interest in a training session, especially when the activities are challenging
Besides being great rewards for good behavior, healthy treats for dog training ensure that your pup is getting in some great nutritional value contributing to their overall well-being.
Healthy High-Value Dog Treats
Dogs will have preferences when it comes to treats. High-value dog treats are treats that your dog adores. These are treats that your dog rarely gets to indulge in. They can be a dog's biggest motivator when training.
High-value treats may include foods like cheese, hot dogs, or pieces of jerky. These treats may not be the healthiest option, but they are highly motivating for your pup. But thankfully, healthier options exist and may be good to consider, especially if your dog is going through lots of training. After all, while delicious, too many hot dogs and cheese can cause an upset tummy!
You can test which treats your dog might consider being high-value by giving him several treats and observing how he behaves with each one.
One training expert suggests using turkey hotdog, plain chicken, string cheese, beef heart treats, or minnow treats. Aside from perhaps the hotdog and string cheese, these are relatively healthy, high-value treat options.
Your dog will make it obvious which treat he loves the most. You will see their anticipatory wait and drooling as you reach for the treat, the laser focus when you open the pack, and the ecstatic tail-wagging jig they break into once you give them the treat.
Once you discover your doggo's favorite type of treats, switch them up occasionally to keep things interesting for your pup. Consider saving the high-value treats for the most challenging or critical training sessions.
When Should You Use High-Value Treats?
During an intense and engaging training session, high-value treats can help maintain your dog's focus and motivation for learning new skills. For example:
When first introducing a brand-new behavior. High-value treats can make learning a new behavior more attractive for your dog and increase the chances of him remembering and successfully repeating it in the future.
In highly distracting environments, such as a group dog training class. It is easy for your dog to get distracted in an environment with many stimuli. Using a high-value treat can help keep their focus on you and the training activity.
When rewarding your dog for a quick or high-quality response to a cue. When your dog responds positively or correctly to a high-quality cue, you can enforce and encourage repetition by creating a positive association with the high-value treat.
During important socialization and proactive exposure training for puppies. Just like babies, puppies have a relatively short attention span. An unfocused puppy can be hard to train. But with a high-value treat, you can help them stay focused and make learning more enjoyable.
If working on counter conditioning as part of a behavior modification plan for leash reactivity, aggression, anxiety, or fear. A high-value treat can help counter condition your pup by creating positive associations with situations your dog may find stressful.
High-value treats are not only yummy but are a powerful tool in your training kit. They work great in reinforcing good behavior while building that special bond between you and your pup. Choose treats that are high in quality to ensure that your pooch is getting the healthiest reward for their efforts.
Tips for Choosing Healthy Treats for Dog Training
Keep Dog Training Treats Small

Giving your dog pea-sized morsels of treats can help maintain training momentum. Larger treats also take longer for your pooch to consume, which might be distracting. Giving larger pieces of treats can also make your pup full before the session is over.
In addition, eating larger treats can lead to excess consumption of calories, especially when the sessions are long and intense. This might result in weight gain problems.
High-value training treats can be expensive. So keeping the portions tiny will be a welcome reprieve for your pocket.
Soft Dog Training Treats
Softer training treats are easier and faster for your dog to eat, especially if you have an old dog. They are also easier to break into smaller pieces making them perfect for training. Soft training treats are also less distracting compared to crumbly treats. That's because your dog might get caught up chasing every piece of crumb on the floor, which takes away precious teaching time.
Changing Up Types of Treats
Find several training treats of similar or more excellent value than each other and alternate them during training. This ensures your dog doesn't get bored of the same treat and loses learning enthusiasm. Occasionally switching up the treats will keep your dog excited and alert since they don't know which delightful nibble will come their way next.
Food For On-the-Spot Dog Training
Easy-to-carry treats are great for training on the go or for impromptu rewarding. Non-perishable treats like freeze-dried bits make great on-the-spot behavior reinforcement rewards because they are accessible and convenient.
Fast-Eating / Slow-Eating Dog Training Treats
If your pooch is a super fast eater, you can use toys and feeding puzzles to make the treats last longer. Toys and puzzles can provide mental stimulation and help your fast eater slow down and enjoy their treats.
Kibble or freeze-dried treats are great options for fast-eating treats. If, on the other hand, you want your dog to spend more time savoring their treats as a way to occupy their time, treats like bully sticks will do the trick.
Recommended Healthy Dog Training Treats
Adult Dog Training Treats
Zuke's Mini Naturals
Zukes mini natural training treats contain quality whole chicken protein. They are the perfect size for those intense training sessions that need continuous engagement and focus. Zukes mini natural brand also carries training treats in different flavors like duck and peanut butter for variety. They contain 3.5 calories per treat, so you can use them frequently without worrying about overfeeding your dog.
Because Zukes mini treats are all-natural, they have no artificial additives or fillers, making them a great choice for training. Though slightly higher priced than similar products, you can be sure your dog is getting the best natural, wholesome ingredients, not to mention the savory taste your pup is bound to enjoy.
Price starts at CAD $25.99 as of February 2023
Blue Buffalo Bits Tasty Chicken
Blue buffalo bits are natural training treats made with high-quality chicken as the first ingredient. These treats are fortified with plant-based omega fatty acids and fish oil, a natural DHA source. DHA is great for skin and coat health and supporting healthy brain and cognitive functions.
These Blue buffalo bites are great because they contain no meat-by products or artificial fillers and additives. So you can be sure your pup is getting the best of natural ingredients to make those training sessions productive.
Price starts at CAD $6.99 as of February 2023
Crumps' Naturals Mini Trainers freeze-dried beef liver
Crumps' natural beef liver mini trainers are training treats that pack great value for money. These bite-sized natural dog treats are easy to break into smaller pieces. They are made with high-quality beef liver. Though the brand carries dog training treats in other flavor combinations, this one-ingredient training treat is an excellent option for dogs with sensitive stomachs.
Because the mini beef liver training treats are freeze-dried, they retain their natural beef flavor, making them exceptionally scrumptious for your dog. These beef liver training treats are a low-fat, low-calorie option with only three calories per treat.
Price starts at CAD $14.99 as of February 2023
Comparison Table
| | | |
| --- | --- | --- |
| Treat Name | Calorie per Treat | Price in CAD |
| Zukes's Mini Naturals | 3.5 | $24.99 |
| Blue Buffalo Bits | 4 | $6.99 |
| Crumps' Natural Mini Trainers | 3 | $14.99 |
Healthy dog training treats for puppies
Wellness Soft Puppy Bites
The Wellness soft bites are healthy dog treats for training puppies. These puppy treats are perfectly sized for training, they are soft and chewy. Wellness soft puppy bites are made with natural ingredients like lamb, salmon, blueberries, and sweet potatoes. They are grain and wheat free, making them an excellent option for puppies susceptible to allergies. These treats are naturally flavored with apple and carrot and are fortified with omega-rich flaxseed providing a natural source of DHA.
Another great thing about these chewy training treats is that they contain no meat or dairy by-products, are filler free, and have no artificial additives like colors or preservatives.
Wellness soft puppy bites are calorie-light containing only three calories per treat.
Price starts at CAD $14.99 as of February 2023
N-Bone Real Chicken Puppy Training Treats
These N-Bone puppy wheat, corn, and soy-free training treats are specifically for puppies weighing over 5 lbs. They contain real chicken as the first ingredient and are only three calories per treat. The natural chicken flavor makes this brand of puppy training treats a favorite.
In addition, we like that the recipe incorporates probiotics and colostrum to support digestive health and a strong immune system. Not to mention that the treats also contain a touch of sweet potato goodness to make them all-around healthy dog training treats for puppies.
Price starts at CAD $11.49 as of February 2023
Bixbi pocket trainer dog treats are all about the yumminess of xylitol-free peanut butter. While these trainer treats are not specifically made for puppies, they are chewy and soft, making them ideal for puppy training.
The Bixbi pocket trainers are meat and grain-free, ideal for puppy owners seeking vegan puppy training treats. They are also calorie-light, with less than four calories per treat. Thus you can confidently use them in training your puppy without worrying about weight gain.
Unfortunately, these pocket trainer treats do contain salt, which is undesirable for dogs when taken in excess amounts. Thus it might not be suitable for puppies on a restricted diet.
Price starts at CAD $13.99 as of February 2023
Comparison Table
| | | |
| --- | --- | --- |
| Treat Name | Calorie per Treat | Price in CAD |
| Wellness soft puppy bites | 3 | $14.99 |
| N-Bone real chicken puppy training treats | 3 | $11.99 |
| Bixbi peanut butter pocket trainers | <4 | $13.99 |
Healthy Dog Training Treats Recipes to Try
As people become more health conscious, more pet parents are looking for alternative healthy dog training treats besides the commercially available ones. And most of them have found a good alternative in homemade healthy treats for dog training.
However, it is essential to consult with your vet before giving your doggo any homemade treats. This is mainly to ensure that the treats are nutritionally balanced and so you know the type of people's food to avoid giving your dog.
There are different kinds of recipes for making healthy dog treats for training.
Recipe Type

Description

Single-ingredient

These contain single ingredients.
They can be meat, fruit, or veggie oriented

Minimum ingredient recipes

These incorporate between one to five ingredients
They can be a mixture of meats, fruits and vegetables

Raw ingredient recipes

These include raw meats, fruits and vegetables
Are great for dogs on a raw food diet
They can be either single or minimum ingredient
The following recipes are great for making dog treats, which can also be used for training purposes.
Oats, Banana, and Peanut Butter Training Treats
Ingredients:
Oats
Ripe banana
Peanut butter
Grind old-fashioned oats into fine flour. Then, combine the oat flour, a ripe banana, peanut butter, and some water in a bowl. Make a dough and cut it into ¼-inch thick pieces. Bake the mixture in your oven until done. These homemade training treats are bound to be a hit with your dog.
Cheese and Sardine Dog Treats
Ingredients:
One can of sardines
Two eggs
150 grams of parmesan cheese (grated)
Roasted vegetables (those your dog likes)
75 grams gluten-free flour
Water
Mix all ingredients together and blend. Make a thick pancake-like batter and spread it over a baking tray. Bake in a preheated oven at 320F until brown and crispy. Let it cool and cut into bite size pieces
Apple-Cheddar Dog Biscuits
Ingredients:
2 cups barley flour (gluten-free flour)
Half cup Oatmeal
1 cup mixed grated parmesan and cheddar cheese
Third cup apple sauce (unsweetened)Two tablespoons of olive oil
Mix all the ingredients together in a bowl. Add some little water to make a dough. Roll out the dough on a clean surface and cut it into quarter-inch pieces. Bake the treats in a preheated oven at 350F until brown.
Proactive and Mobility Care
There are several ways to support your dog and ensure they are physically and mentally ready to engage in training sessions. A dog that is feeling iffy may be distracted and not benefit from training activities.
Provide supplements
For your dog to have a productive training session, they must feel their best and have energy for training. That means their limbs and joints must be strong and pain-free. Consider including a joint supplement to help maintain joint mobility to combat joint pains and aches. TRI-ACTA, for example, is a great joint supplement to consider. Made with 100% active ingredients and zero fillers, TRI-ACTA delivers potent therapeutic effects to keep your dogs' joints healthy. It contains high-quality MSM, Chondroitin sulfate, and glucosamine for dogs which are beneficial in promoting joint health.
In addition, gut supplements and dog probiotics can promote digestive health and help your dog get the most from their diet.
TRI-ACTA for Pets
A proactive approach for developing and younger adult pets to maintain optimal joint health mobility, minimize inflammation and fend off age-related ailments.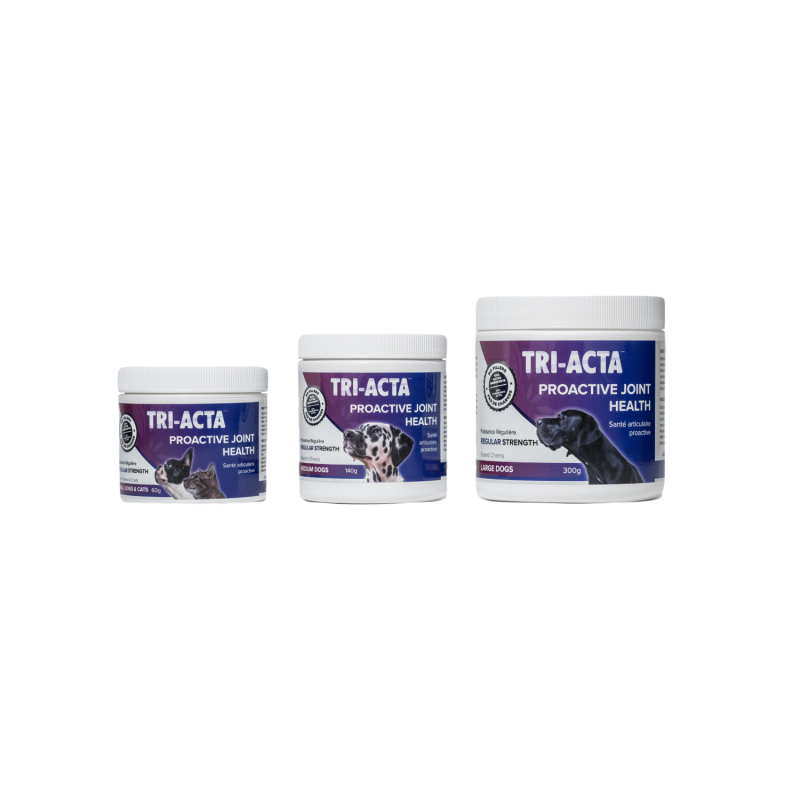 Rest and play
All work and no play–or rest–can make your pup a tired boy. Consider sessions of relaxing playtime with your canine buddy. You can create a daily routine allowing your dog to have quiet time to unwind in their space. Providing age- and size-appropriate toys for your dog's play area is an excellent idea.
Keep your pup hydrated
While you may not get your doggo to drink eight glasses of water daily, providing a bowl of fresh, clean water is essential. It is important to know how much water your dog needs so that you can avoid your dog getting dehydrated.
An active dog or puppy will need more water than average (approximately 30ml/one ounce per pound of weight), so remember to adjust accordingly. In addition, consider the following to help keep your pup hydrated all through your training session:
Bring with you cold healthy treats for dog training sessions
Give your doggo more wet dog food during the training period
Moisten your dog's kibble
Train indoors or under a shade to avoid overheating
Conclusion
Training sessions can be a great time to bond with your pooch as they learn essential life skills and good behavior. Training your dog is more than just getting them to sit or roll over on command. It also involves teaching your dog how to listen to you for their own safety and enforce positive behavior.
Investing in high-quality, healthy dog treats ensures that your dog gets the best out of the training time and the nutritious benefits of healthy dog training treats. Healthy, high-value dog treats are necessary for training. Especially when teaching new skills or when training your dog in distracting environments. So set aside some high-value healthy treats for those special training occasions when you need your dogs' undivided attention.
Providing proactive and mobility care plays a vital role in helping your pup stay fit for their training sessions. Proactive measures like adding supplements, probiotics, and antioxidants can boost your pooch's overall health and mental status. Look for good quality supplements that are filler free to promote your pups' health. For example, TRI-ACTA joint supplements pair wonderfully with a dog's daily diet regimen. They contain glucosamine for dogs which is highly beneficial for maintaining joint health and mobility.
However, if you desire to make your own dog training treats, ensure you get professional guidelines from your vet. They will recommend healthy dog training treats recipes that are suitable for your dog's breed. It is crucial to ensure that homemade treats are well-balanced to avoid excesses or deficiencies affecting your dog's overall health.
For more doggy-related articles, head over to our resource for dogs page.
TRI-ACTA for Pets
A proactive approach for developing and younger adult pets to maintain optimal joint health mobility, minimize inflammation and fend off age-related ailments.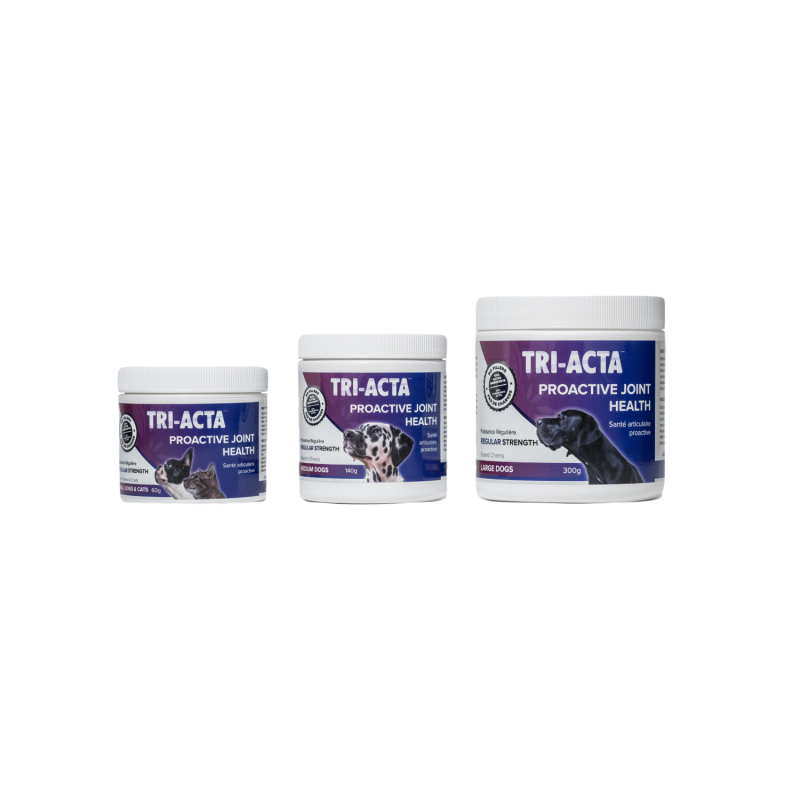 Newsletter Signup
Subscribe to our newsletter to receive the latest news and exclusive offers.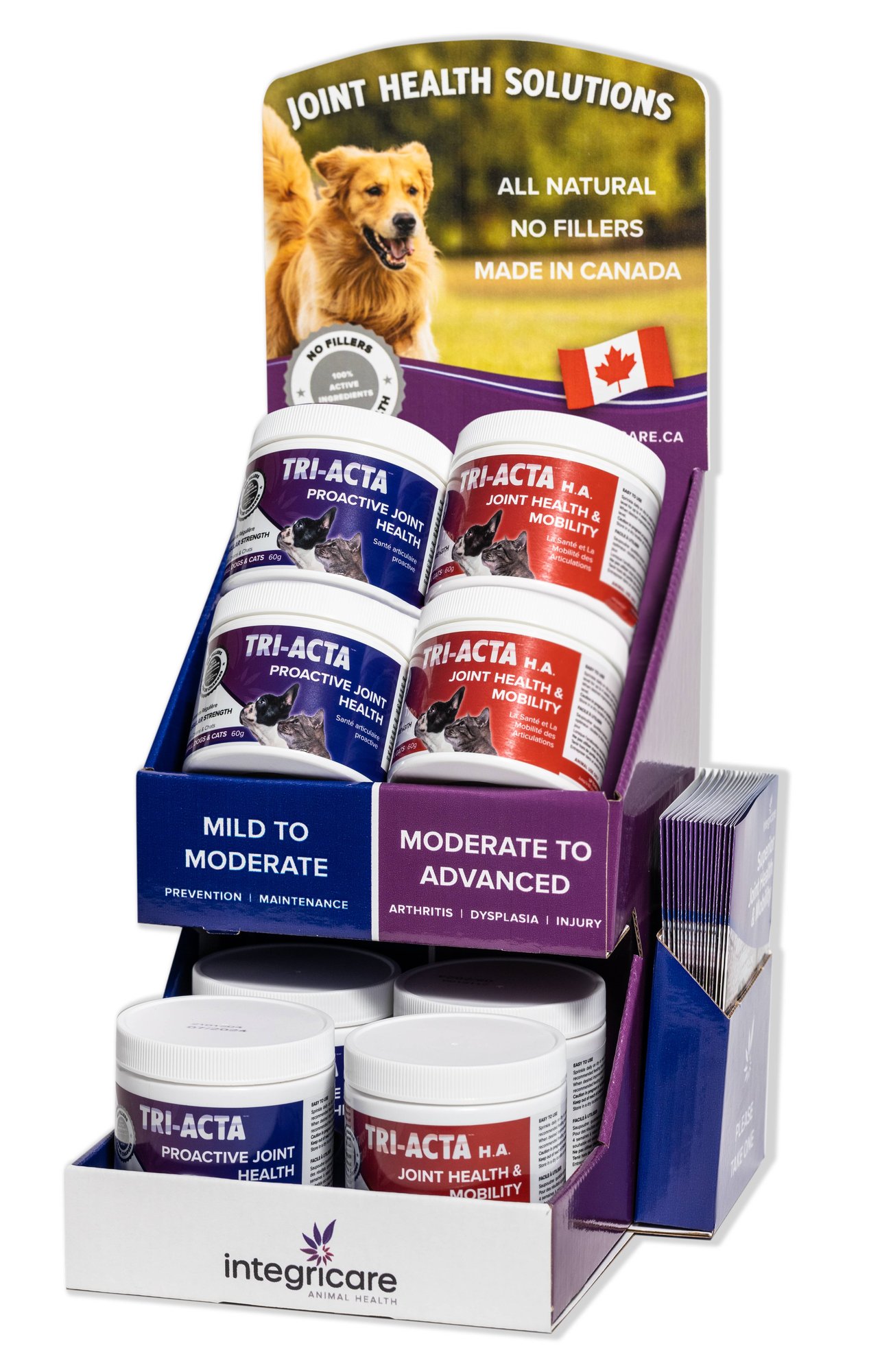 Proactive & Therapeutic Joint Supplements
When given daily, Integricare joint supplements recover bone and joint injuries faster and help prevent mobility injuries from happening in the first place.