If a large breed puppy has stolen your heart, you are in good company. There are over 3.19m large breed dogs in Canada alone! That's a lot of canines.
While these big munchkins are all shades of cuteness, parenting a large-breed puppy comes with big responsibilities. Nutrition is a major part of nurturing your puppy as large breed dogs require especially formulated diets to help them grow healthy and strong.
This article explores the best large dog breed puppy food options and delves into the nitty grits of finding the right food for your larger-than-life furbaby (which is probably not pizza).
But wait, how do I know if my puppy is a large breed?
Surely you would know if your brand-new puppy is a large breed or not, wouldn't you? While this might seem a fairly obvious question, many large breed puppies can pass for an ordinary dog in their infancy.
Dog sizes are determined by the eventual adult weight and categorized into small, medium, large, or giant. While the weight ranges vary according to different publications, a large breed dog is a dog that weighs between 60-99lb in its adulthood.
You can have your vet verify in which category your pooch falls for purposes of proper nutrition and care. The chart below shows you the different dog categories
| | | |
| --- | --- | --- |
| Dog Size | Average Weight | Dog Breed Example |
| Small | Less than 24 lb (<10 kg) | French Bulldog, Chihuahua, Shih Tzu, Pomeranian |
| Medium | 25-59 lb (11-26 kg) | Border Collie, English Bulldog, Beagle, Poodle |
| Large | 60-99 lb (27-45 kg) | Rottweiler, Labrador Retriever, Labrador Husky, Golden Retriever, Canadian Eskimo Dog, Borzoi |
| Giant | More than 100 lb (>45 kg) | Mastiff, Great Dane, Irish Wolfhound, Bernese Mountain Dog, Newfoundland, Saint Bernard |
To keep your dog in tip pup shape, you'll want to ensure that every ingredient in your pup's food is the best in terms of quality and nutritional value.
What Makes Puppy Food for Large Breeds Different?
While every puppy is unique and special, large dog breed puppies are distinctive because of two main factors:
They grow at a faster rate
They remain in puppyhood for longer (18-24 months)
The food designed for large breed puppies helps slow down the growth rate so that the puppy can have time to grow strong bones and muscles to support the weight as it grows into adulthood.
Large-breed puppy food also contains controlled amounts of calcium-to-phosphorous ratios designed specifically for large-breed puppies to prevent the occurrence of developmental orthopedic diseases (DOD). Developmental problems associated with excess growth in large breed puppies include:
Osteochondrosis
Panosteitis Hypertrophic osteodystrophy
Retained ulnar cartilage core
That means you should not feed your puppy dog food made for smaller or medium-sized dogs. This could lead to your large breed munchkin gaining more weight and accelerated bone growth. Bones growing too fast could lead to a more brittle bone structure that cannot support heavy body weight.
Large breed puppy food helps regulate the growth process while providing the right nutrients in quantities that are designed for optimal energy intake. The chart below shows the optimal weight for the breed of dog, depending on their age.
When you think of the type of food to feed your large breed puppy, there are several things that you need to consider, as discussed below.
1. The Number of Calories
Puppies use a lot of energy not only to grow but to play, explore, and often get into all kinds of mischief. The food you give your large breed pup should contain enough calories to cater to the high energy demand of your puppy's daily routine.
Large-breed puppies are prone to health challenges like hip and elbow dysplasia due to their weight gain. Therefore it is important to keep an eye on their calorie intake to control their weight.
Unregulated calorie intake can lead to excess weight gain and obesity in large-breed dogs. This puts immense pressure on your puppy's joints and bones.
2. Phosphorous, Calcium, and Vitamin D
You would imagine that your large breed puppy requires more calcium and phosphorus than small and medium breed pups to help them develop a strong bone structure. Not necessarily.
Excess calcium and phosphorus intake can lead to abnormal bone remodeling in large-breed puppies. When considering nutrition for large breed puppies, the recommendation is to keep the calcium dietary between 0.8 %-1.2% in dry matter. Calcium and phosphorous are conversely given together in the ratio of 1:1 to 1:2.
Unfortunately, unsupplemented homemade meals, meat-only diets, or diets high in plant-based ingredients can lead to a calcium deficiency in large breed puppies. Low calcium levels could result in conditions like Hypocalcemia, osteomalacia, and related bone fractures. If you're planning on feeding your pup a special diet, it's essential to speak to a professional to ensure that additional supplementation is provided where needed.
3. Fat Content
Fat is an important part of your pup's diet. Consuming the right type and quantity of fat is essential for the healthy growth of your large-breed puppy. While it is true too much fat consumption can lead to excess weight gain, fat for dogs helps your pup in the following ways:
Acts as a source and storage for energy
The fat layer under the skin helps keep your pup warm
Helps in the absorption of fat-soluble vitamins like vitamin D
Structural component of body cells
Helps in maintaining a healthy nervous system
Facilitates transportation of molecules
The fat in large breed puppy food is lower than normal dog food to help maintain a healthy body condition score.
4. Vitamin D
This is a vital vitamin in a dog's diet. Vitamin D supports the proper absorption of calcium and phosphorous. Dogs get vitamin D from their diet.
However, like a number of vitamins, excess consumption of vitamin D can be poisonous to your puppy, so discuss this with your vet
5. Levels of Glucosamine
As mentioned earlier, large-breed puppies are susceptible to developmental orthopedic disorders affecting their joints and bones, especially when they become old dogs. It is important to include glucosamine in your puppy's diet to help manage some of these conditions, like hip and elbow dysplasia, and promote healthy joint health.
Some puppy food for large breed dogs incorporates glucosamine as an additional ingredient for proactive measures. Though this is good for your puppy, it's important to note the quantities are minimal, and the glucosamine potency is often lost during the food preparation process.
We recommend supplementing with a dietary supplement like TRI-ACTA for pets, which contains glucosamine for dogs. It is suitable for puppies of all breeds, supporting them from puppyhood into healthy adulthood. Compared to glucosamine found in puppy food (1000-1500mg/kg), TRI-ACTA contains high levels of active therapeutic glucosamine (1000mg per 1 gram). In addition, TRI-ACTA has the added advantage of other mobility-supporting ingredients like MSM and Chondroitin, which are not commonly found in food.
TRI-ACTA for Pets
A proactive approach for developing and younger adult pets to maintain optimal joint health mobility, minimize inflammation and fend off age-related ailments.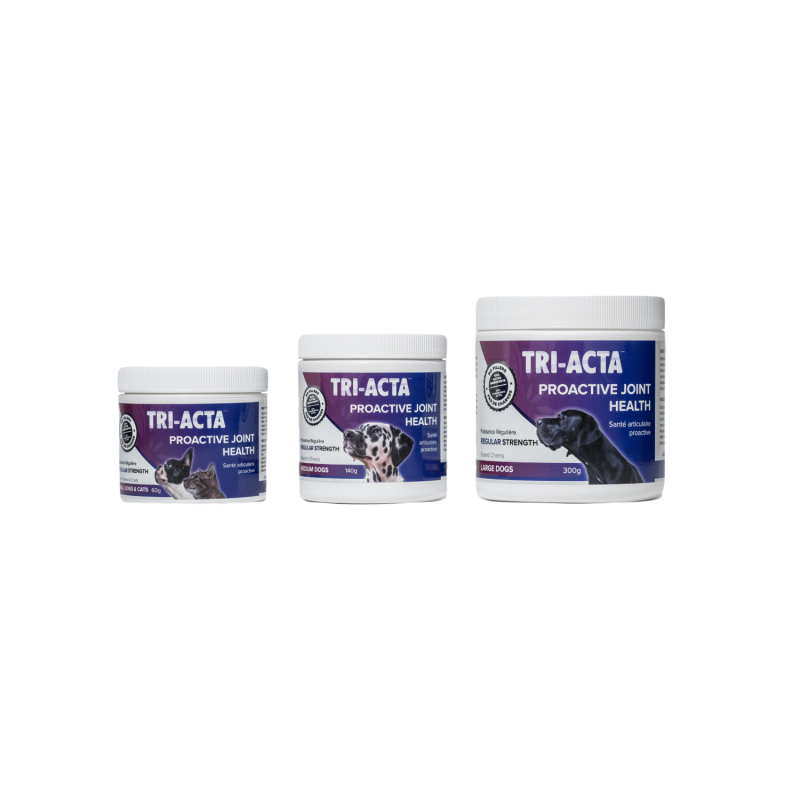 6. High-Quality Protein Source
Proteins are the building blocks of the body. Your puppy will require good quality animal protein to help build strong body muscle and tissue cells. Examples of common high-quality animal protein used in puppy food are:
Free range poultry
Wild caught fish
Lamb
Beef
Rabbit
Pork
It is a good idea to keep off puppy food containing many animal protein by-products and meals. Even though these by-products are added to keep the protein levels high, they are not always the best quality.
But if you are a DIY queen–or king–and believe the best large dog breed puppy food is homemade, you can always make your puppy meals. Serving your furbaby fresh food every mealtime is a labor of love, but caution should be taken.
It is common for homemade meals to lack the proper balance of nutrients, especially in the absence of veterinary nutritional guidance. To avoid any diet deficiencies, consult your vet. They will recommend the right recipe and share additional information to help make the food the most nutritious for your puppy.
Another key thing to remember is portion control. Your furbaby should not free feed to avoid overeating and gaining too much weight. Keep a regular feeding schedule and feed your pup meals 3-4 times per day (depending on the calorie content of the food, fewer or more meals may be needed).
Your puppy should eat food designed for large-breed puppies until about 18-24 months (depending on the breed) before transitioning into large-breed adult dog food.
Key Factors When Choosing Puppy Food
The World Small Animal Veterinary Association (WSAVA) provides guidelines for selecting pet food for your dog. These are provided as general guidelines to help you in your quest to find the best dog food for large-breed puppies. WSAVA also notes that Puppy food approved by the CFIA and following the AAFCO regulatory guidelines is considered safe for your puppy.
Below is a list of factors to consider when choosing puppy food.
Reputable Manufacturer
Indicators of a reputable manufacturer, according to WSAVA, include
They are vet-recommended. Vets are always a reliable source of information. Your vet can advise you on puppy food brands they deem legit. They will also advise on which types of large-breed puppy food to avoid and how to spot a good dog food brand. In addition, your vet can also give you advice on how best to supplement your furbaby.
They have quality-controlled processes for sourcing ingredients and assessing the final product. A reputable manufacturer should have Quality controlled processes for sourcing ingredients and assessing the final product. With some research, you should be able to find this information on the internet and compare it with guidelines from associations like AAFCO.
They have employed a nutritionist. It is also a plus if the food manufacturer employs a nutritionist. This adds confidence that the puppy food you are buying for your large breed munchkin contains all the necessary ingredients in the right quantities to ensure your puppy grows healthy and strong.
Another plus for a manufacturer is if they have peer-reviewed nutritional and product research data in a published journal. Though not a requirement, such a publication is a good source of information on how the food promotes your puppy's health and wellness.
Quality Ingredients
Good quality puppy food starts with quality ingredients. Read the label carefully on the packing when shopping for large-breed puppy food. Though some puppy food for medium and small puppy breeds may be marketed as okay for your large breed puppy, always insist on food specific to large breed puppies.
WSAVA recommends going for food labeled as "complete," meaning it contains all the required nutritional ingredients for your puppy. In addition, the first ingredients in your puppies'' food should be real protein sources such as fish, meat, or poultry.
We also recommend keeping off food brands with artificial colors, flavors, and preservatives. These artificial additives are often not healthy for your puppy in the long run.
Calories per Serving
Calorie tracking is important for your large breed puppy. It helps to curb the possibility of obesity or excess weight gain by providing the right amount of calories depending on the health status of your puppy.
The calorie information should be readily available on the label of the food packaging, and if not, you should be able to find it on the manufacturer's website. Or for helpful information,
see the charts below for the daily average calorie requirement for large-breed puppies.
Calorie chart for puppies 0-4 months old
Calorie chart for puppies 4 months - 1-year old
Budget Friendly and Affordable
While giving your puppy the very best of life is the desire of every pet parent, you have to be money conscious. The cost of parenting a pup in Canada can quickly rack up if you decide to splurge on your munchkin. But expensive is not always better when it comes to large-breed puppy food. So always be on the lookout for pocket-friendly brands which are big on quality ingredients and deliver value for every cent.
Remember these facts as you select a brand for the best large breed puppy dog food
Nutritional Ingredient

Reason

Proteins

Are important building blocks for growing puppy muscles and tissue

Fats

Facilitate physiological functions in the body

and help maintain body temperature

Calcium: Phosphorous

To support proper growth and development of the bone structure and muscles

Vitamin D

Helps in the adsorption, regulation, and balance of calcium and phosphorous levels in the body

Water

It is vital for supporting metabolic processes in the body. Water also helps in the digestion of food and nutrient absorption. Your puppy should drink 15-30ml of water per pound
What Is the Best Dog Food for Large Breed Puppies?
Kibble / Dry Puppy Food
Now fresh grain-free food
Petcurian is a Canadian brand well known for its high-quality pet food products. This particular puppy food contains salmon, turkey, and duck as the main protein sources. It is a grain-free option that packs multiple nutrients from other traditional vegetables and fruits like peas, sweet potatoes, papayas, and cranberries.
It is also fortified with plant-based omega fatty acids from canola and coconut oil, which support a healthy nervous system and promotes healthy skin and coat.
Now fresh also contains New Zealand green mussels to naturally support joint health. Since it is chicken and grain free, it is an excellent option for puppies susceptible to allergies.
Food contains 379 calories per cup.
* Price starts at CAD $68.99-114.99 as of February 2023
Orijen large breed puppy food
Orijen is another beloved Canadian pet food brand and one of the most recognized around the globe. They pride themselves in creating the best puppy dog food large breed-specific meal varieties as well as other pet food products.
This particular puppy food contains a great assortment of fresh farm fruits and vegetables like pumpkins, squash, carrots, apples, spinach, and peas. Orijen protein sources include free-range poultry and wild-caught fish.
Orijen puppy large is low-glycemic, meaning it doesn't cause a spike in sugar levels, and is marketed as a premium whole prey nutrient-dense large breed puppy food. That means it costs slightly more than other similar products in the market, but customer reviews indicate that every coin spent on this product is worth it.
Food contains 451 calories per cup.
* Price starts at CAD $69.88 as of February 2023
Canned / Wet Puppy Food
Nulo free style grain free
Nulo Freestyle is an American privately owned brand. They are credited as being one of the most reliable pet food manufacturers in terms of quality and affordability. This grain-free turkey, cod, and sweet potato puppy food recipe is loaded with wholesome ingredients and high-quality animal protein sources. It is designed to support the nutritional requirements of a growing large-breed puppy.
This Nulo freestyle puppy food is also fortified with omega 3 and 6 fatty acids that support healthy skin and coat as well as DHA for optimal eye development. It is also free from artificial colors, flavors, and preservatives.
Food contains 404 calories per cup.
* Price starts at CAD $4.29 per can as of February 2023
Royal Canin Large Puppy Wet Dog Food
Royal Canin is a popular dog food brand that produces high-quality and reasonably priced pet products. This particular large breed puppy food comes with water as the first ingredient, followed by free-range chicken and pork by-products. It is naturally flavored to enhance the taste of the patties as well as fortified with nutritional vitamins and minerals.
The royal Canin puppy for large breed dogs is specifically designed to support large breed puppies up to 15 months old. It is also loaded with pre-biotics to support a healthy gut and digestive system.
Food contains 118 calories per pouch.
* Price starts at CAD $35.90 as of February 2023
Freeze Dried Large-breed Puppy Food
Instinct raw boost
Instinct is an American brand that comes highly recommended due to the quality of pet food products they produce. This raw boost freeze-dried puppy food is grain free and specially formulated to support your large puppy's nutritional needs. It contains chicken as the first ingredient but also includes other high-quality animal proteins like lamb, fish, and whole prey portions of chicken organs.
Instinct raw boost is fortified with omega fatty acids, essential minerals, and vitamins required to boost and support the growth of your large puppy. It is marketed as a premium large puppy food product and thus much pricier than other similar products.
Food contains 485 calories per cup.
* Price starts at CAD $120.99 as of February 2023
Performatrin Large Breed Puppy formula
Performatrin is another Canadian food product made with high-quality ingredients for large breed puppies. It contains chicken as the first ingredient and is fortified with omega fatty acids to support a healthy coat and skin. In addition, this large-breed puppy food is loaded with prebiotics to support gut and digestive health.
We like that this puppy food contains no preservatives or artificial flavors. They have also included many other important vitamins and minerals to ensure this large puppy dog food is complete and supports proper growth and development.
Food contains 399 calories per cup.
* Price starts at CAD $89.99 as of February 2023
Raw Large Breed Puppy Food
Breeder Blend
Big country raw is a Canadian brand that specializes in raw pet food. They have a wide selection of food products that are suitable for puppies and adult dogs. This breeder blend contains chicken and beef organ meat.
Big Country raw products are antibiotic and hormone-free.
Food contains 165 calories per 100g of food.
* Price starts at CAD $14.99 as of February 2023
Zeal Air-dried Beef recipe
Zeal Canada is a great brand that produces a wide range of pet food products. This particular raw food meal is designed for all dogs. Though we always recommend large breed-specific puppy food, this brand is good quality complete dog food. It contains beef, salmon, and whole prey beef products.
Contains 1,613 calories per pound.
* Price starts at CAD $58.99 as of February 2023
Key Takeaways
Finding the best dry dog food for large breed puppies may seem like an uphill task in the midst of many food brands on the market today. But whether you are deciding between grain or grain-free diets or value for money, remember these main factors we looked at
Nutritional value. The food should be complete and include all the important elements to support your large puppy as they grow into adulthood
Satiate appetite. The food should have the correct caloric value to satisfy your puppies' energy requirements without leaving them hungry
Contain glucosamine. Don't forget this very important supplement component. It will help keep your furbaby's joint health and help prevent DODs
Have the right amount of calcium to phosphorous ratio. This is vital to ensure your puppy doesn't develop any preventable calcium deficiency (or oversupply) related problems
Learn as much as you can about caring for your large breed puppy. Remember, not all spaces will be large-breed-puppy friendly, so plan ahead for extra space in your home. Also, keep in mind that exercise is an important part of maintaining a healthy body weight and keeping your munchkin engaged and active. It also helps develop strong muscle and bone structure.
However, exercise with caution to reduce the effect of impact on their delicate joints. Even though your puppy looks big enough to accompany you on your daily run, he is still a pup without the skeletal strength for strenuous or high-impact activities. To help out with delicate puppy joints, don't forget to add TRI-ACTA joint supplements to help their joints grow firm and strong.
TRI-ACTA for Pets
A proactive approach for developing and younger adult pets to maintain optimal joint health mobility, minimize inflammation and fend off age-related ailments.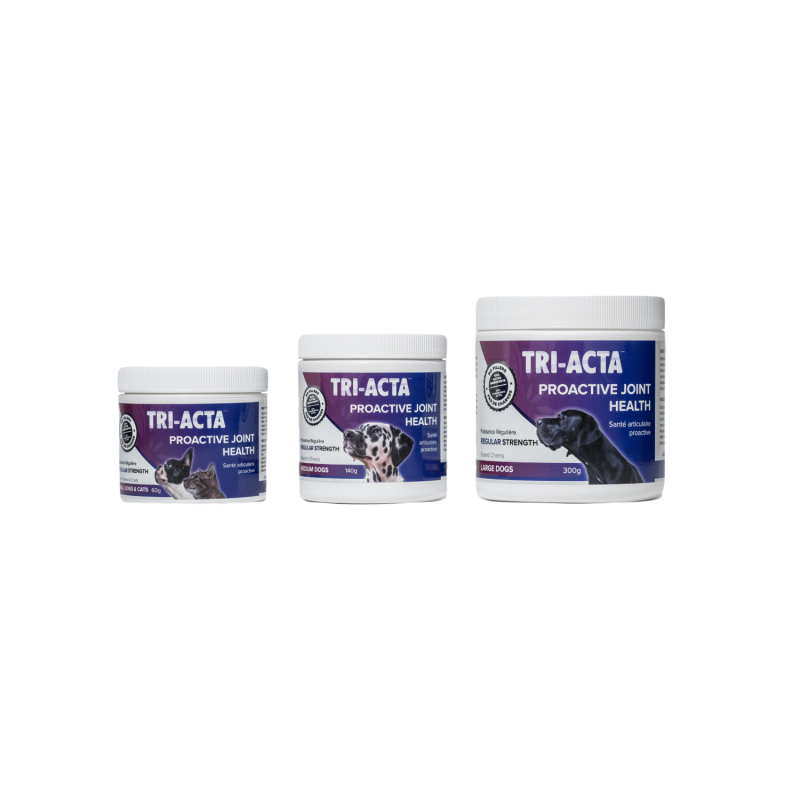 In addition to promoting the overall well-being of your puppy, take them through a training program. Training them while they are still young is important. It may seem a handful for now, but with proper training, your big pup will get easier to handle in the future as they mature.
Before you leave, visit our resources for dogs page for more tips and info on how to care for your four-legged bestie.
Newsletter Signup
Subscribe to our newsletter to receive the latest news and exclusive offers.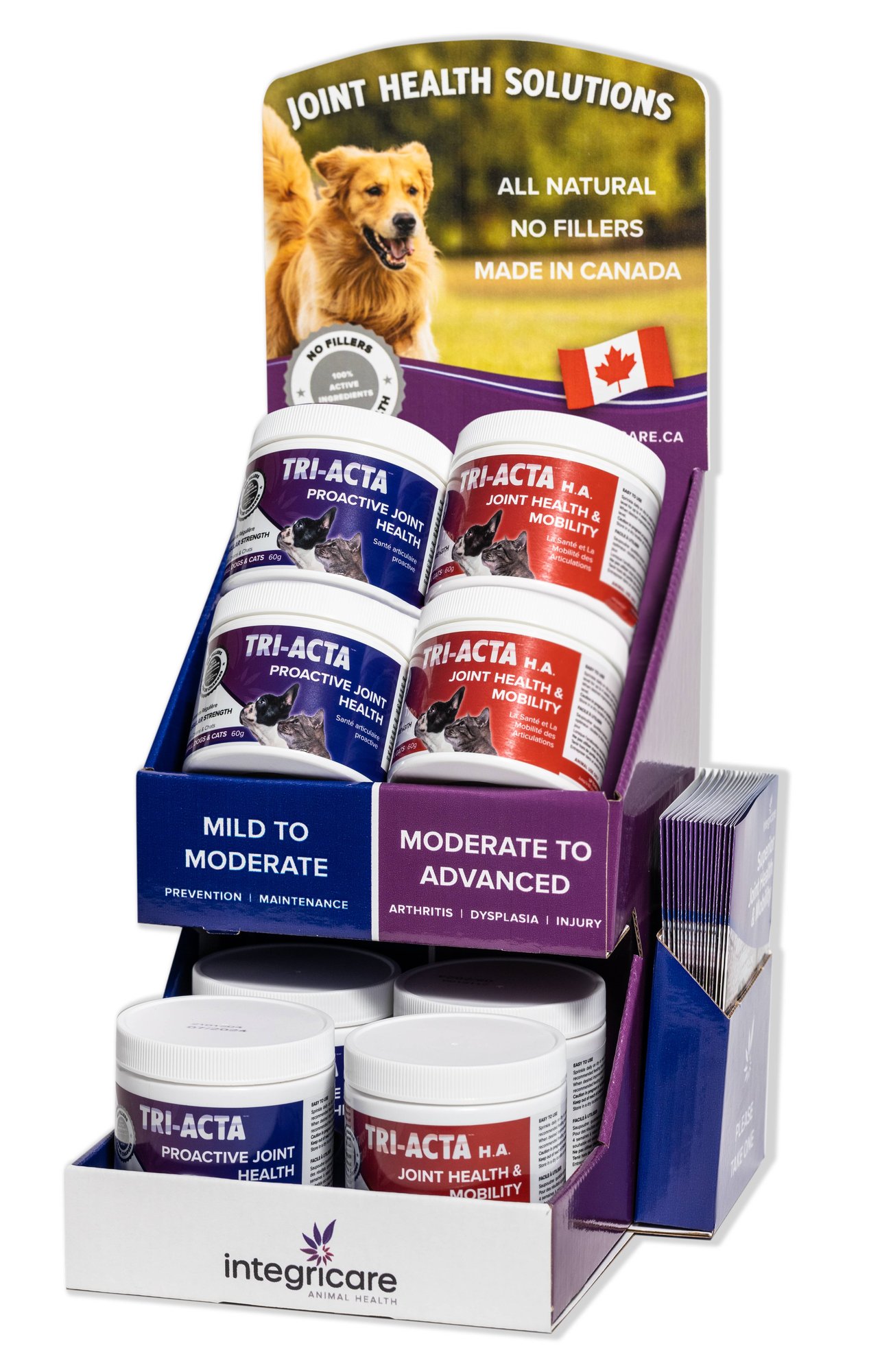 Proactive & Therapeutic Joint Supplements
When given daily, Integricare joint supplements recover bone and joint injuries faster and help prevent mobility injuries from happening in the first place.