As much as we'd like our animals to be healthy and happy all the time, laminitis in horses affects as many as 1 in 10 horses every year. Laminitis is a painful condition that can lead your horse to limp, have difficulty walking, and even result in a lame horse.
Luckily, there are many ways to prevent it. One way to give your horse the best fighting chance against this disease is by giving your horse laminitis supplements.
This guide gives you an in-depth look at what these supplements are and how they can benefit your horse. Plus, we'll also throw in some of our top picks for horse laminitis supplements to keep your steed on his feet!
What Exactly is Laminitis?
Before we dive into the benefits of horse laminitis supplements, let's take a second to go over what laminitis is. Laminitis is a common locomotor disease in adult horses that causes inflammation of the hoof laminae.
Laminitis can start out of the blue, and usually, the first signs are a limping horse that's unwilling to budge, even with coaxing.
There are a couple of different things that can cause laminitis, including:
Metabolic disturbances due to an excess of fructans in grazing areas or high levels of starch.
Prolonged administration of horse anti-inflammatory supplement drugs such as corticosteroids
Severe hoof trauma
Hereditary diseases
Prolonged periods of drought
Insufficient exercise
Old or ill-fitting horseshoes
Placenta retention
On top of that, many horses with this disease also suffer from underlying hormonal conditions such as Equine Metabolic Syndrome (EMS) and Cushing's disease. If not treated in time, these diseases can develop into chronic conditions and hinder the horse for the rest of his life.
Horses suffering from laminitis tend to shift weight to the hindquarters or lie down if all four hooves are affected. On top of that, the hooves will become hotter, and the horse will show signs of pain, loss of appetite, dehydration, sweating, and anxiety.
The bottom line is that laminitis is pretty uncomfortable for your horse. And, while it is treatable, it's best to steer clear of the disease in the first place with equine supplements.
Benefits of Horse Laminitis Supplements
Horse laminitis supplements, accompanied by a balanced diet, can save horse owners a lot of headaches, whether it's their first time in the rodeo or they're veteran horse owners.
The reason for this is that these types of supplements provide tons of key benefits that keep your steed healthy and support a strong body. A couple of the key benefits of these supplements include:
They provide health benefits to skin, coat, hair, and hooves.
Supports connective tissue and liver function
Act as preventive medicine
Let's go over each of these in a bit more detail.
Benefits Skin, Hair, and Hooves
Most horse laminitis supplements come with added vitamins beneficial to hoof health. Usually, that vitamin is biotin.
You see, biotin helps maintain collagen networks within the dermis and keratin. This helps support healthy hooves and prevent weakening and breakage that can lead to laminitis.
Besides biotin, digestive health horse supplements can also include other ingredients that support your horse's skin, hair, and hooves, including:
Sulphur or MSM
Zinc
Calcium
Vitamin A
Enhances Connective Tissue
Another benefit of horse laminitis supplements is that they can help maintain your horse's tendons, muscles, and joints. This helps keep your horse mobile, making it easy for him to move around and helping to prevent him from developing muscle and joint-related diseases.
Besides giving your horse straight laminitis supplements, you can also add joint supplements such as TRI-ACTA to help boost your horse's joint and connective tissue.
Supports Healthy Liver Function
Another perk of horse laminitis supplements is that they can help boost your horse's liver function. This is thanks to active ingredients such as methionine, which boosts liver function and supports healthy tissue.
Now, if you're thinking that the liver has nothing to do with your horse's hooves, think again! Hoof growth and regeneration are largely due to the extraction of the necessary carbohydrates, lipids, and proteins by the liver. As a result, making sure to support your horse's liver function is key.
Serves as Preventative Medicine
Lastly, giving your horse supplements for laminitis is an important preventative measure. When you give your horse these supplements, they help protect the internal structure and the hard walls of your horse's hooves over time.
While there is strong evidence that supplementation can help prevent laminitis, it's not a complete cure-all. There are many reasons why a horse can develop laminitis, and supplementation is simply giving your horse a better chance of avoiding this painful disease. However, overall diet and proper exercise are important as well.
Best Horse Supplement for Laminitis
Now that we've gone over horse laminitis supplements and why they matter, it's time to talk about what the best horse health supplements for laminitis are.
Although there are tons of horse supplements for laminitis on the market, a couple stand out more than others. Let's go over a couple of the best supplements you can give your horse to prevent this nasty disease!
Equi 2000 Life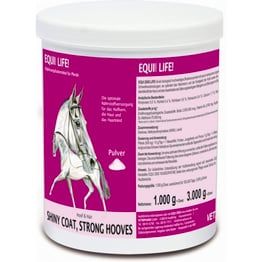 Equi is one of the most popular supplements for hoof maintenance, as it contains high concentrations of biotin. This ensures greater elasticity and health, as well as serves as an excellent nutritional contribution to improve the condition of the skin and coat. The ingredients in this supplement are:
Dextrose
MSM
Flaxseed oil
Biotin
Vitamin B6
Copper
Zinc
DL-Methionine
Pros

Cons

It doesn't contain fillers such as wheat, which can be harmful to gluten-sensitive horses.

Uncontrolled zinc intake can cause anemia, stiffness, lameness, and deformation of the epiphyses of long bones in horses.

In addition, high zinc intake can block copper absorption.

It's indicated for prolonged treatments and improvement of hair loss, skin problems, and cracked hooves.

It doesn't contain important minerals such as calcium, phosphorus, iron, manganese, or potassium.
Growin Plus Biotin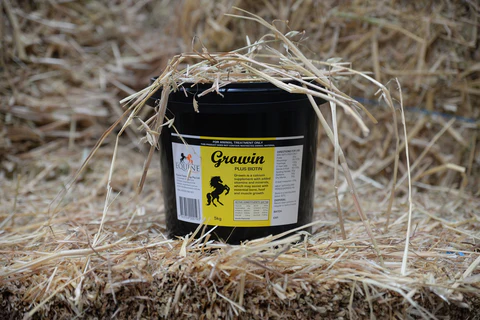 Growin Plus Biotin is a supplement specialized in supporting the formation of hooves. It also offers benefits for the health of the coat and the keratotic tissue of the hooves. Moreover, it improves the animal's appetite while deeply nourishing skin and hair.
The ingredients in this supplement are:
Biotin
Vitamins A, D3, E, B2, B12, B3, K
Calcium Pantothenate
Choline
Fructooligosaccharides
Minerals: Calcium, Phosphorus, Iron, Manganese, Potassium, Copper, Cobalt, Magnesium and Zinc.
| | |
| --- | --- |
| Pros | Cons |
| In addition to being a high-quality hoof supplement, it can be used as a complete vitamin supplement to complete the horse's balanced diet. | Horses particularly sensitive to strong odors may refuse to eat the supplement the first 4 or 5 times; an alternative is to wrap it in lettuce leaves to camouflage the smell. |
| Its results are quickly appreciated after 2 or 3 months of regular consumption. | Uncontrolled consumption of the supplement can lead to excess vitamins and health consequences; for example, excess vitamin A can cause bone fragility, epithelial exfoliation, and teratogenesis. |
Bonus: Reduce Inflammation & Protect Joint Health With TRI-ACTA for Equine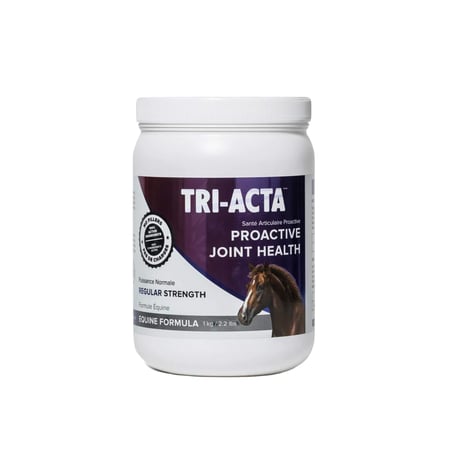 TRI-ACTA is a comprehensive joint supplement and can help with inflammation associated with laminitis. It can certainly help keep your horse active and at the top of its game. This joint supplement ensures mobility and helps protect your horse's connective tissue.
The key ingredients in this supplement are:
Glucosamine
MSM
Chondroitin Sulfate
On top of that, the ingredients are all-natural and contain no harmful fillers to your horse's diet.
Frequently Asked Questions
How Do I Know Exactly Which Brand Of Supplement Will Best Help My Horse?
The type and brand of supplements that are right for your horse will depend on the advice of your veterinarian. Usually, these recommendations are based on age, activity level, weight, and general state of health. Sometimes, you may need to use trial and error to figure out what works for your horse.
What to Do if I Suspect My Horse Has Laminitis?
Common symptoms that could mean your horse is suffering from laminitis include:
Has a shorter stride than usual
Not keen on walking on harder surfaces, like cement
Often shifts weight between their hooves when resting
Hooves feel warm to the touch
If you think your horse has laminitis, it's important to see a vet as soon as possible. He or she can evaluate the situation and the stage of the disease and try to find out the exact cause in order to plan a treatment strategy.
What are the Complications of Advanced Laminitis?
Serious consequences of advanced laminitis include impaired blood supply within the hoof, bacterial, fungal, or viral infections due to poor blood flow and the breakdown and extreme stress to the horse. It can even lead to horse lameness if not treated properly. That's why it's key to try to avoid these issues in the first place by using horse laminitis supplements early in the horse's development.
Summary
The bottom line is that laminitis is a painful disease that affects your steed's hooves and can even lead to a lame horse. That's why it's so important to keep your horse's hooves healthy a
Horse laminitis supplements are a great way of doing so, as they serve as preventative medicine, support healthy liver and connective tissue, and keep your horse's mane and hooves strong.
Besides horse laminitis supplements, joint supplements like TRI-ACTA and TRI-ACTA H.A are also great ways to keep your horse limber and on his feet. Check out our FAQ to learn more about them, or contact us with any additional questions!
Newsletter Signup
Subscribe to our newsletter to receive the latest news and exclusive offers.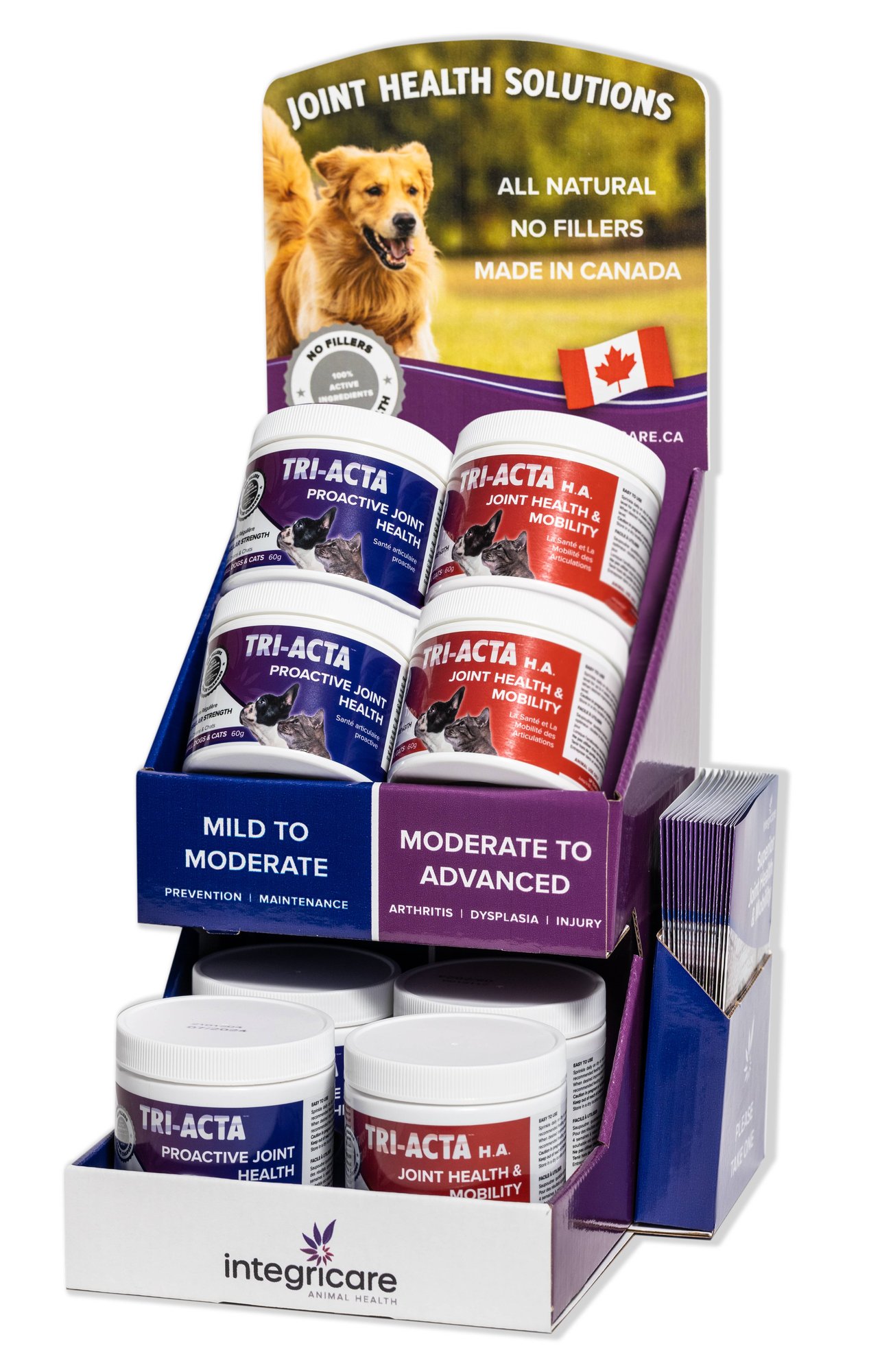 Proactive & Therapeutic Joint Supplements
When given daily, Integricare joint supplements recover bone and joint injuries faster and help prevent mobility injuries from happening in the first place.