Dandy is an 18-month-old standard poodle. Last month, X-rays revealed minor canine hip dysplasia in her left hind. The revelation was bitter-sweet for her foster parent, Liz Toop. Dandy was a part of the Lions Foundation of Canada Dog Guides program in Oakville, Ontario, and she was scheduled to begin training for her new life as a service dog.
Being diagnosed with hip dysplasia meant that she was no longer a candidate to begin training. The news came as a surprise to Liz, who couldn't help but feel saddened that the dog she had grown to love had a condition that would require lifelong management. The prospect of seeing an animal you love in pain is heartbreaking. However, with this, she also had the opportunity to adopt Dandy as a pet and a lifelong friend. She jumped at the opportunity and although Dandy's life path had taken a turn, she will now enjoy the rest of her life in the loving home of her new pet mom.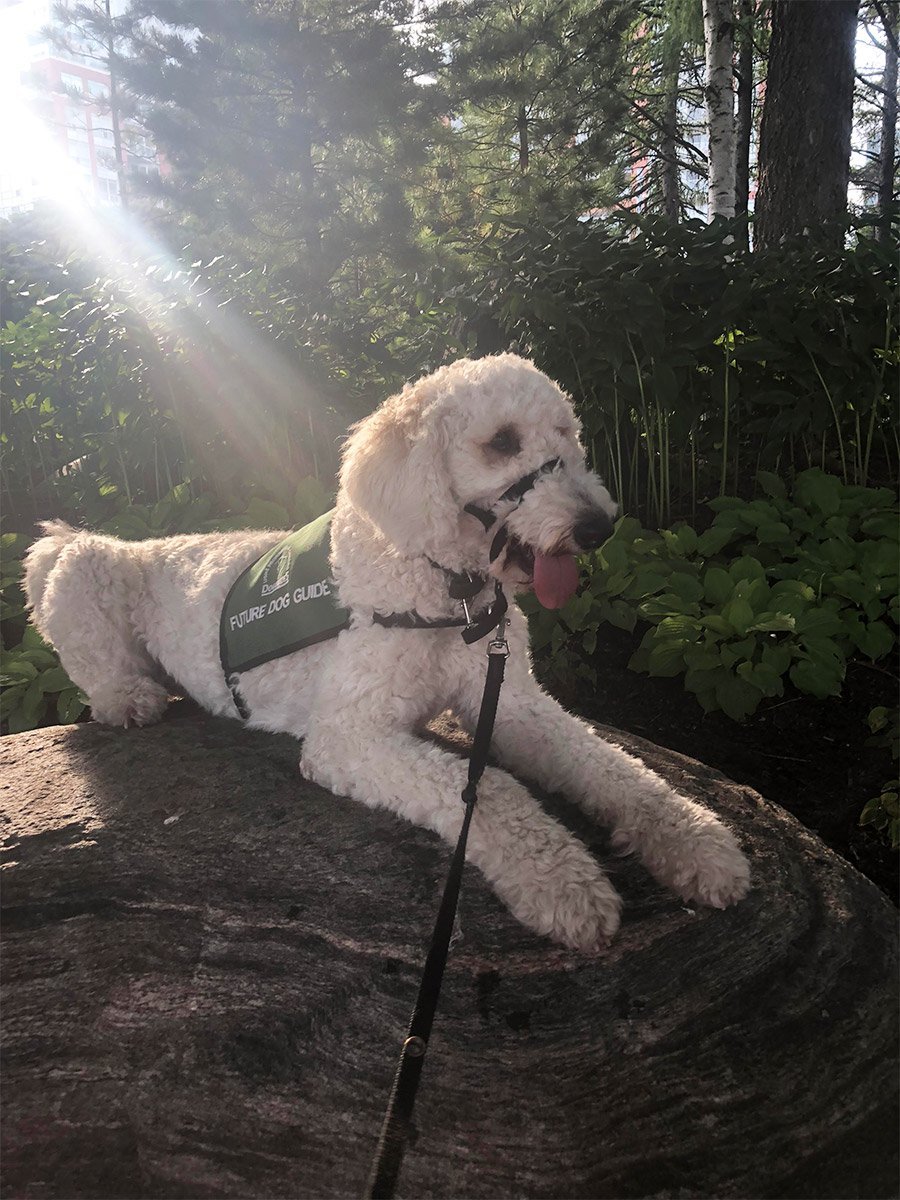 The Lions Foundation of Canada Dog Guides program started in the early 1980s with a focus on serving Canadians with visual impairments. It has since evolved and grown to include hearing, service, seizure response, autism assistance, diabetic alert and newly introduced, support dog guides. To do this, the Foundation operates Dog Guides Canada, a preeminent national training school and charity that assists individuals with disabilities through specialized Dog Guide programs. Sometimes, health factors disqualify candidate dogs from continuing in the program. Canine hip dysplasia is one of those conditions.
What is Canine Hip Dysplasia?
Canine hip dysplasia occurs when the joints don't set properly during the development. Sometimes, there are genetic factors and certain breeds may be more predisposed to developing the condition. Standard Poodles are certainly not among the most likely breeds to develop this condition, however, it's estimated that 12% of all Standard Poodles have a dysplastic condition.
While it is news no pet owner wants to hear, many dysplastic dogs can enjoy a long, happy, healthy and pain-free life with the right combination of a healthy diet, a high-quality canine joint supplement, weight management, and the right kind of exercise.
TRI-ACTA: An Excellent Supplement for Hip Dysplasia in Dogs
Liz now uses TRI-ACTA, a canine joint supplement and excellent choice for those who are searching for the perfect supplement for hip dysplasia in dogs. It's a great way to enhance Dandy's diet and provide the support she needs.
She shared that, "Choosing TRI-ACTA was an easy decision. It came highly-recommended from a friend who also participated in the Dog Guides foster program. I wasn't prepared to compromise on quality and wanted to make sure she was getting the best support possible."
This canine joint supplement is designed to repair cartilage, prevent joint breakdown, and reduce inflammation. There is also an option that has a highly-therapeutic form of Hyaluronic Acid for dogs, which is designed to increase the supply and viscosity of the joint fluid.
The product is pure and concentrated and does not contain any fillers. This means the servings are small, and the product is extremely easy to administer as a supplement for hip dysplasia in dogs.
While she likely doesn't realize it, Dandy's unfortunate circumstance has landed her in a family that loves her. She may not have had the opportunity to be a service dog, but she will continue to enhance the lives of those in her new permanent family.
Newsletter Signup
Subscribe to our newsletter to receive the latest news and exclusive offers.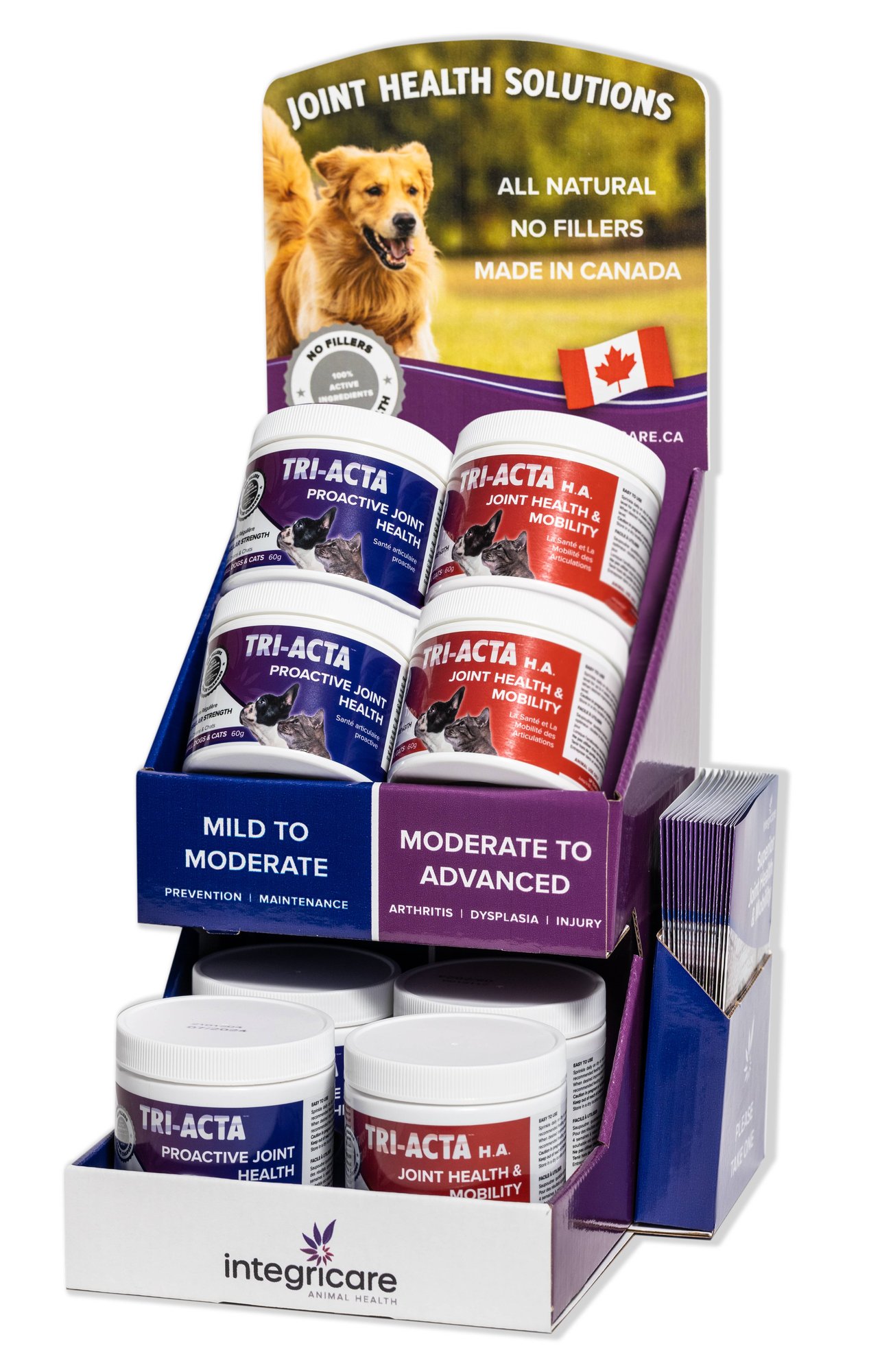 Proactive & Therapeutic Joint Supplements
When given daily, Integricare joint supplements recover bone and joint injuries faster and help prevent mobility injuries from happening in the first place.