Majestic. Fluffy. A unique smooshed face. Persian cats are undeniably an adorable breed of cat. It's easy to see why the Cat Fanciers' Association announced them as the fourth most popular cat breed for 2020.
But, as difficult as it can be to remember when face-to-face with fluffy cuteness, there's more to choosing a pet than which you think is the prettiest. And the fact of the matter is that there's more to this breed's cat care than their big, blank eyes suggest. Getting a Persian cat comes with Persian cat health issues risks.
Majestic. Fluffy. A unique smooshed face. Persian cats are undeniably an adorable breed of cat. It's easy to see why the Cat Fanciers' Association announced them as the fourth most popular cat breed for 2020.
Don't worry, though. We're here to walk you through it. And, once you know what to expect and how to look after your new furry little friend, you won't regret picking this breed. They make great companions for a quiet household.
So, in this article, we'll cover
Persian Cat Health Explained
Persian Cat Common Health Problems
Persian Cat Health Problems Prevention
Q&A
With a perk of your ears and a blink of your eyes, let's dive into it.
Persian Cat Health Explained
Physical Description of a Persian Cat
Persian cats are a fairly recognizable breed of cat.
They're recognizable by their beautiful fur coats and squished-looking faces
They typically have flat faces and large eyes
They're a long-haired cat breed
They're medium in size, typically between 7 and 12lbs
Risks of Persian Cat Health Issues
If you've owned purebred pets before, whether cats or dogs, you may be aware that they can be more at risk of developing diseases and health concerns that are specific to their breeds. German Shepherds are more prone to developing hip dysplasia than some other dog breeds, for a dog example.
(Persian cats are also at risk for this health condition, but more on that later.)
Well, Persian cats are not exempt from this issue.
We recommend and encourage anyone looking to pick up a new cat to check out a rescue or shelter. However, that does come with the risk of not knowing your kitten's family history. Whether or not your cat is a purebred Persian and whether or not any breed-specific conditions are in its familial line, in all likelihood, won't be known to you.
If you pick up a Persian kitty from a reputable breeder, on the other hand, you should be able to know the cat's family history and whether yours is at risk of getting any Persian cat health issues.
That being said, you shouldn't think of your Persian cat as a walking, meowing disease waiting to happen. If well looked after, Persian cats can have long, healthy, happy lives, just like any other kitty. We're not here to scare you off the breed!
But, knowledge is power, so we will be detailing some Persian cat common health problems below.
Persian Cat Common Health Problems

There are a number of common health problems associated with Persian cats. We've grouped some of these issues together into the following six categories
Breathing Problems
Skin and Fur Issues
Dental Issues
Problems with Eye Health
Internal Health Issues and Diseases
Joint Issues
Breathing Problems
Due to the flat-faced nature of the Persian cat breed (making them a brachycephalic cat breed), they've been known to have some breathing troubles. There are other cat breeds that also have this issue, like the Himalayan. However, it's not a cat-exclusive problem. There are dog breeds that are also brachycephalic, including pugs and French bulldogs.
Skin and Fur Issues
Although the Persian cat's beautiful cat is one of its iconic features; it can cause and hide issues underneath the surface. There are certain skin and fur issues that Persian cats are prone to. These issues range from genetic predispositions to grooming neglect in their cause.
Dental Issues

The issues of the brachycephalic cat skull strike again, but this time we're discussing how the shape affects the oral health of your little Persian kitty friend. A study was published in the Journal of the American Veterinary Medical Association that found some of these issues. We've elaborated on two of the dental issues found in that study below.
Problems with Eye Health

Brachycephaly can cause eye issues in Persian cats, too. The Universities Federation of Animal Welfare identifies some, including epiphora and exophthalmos. Epiphora is essentially when a cat has watery eyes that tear up. Exophthalmos causes eyes to protrude typically due to a mass growing behind them, according to the Wedgewood Pharmacy. However, in Persian cats, it seems to happen just due to the shape of the skull, as shown in a 2021 study. Both of these conditions are elaborated on in the table below, as well as progressive retinal atrophy, which is an inherited disease that can cause blindness in Persian kittens.
Internal Health Issues and Diseases
There are internal health issues and diseases more prone to Persian cats, some of which we've listed below. One disease that's not mentioned here is cancer, but it should be noted that a 2019 article based on a study reported that kidney disease and then cancer were the most common causes of death in Persian cats.
Joint Issues
In this section, we've included a couple of joint issues that are commonly found in Persian cats; arthritis and hip dysplasia. Arthritis is when the cartilage and fluid that cushions the bones in a joint is worn away, leaving the bones rubbing against each other whenever your cat uses the joint. Hip dysplasia, as explained in our blog Hip Dysplasia Dogs – Top Prevention & Treatment Tips, is when the hip joint doesn't grow together properly, so the ball no longer fits properly into the socket.
Expanding on the table above, we want to take a quick moment to shout out joint supplements as a treatment option for cats. TRI-ACTA H.A. for Pets was specifically formulated to aid in arthritis and hip dysplasia by providing maximum protection against deterioration of your cat's cartilage while actively working to repair worn-out cartilage, reduce pain and inflammation, and improve the viscosity of the synovial fluid. It comes in an easy-to-give powder that can be mixed into your pet's food every day with no fillers.
For more information on arthritis in cats, check out our page, Arthritis in Dogs and Cats.
Persian Cat Health Problems Prevention

Although some of the Persian cat health issues we outlined above are genetic conditions, some you'll be able to help prevent by taking certain issues. Some of those prevention tactics include
Making sure to properly groom your kitty
Looking after its dental health
Looking after its eye health
Ensuring your Persian cat gets proper exercise
Feed it a healthy diet
Bolster its diet even more with supplements
However, before we get into these prevention tactics, we're going to quickly cut in with something we mentioned before. If you are getting your Persian kitty from a cat breeder, you should ensure that the breeder has information on the familial line and its medical history and that your cat has been screened to ensure it hasn't inherited any of the genetic issues we previously mentioned (and others we maybe haven't).
If you're adopting from a shelter or taking in a stray, this is a risk you might have to take. But you can ask your vet about options to have your cat screened so you know if it does have any of those issues.
Also, we haven't listed it here because it's really a given for any pet, but taking your cat to the vet for regular checkups or if you suspect something is wrong is a great way to catch any issues in their early stages before they become harder to deal with. And, of course, listen to the advice your vet gives you for the care of your Persian cat.
Proper Grooming
One of the features that's so attractive about Persian cats is their long, beautiful fur coats. But, the price of such beauty is that these coats need to be groomed. And not just by your cat's scratchy tongue. You'll have to make sure you are bushing your Persian cat's coat out daily, with baths every few weeks, as well. If your cat is prone to any of the skin and fur issues we've mentioned above, you may want to ask your vet for shampoo and conditioner recommendations for your kitty so you keep them as clean as possible without irritating or damaging their skin and fur.
Make sure you have the right brush, too. Because your kitty's fur is so long, not just any brush will do. You need to make sure it's designed to keep a long-haired cat's fur luscious and tangle-free.
Dental Health
Because Persian cat health issues extend to the teeth, you'll want to make sure you're taking great care of your kitty's dental care. This includes brushing your cat's teeth. A quick peruse of the internet will show you inconsistent suggestions for how often this should be done. The best course of action would be to ask your vet what they recommend.
Make sure when you are brushing your cat's teeth that you are being thorough without being too rough on its mouth and teeth. You don't want to cause any discomfort, pain, or even damage to your cat's mouth.
Eye Health
If your Persian cat is prone to tear stains and watery eyes, you may want to gently wash its face and eyes as a part of your daily grooming routine. The Humane Society of Chittenden County recommends using a special cleaning solution or warm water (and doing it twice a day).
Exercise

No matter the type of pet you have, there are some things you have to do to keep them healthy, feed them a healthy diet (see the point below) and make sure they're properly exercised.
However, when it comes to Persian cats, there's a bit of a balancing act between keeping a healthy cat and aggravating its symptoms due to it being a brachycephalic cat breed. You'll want to make sure you're watching the amount of activity your kitty's doing and how it's affecting its breathing. You don't want physical activity to exacerbate any breathing issues.
Healthy Diet
To be a healthy pet, you need to make sure you're feeding your Persian fur baby a healthy diet. Make sure you're feeding them high-quality food that includes all the nutrients your kitty needs.
If you're unsure of what food to get, we've got some blog posts to get you started, including Should You Adopt a Raw Cat Food Diet for Your Fur Baby? and Ultimate Guide on Best Senior Cat Food [Dry, Wet, Liquid & Vet Recommended].
However, if you're really unsure, you can always ask your vet what they'd recommend. Your vet will understand the specific health needs of your pet and so will be able to direct you to a brand that will keep your pet at its healthiest.
Supplements
One great way to ensure your Persian cat is getting enough nutrition to stay as healthy and strong as possible is to add supplements to its diet. You can find different supplements for different things (although if you're mixing supplements, be careful about feeding your cat too much of particular vitamins and minerals).
When evaluating supplements you want to feed your kitty, you'll want to evaluate the ingredients so you can be sure you're giving your cat the best product possible.
For example, if it's a supplement for joint health you are looking for, you're going to want to ensure that the below ingredients are present and there are few, if any, fillers.
Glucosamine
MSM
Chondroitin
For injuries or visible mobility issues, in addition to the above ingredients, hyaluronic acid can be extremely beneficial.
One great supplement that has tremendous preventative value for joint health is none other than our very own TRI-ACTA for Pets. This can be given to cats proactively at relatively young ages to ensure their joints stay healthy as they get older. There are no filler ingredients, so you know your pet is getting only the good stuff to help promote strong, healthy, mobile joints.
Our Maximum Strength formula, TRI-ACTA H.A., has all the same ingredients but has the added benefit of hyaluronic acid, which helps to lubricate the joints when there is an injury or mobility concern.
Q&A
Are Persian cats a healthy breed?
Persian cats can be healthy, but as a breed, they are prone to a lot of different conditions due to certain genetic factors, the shape of their heads, etc. In fact, a 2019 article we've previously cited in this blog post summarizing a study is called, "Persian cats at high risk of health problems, study shows."
However, that doesn't mean you can't own a happy, healthy Persian cat. And as a breed, these types of cats still deserve to be loved and given proper care.
Are Persian cats high maintenance?
We aren't going to lie, as far as cat breeds go, Persian cats are high maintenance. There's a lot of care associated with them, whether you're trying to prevent them from developing certain issues, or they already have them, and you need to treat them.
In Summary

Although Persian cats come with certain specific risks for Persian cat health issues, they still make great pets for those who are dedicated to looking after them. And, you can help prevent any of those problems from cropping up by
Making sure to properly groom your kitty
Looking after its dental health
Looking after its eye health
Ensuring your Persian cat gets proper exercise
Feed it a healthy diet
Bolster its diet even more with supplements
So, if you're interested in helping strengthen your kitty's joints by purchasing either of our joint supplements for pets, shop those products here.


And, if you're looking for more information on your cat's health, check out more of our blogs relating to pet health, or our resources page.

Do you still have questions? Don't be afraid to contact us.
Newsletter Signup
Subscribe to our newsletter to receive the latest news and exclusive offers.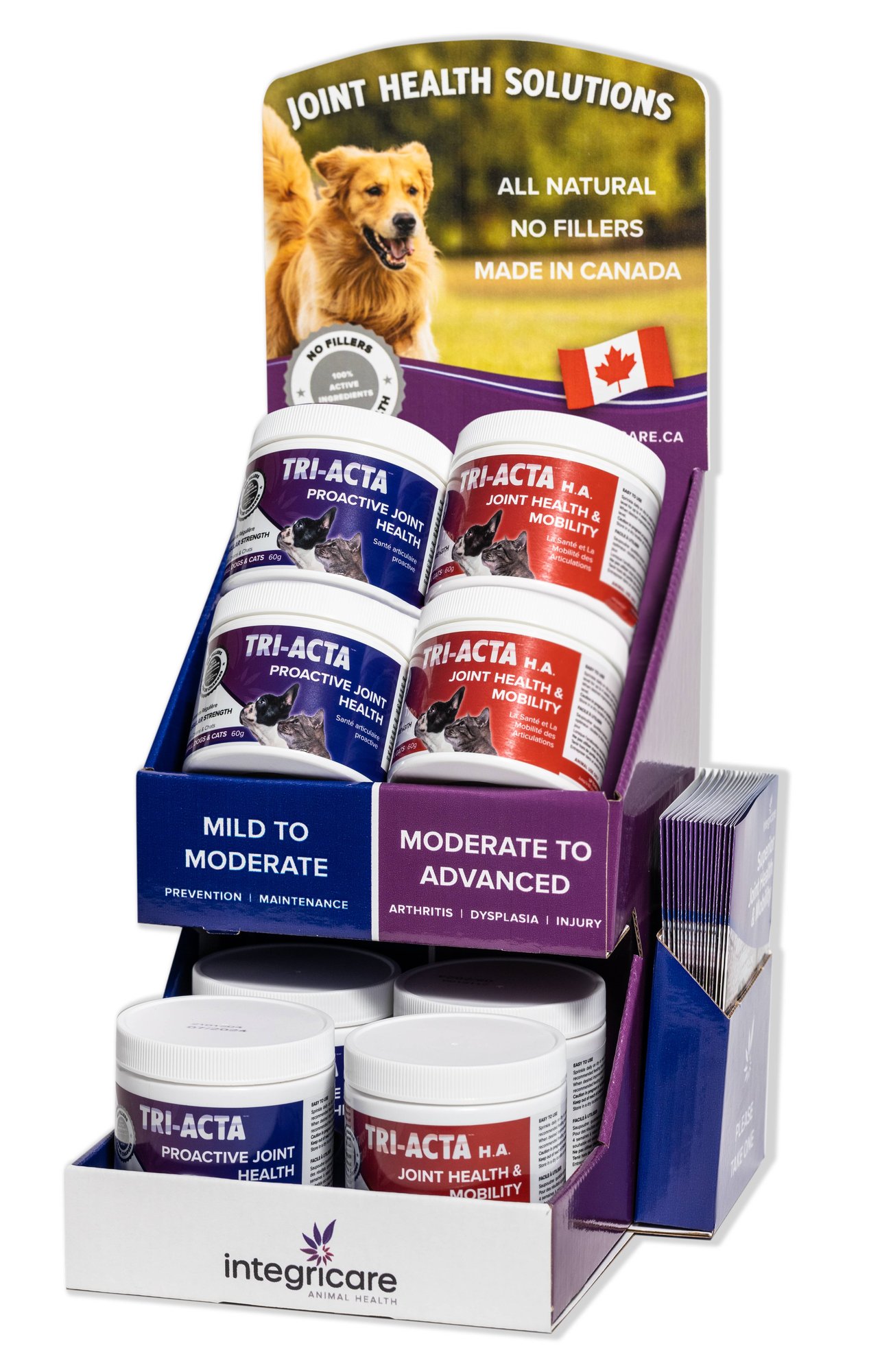 Proactive & Therapeutic Joint Supplements
When given daily, Integricare joint supplements recover bone and joint injuries faster and help prevent mobility injuries from happening in the first place.