2. Broken Bones
There are a lot of bones in your cat's feet—which means a lot of potential for them to break something during a particularly daredevil feat. A tiny broken bone in a cat's paw can be difficult to spot unless it's affecting your cat's behaviour or movement. Untreated broken bones in the paw can result in a cat paw infection as your cat's body tries to heal the bone.
Usually, larger broken cat bones can be set with a splint, but more complex breaks and breaks with smaller bones may need surgery to repair. Surgery to repair a broken bone usually involves screws, pins, or even plates to hold the bone in the proper place as it heals. During this time, your vet may prescribe NSAIDs to provide your kitty with some pain relief and possibly antibiotics to help treat any current infection.
3. An Infection That's Spread From Another Area
Sometimes infections can spread quickly, affecting another area of your cat's body in addition to the source of the infection. For example, if your cat has a broken bone in their leg, the redness and swelling may expand to include your cat's paw as well. Broken and infected skin on your cat's leg can also result in redness and swelling traveling to the paw and paw pad.
It's important to seek veterinary care for your kitty if they have signs of infection since they may require antibiotics and pain relief.
3. Foreign Material Stuck in the Paw
Cats are naturally curious and love to explore, which can sometimes result in them getting into sticky situations. While many cats love to hang out in the great outdoors, their soft paw pads are vulnerable to thorns, slivers, and other things in the environment.
If a thorn, sliver of wood, or other foreign material gets stuck in your cat's paw, their body will immediately try to isolate it from the surrounding tissues. During this process, your cat's paw may become infected if the material isn't removed in a timely manner.
In most cases, removing the foreign material and treating any remaining open wound is enough to give your cat the relief they need.
4. Cat Paw Yeast Infection
The black and dark brown stuff that can sometimes accumulate on your cat's paws is called yeast. Specifically, a type of yeast called Malassezia naturally appears on the skin of cats and dogs. In cats, this yeast will often appear in the ears and paws. When the amount of yeast gets out of control, usually due to an allergic reaction or internal issue with your cat's hormones, it can cause an infection. When too much malessezia accumulates on your cat's paws, it results in red, itchy, and swollen skin, characteristic of a cat paw yeast infection.
Because a cat paw yeast infection is very itchy and uncomfortable for your kitty, they will likely lick the area continuously in an attempt to soothe it. Unfortunately, repeated licking often worsens the infection, making the skin more raw, red, and inflamed. Your vet can provide medicated ointment to relieve the infection's symptoms, but the underlying cause should also be investigated. Food allergies, hypothyroidism, and hyperadrenocorticism (Cushing's disease) are several possible causes of cat yeast infections.
Cat Paw Infection Treatment Options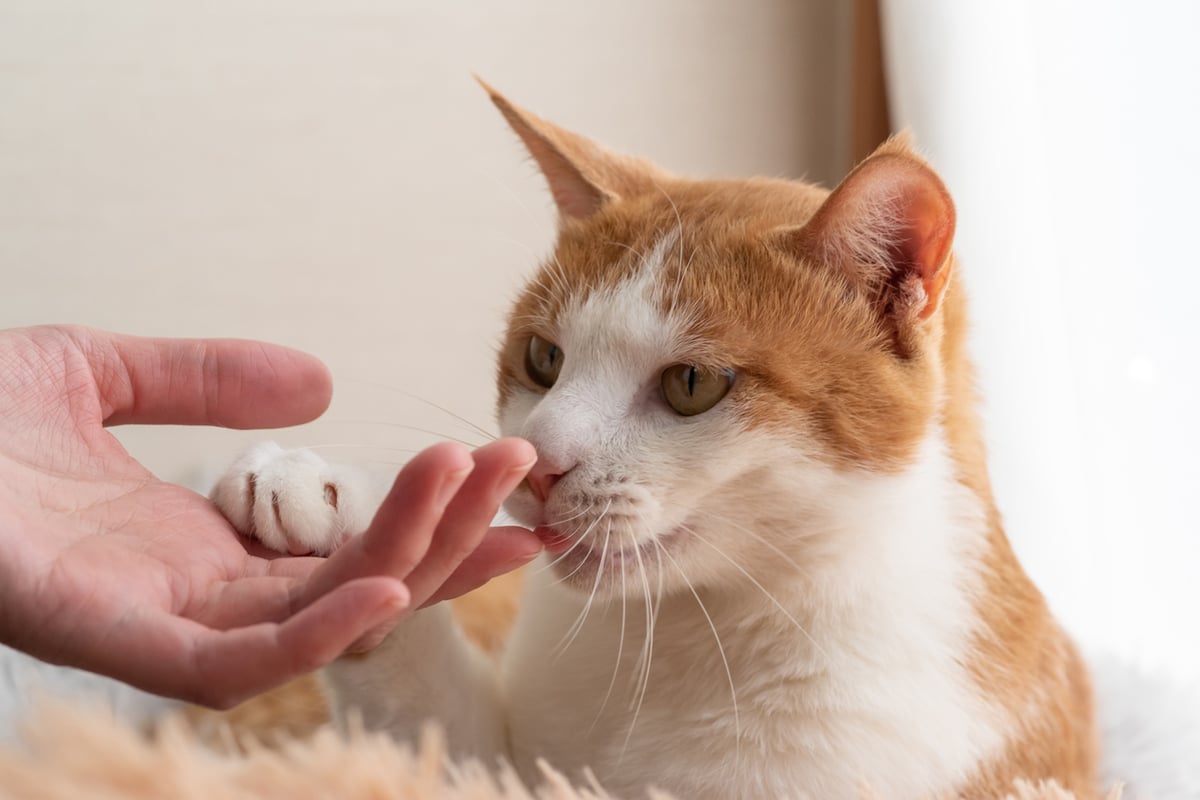 Depending on the type of cat paw infection, various treatment options are available to help your cat feel more comfortable and heal. First, let's look at some treatments that your vet will likely recommend:
1. NSAIDs & Inflammation Treatments
A cat paw infection can be a painful experience for your kitty, so to help relieve the pain, your vet may prescribe NSAIDs as a cat paw infection treatment. As we mentioned earlier in this article, prolonged use of NSAIDs can have serious adverse side effects for your kitty, including developing kidney and liver issues, so their use should ideally be short-term only.
A cat paw pad infection or cat paw infection usually only needs short-term treatment anyway, so giving NSAIDs for pain relief in these cases isn't generally a risk unless your cat is already experiencing reduced kidney function or liver problems. Your vet will assess your cat and likely perform a blood test if they are concerned about these issues being exacerbated by NSAIDs.
One of the ways you can help your kitty's inflammation and protect the delicate joint structures in their paws is by using joint supplements with MSM, like TRI-ACTA. By giving your kitty joint supplements, you can reduce the dosage of NSAIDs necessary for joint pain relief over time, and eventually not have to give NSAIDs at all.
2. Antibiotic Ointment
Your vet may also prescribe antibiotic ointment to treat a cat paw pad infection that is accompanied by open sores or broken skin. The ointment helps soothe itchy, red, and swollen skin while at the same time helping the area heal faster and help protect the area from becoming more infected and the infection from spreading.
3. Cat Paw Infection Home Remedy
While taking your cat to the vet is the best option if you suspect that they have a cat paw infection, there are certain things you can do at home to provide care for your cat's infection until you can see your vet.
If your cat has broken or torn skin on their paw pad, here are some steps that you can take to treat it:
Clean the wound. Look for foreign material in and around your kitty's paw pad, such as glass, thorns, or dirt, and remove them the best you can. Dirt and other loose material can be washed away with clean water, while larger debris may require a pair of tweezers to remove. If there is deep-seated debris in your cat's paw pad, it's best to wait until a veterinarian can remove it, as digging around in the wound may result in it getting worse.
To control bleeding, apply pressure to the wound. Applying pressure with a clean towel for a few minutes will help stop the bleeding for minor wounds, but deeper wounds may take longer. If you can't control the bleeding with pressure after 10-15 minutes, you must get your cat to the vet as soon as possible.
Protect the wound by applying a bandage. To prevent more debris and dirt from getting into the wound and to protect it from further damage, apply a bandage to your cat's paw pad. Using gauze pads and a self-sticking bandage wrap is the best way to keep the gauze secure.
Change the bandage daily. Be sure to change the bandage on a regular basis, ideally daily, as the gauze will absorb blood and pus from the wound. If your kitty's toes appear swollen or you notice a foul odor, immediately take them to a vet. These signs could indicate compromised circulation in the paw, which could result in permanent damage if not treated properly.
If your cat has a cat paw yeast infection, there are several ways you can treat the condition at home. Remember that if the condition doesn't improve or appears to worsen, you should take your cat to the vet for treatment.
The table below highlights some ways you can treat a yeast infection cat paw:
| | | |
| --- | --- | --- |
| Home remedy for cat paw yeast infection | Instructions | Considerations |
| Vinegar and water solution | Mix 1 part vinegar with 5 parts water | Provides a mild anti-yeast effect, may not be effective against more advanced infections |
| Clotrimazole (athlete's foot cream or spray) | Spray or rub directly on the affected area daily | Although clotrimazole is generally safe to use for cats, you should always contact your vet before giving your cat any over-the-counter medications |
Safe Guards to Prevent Future Paw Infection in Cats
While our kitties may be natural daredevils and it isn't always possible to keep them completely safe at all times, there are a few simple things that you can do to help prevent a cat paw infection:
Use area rugs on slippery floors to prevent your cat's claws from catching on the floor when they are running around and playing. It can be tough for your kitty to get a grip on a wood, linoleum, or tile floor, which instinctively causes them to try to latch on with their claws. Unfortunately, since their claws can't grasp the floor effectively, they can catch in grooves or slide across the floor causing broken or pulled claws, which can result in an infection.
Keep your cat in a contained area for outdoor adventures so that you can control their environment. A catio is a great option, but you can also use a leash (with supervision) to keep them in your yard.
Eliminate any debris in their environment that can become stuck in their paw pads, or prevent them from entering certain areas of your home or yard. For example, a garage or shop with metal, wood, or glass bits and pieces on the floor could easily get stuck in your cat's paw pads and cause an infection.
Summary
If your kitty develops a cat paw infection, it's important that you take action and treat it right away. Thankfully, cat paw infections are very treatable and most cats don't have any lasting issues because of them.
Sometimes, cat paw infections can be a secondary result of a joint injury in your cat's foot. To help protect and strengthen your cat's joints, consider adding TRI-ACTA to their daily diet. This joint supplement contains 100% active ingredients, is easy to administer (simply sprinkle on your cat's food with the included scoop), and is a cost-effective way to provide joint support for your cat.
Purchase TRI-ACTA online today or discover where to buy in stores.
TRI-ACTA H.A. for Pets
Our maximum strength formula is optimally designed to accelerate the formation of cartilage, minimize inflammation, expedite the healing process, and improve joint conditions.