Caring for your sport horse is no doubt a top priority. We want our horses to lead comfortable, happy, and most importantly long healthy lives. Sport horses are more active and therefore more prone to injury or health-related problems than horses which enjoy a more leisurely lifestyle.
If you've been following Canadian horse racing events lately, you'll know we've had an incredible past few months watching Mighty Heart and Belichick take home all three jewels this past year, and be in a position to set records in Canadian horse racing. Little known fact – the trainer, Josie Carroll, for both Mighty Heart and Belichick relies on Integricare's TRI-ACTA H.A. bone and joint supplements to ensure bone and joint health. Read on to find out how you can care for your sport horses and improve performance just like Mighty Heart and Belichick.
How To Ensure Your Sport Horse Is Kept At Optimal Health
Environment
Is their barn comfortable? Are they kept warm and sheltered? Most importantly, is your horse being given enough free space to roam happily to keep its muscles limber and exercised? Having a comfortable and adequate environment for your sport equine is key.
Nutrition and Diet
Food is fuel, for us, for our sport horses, and all living creatures. What we put into our bodies affects our abilities to function physically and mentally, and the same goes for our horses. Your sport horse must be receiving all of their required nutritional content to ensure peak performance and health.
Regular Dental Checkups
Just the same as us, horses require regular dental checkups. With such large teeth, there may be cracks or breaks which occur, which can distress your horse and they will not perform at their best. It's important to have your horse's teeth checked twice yearly.
Hoof Care
Hoof care is integral for sport horses, especially when your horse is travelling to more humid, or drier environments. These can affect the health of their hooves. Regular trimming, maintenance, and checking for pebbles, scrapes, scratches, or splinters is key to keep your horse happy.
Vet Care
It's estimated that regular horse vet bills will average around $400 – $600 per year. This is the cost of regular checkups and doesn't factor in any potential illnesses, injuries, or spontaneous vet bills. However, it's important to keep your sport horse in good health to ensure peak performance.
Moderate Regular Exercise
Allow your horse ample space to stretch their muscles to keep them active and limber. Make sure that your horse is enjoying regular strenuous activities. In the same way that our muscles will degenerate without regular exercise, our horses require physical activity to keep them healthy.
Sport Horse Injury Prevention
Of all physical ailments, many agree that keeping your sport horse's joints healthy is one of the most important factors. After all, our horses are continually bending, stretching and exercising their joints and bones. Equine joint and bone health can be maintained by following all of the above mentioned – the combination of diet, exercise, and continual monitoring and maintenance of their performances.
If your horse is acting sluggish or lethargic or is hesitant to trot, gallop or even walk, they may be experiencing joint pains which may not be immediately apparent. If you notice your sport horse acting differently, ensure they have access to vet care to assess the problem.
Sport Horse Supplements


Equine supplements can help your horse preventatively avoid many common injuries to their bones, joints, and even to the muscle tissue. TRI-ACTA H.A. uses the following key ingredients for optimal sport horse health:
Glucosamine
Glucosamine sulphate and glucosamine hydrochloride work as the building blocks for all connective tissues, including joints and cartilage health. With continual strenuous joint activities, all horses, not even just sport horses, can enjoy the benefits of glucosamine equine supplements.
Chondroitin
While glucosamine encourages connective tissue and cartilage growth, chondroitin slows the breakdown of these, making the combination of glucosamine and chondroitin infinitely more effective.
MSM
MSM is a naturally occurring sulphur that gives our sport horses pain prevention for any bone or joint issues that may be occurring, easing their joint health into older age.
Hyaluronic Acid
Hyaluronic acid promotes natural lubrication to bones and joints. Hyaluronic acid encourages the production of integral synovial fluid within the joint capsules in horses, and production of this keeps our horses' joints healthy.
Congratulations To Trainer Josie Carroll and the Connections of Mighty Heart and Belichick


Mighty Heart, the incredible sport horse with only one eye, won the coveted Queen's Plate on September 12th. This race is Canada's oldest and most sought out Thoroughbred horse racing championship, occurring yearly since 1860. During the 2020 Queen's Plate competition, Mighty Heart also nearly set a record, coming in at the second-fastest speed since 1957 while the race has been run at its current distance.
On Saturday, September 26th, Mighty Heart also won the 2020 Prince of Wales, the second jewel of the Canadian Triple Crown. Winning this race was an incredible achievement and winning both is a rare honour in horse racing.
Although Mighty Heart did not take home the Canadian Triple Crown with a win on October 24th, his stablemate Belichick won the Breeder's Stakes race. As mentioned earlier, Josie Carroll is the trainer for both Mighty Heart and Belichick and with these wins, she became the first female trainer to win the triple crown.
We at Integricare would like to extend a big congratulations to the connections of Mighty Heart and Belichick, and their trainer Josie Carroll. We want to thank her for trusting us to keep her horses' bone and joint health in excellent condition with TRI-ACTA H.A. equine supplements. Best of luck to them all in future races, we'll all be continually rooting for you!
Newsletter Signup
Subscribe to our newsletter to receive the latest news and exclusive offers.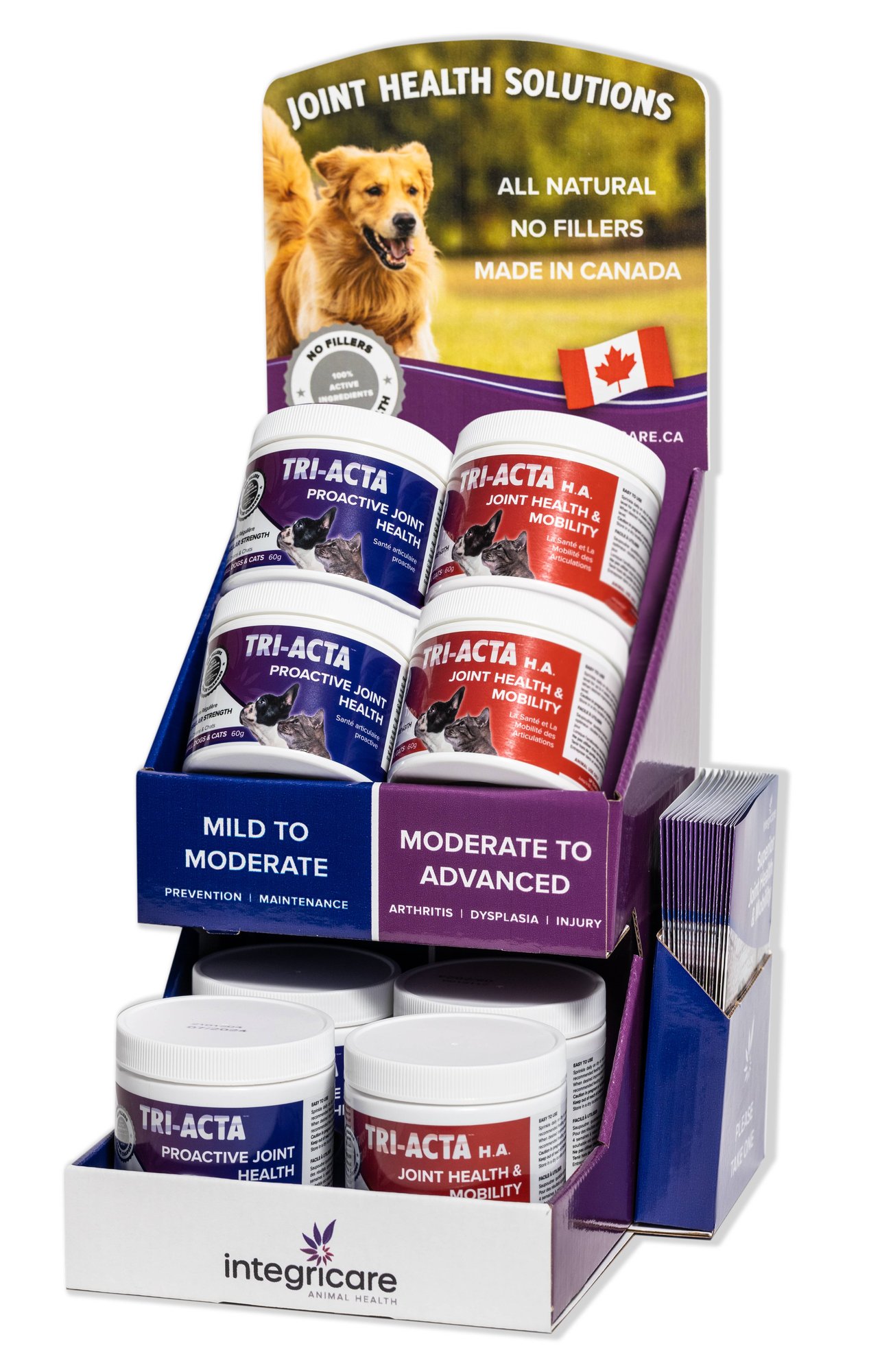 Proactive & Therapeutic Joint Supplements
When given daily, Integricare joint supplements recover bone and joint injuries faster and help prevent mobility injuries from happening in the first place.